Houston, TX
Houston
Monster Energy AMA Supercross Championship
Don't cry for Justin Brayton. He doesn't need a GoFundMe account, Wonder Warthog, Team Gus, or The Privateer Journey to help him get to the races. He's making plenty of money and has great support from the now-totally-respected-and-professional SmarTop/MotoConcepts Honda team.
He's not on a full-on factory motorcycle, but he's in the mix with those bikes, going 7-6 in the first two races. In the pre-season, Brayton said his goal was to start the year at mid-season form, and he's making good on that plan.
At Anaheim 1, he led two laps of his heat race. In Houston, his #10 sat on the top of the qualifying board at several points throughout the afternoon. While Marvin Musquin was struggling in the whoops, Brayton was crushing them and blowing past the series' leader. Even the Rockstar Energy Husqvarna team mentioned Brayton's speed in the whoops and rhythms in Houston, as he was battling with Jason Anderson for top practice time throughout the day. They felt Anderson was better in the corners, but Brayton was as strong as anyone in the straights.
When the whoops broke down for the main event, Brayton lost his biggest asset because everyone just had to run through the rut down the middle.
"The hard part for me was they took away my advantage, which was the left side of the whoops, or the right side, where I could kind of switch around," Brayton said. "But the main line down the middle was so much better. You pretty much had to funnel in. Overall, still really happy with the way I'm riding and how the whole day went. I feel great. So, I think if I can start in the top three, I don't see any reason why I can't get some podiums this year."
We chatted with Tony Alessi—yes, that Tony Alessi—who is team manager for the MotoConcepts operation. He told us that Brayton's bike even runs a stock transmission, which is a major line in the sand between a production bike and a works bike. Works transmissions are very expensive, but hand-picking gear ratios for a supercross track has its advantages. Alessi says a longer first gear would help when there's a big triple out of a slow corner—stock motorcycles aren't geared for such obstacles, so first is usually a touch too low and second usually a touch too high. A custom transmission is extremely expensive to purchase from Honda and takes nine months to develop on your own. So, Alessi just wants to have one for next year. Brayton isn't complaining, though.
"I do have some factory stuff on my bike. I have factory suspension, full works Showa stuff," he says. "But aside from that, XPR does the engines. I don't have anything factory on the engine side. It's a bike that I think Honda just did so well, the platform is so good that it doesn't take much to make it good. Last year we were just so far behind the eight ball to get the chassis right for me, and now we have it right. I feel really good."
Alessi adds that on most bikes, a stock transmission can barely even hold up to the rigors of supercross. He's impressed the new Honda is durable enough to handle it without any special treatment, and even the gear ratio situation only applies to certain obstacles on certain tracks.
"There's really not anything that I would go knocking on Honda's door saying, 'I need this', or 'I need that,'" Brayton says.
Brayton spent most of the Houston main event in a battle of wills with Autotrader.com/Yoshimura Suzuki's Weston Peick. Brayton shadowed Peick the whole way, both pushing as hard as they could from start to finish. It was a battle for fifth, but just as intense as the run for the win.
"It was a good race," Peick said. "Rough track, and I had some pressure from Brayton there, he was riding really smooth and good. We were playing tag, he would come up on me and then toward the end of the race I was able to put it together and get away."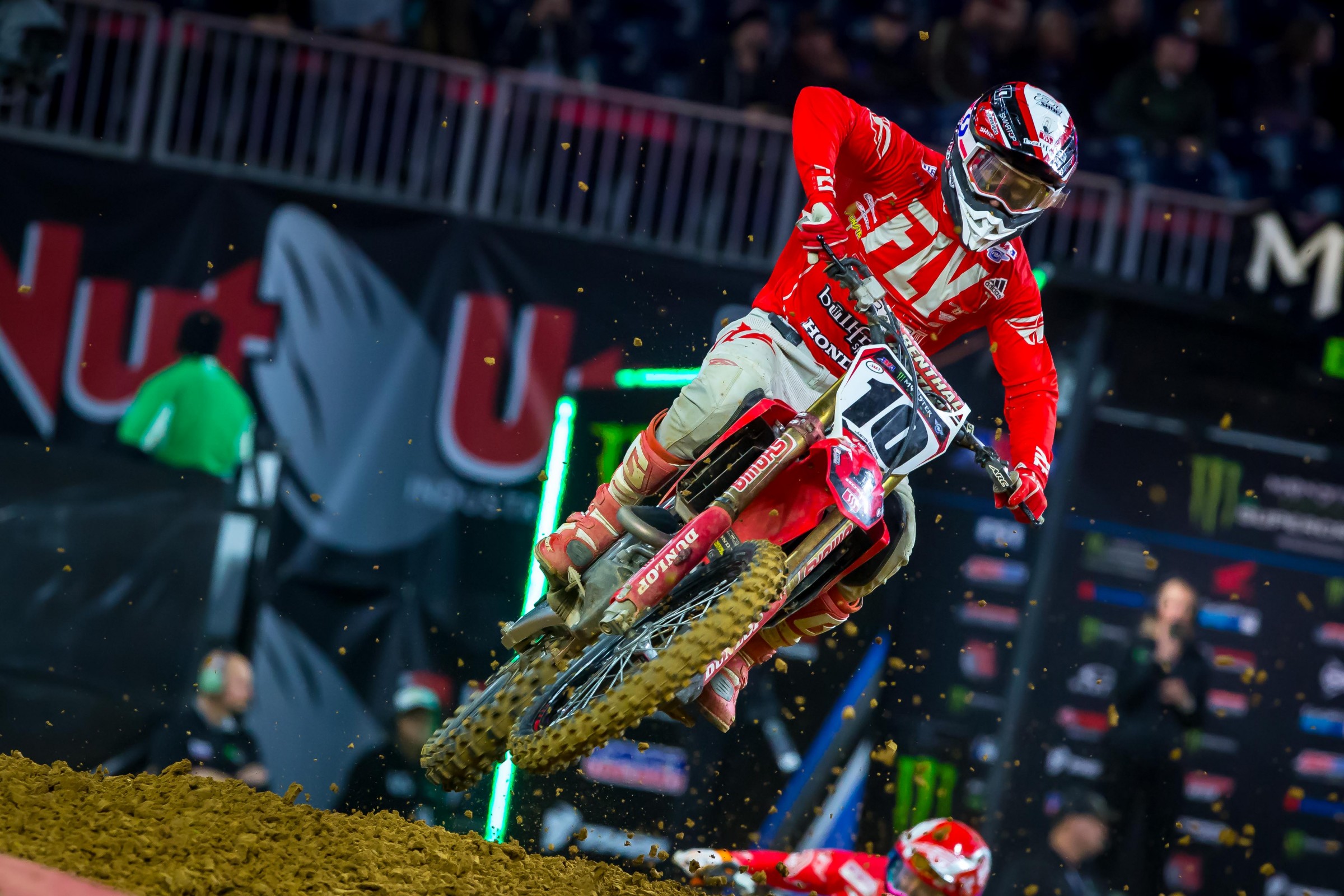 "Yeah, that was good," Brayton said. "It was like I would make a mistake and lose some time, and then he would make a mistake. I would be right on him. One time I thought I had him passed before the triple and I couldn't make the triple because I cross-rutted. It was back and forth."
Brayton is as race-ready as anyone right now because he raced the full Australian Supercross Championship and the Geneva Supercross, with plans to come into 2018 in the full race flow. Right now, even at age 32, he says he feels just as good as he did in his best supercross seasons—his 2012 year with Team Honda, or his hot start to the 2014 season with JGR Yamaha.
"Got to take advantage of how I'm feeling," he says. "I know this feeling is hard to come by in our sport when you're really gelling with the motorcycle. So, I'm going to take advantage of it. Obviously, the main goal is to stay healthy, but also to be aggressive during the week and on the weekends. It's a fun time right now. I'm enjoying it."