Houston, TX
Houston
Monster Energy AMA Supercross Championship
Yeah, bro! Round two of the Monster Energy Supercross took place in Houston, Texas, this past weekend and more drama ensued. We started with four riders looking to take the title and we're now down to two. Monster Energy Kawasaki's Eli Tomac, after his crash-induced DNF last weekend, tried to ride practice with his shoulder "contusion" and couldn't really even do a lap at his speed. He tried both practices then called it a day. Got to think his title chances are toast even if he somehow comes back, right? A couple things on this: 1) Kawasaki said it was a "contusion," which means "bruise," and there's no way Tomac has just a bruise if he can't even put in one hard lap a week after the crash, and 2) someone close to him told me he was at "80 percent" coming into the weekend, which means I need to get new sources.
So, no Tomac, and after myself, Jason Weigandt, Jason Thomas, and half the pits talked about Marvin Musquin and his inability to blitz through whoops (see my Paris SX write up for the last time I talked about this), Marv's inability to blitz through whoops caught up to him this weekend. Many saw this coming, but few, I would imagine, thought it would bite him this early in the season. We had a big, long, and nasty set that he was okay in when he did blitz, but certainly noting to write home about. In the heat, Malcolm Stewart and Justin Brayton blew Marv's radiator shrouds back in the whoops when he decided to stop blitzing them and went back to his trusty way of jumping through them… except they were too big and too soft. He went over the bars and it looks like he dislocated his shoulder and that was it for him for the night.
If Marv had just stuck to blitzing them at his speed in the heat and not gotten frustrated by the dudes passing him, he would've been fine for the main event when they got a massive groove in them. I don't know if he's racing this weekend or not, but either way, he's not going to be 100 percent and missing one main event has put him in a huge hole.
The folks at Feld have to be bummed about the start to the season. New title up for grabs and boom, two dudes out in two weeks. I mean, I guess if they come back and are battling for wins, that will make things interesting, but if the guys need surgery or multiple weeks off, that's not a good thing for ticket sales, interest, or TV ratings.
This is my 22nd year going to the races (just shoot me now), and yeah, supercross is dangerous. You gotta pay the toll to rock and roll, as the song goes. I know the two riders are crushed, but for me, I think more about the teams. Those guys work so hard and seeing a rider do well is the ultimate reward because trust me, what they get paid works out to be about $2 bucks an hour. All that testing, all that time and POOF, up in smoke.
I don't understand sometimes how things are done in the sport. Take a look at the starting gate placement from this weekend. The inside gates are lined up straight at a Tuff Block! I understand that it may not be easy to align the gate and the track, but this is ridiculous. The teams and riders spend way too much money to be there and not have a "fair" starting gate. Why wasn't this fixed? Did anyone else see this and wonder what was up? The track crew has to do better than this, but they won't. This has been going on for years.
Well, look at Jason Anderson! Got second last week (even caught Marv at the end) and this week slowly and steadily worked his way toward Ken Roczen, who was leading, and calmly made the move to the front. He took the win and the red plate as well. I've got to admit that when I heard Anderson wasn't spending the whole off-season in Florida with Aldon Baker, I was worried. As much as Baker's guys are in great shape, a lot of the good results are due to knowing you've done so much work. And with Anderson not going through the full schedule, you had to wonder a bit, right? Of course, he doesn't talk to me, so I couldn't actually ask him about why he did that. I had to talk to people and work it out the best I could.
Anyway, he doesn't look as spastic as he normally does; he doesn't seem to be going out of his way when he makes passes to put that extra "oomph" on them that sometimes leaves people pissed. He looks fast, in control (for the most part), in shape, and…. calm? All day long, he was the fastest dude and jumped things many others did not; he could do any section almost any way he wanted. I have to come clean and admit that I would've put the title favorites before the season in this order: Tomac, Muquin, Roczen, and Anderson. How'a that looking now?
Aaron Plessinger was in a heap of trouble off the start of the 250SX main event. He told us on the PulpMX Show that he was having his mechanic make suspension adjustments when the board had about ten seconds remaining on it. He said that must have messed him up because he wasn't good off the gate. He came around the first lap in tenth, and I want to say I noticed him about three or four laps in and he was coming on like a hurricane. A couple of laps later, I turned to Weigandt and said, "Plessinger's going to win." He was killing the whoops and the rhythm after the first turn with a sweet wheel tap/triple thing. Man, he was flying, and it was only a matter of time before he zoomed past pretty much every single contender for race wins and the title and took off.
This is the stuff from AP that I've been talking about on the pre-season pods. He can be so good, but something is just missing. You don't luck into being the fastest man on the track for multiple laps indoors and outdoors that many times in a season. He's won a few times, sure, but I think there's potential for so much more in there. I asked his manager Wil Hahn on the PulpMX Show if he takes his potential seriously and works at it. I don't know Aaron that well but he's almost always laughing and seems a bit "Spicoli-ish" (look it up, kids), and I'm not saying he's J-Law at all, but does he understand that with his talents (and size for the 450 class), he could be REALLY good? Hahn assured me that he's deadly serious when he needs to be and that he works really hard. Maybe that's just PR stuff, but through two races, Plessinger's been VERY good. There's no doubt his strength is soft, rutty dirt that we had in Houston, but we're back to SoCal stuff this weekend. Although he did get second last week, so…
Let's take a look at the results, shall we?
250SX Results
1st | #23, Aaron Plessinger | Hamilton, OH | Yamaha YZ250F
As I said above, amazing ride. The red plate is his, and could this be the year that the skills of this guy begin to shine through? I firmly believe he's got the stuff to be a double champion in the 250 class if he can figure it all out.
2nd | #17, Joey Savatgy | Thomasville, GA | Kawasaki KX 250F
Savatgy led most of the race and got passed by Plessinger. You would think that Joe Dog would be pissed because after all, he's a title- and race-winning contender, but you'd be wrong. Nope, Joey talked to me after the press conference about how he threw away races last year (and he's absolutely right) and how he's got to take what's there and not push things. I think he's been very good to start the year, and last week with a better start, he might've won. I was a tad worried in the heat when he pushed the front end and threw that one away. By the way, Joey was told he was going to the West Coast around Christmas, which is a pretty short amount of time for a guy like him. He also admitted that he would prefer East.
3rd | #40, Chase Sexton | Clermont, FL | Honda CRF 250
Last week, I talked to Sexton and he was pissed. He had gotten a good start and just got passed on his way to just inside the top ten. I'm like, "Geez, kid, calm down, it's your first supercross in a stacked class. It's not like you're going to podium or something like that." Well, uhhh, I guess I was right, but in his second career SX, he worked his way up from fifth to an impressive third. Again, what do I know?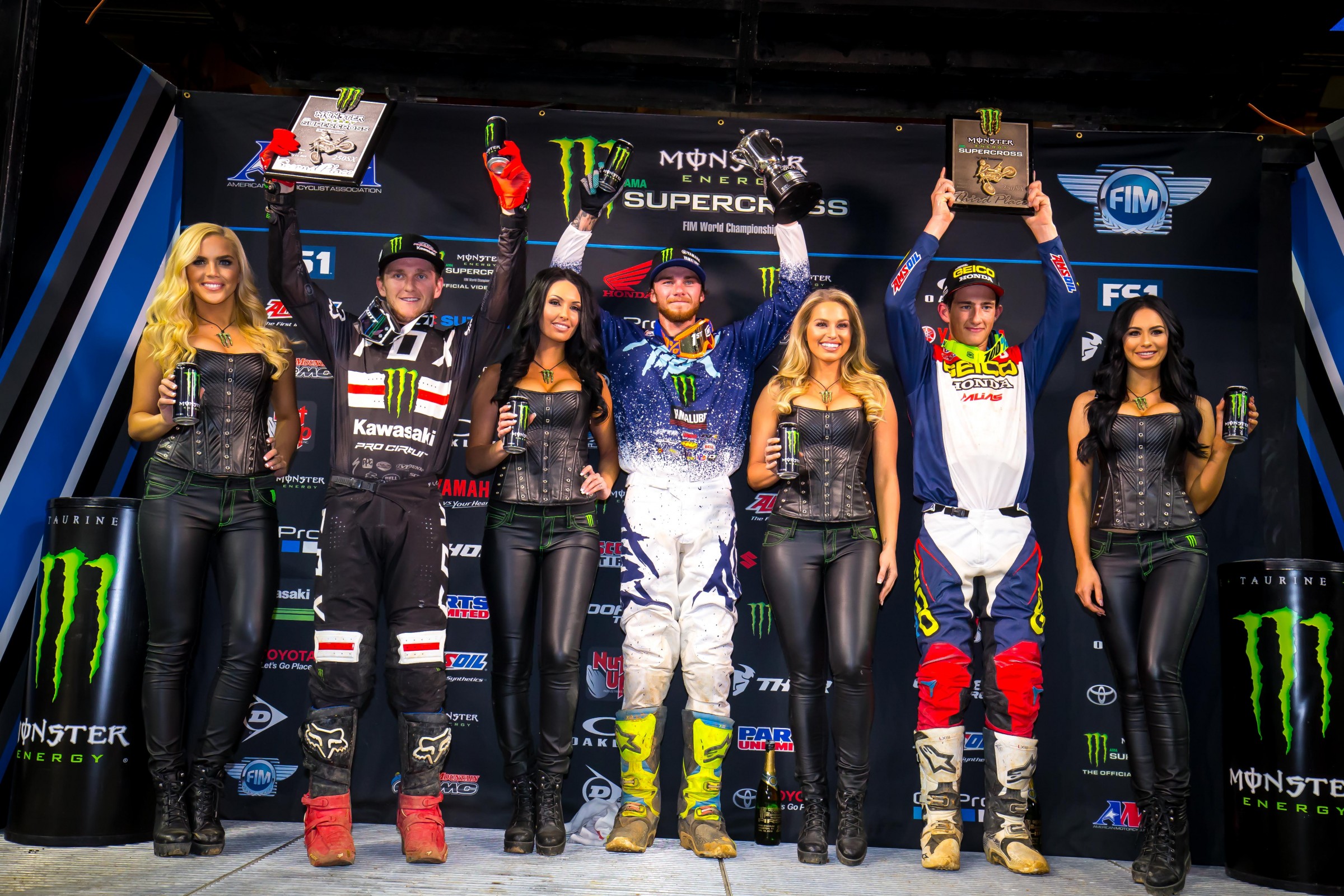 4th | #28, Shane McElrath | Canton, NC | KTM 250 SX-F
At one point in the main event, I thought that McElrath was going to take the win—before I saw Plessinger riding like he had a rocket strapped to his back. I just thought Shane would wear everyone out and slowly work his way up to the top. Instead, he got caught by Sexton after some mistakes and lost out on a podium. One-four is a good way to start a series, but I guarantee you he wasn't happy after the main.
5th | #32, Christian Craig | Orange, CA | Honda CRF 250
Craig's got a Franken-ankle going on right now after hurting it during the week. So, that probably didn't help much as he was right there lingering at the back of the battle for the lead. The whoops broke down too much for him to have his usual advantage.
6th | #52, Mitchell Oldenburg | Alvord, TX | Yamaha YZ250F
I watched Freckle out there and he's impressive. Then he crosses the line and he's, like, fourth in qualifying. That's still good, don't get me wrong, but man, he looks like the fastest guy out there at times. As I said last week, I think he'll get a win at some point here. By the way, I thought Freckle was being a bit too nice to his buddy McElrath in the heat.
7th | #92, Adam Cianciarulo | New Smyrna Beach, FL | Kawasaki KX 250F
AC blew it. He had a sure podium and maybe a win, but three crashes later, he's probably lucky to get this seventh. I think "Cianciarulo" is Italian for "front-end washouts." Bummer race for the #92—he was pretty good before then!
8th | #53, Bradley Taft | Nixa, MO | Yamaha YZ250F
STILL LOTS OF TAFT HYPE OUT THERE, BRO. He made a nice charge in his heat to get to the front, and in the main, he was steady for this position.
9th | #11, Kyle Chisholm | Valrico, FL | Yamaha YZ250F
I haven't seen Chiz one time all year, but Chiz is gonna do what Chiz is gonna do. Just grab you some solid top tens and ride well.
10th | #1, Justin Hill | Yoncalla, OR | Suzuki RM-Z250
Hey, last week you could point to the fast qualifying time and realize that Hill was on the right track. After qualifying this week (where he struggled), I asked JGR team manager Jeremy Albrecht if anything was wrong with Hill, but he said he was "fine." Well, this week he didn't qualify well, he dropped back quickly in his heat, had that terrible inside gate for the main, and then just didn't ride well the entire main event. It's still early so no panic button yet, but this ain't good.
11th | #42, Dakota Alix | Jay, VT | KTM 250SX
Alix has been quiet through two races. Where the heck did his good starts go? Still, 11th ain't too bad, you know?
12th | #54 Phillip Nicoletti | Bethel, NY | Suzuki RM-Z250
Filthy is hurting these days. He's got some rib issues, which makes him even crankier than usual on race day. He didn't shine through, but he did much better than last week. We've also inked a PulpMX sticker deal for his helmet. Exciting news for us at PulpMX! [Ed. Note: Terms of the agreement have yet to be disclosed.]
13th | #30, Mitchell Harrison | Tallahassee, FL | Husqvarna FC250
Harrison doesn't look nearly as good on the white bike as he did on the Yamaha last year. He's back to crashing a bit, also. He'll figure it out, but not a great start for a kid who broke through last year.
14th | #67, Justin Hoeft | Castaic, CA | Yamaha YZ250F
Hoeft rode well to the front in the LCQ race—you could tell that he didn't really belong in there.
15th | #63, Hayden Mellross | Clermont, FL | Yamaha YZ250F
I didn't see it, but Mellross crashed in the first turn and had to pull into the mechanics area for mid-race repairs—that's never a good thing. He was WAY far back and had to salvage spots from there.
16th | #68, Justin Starling | Deland, FL | Husqvarna FC250
Starling's a veteran in the class and needs to just get out of the low purse-paying 250s and into the 450s, where he can at least get paid somewhat decently for his work because there can't be much money for him in this class.
17th | #992, Jean Ramos | Corona, CA | Yamaha YZ250F
Two for two for Jean Carlos Ramos this year, and he did it both times through the LCQ. That's why he's set to star in Cutting it Close: The Jean Carlos Ramos Story.
18th | #902, Killian Auberson | Corona, CA | KTM 250 SX-F
Auberson's from Switzerland and he's been here for a while now, but I've never heard him talk. Does he have a French accent? His English must be pretty spot-on now, yeah?
19th | #77, Ryan Surratt | Corona, CA | KTM 250 SX-F
Now this is the Surratt that I thought we'd see last week. He's now on KTM and last week didn't look his usual self. This week was much better.
20th | #805, Carlen Gardner | Paso Robles, CA | Honda CRF 250
Highest PulpMX Fantasy points scorer of the night, everyone!
21th | #137, Martin Castelo | Murrieta, CA | Yamaha YZ250F
I don't know where that qualifying time came from either, bro. Probably the number-one guy in SX fantasy games that people couldn't figure out.
22nd | #117, Julio Zambrano | San Jacinto, CA | Husqvarna TC250
I don't know anything about Julio Zambrano besides the fact that "Julio Zambrano" is an awesome name.
450SX Results
1st | #21, Jason Anderson | Rio Rancho, NM | Husqvarna FC450
New gear but same old jersey hanging-out problem for Anderson out there. Seriously though, who cares, right? (Except when it gets him the win.)
2nd | #94, Ken Roczen | Clermont, FL | Honda CRF 450
Am I surprised that Kenny Roczen didn't win? Heck yeah, I am. I mean, he didn't make any big mistakes and just got reeled in and passed. That's weird for him, but, oh yeah, HE MISSED ALMOST A WHOLE YEAR WITH A BAD INJURY. I think I'll hold off on any hot takes that Roczen's not the same dude, okay? I do wonder if he found himself physically tired or his arm got tired—I suspect we'll never know. (UPDATE: I got a text from "someone" who told me Roczen did not get tired and Anderson just rode well, so there's that. If I wanted to be hero media guy, I could've deleted all that stuff about him being tired, but I typed that on Sunday and wanted to leave it there. So, I'm wrong. Again.)
3rd | #51, Justin Barcia | Greenville, FL | Yamaha YZ450F
Weird stuff always happens at the opening round, so although Barcia's third last week seemed legit with the heat race win and qualifying time, you don't know for sure. Well, he's for real, I'd say. He made mention of making "fifty mistakes" in the press conference about his main event, and he's right. He looked tired or just rattled for a few laps around the middle of the main. But full props to #51—he gathered himself back together, passed Seely back for third, and then pulled back out. Heck, he wasn't far off the leaders! In the press conference, Barcia said that the factory Yamaha guys are "super professional, which is better than I've been used to dealing with the last few years." Ouch, bro! Oh, and in case you're wondering, new Yamaha man Ryan Villopoto is already 100 percent taking credit for Barcia's finishes on some texts to me and Nick Wey.
4th | #14, Cole Seely | Newbury Park, CA | Honda CRF 450
Seely put out on social media that he was getting closer to where he wanted to be, and I agree with that. Hey, the last time the race was in Houston, he won the 450SX main event, so he had to be feeling good. I got to be completely honest and admit that I was very surprised that he got passed back by Barcia, and I don't know whether that's on Cole for making mistakes or a tip of the visor to Barcia for regrouping.
5th | #34, Weston Peick | Menifee, CA | Suzuki RM-Z450
Weston is off to a good start on the season and he and Brayton just yo-yo'd with each other the whole main event. Just when it seemed one of them had the upper hand, a mistake was made and the other guy gained some time. I spoke with Weston about the whoops afterward and he said they were so gnarly because of the speed the riders had going into them.
6th | #10, Justin Brayton | Mint Hill, NC | Honda CRF 450
Okay, I got to the bottom of Brayton's bike a bit. The team took the e-start stuff off the bike and put on a kickstarter because, according to the team, it saved nine pounds (Honda says seven officially) and Brayton's got zero titanium on the bike, so weight is important. Some riders feel a bit of a drag on the motor with the e-start stuff because of the gear in there. Oh, and Brayton also uses a stock transmission, which blew my mind a bit. Hey, Honda, can we get him a taller first or second, please?
7th | #4, Blake Baggett | Grand Terrace, CA | KTM 450 SX-F
Well, the good news is this was better than last week, but the bad news is it's still not where he probably thought he would be. Baggett's average qualifying position through two races is 5.5, and there are four riders with worse "speed" in qualifying ahead of him in the points. That's not usual for Blake.
8th | #20, Broc Tickle | Holly, MI | KTM 450 SX-F
Very quiet night for Tickle to go along with his quiet night at round one. We're waiting for the new Broc Tickle to show up. Shan't be too long now, methinks.
9th | #33, Joshua Grant | Wildomar, CA | Kawasaki KX 450F
JG started eighth and Martin was 18th after a near tip over in the first turn. By the end of the race, Martin was less than two seconds behind Grant; I'm not sure that's a great thing for Martin or a bad thing for Grant. Judging by the way Grant rode in the heat, I'm going with the latter.
10th | #6, Jeremy Martin | Carlsbad, CA | Honda CRF 450
J-Mart got caught up with Webb off the start, but he was WAY back off and had to fight up the entire main event. I'm good with this finish, and I think he and the team should be as well.
11th | #27, Malcolm Stewart | Haines City, FL | Suzuki RM-Z450
Mookie is back! A two-race—or perhaps indefinite—deal for him on the JGR bike and we saw heat race Mookie show up a bit in that he went Mach 5 in the whoops a few times, and in practice he tripled this thing out of the left turn after the whoops that, like, only two other dudes did. Three rides on the RMZ for Stewart and I'd say he looked less tired than he did last year, to start. Afterward I talked to him and he said that as a privateer he was used to eating Chipotle, so he loved the JGR food. He also loved the spirit of JGR, and he attempted to tell me about some sort of team hand ceremony he had that didn't make that much sense but hey, he liked it. Oh, and during this ceremony, Phil was on the toilet.
12th | #2, Cooper Webb | Newport, NC | Yamaha YZ450F
Terrible start to the season for Webb. This week he was forced off the track in the first turn and was dead, dead last with what he said was a broken clutch lever. We've seen the softer dirt favor Webb last year, but nothing was going on this week for the #2, including qualifying when he was just 15th!
13th | #55, Vince Friese | Cape Girardeau, MO | Honda CRF 450
Hey, don't look now, but Friese is riding pretty well through the first two races. He lingered around the top ten for much of the main event before getting caught by Webb and Stewart late. Pretty good start for a rider who has gotten the advice of "don't touch anyone" from his team.
14th | #39, Kyle Cunningham | Willow Park, TX | Suzuki RM-Z450
I like the look of the H.E.P. Suzukis. It's old school with a mix of new.
15th | #907, Ben LaMay | Wasilla, AK | Honda CRF 450
I'd say LaMay is the privateer hero of the early season. I mean, he's just riding himself into the mains with no issues and then hanging up there. He'll probably figure out the pace for 20 minutes plus one soon enough as well. The Teddy Parks Experience privateer program is a bit changed this year with a focus on fewer riders, and Ben is one of the main guys. By the way, he was one of the few to triple into the rhythm after the long whoops (Malcolm Stewart said it was "scary"), which is awesome, and did you know he works all week long? Yeah, Ben's got a real job, everyone.
16th | #22, Chad Reed | Dade City, FL | Husqvarna FC450
Yeah, not much flash from the #22 out there. Every practice, heat, and main, he was in the back with some rear brake issues. But as we talked about last week, this is to be expected by him until he gets healthy, which people close to him say should be around Dallas. Not going to lie, this is weird.
17th | #91, Alex Ray | Milan, TN | Yamaha YZ450F
I was in the CycleTrader.com/Rock River Yamaha truck watching some film with Ray and teammate Bradley Taft but we couldn't get any highlights going on for Ray; all it was were videos of him getting Catywhompus in the whoops and rhythms. Still, like the #722, Ray's a new guy in 2018 and it's showing.
18th | #80, AJ Catanzaro | Reston, VA | Kawasaki KX 450F
The Cat is back!
19th | #48, Henry Miller | Rochester, MN | Suzuki RM-Z450
First-ever 450SX main event for Miller on the H.E.P. Suzuki team. He crashed in practice and it looked to be serious, so props to him for gutting it out and into the main.
20th | #722, Adam Enticknap | Lompoc, CA | Honda CRF 450
The #722 has never had it this easy to get into the main events and probably doesn't know what to do with himself back in the pits.
21st | #90, Dakota Tedder | Surfside, CA | KTM 450 SX-F
Tedder's a hero. He went over the bars hard in the whoops in the LCQ and no one could've blamed him if he called it a night. Instead, he got up, turned his bike around, caught, and passed Tyler Enticknap in a lap and a half for the last spot into the main event! It was awesome and amazing all at the same time, although the crash did leave him with a wrist injury that held him back from riding this week. Next week, the LCQs are going to take place in the day for the Triple Crown races, and this is a huge opportunity missed by Feld. They could hold four-lap LCQs to start the night program off and it would be awesome and epic all at once. Thing's I don't understand Part 985. Anyway, props to Tedder for his ride and also for having Monster Kawasaki wrap on his rig while he rides a KTM.
22nd | #981, Austin Politelli | Murrieta, CA | Honda CRF 450
Politelli went down hard in the heat while in qualifying position and kind of crawled off the track. It didn't look good, but somehow he came back and won the LCQ! What an amazing comeback. Then he did two laps in the main and pulled out.
Some other news and notes:
Someone from Yamaha was telling me about how good Davi Millsaps was looking on the Yamaha before he crashed. Then he made a joke that if Davi comes back, the team better just build a third bike because Justin Barcia, with two thirds, ain't going anywhere. The guys at blue are really adamant that the new '18 chassis is a ton better than the older one and can't quite get their heads wrapped around that the magazine shootout guys can't feel it being so much better. I mean, the guys are saying it's better but they're not freaking out about it as much as the blu cru would like them to be.


Anyway, the Yamaha guys are running stock clamps on the machines this year, and more than ever before, they started with Barcia and Webb on stock settings and went from there. This is also something Roczen and the RCH Suzuki guys did in his title year, and maybe it's what more teams should do. The Japanese and Austrian engineers are pretty smart and you start adding all this power and rigidity to bikes and things change. So, props to Yamaha for going back to stock and working forward from there.


Myself and the #722, Adam Enticknap, started handing out some weekly Lit Kit awards last year for the rider that looked the best. We pick three and you people go to PulpMX.com and vote. It's been pretty popular in the pits, with the gear guys swearing at the choices and vowing to not care about the award until they win it, which then makes them pumped. Anyway, last week Roczen won and Honda even made a mention of it in the team PR from the weekend! Yeah, bro, get on the Lit Kit train.


Big controversy with the metal grates this week. A few teams noticed that Shane McElrath started off the side of the center last week and therefore didn't drop into the rut in the front of the gate. Predictably, he got a killer jump and the holeshot. So, it took exactly ZERO weeks for the riders to exploit this new system. The rule was always you had to be in the rut behind the gate to avoid chaos off the start, but with no rut, there was no one looking, which Shane took advantage of. This week there was strict adherence to being in the middle.


And, remember when I said that letting the riders do a full start off the grate for all three practices at Anaheim 1 wasn't a good idea? Maybe it was always planned this way because it was the first round, but they only did it for the third practice this week. This is a good idea; too many egos to have them all going into the first turn three times in practice.
Thanks for reading! Good times indeed, and we're back to Anaheim this weekend for the first round of the Triple Crown. History will be made! Email me at matthes@racerxonline.com if you'd like to chat about this or anything else.