Houston, TX
Houston
Monster Energy AMA Supercross Championship
Plenty to talk about leaving round two of Monster Energy Supercross in Houston, Texas. Pre-season title contenders Marvin Musquin and Eli Tomac both missed the main event due to shoulder injuries, and just two rounds into the season, their title hopes are up in the air.
Rockstar Energy Husqvarna's Jason Anderson passed leader Ken Roczen just past the mid-way point to claim his first win of the year. Roczen held on for second, with Justin Barcia grabbing a second straight podium in third.
All three riders spoke with the media in the post-race press conference.
Racer X: Justin, early in that main event you were right there just behind Ken, shadowing him a little bit. Then it seemed like you made one big mistake, and then that's what kind of lost it. After that, everything changed. Is that kind of what happened?
Justin Barcia: Yeah, I could accept that. I was having a good ride. I was just kind of watching Kenny, what he was doing, and trying to adapt to the track because it was changing every lap and stuff. Just made a little mistake. Well, it was a pretty big mistake, actually. Just kind of struggled a little bit in the middle and then kind of regrouped at the end and made a decent charge at the end to get back up into third.
Ken, I'm sure last weekend you were happy with fourth just to get a race under your belt. Tell me how it felt being out front and just having that clear track and being back where I know you think you belong.
Ken Roczen: I wasn't that happy with it. It was okay last weekend. This was a really good weekend for us. I think where I have the most fun is just rolling out with the HRC team. They're all excited I'm back. I'm excited I'm back, and obviously with Cole [Seely] and just having two riders on the track. To be able to deliver to them a podium in just our second race back feels great. I had two good starts. I had a good start in the heat, rode smart there and had a good start in the main event too. Justin and I had some good battles. It was clean. It was fun. I had to really in the first couple of laps kind of protect my inside a little bit. I noticed that I couldn't really separate myself at all. If anything, I felt like they were kind of gaining. I was kind of scared—not scared, but I was kind of thinking that if I take the regular line just because we were so close, somebody was going to come up the inside. But then from lap two or three or so I kind of started opening up the turns a little bit, and I could just inch away just a little bit.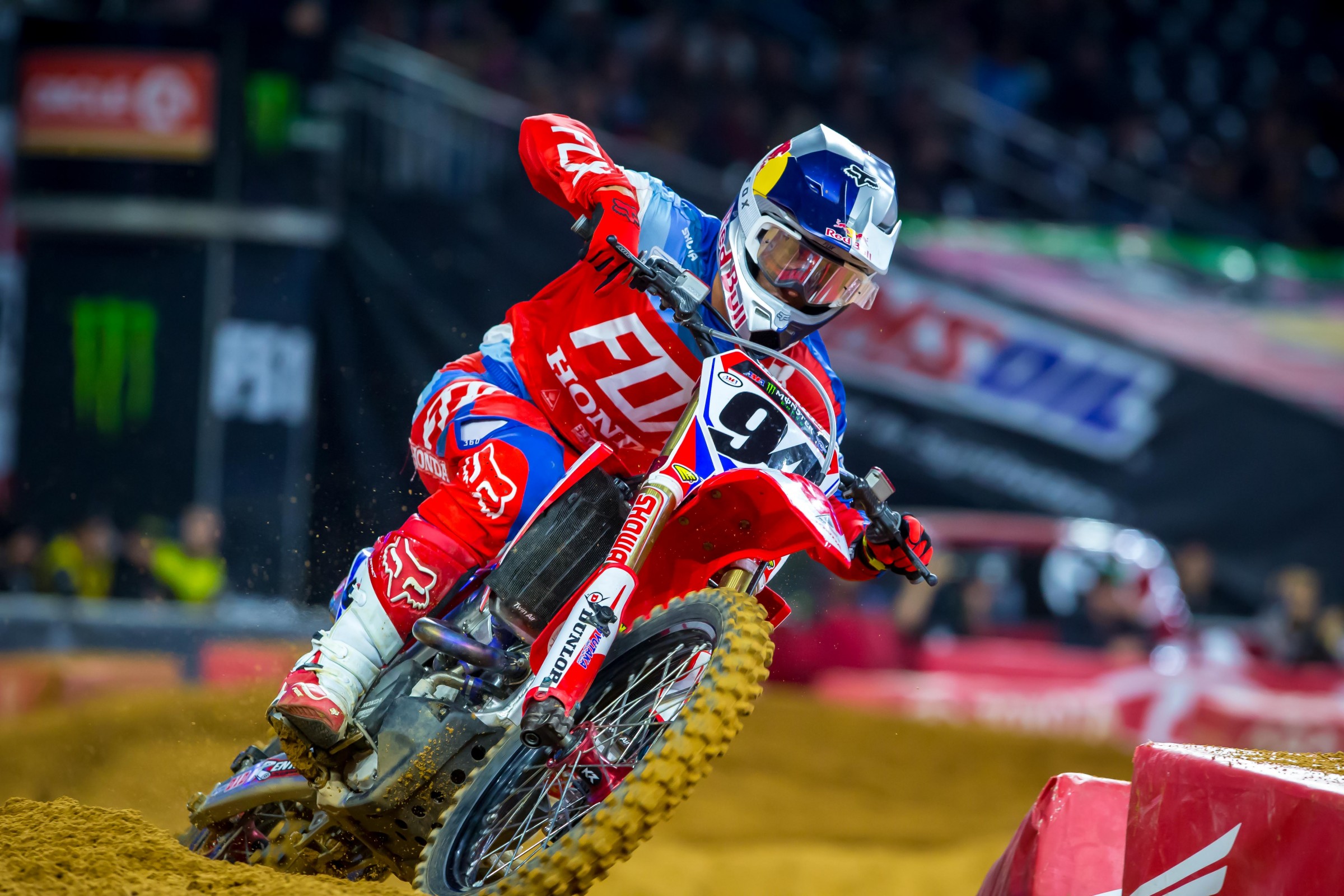 Jason, congratulations. Kind of noticed from right away in practice and qualifying that you were really aggressive and kind of had that "it" factor from the first laps. Is it one of those nights where you just kind of felt like you knew this was your night? Or still going into the main event a little unsure? Or was it just the night?
Jason Anderson: Tonight was pretty unreal. I honestly had the best night I've ever had in my career. But at the same time, it's about time for me to start doing that, be a championship contender and stuff like that. It was a good night. That main event I got off to a good start in both the heat race and the main, as well as these guys did. I had kind of a scary moment when Justin doubled the triple, but that corner was tough. That triple was tough to hit every lap. Then I had good battles with Ken. Excited to come out with a win, but at the same time, this is just a step in the process. Excited to do battle the rest of the year with these two.
Ken, compared to last week, this was a much better start to your main event. You weren't bunched up behind anybody. Can you talk about your attitude and your thought process compared to last week, where you had to battle and be amongst a bunch of guys for the first time in 11 months, to this week, where you were out front and clear for a while?
Roczen: Yeah, last week, for me, I don't know where I'm at until I'm actually racing and am around these guys. So, it was really just getting familiar with things again. I felt a lot more comfortable tonight. It's just that one round—I know it's just one race, but having that one race under our belt last weekend made this weekend a lot more familiar, I should say. This was definitely… when we practice, and especially in California lately, we don't ever get to ride tracks that are this tacky or rutty. So, this was definitely something new. It's been a while since I've ridden things like that. But my mindset was still the same. You can't really freak out after just one race. Even after this, it's been two races and I couldn't get all crazy and then be super aggressive and then make a mistake again. I think mentally, I'm going to stay the same throughout the season and just get comfortable and do each and every race without having too big of a mistake.
Justin, during the main event, it seemed like every mistake was followed by two or three more down the straightaway after that. Do you find that when you do make a mistake, things get a little bit too excited and tough to get back in the rhythm?
Barcia: Not necessarily. Definitely my mechanic Shaun told me tonight, "You had 100 mistakes at Anaheim, so if you have 50 mistakes today, you'll be a lot better." And I had about 50 mistakes tonight. It just all comes with the territory, the racing. For me, I'm just getting more comfortable. I really don't have that much time on the new Yamaha yet, and I'm just getting more used to the way it does things and the way it reacts and stuff. Of course, I did have a few mistakes. I did have a few back-to-back as well, which can be frustrating, but I thought for me, I held my cool and regrouped and made a good charge back. The track was super challenging tonight. Jason was definitely on another level. It was awesome to have Ken back battling with him a little bit. It's been a long time. So, it was a fun night, all in all. Definitely got a few things to work on still, but it's a long season and just taking it race by race. One hundred mistakes last week, 50 this week, maybe 25 next week, and be in a good spot.
Jason, you were so fast in practice but it seemed like you kind of waited in the main event. Did you wait to put in your best laps, or did the race kind of come to you? What was the strategy to really turn it on really in the second half?
Anderson: The track was tough because I felt like if you stepped out of the main line, even the main line wasn't that good, but if you kind of went patient through a lot of it, it was a fast line. So, every time I stepped out of the line, I felt like I was… through the whoops, if you went to the right or left, I was getting a little out of shape. The ones before the finish line, I think I got out of shape every lap. I was just getting side to side. At the same time, as Kenny was saying, it's important for us to stay calm, but it's hard whenever you see the win in sight and stuff like that. I feel like that's something that you just got to learn. I feel like that's out of my character to be patient. So, it was cool that I kind of executed pretty well. I got to just keep that going. These guys are going to be fast some nights, but at the same time, you got to still go for it sometimes.
Jason, you've talked a lot about how this needs to be your time to be a championship contender and really step up. Was there a certain moment where that hit you or you made changes, or even just had a different mentality of, "Yeah, this could be the year I'm not just a learning guy, but a guy that can really go for this number-one plate?"
Anderson: I felt like last year, that was my goal. As you saw the first few rounds, I just was blowing it. This year, I think it's just experience. I think that's the biggest thing. Over the last three years, I've really learned and tried to problem-solve and figure out what I need to do to be able to be a contender. I think, obviously, we got to put ourselves in good positions with starts, and I've never been a guy to do that. I think that's something I've worked out pretty well. Then just my riding, I got to keep it up and keep sharp all 20 minutes.
Can you talk a little bit about how the dynamic has changed? Obviously, Marvin wasn't in the main tonight. Eli had a bad finish last week and couldn't ride tonight. Talk about championship thoughts out in the distance.
Roczen: I think things happen. That's why I get sometimes upset with the people outside of our industry that think that we're robots and we ride on a train rail, because they always talk about mental mistake and mental this and mental that. But tracks change. Tracks are tough. Things don't always work out. So, I feel like it's never really calculated to 100 percent. You can see you make a mistake, but that's just part of racing. We're all pushing out there. That's just the instinct. Anybody that goes to a competition wants to do good and wants to go fast. You're always going to go as fast as you're comfortable, but sometimes it just doesn't work out. It happened to Eli last weekend. It happened to me last year. It happened to Marvin this weekend. It can happen to anybody, really. It's just part of racing, I think.
Anderson: With Marv crashing tonight, that's a real bummer. It's good for the fans to see a fight. That's what we really want to do. We all want to win and we all want to just win super easy, us up here, but I think it's good for the sport to have all those guys there all the time. What's crazy is, it's just like little things. It wasn't the track or anything like that; it was just little mistakes. It's tough. This sport's tough. As far as the championship, it's round two, so it doesn't really matter. We just got to keep racing and battling and stay sharp, because those things can happen to us too. We just got to try and make sure that doesn't happen. It kind of sucks that both of them had crashes and kind of are back in the points, but at the same time, it's going to be a good battle still.
Justin, I overheard you talking saying that you guys were digging down to the concrete. How does that affect your riding, or does it, towards the end of the main?
Barcia: For sure, definitely hitting a few spots of concrete tonight. It's just with this type of dirt, there's really nothing they can do. It gets thin and you get down to that. Obviously, the track changes a lot. The lines change. It keeps getting tighter and tighter, trying to get away from that. That triple that I couldn't jump, I just missed that inside line and got a little out of that line and couldn't jump it. Right there could have cost me a whole race. When the track changes like that, you just got to kind of adapt to the conditions. Obviously, you try to stay away from any concrete that's coming up because it's super slippery.
Justin, I think five months ago if somebody told you that you would have a factory ride and you'd be second in the championship standings, I think we all would assume, okay, that's a little far-fetched. But now that you're in that position, how does that feel for you, and what do you do going forward? At this point, there's no way you pull the plug six races in.
Barcia: You would hope not. Like I said, I'm just taking it race by race. That's what I kind of talked about last weekend. My life is definitely taking a turn for the better, personally and in racing as well. I've just changed a lot in my life. I've got a better outlook on everything. I'm just a lot more happy. A lot of people like to stick with the "Bam Bam" thing. Obviously, I'm an aggressive rider, but it's not necessarily who I am. So, I kind of just re-thought everything. The Yamaha opportunity is awesome. Obviously, I've adapted to the bike well. I think it's just going to keep getting better because putting more time on it every week. The team is great. They have put some new people in places there. It's super professional. It's a lot different than the last couple years what I was dealing with. So, it's very awesome.
Ken, there's more than a few straightaways out there that you guys were just kind of sending it off to flat. Were you mindful of that at all as far as line choice or rhythm choice to minimize the impact, or were you full-go?
Roczen: It's kind of crazy actually. When we were sitting on the starting gate there, it actually looked like they were doing quite a bit of track work, but by the time we hit halfway and especially towards the last laps, it gets pretty brutal. Especially with dirt like that, you could actually see where we landed there were tire marks and holes and everything. It really changed. We normally don't ever have jumps where we just kind of launch out of there, but they really kind of steepened the transitions a little bit. Obviously, the dirt being so soft, it sometimes can get a bit rutty, especially a couple of holes down there. So, you have to really be aware of it. But like Jason said before, once you find your line, it's really hard to get out of that. Then you send it off of something and the track, like they said, changes every single lap, and you might hit one that is not so good. It could cost you big-time.
This is for all three of you. Next week is the first of the Triple Crown format. I know this is a pretty big change. All three of you have raced Monster Cup before, but to have this be part of your championship, how do you attack that? Is this week shorter sprints, or is it just keep doing what you're doing?
Anderson: I think for me, it's going to be the same. Obviously, we do the heat races, so we're already ready for the heat races. For me, I'm not going to switch up too much. I think the Triple Crown is going to be crazy because the starts are crazy enough and the first laps are crazy, so having three of them is going to be insane. It's going to be a lot of action for the fans, but for us, I think it's going to be a little bit more stressful. You have the shorter moto at the beginning where the track's fresh; people can send it. So, it's going to be entertaining and it's going to be hard to keep your cool on something like that. It's going to be interesting. I think it's going to be good for the fans, but for us it's going to be a little bit stressful having three starts, full main event-type starts with all the top guys. Heat races you have half and half. So, it's going to be crazy.
Barcia: Yeah, I agree. It's going to be interesting for sure. It definitely makes it exciting for everyone in the sport. For the riders, it's definitely going to be a little bit nerve-racking. It's one thing to do a heat race good start, main event good start, but then you got to add a couple more of those in. So, definitely have to be on your game all night and just stay focused. I'm interested to see how the dirt will be this weekend there because they've had some Monster Trucks and some rain and stuff like that, so I'm interested to see if it will break down a lot more. I'm assuming it will probably stay a lot more hard pack than last week. We'll see.
Roczen: I'm with them. Having three motos like that, it's just not long enough, almost. We train to be super fit and we're doing 20 plus one out here, and that really separates the riders. Having a full-stacked field and then three races… I don't even know, what's the first moto? Is it like eight plus one or something like that, and then 12 plus one? So, they're definitely shorter races. So, for sure, everybody's going to send it.