Welcome to Racerhead, coming to you at the end of what was basically picture week in Monster Energy AMA Supercross. Many of the race teams did their press shoots this week, some having full-on press intros. The shots popping up all over online and on social media were a tantalizing appetizer of what begins on January 6, 2018, at Angel Stadium in Anaheim. We got our first real look at Team Honda HRC's Ken Roczen's progress, and it's safe to say that @The722 Adam Enticknap knew what he was talking about when he mentioned how fast K-Roc was riding.
It's also been strange seeing this 2018 preseason wrapping up without hearing or seeing much from a few names that have been a huge part of supercross the past decade. Ryan Dungey, of course, is all done, signing off with that amazing cornfield video by our pal Wes Williams. We caught a brief glimpse of James Stewart on a Honda before Thanksgiving and then he vanished again. Davi Millsaps got hurt, and his slot with Monster Energy/Knich/Yamaha Factory Racing opened up for Justin Barcia. And Chad Reed is trying to get the TwoTwo Motorsports band back together for a Husqvarna effort but has remained largely on the DL after his ankle injury at Red Bull Straight Rhythm. Christophe Pourcel announced his retirement this week, joining Dungey and Trey Canard on that recent list. And it sounds like Mike Alessi is pretty much done with supercross as well. No word yet on whether he will be racing in Canada this summer.
So with 22 days left before they drop the first starting gates of 2018, it definitely feels like a paradigm shift is upon us. The title favorites are all from the younger set now: Tomac, Roczen, Musquin, Anderson, maybe Webb, maybe Seely, maybe Baggett, maybe a resurgent Barcia…. It's going to be a much different series in 2018 than it was just a couple of years ago.
And I can't wait!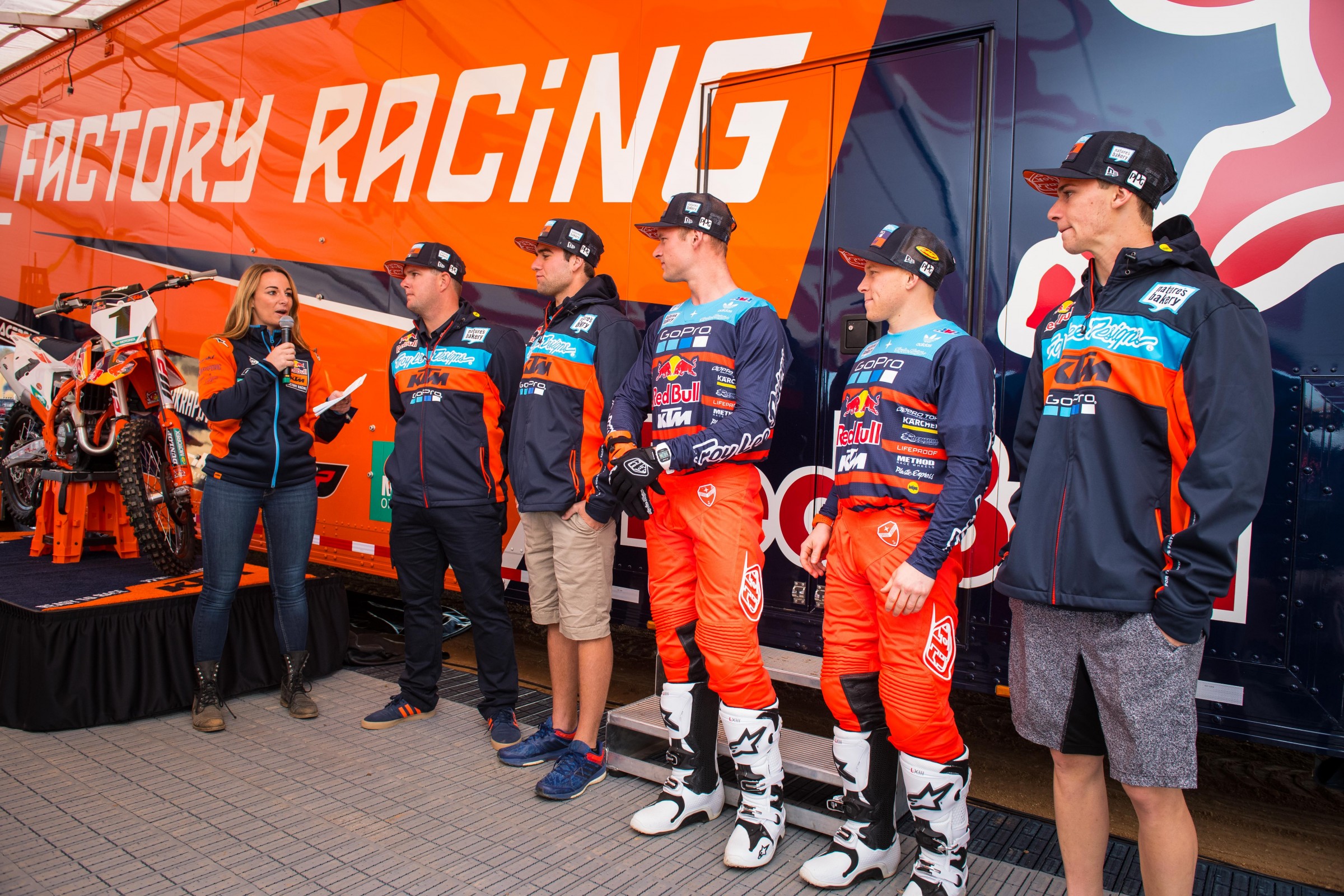 Pro Perspective (Jason Thomas)
As anyone with access to social media can see, this week has been full of photo shoots and media events for riders and teams. For many, this is a chance to see their finished package from gear to bike to team casual clothing for the first time. Graphics are finalized, sponsors are locked in, and all that's left is a few more weeks of waiting.
Most of the hardest training work is likely done. There are still plenty of laps being put in, but the focus is shifting to picking up the pace and refining everything that's been worked on for the last six weeks. The brutally long days of gym, moto, bicycle, repeat are slowly transitioning into sprint work and pushing the edge of the speed barrier. They will get another full week in next week, finalizing their race settings and doing sprint after sprint after sprint. Next week will be critical to get a lot of solid work in as Christmas and New Year's interrupt plans, and while most of us love a good party with friends and loved ones, holidays are mostly a nuisance to a training program. It's also a very important time to maintain sleep habits and stay healthy. Nothing can derail the final weeks like getting sick. Everyone will be looking to peak in three short weeks. Anaheim is squarely in sight now, most of the work is behind everyone, and the anticipation is building. I'm already excited just typing about it.
Farewell, Pourcel (Andras Hegyi)
Christophe Pourcel announced his retirement this week on Instagram. He was unique talent, superbly skilled on a motorcycle but also seemingly lacking luck at the worst possible times, costing him more than one title. Here's a breakdown of his career titles.
In his homeland of France, Pourcel collected six titles in all. He was 65cc champion (1999), 85cc champion (2001, 2002, 2003), and 125cc champion (2005).
Pourcel was 85cc European champion in 2003. Besides Pourcel, among the French champions in the U.S. only Musquin was able to be European champion too. (Pourcel also raced at Loretta Lynn's in 2003 and finished third in Super Mini behind Mike Alessi and Ryan Villopoto.)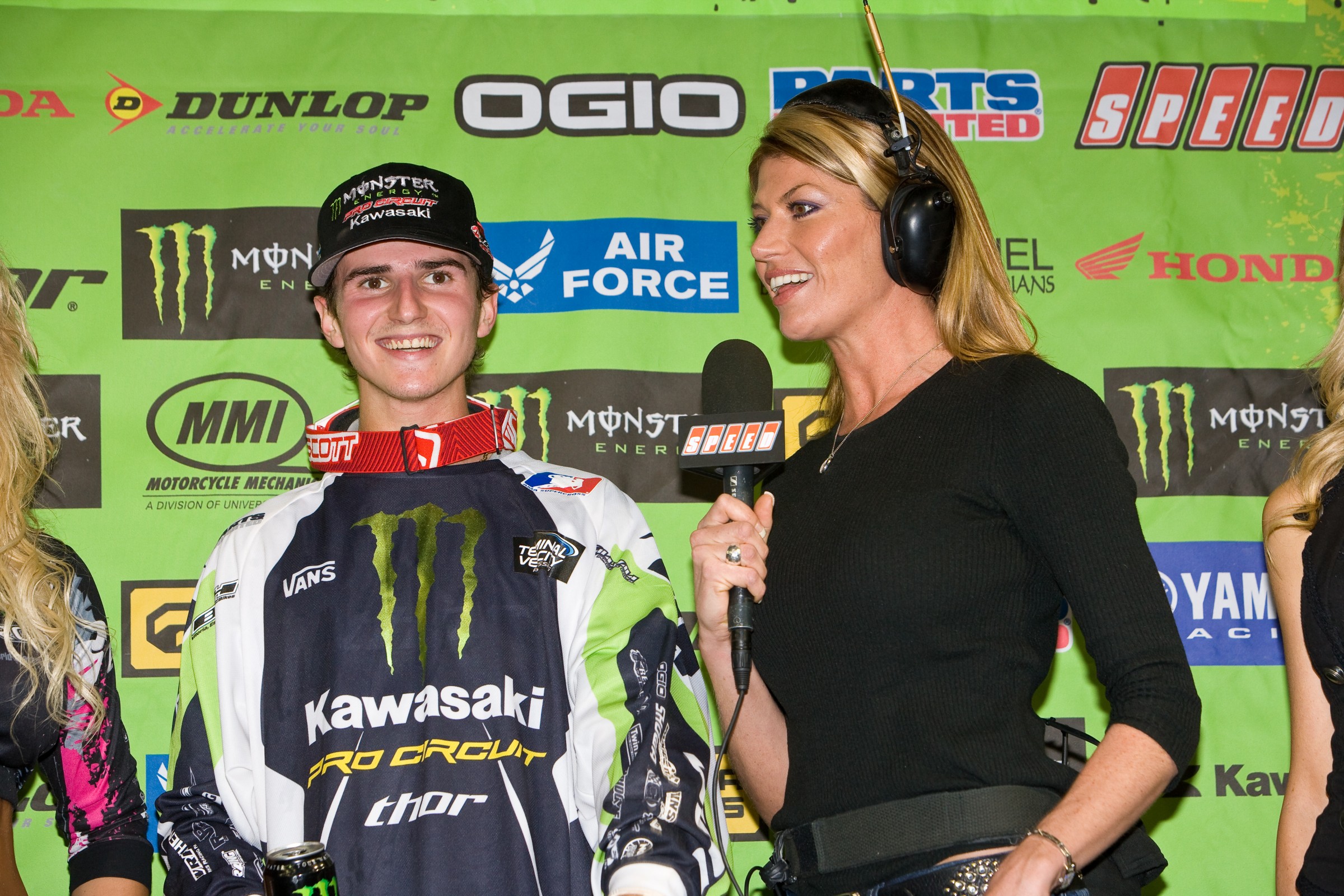 In 2006, Pourcel became MX2 World Champion, defeating 2005 World Champion Antonio Cairoli. Since 2004, the beginning of the new four-stroke era, Pourcel has been the only Kawasaki rider to be world champion in any category—MXGP, MX2, and the former MX3. His own title defense ended the next year when he crashed and was landed on by another rider, severely injuring his pelvis and causing him lasting intestinal problems.
In American supercross, Pourcel repeated Mickael Pichon's performance. Among the foreign and French SX champions in the U.S., only Pichon and Pourcel were able to be supercross champions in two consecutive years. Both were champions in the saddle of Pro Circuit Kawasakis in the small-bore class and in the East Region. Pichon was champion in 1995 and '96 on a KX125, while Pourcel was champion in 2009 and '10 on a KX250F.
Pourcel was King of Bercy in 2006. He is the only Bercy winner to ride a four-stroke 250cc Kawi. He's also the youngest winner of the Bercy Supercross, taking the crown at age 18 years, 2 months, and 26 days.
This Week in News (Chase Stallo)
Busy week here in the United States and Europe, so let's dive right in.
Pourcel Hangs It Up
As Andras mentioned, Christophe Pourcel has called it a career at just 29. If you're looking for a good overview of his career, check out this Jason Weigandt column from February when Pourcel announced he was no longer racing supercross. We will definitely miss the Crafty Frenchman!
Gajser, Seewer Get New Deals
We won't be seeing Tim Gajser in the U.S. until at least 2020, after the two-time World Champion agreed to a new deal with Honda HRC this week to remain in the FIM Motocross World Championship. Gajser still has interest in coming to the U.S. to race, as HRC general manager Tetsuhiro Kuwata noted: "We are very pleased to decide with Tim that he will stay in MXGP for another two seasons. Of course, he still has a desire to race in America, but for the short term our focus together is to bring the World Championship back to Honda, and we believe that the combination of Tim and the CRF450RW is a very strong partnership to enable us to repeat 2016 and fight for the title again next year.
Jeremy Seewer's deal with Suzuki to move to the MXGP Class in 2018, due to the 23-under age rule, was nullified when Suzuki pulled its support from the championship. The Swiss rider has found a landing spot, inking a two-year deal with Wilvo Yamaha.
Martin Moving Up
Not full-time, like was expected when Jeremy Martin initially signed with GEICO Honda, but the two-time 250 Class Lucas Oil Pro Motocross Champion will begin the 2018 Monster Energy Supercross season in 450SX. Martin will race a full factory CRF450R at the first three rounds.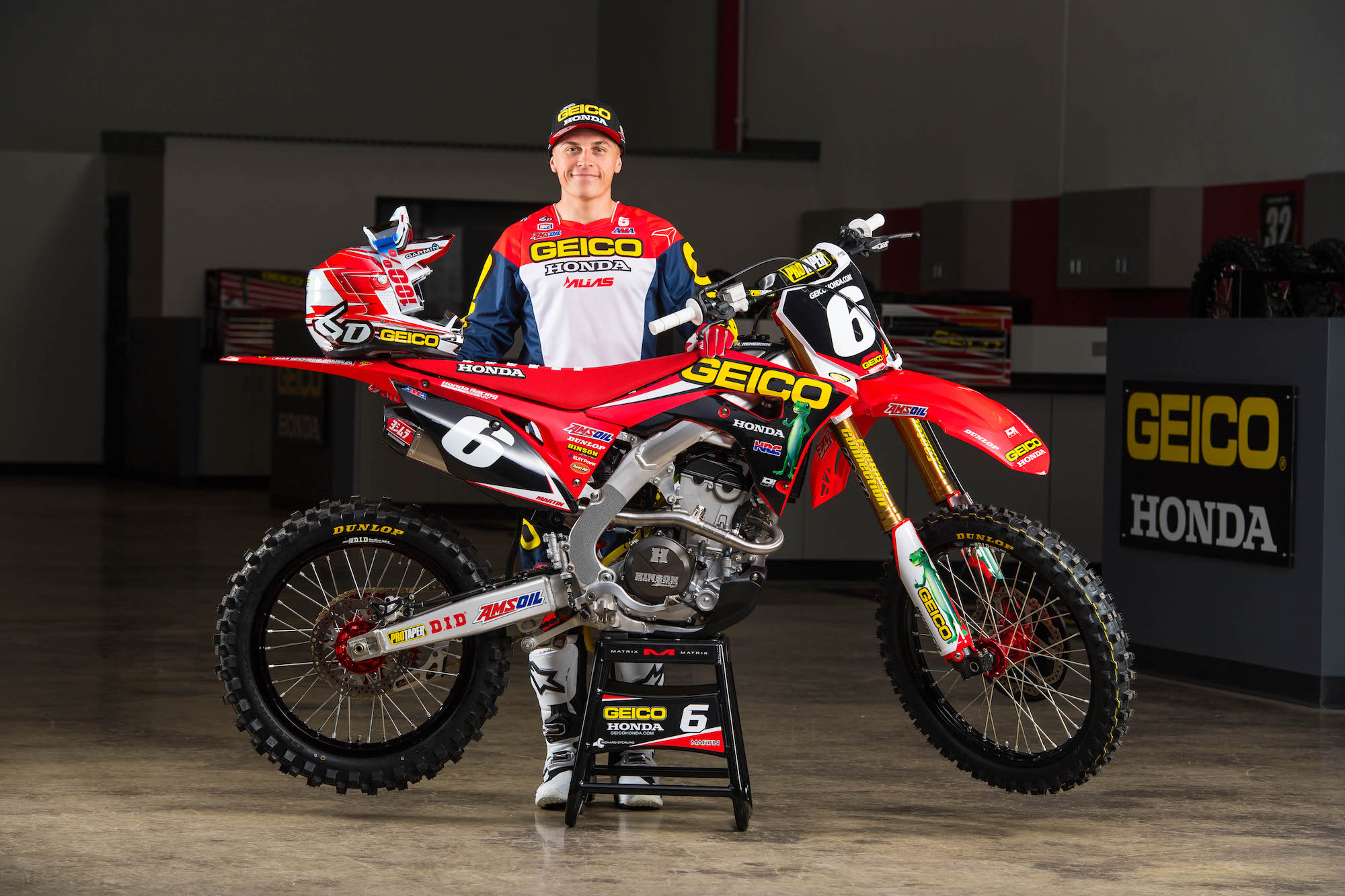 Reed Cleared
Earlier this week, Chad Reed announced he's been cleared to begin riding, just 24 days ahead of the 2018 supercross season opener. Reed underwent surgery in October to repair two fractures in his ankle (talus) sustained at Red Bull Straight Rhythm.
Nichols Hurt
For the second straight year, Monster Energy/Yamalube/Star/ Yamaha Racing's Cole Nichols suffered a preseason setback. Nicohls recently sustained a broken upper arm in a practice crash. The good news: team manager Wil Hahn said he should be ready for the start of the 250SX East Region.
RED RIDERS REVIVAL (DC)
As mentioned in the intro, Ken Roczen was back in the public eye, on a full-blown supercross track, for the first time since last January's horrific Anaheim 2 crash. He and Honda HRC Factory teammate Cole Seely were introduced to the media at the Honda SX track below Corona, and our two guys on the scene—Simon Cudby and Kyle Scott—were both pleasantly shocked by how fast, comfortable, and confident Roczen looked, especially given how tentative and reserved he seemed when Kyle got with him back in September.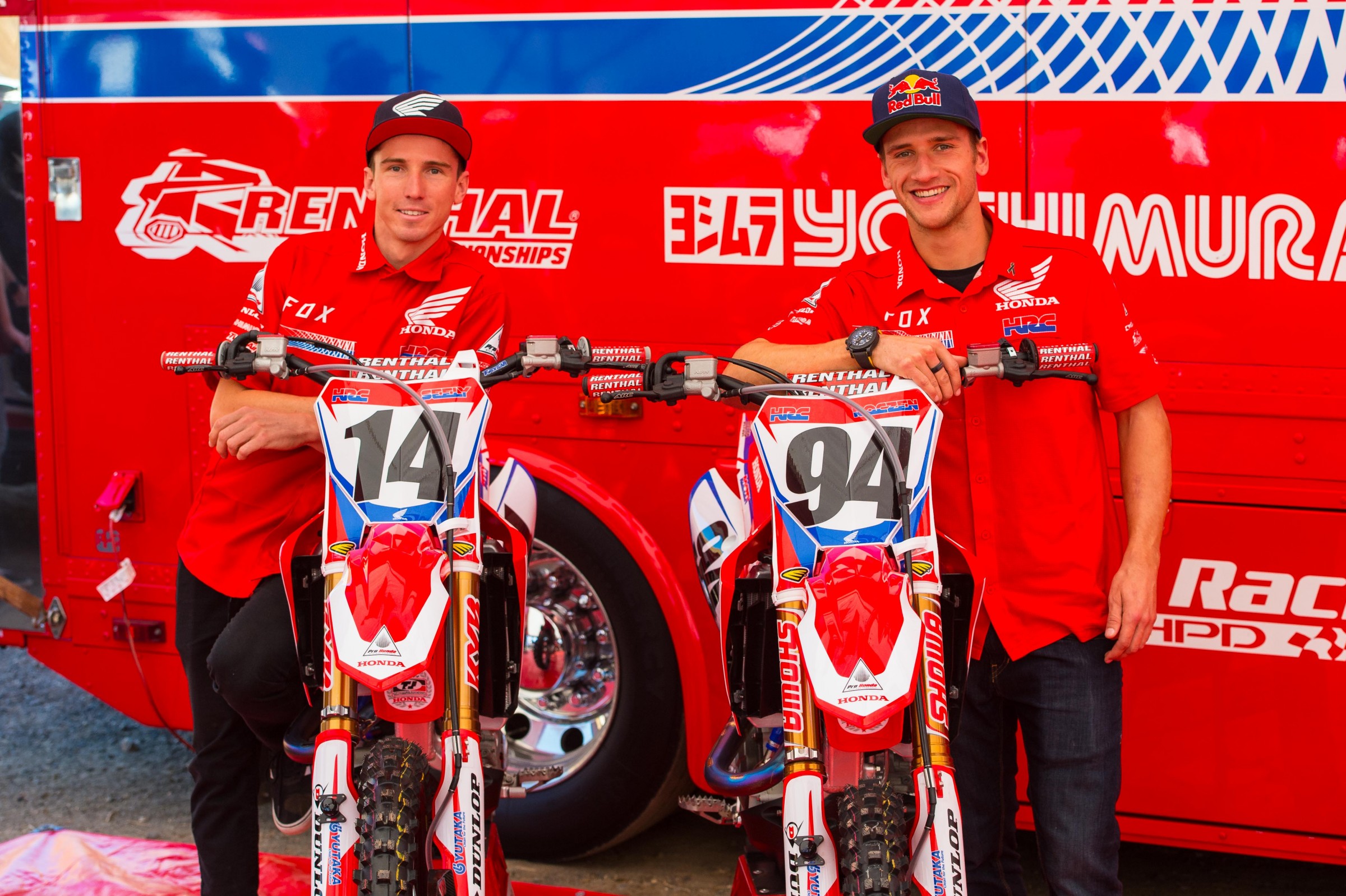 Imagine how different last year might have turned out had Roczen not nearly destroyed his arm in January. Would we have even seen a Ryan Dungey-Eli Tomac battle to the bitter end? Would we have seen such a shakeup outdoors, with KTM riders Marvin Musquin and Blake Baggett getting multiple wins? Would Jeffrey Herlings have been able to pull off his remarkable Ironman win? Hard to tell. But what it seems like we're going to see beginning in January is whether or not Honda's long losing streak in Monster Energy AMA Supercross continues. Remember, it's been since 2003 that the Red Riders last won the AMA Supercross title, and that was Ricky Carmichael on a CR250. And they have not won a 450 title here in the U.S. in either SX or MX with the CRF450R.
Roczen appeared ready to get that monkey off their back, but then gravity came into the equation. Kenny and Honda were flying high until the earth pulled them back down in a hurry. His ability to come back was the question of 2017, and now his comeback is shaping up as the pivotal plotline of 2018.
One reporter at the intro asked of #94, "What's the mindset going into the season? Are you going to start slow? Are you telling yourself 'I have to win?'"
"I don't have to do anything," answered Roczen. "I want to win. I want to go out there. If I win, amazing. If not, amazing too. I'm racing. That's the absolute most important. There's 17 rounds and we've seen riders before legit struggling in the first few rounds and then Eli clicked off wins towards the end and almost got the championship. It's really just getting some race time under my belt. Like I said, I think I'm good at going back, even though I haven't raced in a while. I am going to be on the gate feeling very, very familiar. I'm going to do my thing. I am not one bit worried. Obviously, it's going to be a lot of media and a lot of talking before that whole thing, but I'm really good at throwing things out of my mind. I have a happy life and I have a great fiancé and a great dog. We have plenty of time together to take the mind off of racing, which helps a lot."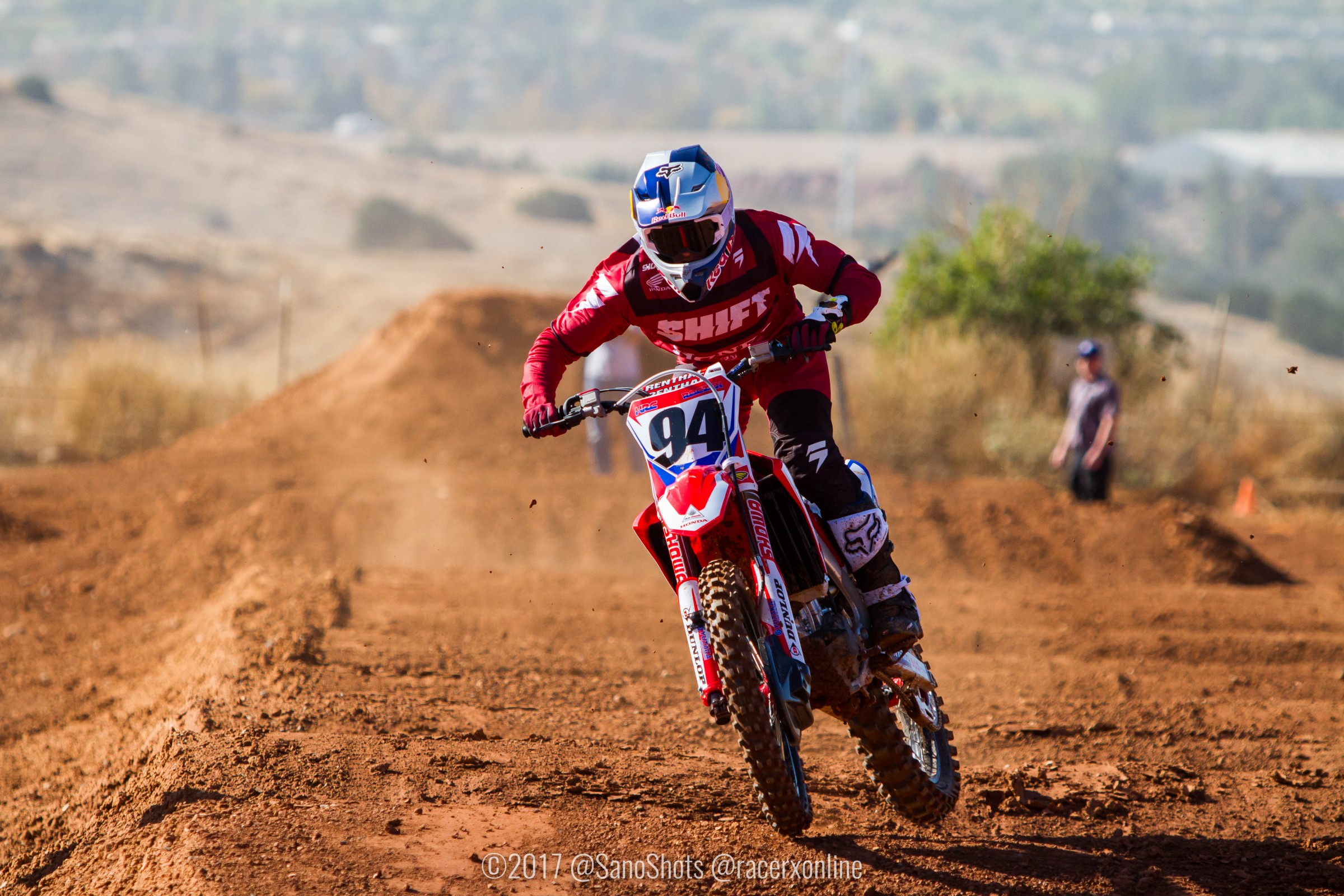 He was also asked what kind of suit he might show up in for the Anaheim 1 press conference. "That's a surprise," laughed Roczen. "I looked at something, but it was pretty much almost impossible to get, so I kind of had to switch things around a little bit. But we're going to look sharp no matter what."
Finally this: "Are you afraid of failing?"
"No, because I don't fail. I'm not afraid of failing. Absolutely not. A fail would have been me not trying to come back and jump on a bike again. That would have been a fail to me. But even if I tried and it wouldn't have happened, that wouldn't have been a fail to me, because I did everything in my power to do. But I'm riding and I'm riding well. You never know what's going to happen. You can crash quick, whatever, it doesn't matter. I'm riding and I've basically reached my goal. I've been back on the bike. It's not a fail."
LORETTA LYNN'S REMASTERED MOTO OF THE WEEK: MINI SR 1 (12-13)—MOTO 3
Ah, the third moto at Loretta Lynn's, where riders can begin the race in a position to win a championship but ultimately come away with nothing. The one thing that is always for certain at the ranch is uncertainty, and Mini Sr. 1 (12-13) Moto 3 would prove to be no different.
Kawasaki Team Green's Jett Reynolds looked poised to win a historical ten championships in a row at Loretta Lynn's—he began the week with eight—and this would certainly be his ninth consecutive title, right? Wrong. Unfortunately for Jett, it rained. The track was brutal, and a crash in the first turn would leave the Bakersfield, California, rider in an incredibly challenging hole.
While Reynolds found himself in the back of the pack, the early lead went to Talon Hawkins, who would eventually go down due to the gnarly conditions as well. KTM-mounted Matthew LeBlanc put himself in position to take the lead and never looked back. Meanwhile, Reynolds was making moves. At one point he passed nine riders in one lap and worked his way up to second when disaster struck again. Reynolds went down once more, causing damage to his motorcycle. Half a lap later, he pulled off the track, ending his moto and title hopes.
This moto embodies the brutality of the Rocky Mountain ATV/MC AMA Amateur National Championship at Loretta Lynn Ranch. Head over to www.racertv.com to check out this moto and more, remastered in HD—where a new batch of ten races drop every Monday!
MEANWHILE, DOWN IN FLORIDA.… (DC)
California isn't the only place where the practice tracks were humming. Colin Speckner was at the Baker's Factory in Florida, where he ran into Red Bull KTM riders Marvin Musquin and Broc Tickle and Rockstar Husqvarna's Jason Anderson and Zach Osborne on one side of the facility, while on the other side former MX2 World Champ Tyla Rattray was working with Troy Lee Designs/Red Bull KTM riders Alex Martin, and Shane McElrath, as well as Rockstar Husqvarna's Dean Wilson, and Jordan Bailey.
"There are actually three full SX tracks down there, and they ride on all of that, but that's how they were split up when I was there," Speckner said. "It's a good vibe down there. Everyone was going fast and also seemed to be in a good mood."
At one point, Speckner asked Wilson if he'd mind doing a whip for his camera. "How about a bunch of them?" responded Wilson, who has been in a pretty good mood ever since he got that lifeline from Bobby Hewitt and Rockstar Husqvarna. And then he went out and did a bunch of whips, as requested.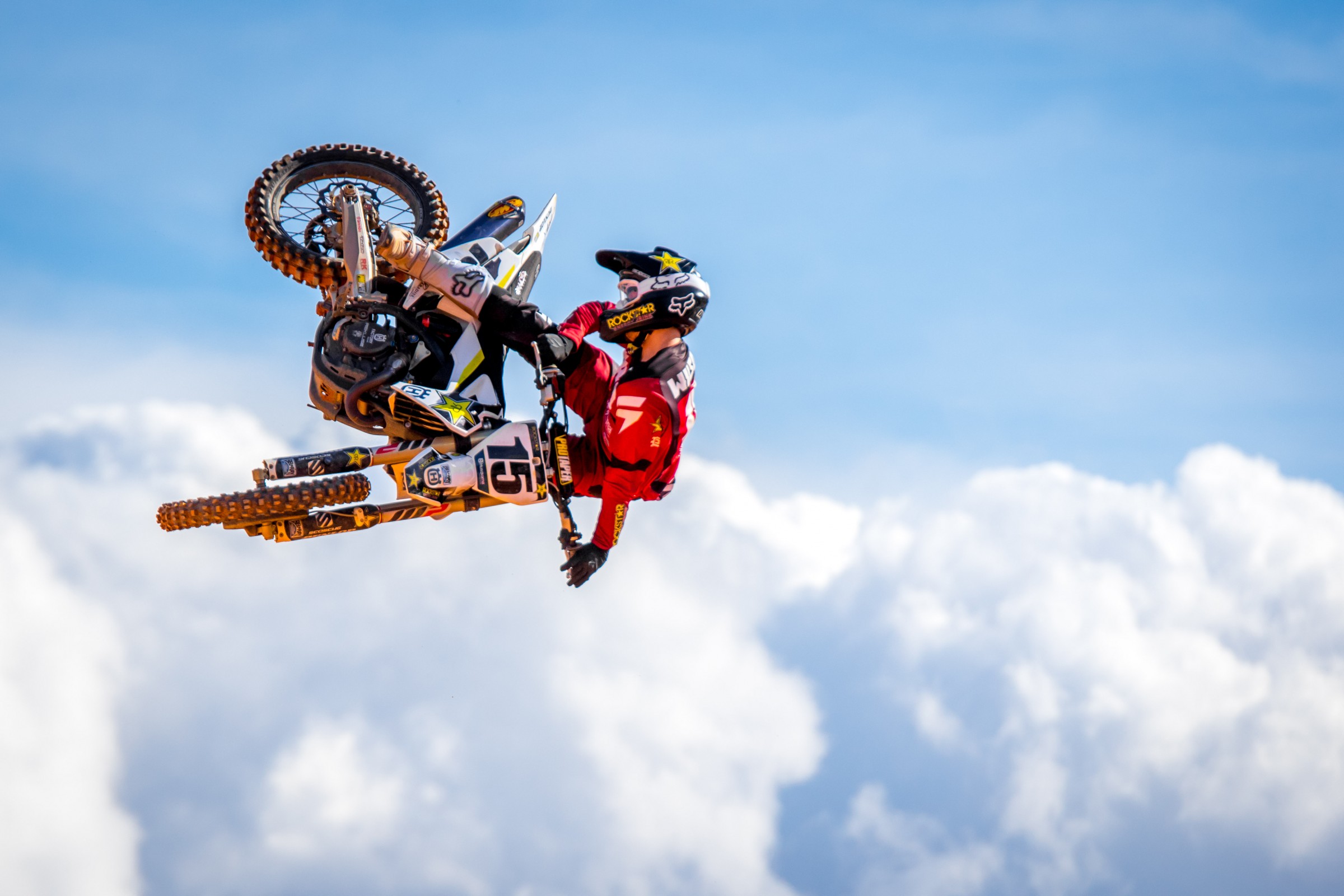 THE FIRST TEN YEARS (DC)
Note: Sorry, we posted this last week but then ran the wrong pages of the program, so let's try it again with the relevant program pages from 1991!

On a recent trip through the archives in the book, I came across the event program we published for the 1991 AMA Amateur National Championships at Loretta Lynn Ranch. Since the race was a decade old, we decided to look back at the first decade of the event with a bunch of Top Ten lists. Looking back at them now, it's amazing what we didn't know yet and didn't see coming in regard to amateur and professional motocross. Jeremy McGrath, the 1987 C Class champion, isn't mentioned, as he was just getting his supercross crown on; the best amateur to come out of that event was six-time champion Jimmy Button. And the most successful graduate was six-time AMA Supercross/250 Motocross Champion Jeff Stanton.
Anyway, we scanned them in to share them here. Some of it's kind of funny, too, like "Some Fads That Didn't Stick Around" and "Ten Things You'll See This Time Around."
And speaking of Loretta Lynn's, MX Sports and the AMA released the 2018 Area and Regional dates and locations. Check them out right here.
Hey, Watch It!
Watch Episode 1 of the 2018 Racer X Supercross Preview Show, presented by Pro Taper, LS2 Helmets, and New Ray Toys:
Check out the final round of the 2017 Australian Supercross Championship, where Justin Brayton (SX1) and Jackson Richardson (SX2) clinched their respective titles in crazy muddy conditions:
SX1 Final:
If you had some questions about where and how that amazing Red Bull video featuring Ryan Dungey riding one a supercross track in a cornfield, they provided many of the answers right here in this very cool behind-the-scenes video:
Honda RC213V MotoGP rider Alex Márquez took part in the Allianz Seguros España Junior Motor Camp, where 20 youngsters got to ride MX and Flat Track with the former Moto3 World Champion as well as Marc Marquez, Julian Simon, and Jose Luis Martinez. Check out the camp right here:
Check out episode 4 of FMF's Flying Machine Stories, which follows the Humphrey and Minchinton families.
Random Old School Motocross Video, featuring a very long start straight and a marching band and even Roger DeCoster and lone American Russ Darnell!
Head-Scratching Headlines
"Trump's 12 Diet Cokes-a-Day Habit is Risky." CNN.com
"Another Human Foot Washes Ashore in Canada. That makes 13…." Drudge Report
"Uber charges Toronto rider $14,400 for a 20-minute rush hour ride" CNET.com
"LEBRON JAMES Hospitalized Kid's Wish: 'CAN YOU DUNK ON LONZO FOR ME?'" TMZ Sports
Random Notes
Racer Productions released the 2018 GNCC schedule this week that included some exciting news, especially for the racers. Along with many of the series' traditional favorites, there will be three all-new venues including a TBA location in Georgia, Black Sky GNCC in Harpursville, NY and Mason-Dixon GNCC in Mount Morris, PA. The Black Sky property has hosted offroad races in the past, but there will be plenty of virgin woods for the GNCC track crew to develop a brand-new course. The Mason-Dixon GNCC will be on the Mathews Farm property that neighbors High Point Raceway and will actually incorporate sections of the motocross track, as well as traveling across the Mason-Dixon line between Pennsylvania and West Virginia.
GNCC Trail Boss, Jeff Russell and crew visited prospective properties up and down the east coast since the 2017 season wrapped up, and said this about the upcoming season, "We've taken the time to develop a one-of-a-kind GNCC schedule. The three new venues all have something different to offer and should be an instant hit with the GNCC Racing Nation."
Tickets to the entire 2018 Lucas Oil Pro Motocross Championship are also now available. Visit promotocross.com to buy tickets to your favorite Nationals, but act fast, as the holiday discounts are only available until Dec. 31. John and Greta Martin from Spring Creek Motocross Park sent us this graphic of their two favorite pro riders to get everyone in the holiday spirit and we just had to share!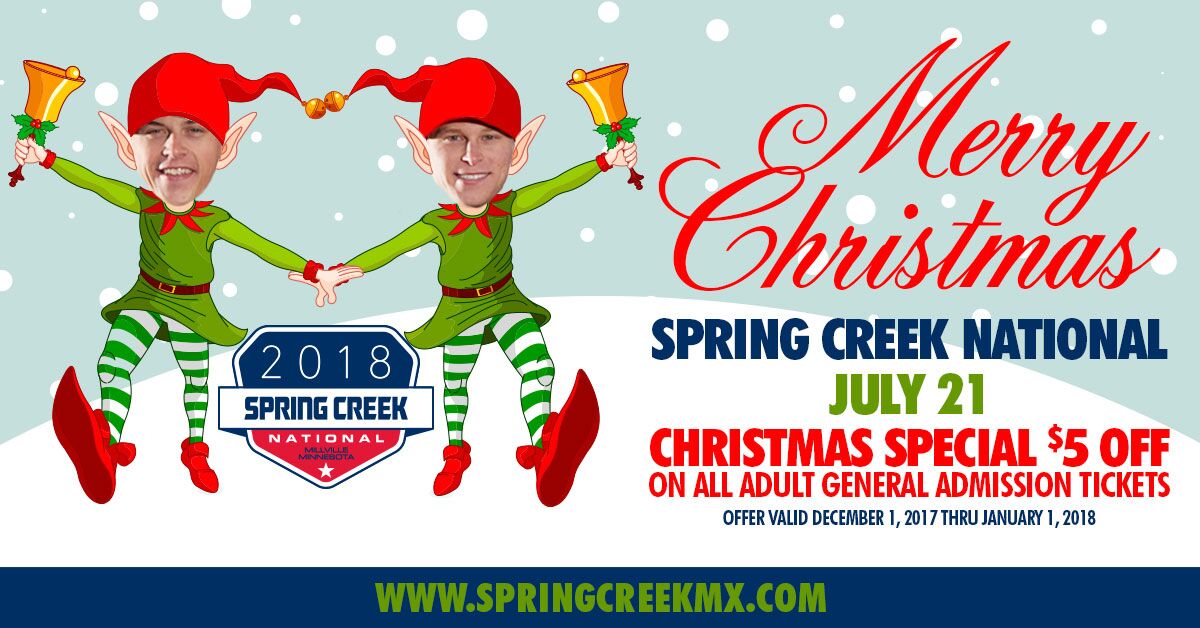 Looking for a last-minute Christmas gift? Check out two-time AMA 125cc National Motocross Champion Micky Dymond's new book Legends of the Road: Where Physical Limits Meet Faith and Pride. It's about the cross-country Race Across America (RAAM) and the legendary Pikes Peak International Hillclimb. Micky did them back-to-back in 2014, and then he did the RAAM again this year with David Bailey, Doug Henry and Jeff Ward. Bailey wrote the intro on the book, and it's available in print or on Amazon Kindle here.
For the latest from Canada, check out DMX Frid-Eh #51.
And if you're in the Florida/Georgia area, looking for a fun place to ride tomorrow, head to WW Ranch for Junior Scarborough's 4th Annual Ride For A Reason Toy Drive. It should be a fun day of dirt bikes, custom cars, and collecting toys for those less fortunate.
Good luck with the rest of you holiday shopping/partying/working. See you at races.