Troy Lee Designs KTM's Mitchell Falk had a big week at Gatorback Cycle Park winning the 450 A Supercross and Motocross titles. Collin Speckner caught up with him after the supercross race to discuss surprisingly good track conditions, training regimens, and, most importantly, winning big at the 2017 Mini Os during the Thanksgiving holiday.
Racer X: Mitchell, congrats on winning the 450 A Supercross title here at the 2017 Mini Os. Earlier this week, the track and pits saw lots of rain, causing a lot of flooding. How did that affect the track this week, and what were you expecting the track to shape up like after seeing that?
Mitchell Falk: Coming into today, I actually thought it was going to be really muddy. They did a really good job. It's actually been better than the last two days. It's got some softness and some ruts. So, the ruts are really good right now. The track crew did an amazing job; the track is phenomenal right now.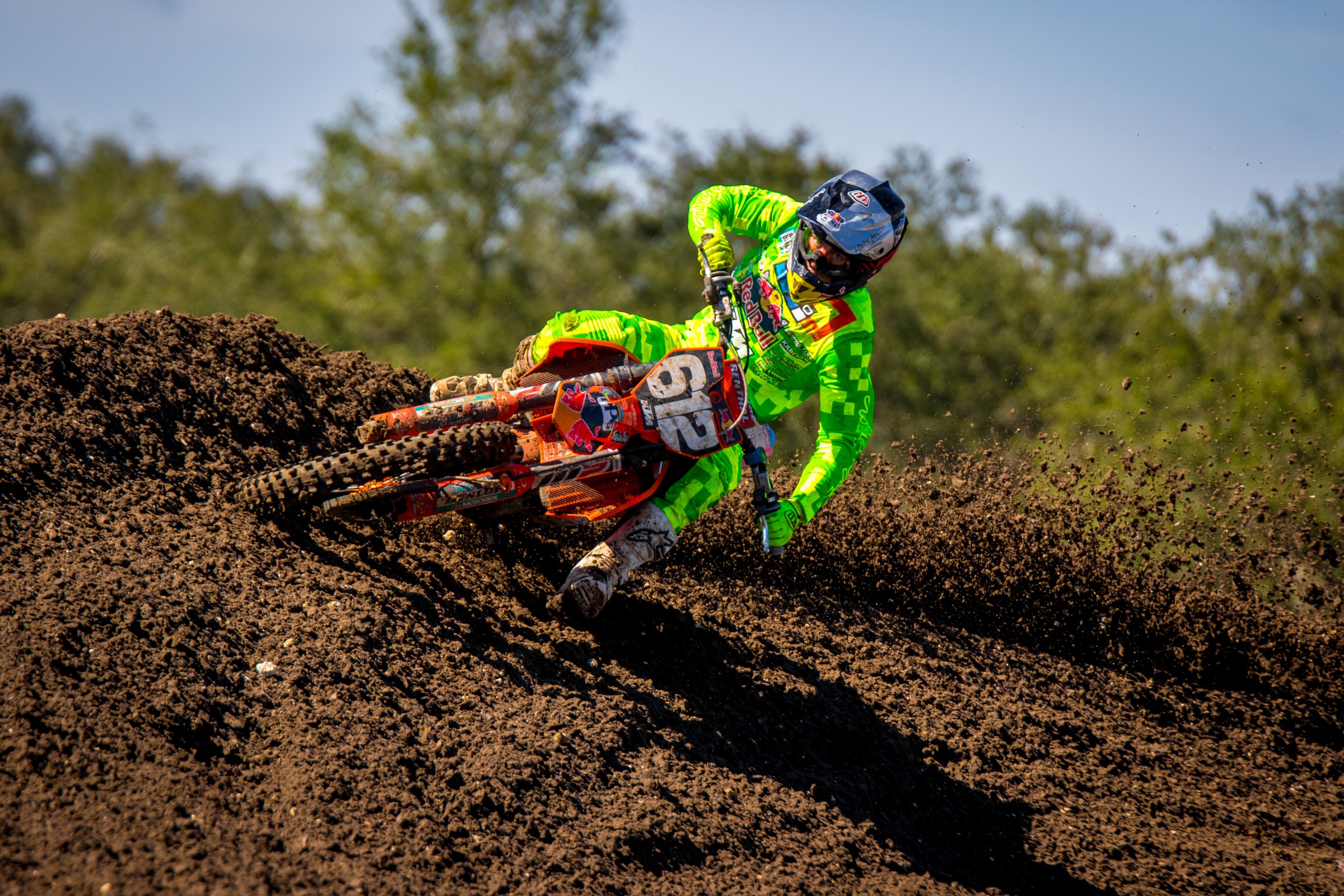 [Carter] Halpain was in front of you for most of that race. Is there any point where you knew that you were going to get to him?
Yeah, well, the first few laps, he was actually kind of yanking me a little bit. I just kind of calmed down and found some better lines than him. Really, I didn't know where I was going to be able to pass him. It's kind of tough. He was on the 450. There was this one turn where I got close the lap before and I thought to myself, "Well, if I'm close again, that's going to be the spot." It was right on the edge where I wasn't sure if I was going to make it; brought it in the inside blocking his line and it worked out perfect.
So, was there really any separator between the two of you this week, or did it just come down to going for it?
No, he was riding really good. He was actually doing a few jumps that I couldn't really do, so I just held my line, tried to make up for it in other parts of the track, and it worked out.
Who are you training with?
Right now, I'm training with Tyla Rattray. He's in Florida, so I have the opportunity to go to Baker's Factory when I'm here. Otherwise, he just sends me a program and I do it back home in California.
Mini Os takes place during Thanksgiving week. A lot of people bring their friends and families here with them for the week. Do you have anyone that you brought with you to celebrate the occasion with?
My mom and dad are here, and my brother is my mechanic, so most of the family's here. But at the same time, not everyone can make it from California, so we had a little mini-Thanksgiving before with all the family, so that was nice.