After three major injuries delayed his pro debut, GEICO Honda's Chase Sexton finally made it to the starting line last summer at the High Point National.
Sexton ended his amateur career on a high note by winning the Nicky Hayden AMA Horizon Award at Loretta Lynn's in 2016. Days later, during practice prior to Unadilla, he suffered an avulsion fracture in his knee. In December of last year, while training for supercross, he broke both of his wrists in a practice crash, forcing him to miss the season opener in Minneapolis. After recovering, he attempted to make his debut at Atlanta Supercross this year, but he broke his femur in the second practice on the day of the event. He underwent surgery and finally made it to the start gate at High Point this summer.
Since then, he's made it to the gate every moto and finished within the top 20 every time. His average overall finish this year was 10.55, not bad for a rookie. Now that he's overcome all these injuries, he's focused on improving his results and mixing it up, up front. I ran into Chase at Milestone MX last week, where he was putting some laps in to get ready for next year's supercross season.
Racer X: We're out here at Milestone today. How's everything going for you, Chase?
Chase Sexton: Everything's going good. We're just getting in some laps and doing a little bit of testing at the same time. It's good because everyone's out here today and the track's getting good lines. Everything's been going good. The new bike's awesome. I'm really comfortable on it. I'm looking forward to the new season.
This was your rookie season and it was a little rough for you. Can you talk about what you've been going through?
It started off last year after Loretta's. I had a knee injury for a while, then after Loretta's we were getting ready to go pro at Unadilla last year, and my knee gave out in practice. I didn't even crash or anything. Then from there, I just got healed and went out and rode supercross and got hurt again. Broke both my arms. I got ready again after that. It was weird because I hadn't been injured really my whole career until then. It was totally different for me. Then we go to Atlanta and I crashed in the whoops and broke my leg. I was like, this has got to be it. I've got to be good from here on out. I just put in a lot of hard work at home. Came out in outdoors. Started off a little rough. I feel like at the end of the season, I was qualifying really good and always inside the top five. I had a good race in Indiana going until the last lap. I was in third and ran into the back of a lapper. It was good to get my feet wet finally in the pros. I feel really comfortable with the team now. I'm looking forward to supercross. I feel a lot better this year from being on the bike all year. Looking forward to some racing.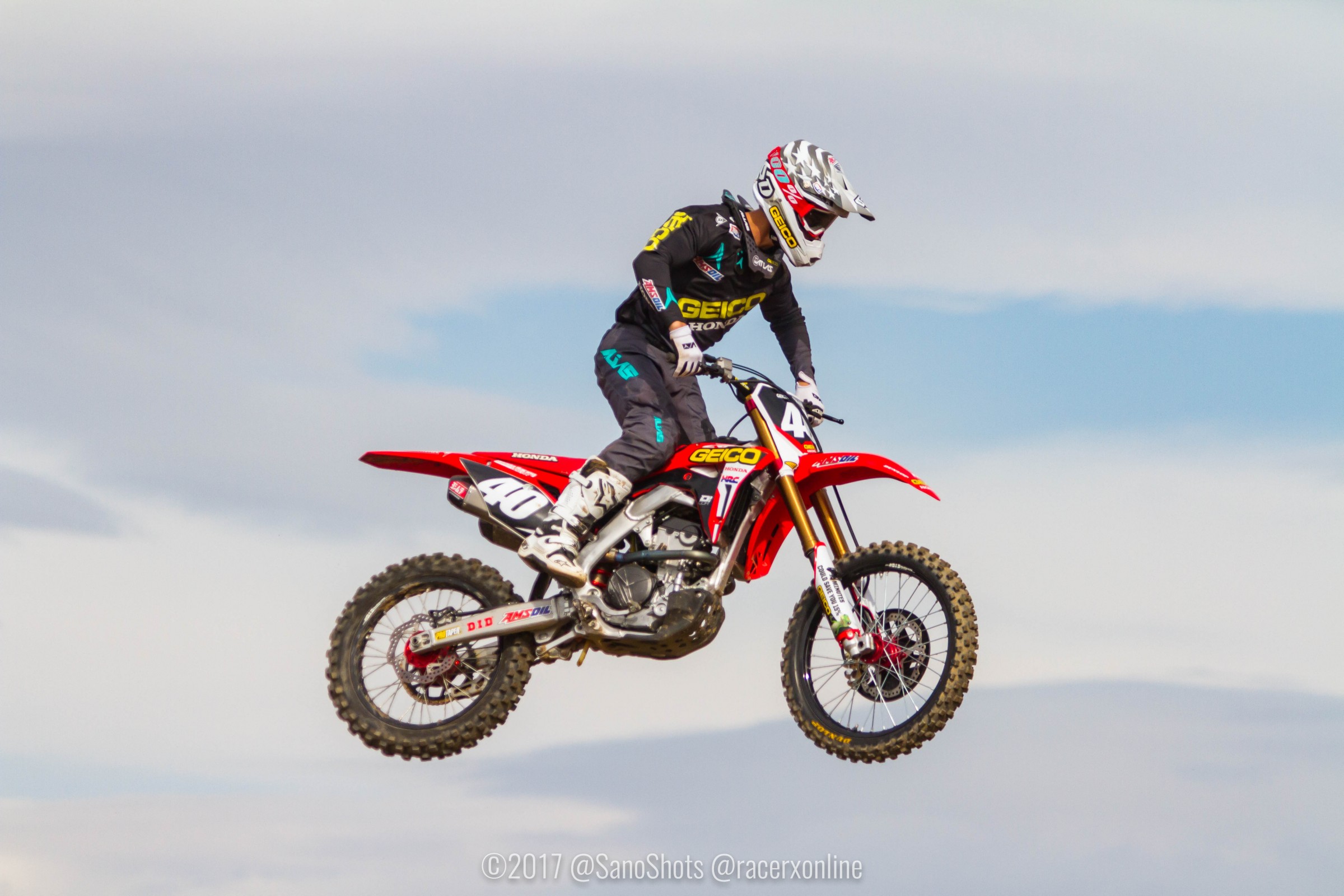 Was that tough on you mentally, with all these injuries and having to rebuild and start over repeatedly?
Yeah, for sure. I started questioning myself and my riding ability and stuff like that. But I feel like now it's made me stronger mentally from just being able to come back from all those injuries. Since I hadn't done it my whole life, I was pretty depressed actually after Atlanta. I was like, this can't be happening. It's made me stronger, I think, mentally. I just feel so much better on the bike now. We've got the bike where we want it so far. We're feeling good coming into the season.
Are you feeling any lingering effects from any of these injuries?
No, actually; everything's rehabbed and I feel back to normal again. I don't have any soreness or anything. My leg has come a long way since my injury. It's actually almost stronger than my right leg now. We're feeling good. I've been training hard with Blake [Savage] and all the guys. It's been fun.
You're training over in Florida with Blake Savage and his guys. How is it working and riding with them, and who is in the crew?
It's fun. It's a little niche group. We have me, Kenny [Roczen] and Adam Cianciarulo. It's fun. We'll go back there in December and start putting in some time before A1. I think we'll all be ready for that.
It looks like you guys get some golf in every once in a while.
Yeah. It's been a little bummer. Since I've been out in California for, like, two weeks, I haven't been to golf at all. It's kind of sad. I've been golfing probably three times a week after riding. It's fun. It's nice to get out and do something not involved with motocross. I can't say I'm very good at it, but I'm getting better.
It's my understanding that you went to public school. You didn't grow up riding and training at a Millsaps Training Facility or any place like that?
I've never been to a training facility before. I've been to Robbie Reynard's for a little bit. He helped me. That's probably the only place I've ever been. My dad's pretty much been my coach my whole life. Still, to this day, I don't have a riding coach or anything; just my dad. He knows my capabilities. It's good. It's fun having him around and hitting me at the track every day.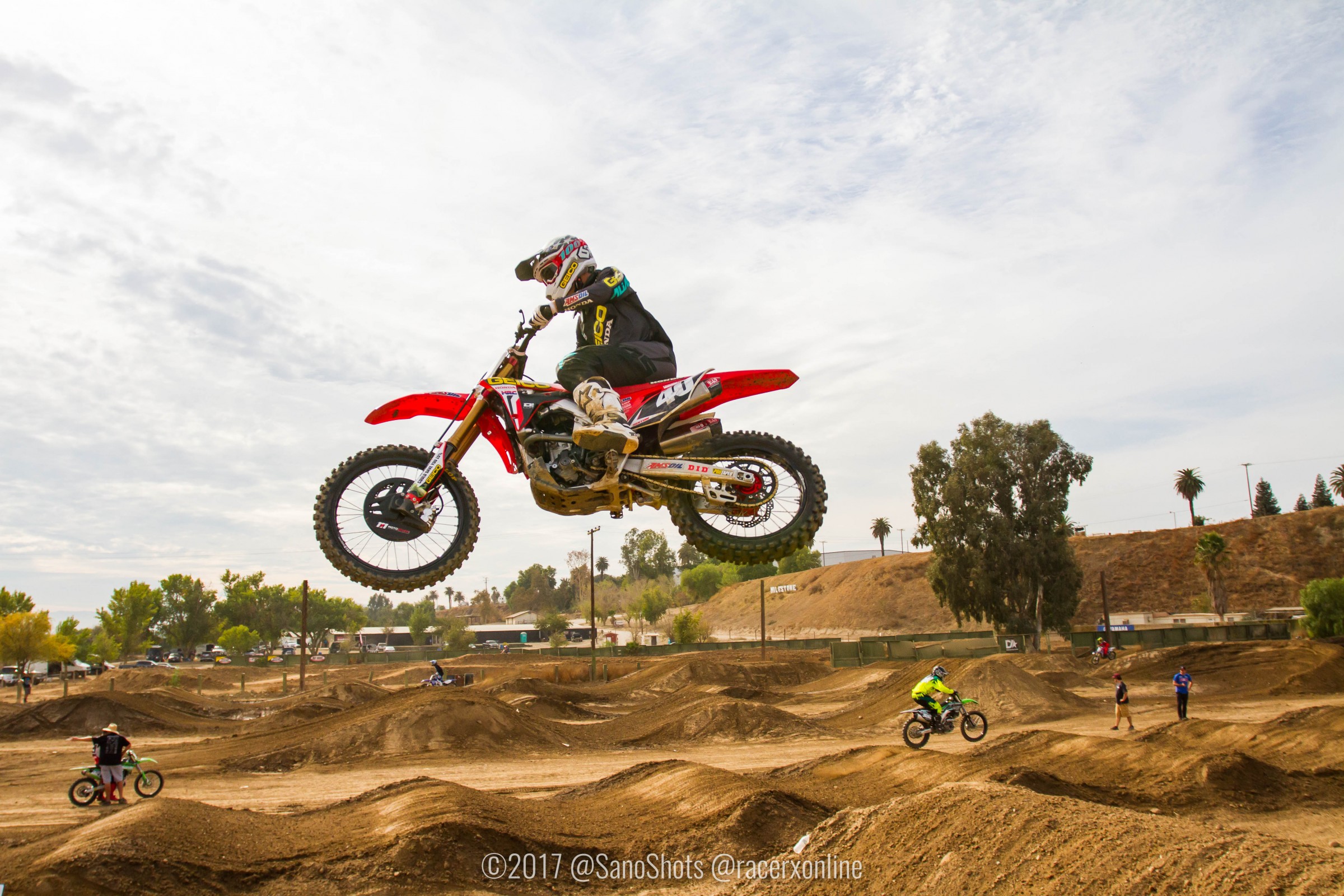 Does your dad still go to the track with you every day?
Oh, yeah. He's actually my practice mechanic at home. He adjusts my bike. All my riding program, he does. It's fun being to work with him and get ready for the new season.
Does your team have a decision on which coast you're going to be racing supercross yet?
I don't think we've really made a decision, but I think right now, I'm leaning towards West Coast. I think it's going to be me and Christian [Craig] on the West. For sure, I think it's me and Christian, but we're not totally 100 percent who's going to do what. Whenever they want me to go, I'm ready.
The Honda test track is getting rebuilt right now, that's why you're out here at Milestone, right? How many days a week are you guys typically at the Honda test track?
Before this, I haven't really ridden any other track in California besides Honda's, so we've been there four days a week. It gets a little boring, but it's getting done right now by Jason [Baker], who actually owns the place I train at in Florida. He does good work on the tracks. I think it will be a really good track after they get it all redone.