Unfortunately, injuries became a literal pain for Trey Canard throughout his career, and while he experienced some of the greatest highs that any racer can—winning races against the fastest riders at the highest level—the wear and tear eventually led him to call it career earlier this year.
During his retirement press conference at the Spring Creek National in Millville, Minnesota, Canard mentioned that he would like to try to do something regarding the safety aspect of the sport. Three months later, and his vision is starting to take shape. Canard's working on a new idea to try to figure out how and why crashes and injuries happen, and if something can be done to cut back on them.
We rang him up last week to talk about it.
Racer X: You just drove from California to Oklahoma. Is this an official, I don't need to live in California anymore move? Is that what this is?
Trey Canard: Well, yeah, kind of. We had a place there the past couple years and always stayed out there a lot. We just went ahead and got rid of it. Down to one house and two cars. It's going to be awesome.
You do it just like any other person? You have to stuff U-Haul's and drive across the country?
Yeah. It was kind of fun, though. We stopped at the Grand Canyon and did the whole tourism thing. The cool thing about what's going on right now with me is there's really nowhere to be. We just took our time.
I'm assuming you've done the California/Oklahoma drive 9,000 times before.
Yeah. This one was way better for sure. It was usually just wide open all through the night. This was kind of fun and Hannah [Trey's wife] and I just kind of took turns. It was fun.
That's cool. So, uh, you're retired. What are you doing?
It's funny because I get two questions right now: What are you doing right now, and when are you having kids? [Laughs] I've been working on a project probably for about two months now, trying to figure out a way that I can give my experience and my, I don't know if you call it expertise, my opinions, whatever it may be, kind of back to the sport and try to help in a certain way. Been working on a project called Racing Standard for the last couple months.
When you announced your retirement at Millville you did kind of hint that you might be involved with safety or injuries or something like that. So, is that the direction that you're starting to go here?
Yeah, for sure. Definitely this is kind of a passion of mine, just because I was hurt so much. I don't want to see these guys hurt, and part of that as a fan of motocross/supercross I want to see the sport continue to develop, so 20, 30, 50 years from now we're still in a good place and we're growing.
Sadly, you do have experience with getting injured, but is there necessarily things you can put a finger on that caused your injuries, or injuries to others? Is there stuff that you can identify, or are you only now figuring that out?
I think everyone has ideas. We see it every time someone gets hurt. There's big discussion on the forums or whatever, the community, whether it was bike, whether it was rider, whether it was track, whatever people think it might have been. There are a billion theories out there and the first thing I have to say is that mine is not necessarily right. The big goal of what I want to try to do is just start the conversation of how do we make it better? Because right now there's not much of that discussion that I'm aware of. It's kind of like someone gets hurt and it's like, that's sad, that's unfortunate, and then everyone kind of moves on. So, the main thing is that I hope I can get everyone on the same page so that at some point we can all do a conference call or sit in a room all together and try to figure out what we can do and at least try to help develop the sport and the tracks in a positive light.
Let's be honest, one of the main things that would deter someone from wanting to really participate in the sport is that they're afraid their kids are going to get hurt, or they're going to get hurt themselves. It seems like it's happening more than ever. So, the trend has to go the other way or we might all be in some trouble.
Yeah. That's what concerns me. Obviously I was hurt and I wanted to try to help that not happen for other people. My career was a lot shorter than I wanted it to be. We've seen other careers stopped by injuries. I just hope that I can help somehow. But if the parents turn on the TV and they're on the fence about buying their kid a bike and they see big crashes, it's going to deter them, I would think.
One thing I always say in this sport is that it's not a sport that goes with a lot of science. A guy that's good suspension guy is a good suspension guy because he just knows. The riding coaches, they just know. Even the engine builders, they just know. It's not like they necessarily have PhD's in this subject. They just know. Then when it comes to injuries, everyone just has hunches and ideas and they think they kind of know. But no one is looking at it scientifically. For example, it's not like everyone has a running list of every major crash and injury and how it happened. Everyone just kind of has their theory and their hunch and they move on.
Yeah. That's a huge thing I would really like to do. Just creating a database for injuries and what's happened, what obstacles, what the rider thought caused it, what the team thought caused it. If we can try to just narrow it down to what the big ones are and try to see if there's anything we can do. Let's say we get to the end of the year and find out, and I'm just making up an example here, that 80 percent of our crashes were in left-hand turns. Let's try to figure out what we're doing wrong with our left-hand turns. It's still in the discovery process. It's still trying to figure out what that looks like. I just want to try something. I hope that everybody is kind of on board with that.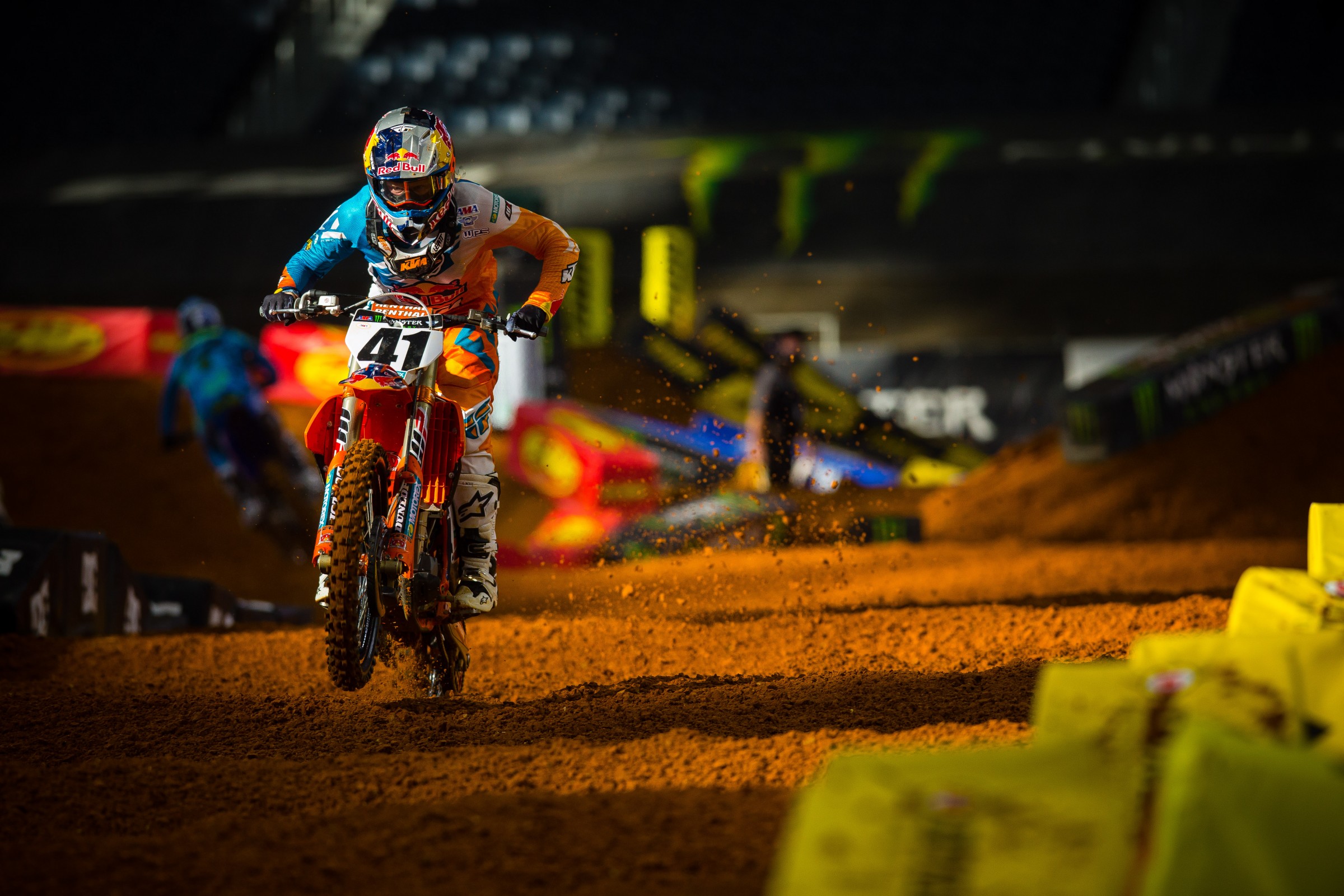 So, do you want to actually go to races and oversee things?
The goal of what I'm trying to do is that it would be a non-profit. So it can be really neutral and hopefully we get backing from all parties so that everyone still can have a say. But another part of that is we'd have an advisory board, so hopefully there's a bigger picture happening behind it all. So it's not just me going the track, expressing my opinion, but a group of people collectively kind of trying to figure out what it looks like for everyone. But I think it would be great to have someone there every weekend, because part of what I see right now is that there's not really anyone to go to directly. You've got several different people that are around and working, but the riders and teams don't really have that one group or that one individual that they can go to that in turn can communicate that to whoever. The same thing with the promoters and the track builders. They don't have that person to cater to teams and riders and say, "This is why this is how it is." I think that would be a big part of it for sure.
One of the biggest conundrums I always hear is that you can make a track easier, but that makes it faster, or you can make it rougher which makes it slower, but then rougher or tougher could also create crashes. It just seems like this conundrum that everyone just keeps going around and around in circles of what's better: slower or easier?
Yeah. Like I said, I don't have all the answers. I've got ideas, but what I really want to do is try to get all the ideas together and try to figure out what is better. More than anything I just want to create a platform where people can have open, honest dialogue and not be offended at each other but really just try to help each other understand and let's try some things. Maybe we get it wrong a few times, which I'm sure we will, but in that process hopefully we can understand and at least try to do something.
Also, I guess at this point you need to make sure you're unaffiliated with other companies. At some point, some decision will be made about a section that will help one rider and then you don't want to be accused of "you're just doing it to help this guy, or not help this guy." So I guess you need to be independent.
Yeah, absolutely. That's the biggest reason that I would like to do the non-profit, because you are literally just funded through people's donations. If I can keep that as neutral as possible then that's the best thing for me. I'd love to be affiliated with safety-branded products. I think that's a good part of it. But if there's any officiation with one particular team or two particular teams, and not a whole, it starts to get a little bit questionable, in my opinion. We'll see where it goes. If it doesn't work out, I obviously want to stay in the sport somehow. If this whole thing doesn't pan out then I'll go a different direction. But for me, for this thing to work it has to be completely unbiased.
That says a lot though because let's be honest, you certainly have your reasons, if you wanted to, to not be pumped on the sport. You had your own rough times, so I think it's pretty cool that you still love dirt bike racing so much that you want to stay around and keep going to the races.
Obviously there was a lot of adversity in there, and on one hand that made it tough and hard to deal with, but the other hand it also made me appreciate the good times a lot more. For me, I just want guys to not experience the tough ones that I experienced. If there's any way I can be a part of that, I'd love to do it. I want to see it be a more positive experience for everyone.
Is there a rollout? I've heard you might try this at Red Bull Straight Rhythm.
I'm going to go to Red Bull Straight Rhythm and just kind of try the whole package out. Ideas on paper sound great but until you've kind of learned and seen … one thing that's been completely surprising about this is that since I've talked to so many people, I've learned so much that it's gone a completely different direction from where it was at the start. So, this will be a really good place for me. It's going to be a safe place. I've worked with Jason Baker from Dream Traxx's for years on my own stuff [Baker builds the Straight Rhythm track]. We've always had really good conversations. So, that will be good for me to work with him and be there all week with the process. It's a pretty low-key race. I think it will be a pretty good opportunity for me to just see what it's like and see if there is anything that I can do. Hopefully that might get the ball rolling a little bit more for the hopes of supercross and motocross and whatever else would come.
I guess basically you're going to have to do a pitch at some point to see if the series are interested in integrating you in. At some point you've got to pitch them on that.
Yeah. It's got to be good for everyone. The promoters are the ones that are putting on the show. Hopefully people can see that I really want to help create a better fan experience, create a better environment and just try to see racing grow as a whole. I'm not here to unionize or create this drama for everyone. I really want to try to help. So we'll see where it goes, but that's where I'm at with it.
One thing I think you could offer is, unfortunately for you, you might be the guy that takes the blame at some point. But for a promoter, that could be good. What better credibility than to say, "We made this decision because we have a rider who raced professionally on these tracks that is taking your feedback." It looks great even from a PR perspective to have you helping.
Yeah. I hope from an answer standpoint that these big crashes, say like we saw with Kenny's [Roczen] from last year, people have an answer after it happens. If something like that happens, they can say hey, look, we're doing our best. This is what we're doing. And it's not to say they're not doing that now, everyone is trying right now already. But hopefully this gives them a better opportunity to say, "Hey, look, this is what we're doing." I think it can be a really positive thing.