Winchester, United Kingdom
Motocross of Nations
Motocross of Nations
Last week I penned my annual "Where Have You Gone, Ryan Villopoto?" refrain in reference to Team USA's last win in 2011, when Villopoto went clutch in the final moto to dig out the victory. The most famous image from that race is Ryan Dungey and Villopoto, who would spend years as foes in individual racing at home, hugging in celebration at the end. Think about that.
It's freaking Ryan Villopoto and Ryan Dungey together on Team USA!
Many things have changed in the motocross universe since that time, but it's key to recognize the power in that 2011 Team USA lineup: America's top-two 450 riders—Dungey and Villopoto—and its top 250 rider—Blake Baggett—were on the team together.
Team USA has lost six straight now, and only one of those six teams had the first-tier lineup:
2012: America's 450MX scene is an absolute disaster of injuries, including Villopoto, who is out with a torn ACL. Justin Barcia, a 250 rider all season, jumps to a 450 in the Open Class.
2013: Barcia is now a full-time 450 rider and gets the Open spot again, but 450MX National Champion Villopoto does not compete.
2014: A Dungey/Eli Tomac/Jeremy Martin team actually is the A team on paper.
2015: Dungey, the 450MX National Champion, declines. Cooper Webb, a 250 rider, has to move up to the 450.
2016: Webb, the 250 National Champion, has to race a 450 again. Jason Anderson, who misses most of the Nationals with a collarbone injury, gets pressed into service. Eli Tomac, who finished second in 450MX, declines.
2017: Tomac, the 450MX champion, declines.
Didn't matter anyway, because the loaded 2014 team lost (J-Mart broke his foot on Saturday, Dungey went 2-11 in MXGP). Every other team had dudes putting yeoman efforts—Barcia and Webb were very good when they jumped up from 250s—but the team fell short. Yes, Team USA has plugged holes before and won, but many of those victories get too much attention. The 1992 "B Team" is the most legendary, but that success masks the basic formula Team USA rode to victory 22 times: more often than not, the team had its best guys. There was even a time when the Team USA announcement came with arguments over who got snubbed, instead of arguments about who chose not to go.
Look, we all try to be nice about this because signing up for Team USA duty makes someone a hero in the motocross sense. Especially lately, as the mere act of even participating in the event, let alone winning it, has become a major chore to top riders. So no one wants to bag on the riders who actually do go and compete. But lately we've had to prop up Team USA with false hopes—and I'm not just talking about this year's squad, because Seely and Covington isn't just a Seely and Covington thing. We've been filling holes for years now.
Each year, the optimistic chatter sounds the same. Putting a 250 guy on a 450? "But his team says they've seen him ride a 450 during the week and it suits him well." Got a bunch of top riders passing on the task? "But at least this team is made of guys who are excited to go." These are good, positive refrains and sometimes Team USA still gets really close—last year's team coulda, shoulda, woulda won. Still, the winning isn't happening and many factors are worth mentioning in this annual post-mortem, but one factor really sits there, only somewhat said, above all:
The best guys don't go.
There will be some arguments over patriotism and such, but it's much more complicated than that (also, anyone equating service for Team USA at the Motocross of Nations to actual military service isn't thinking nearly hard enough. There is no comparison between the two. Please do not attempt to make one).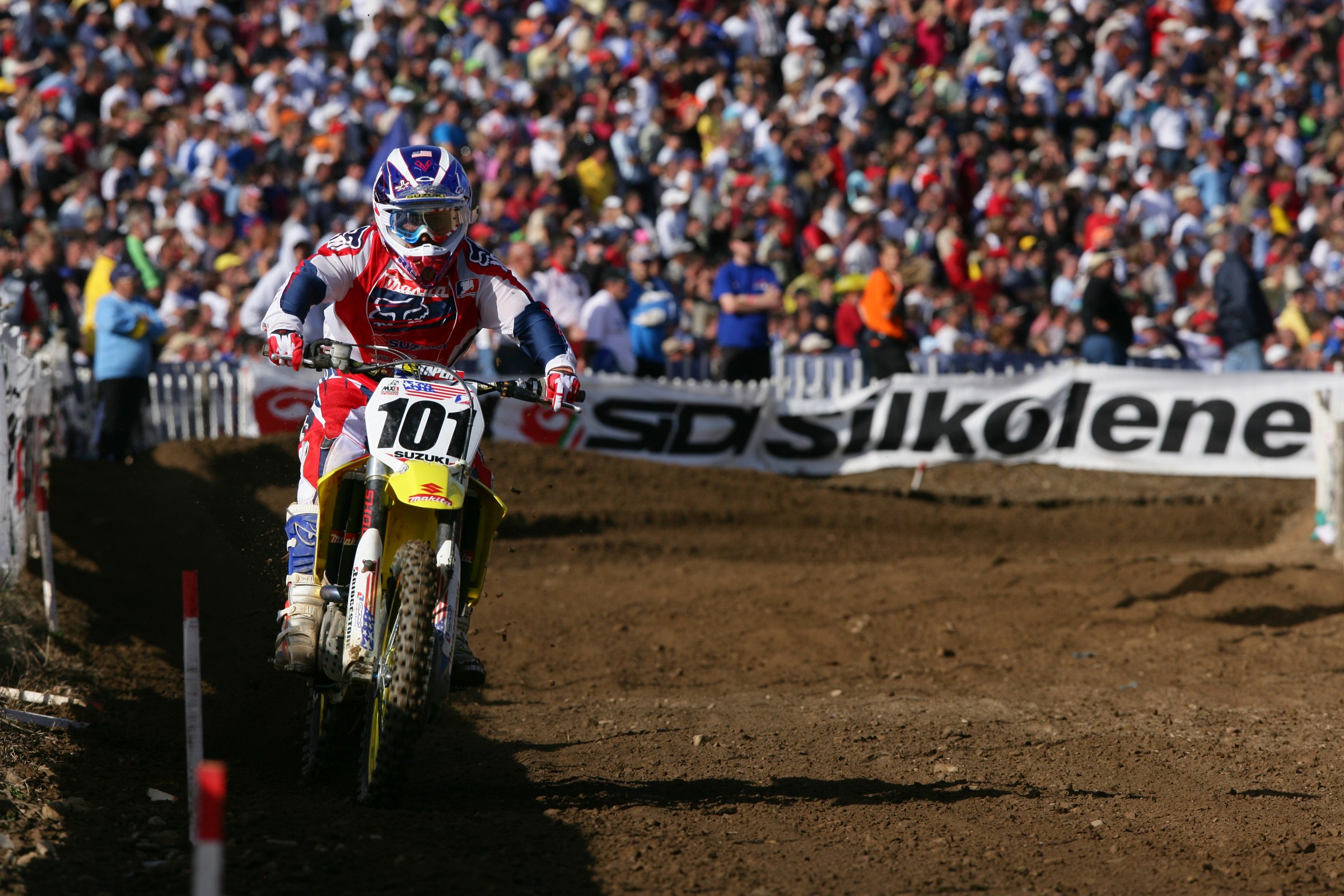 Contrary to the "the schedule just keeps getting longer" brigade, the AMA supercross and motocross season does not add races. The events are largely the same as they were 30 years ago, and in fact there were actually 18 supercross races and 13 Nationals at one point (one more per series). Nearly all factory riders raced a USGP at that time, too, and while the U.S. Open or Monster Energy Cup didn't exist, all the riders used to head to Bercy, Japan, and more during the off-season. What has changed is the timing. A few years ago riders and teams realized that off-weekends during the season don't feel like off-weekends, because you have to keep the training and riding in check. If you want a real break, it's better to just get the season over with. Off-weekends were axed, and now the same 12 round Lucas Oil Pro Motocross schedule ended on August 27 this year; it ended on September 12 back in 2005. A generation before that, the AMA schedule dragged on much further—into freaking October—and there were even years when the des Nations took place before the Nationals even ended.
While the American calendar shifts, the des Nations date has gone the other way. The event date has held steady for the last dozen years, but in 2000 it took place on September 10. When Team USA won the last of its 13-straight in 1993, the race took place on September 11. The American schedule shifts one way, the FIM Motocross World Championship and 'Nations schedule shifts another. The difference is about two or three weeks in each direction, but that ultimately led to the five-week break between the final Lucas Oil Pro Motocross race and the MXoN.
Tomac himself openly said that if the 'Nations came right after the MXGP of USA, and he could just stay in outdoor mode for one more week, he'd go.
This is not an easy fix. The 'Nations is an end-of-season MXGP event. It's silly for the GP circuit to adjust its calendar by a full month just to accommodate the U.S. schedule, which is based on a totally different set of parameters (starting with, for example, being able to hold races in January thanks to California weather and domed stadiums). Also, you can't move the 'Nations up and run it before the final few GPs, as I'd imagine GP teams would be worried about a title contender getting hurt.
The 2011 Motocross of Nations was held on September 18. The 2012 edition was held on September 30. This was okay because the Nationals in those years ended on September 10 and September 8, respectively. The 2013 AMA schedule ended on August 24 and the 'Nations ran on September 29. There was now a month-long bridge between races. Getting everyone to get on board has been tough ever since.
The timing is not quite everything, though. Through the decades industry and team support for the 'Nations has been a roller coaster. Back in the 1980s, during the streak, one never heard a word about taxing team budgets or personnel to compete, but the topic has come up over and over during the last 25 years or so. At one point, teams cited the lack of U.S. television coverage as a factor, claiming sponsors don't get enough exposure to justify the cost. A few times, the team gathered a title sponsor, including our friends next door at MX Sports, which backed the team financially. Riders ran Loretta Lynn's logos on their jerseys and the team was dubbed AMA Team USA presented by Loretta Lynn's.
(It may sound strange for the AMA Amateur National at Loretta Lynn's to sponsor the team, but it turns out to be one of the few things the Team USA riders had in common—most any other sponsor would end up being a conflict with someone. And any sponsor the three riders already have in common is already spending extra money to get the guys over there, and that's a drain. The key ingredient would be finding an unrelated company that could back all three with cash for one weekend only. Good luck.)
Today, in my opinion, the race garners more attention and exposure than ever here in the U.S. There is television coverage via CBS Sports Network and MXGP-TV.com offers live web streaming. We cover the heck out of the race on this site, as do most other moto-media outfits. It has come a long way from 1990, when Jeff Stanton was pulling out the win surrounded by European fans, trees, and a Cycle News reporter. There is exposure available, but it hasn't moved the needle. Some teams go, a few team sponsors try to market the effort, but you never hear a U.S. race team reference the race like they've been picked for the all-star team—or talking about all the extra exposure they're going to get their sponsors and how much extra money that will generate.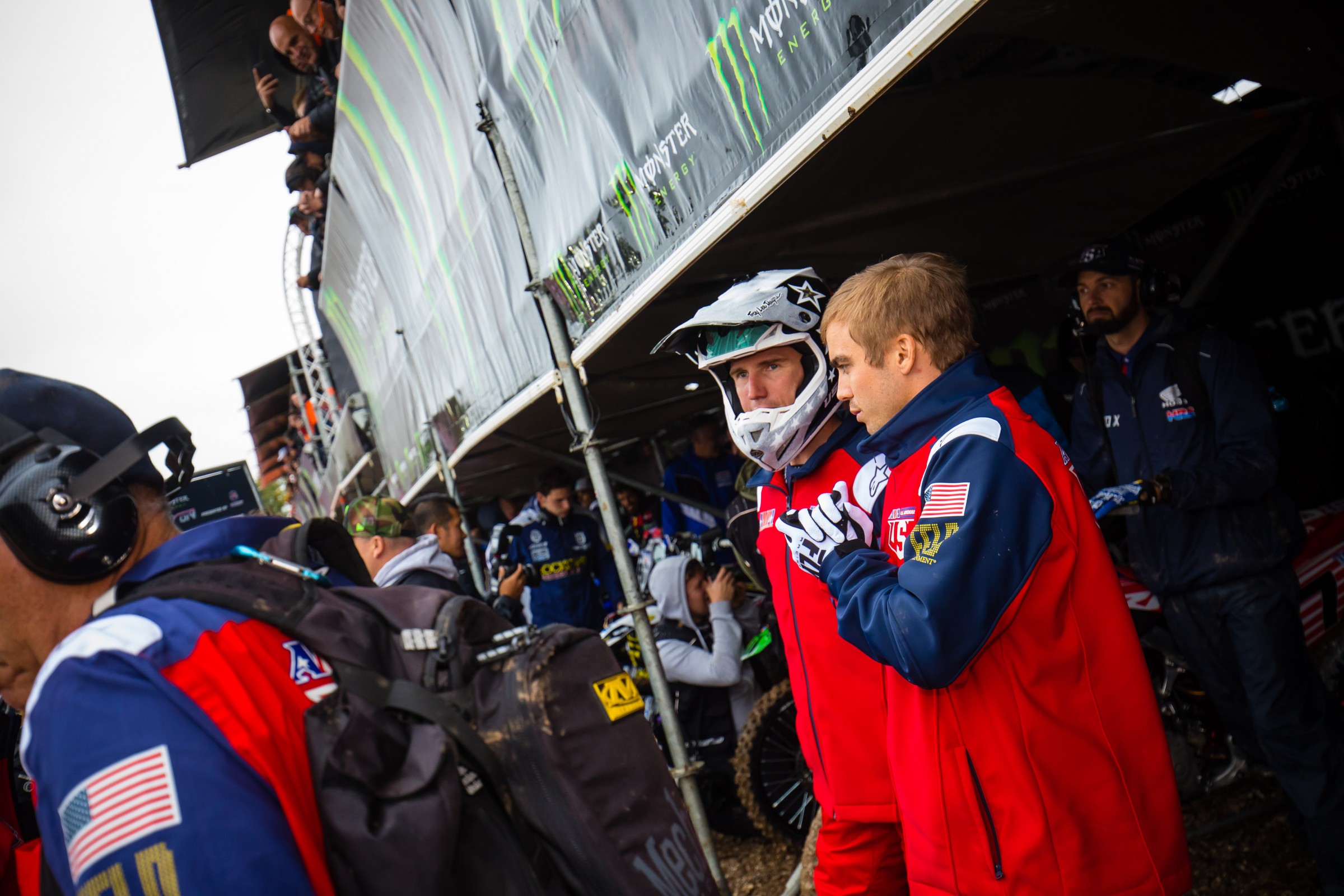 I've heard some reference other off-season races as a problem, primed by the energy drink sponsorships which are now integral to so many teams (back in Team USA's heyday, factory teams didn't have any outside sponsors). I hesitate to blame the Monster Energy Cup for this, though—the old U.S. Open drew most of the top riders, also, dating back to 1998. Most riders still signed up for Team USA. Ricky Carmichael raced it all when he was on top—U.S. Open, 'Nations, even the opening World Supercross rounds in Canada in December. Ricky gave it his all, but he only lasted 10 years before saying no more. He retired.
That's not what it should take, either.
When you consider the global entity motocross has become on both sides of the pond—foreign-born superstars like Chad Reed, Ken Roczen, Marvin Musquin, and more based in the U.S., along with the typical tapestry of American champions (like Eli Tomac today) and European-born World Champs (like Antonio Cairoli)— and combine it with the improved TV and media coverage, this race has the chance to be bigger and more important than ever, which is saying a lot because it is already big and important. There are complicated puzzle pieces, though. If the right mix of people could figure out all the elements—the timing, the sponsorship, the costs, the exposure—we could have something even better, and that doesn't just mean a better Team USA. Remember, Roczen and many other U.S.-based riders face the same hurdles these days as well. For now, Team USA will just keep trying to get by.