The last round of the Lucas Oil Pro Motocross Championship took place in Crawfordsville, Indiana, at Ironman Raceway, the newest track on the circuit and for the first time since its inception, we didn't get a muddy practice or race. Hooray for us! However, according to some, it did rain all over American motocross later in the day though.
You all saw what happened at Ironman, right? Jeffrey Herlings came over from Europe on Tuesday, rode an unfamiliar bike (over in Europe, on a works bike, he uses a different frame over here and probably a swingarm as well) and worked everyone in going 1-1 with the second "1" coming after a first lap crash that left him basically last. It was an amazing ride, tour de force performance, and he becomes the second active MXGP rider to ever win a national after the great Jean-Michel Bayle did it (twice) in 1989.
I'm seeing a lot of "American MX is in trouble" tweets, texts, and Vital MX threads and I get why people are saying that, as recency bias is huge with this one. But about one year ago Cooper Webb beat Herlings at the Charlotte USGP in MX2 with a great ride. Eli Tomac spanked everyone in MXGP at two rounds (Charlotte and Glen Helen) going 1-1-1-1. I mean, as great as Jeffrey rode— and he rode amazing—Marvin Musquin was the only rider among the elite U.S.-based riders running at peak give-a-shit meter. Tomac was looking to clinch this 450MX title after his crash when he was catching Herlings; Blake Baggett's been nursing this ligament tear in his thumb for a while now (and had surgery yesterday to fix it); Jason Anderson's been gone for a while now, Ken Roczen as well; and everyone else, well yeah, Herlings is just better than them.
It was a perfect storm for Herlings to ride his balls off and go 1-1. He needed a crash from Musquin on the second-to-last lap to win the second moto, but still, a 1-2 after being last in the second moto would've been great (although it would not have gotten him the overall win and that probably would have calmed some people down on both sides of the Atlantic). Not taking anything away from him—by the way, there's no U.S.-based media guy that has seen him more than me, because he was awesome—but let's lay everything out here and calm some people down.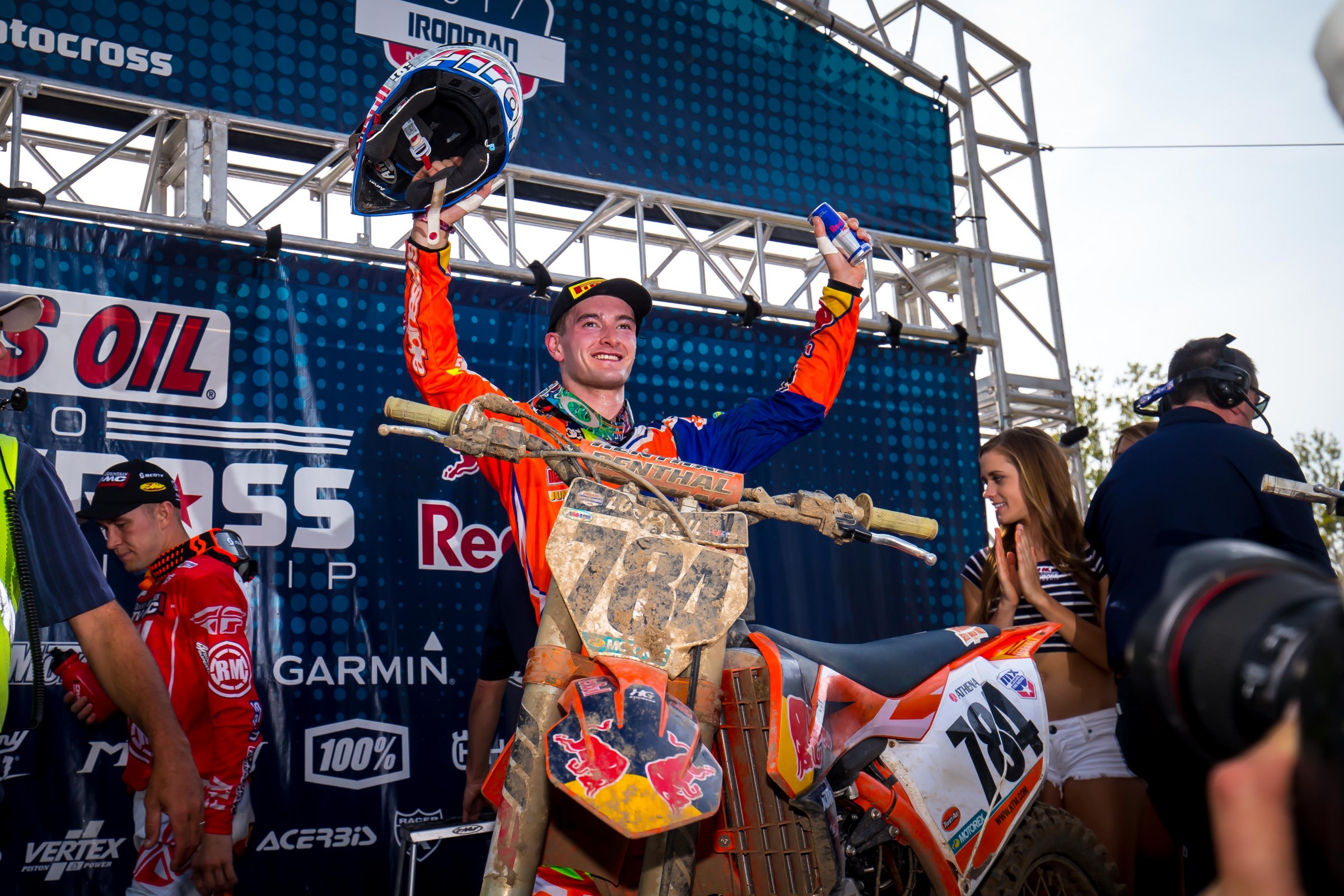 It was ballsy of him to race. Herlings had a lot to lose: he was on a strange bike and probably had some jet lag, and not much to gain. Full props to him for racing a race that meant nothing to him. He could've bombed out and everyone would've criticized him for his move. Nice to see a guy man up and venture outside his comfort zone—we don't see that over here much. The real winners of this excursion, besides you know, the winner himself, were the American fans that got to see that riding clinic.
(By the way, it's slightly different but I'll take Seb Tortelli's first ever U.S. National in 1999 at Glen Helen over this Herlings ride all day long because it was the opener and everyone was at their peak powers. Tortelli came from 30th in both motos to win. Not shitting on Herlings here, people, but if you were at Glen Helen that day, you know Tortelli's ride was amazing. I wrote about it a while back.)
Let's take a look at the results shall we?
250MX Results
1 16 Zachary Osborne Abingdon, VA Husqvarna FC250 1 1- I think we saw what the release of pressure from a title fight did for Wacko Zacho. He'd kind of been off his early season pace the last few weeks, wasn't getting the starts he needed and was toughing out some good finishes through stressful situations. With the title clinched last weekend, he put the smack down on everyone in Indiana with a couple of great rides. The second moto was just a little reminder to everyone about what they saw this year in 250MX. And it was also, if everything goes according to plan, his last ever 250MX moto as he's moving to 450MX for 2018. Nothing like going out a winner. I remember my last moto I raced in back in Manitoba before heading south and I cartwheeled.
2 36 Adam Cianciarulo Clermont FL Kawasaki KX 250F 2 2- Adam was very good in Indiana and although he didn't win, it was a couple of great rides. I mentioned to AC that there's no way he goes 2-2 this week if he hadn't won Budds Creek last weekend (he agreed with me) because, before that win, it seemed there was always something happening to him late in races. With the added confidence of a win and knowing that he should attack the race the entire way instead of just defending his position, he did the same at Indiana. Of course he also made Jeremy Martin a tad upset when they came together and it left J-Mart on the ground, but this is racing. Adam was also kicked out of his hotel after he turned the heat on in his room, saw smoke, started fanning it with a shirt which then got caught on a sprinkler in his room and set them off. The water was raining down onto the first floor as well, and since Adam's room happened to be right above the lobby, it ruined breakfast for them. It's not quite on the same level as the '90s SX stars trashing a room, but it's the best we've got in 2017.
3 39 Colt Nichols Muskogee, OK Yamaha YZ 250F 3 4- Nichols collected his first overall podium of his career with a couple of sneaky good rides. Colt started the year showing much-improved moto skills from last year then went into a bit of a funk before having a strong end of the year. That's weird, right? Well, "people" tell me that he actually broke his thumb at Lakewood and struggled with that for a while before it got better.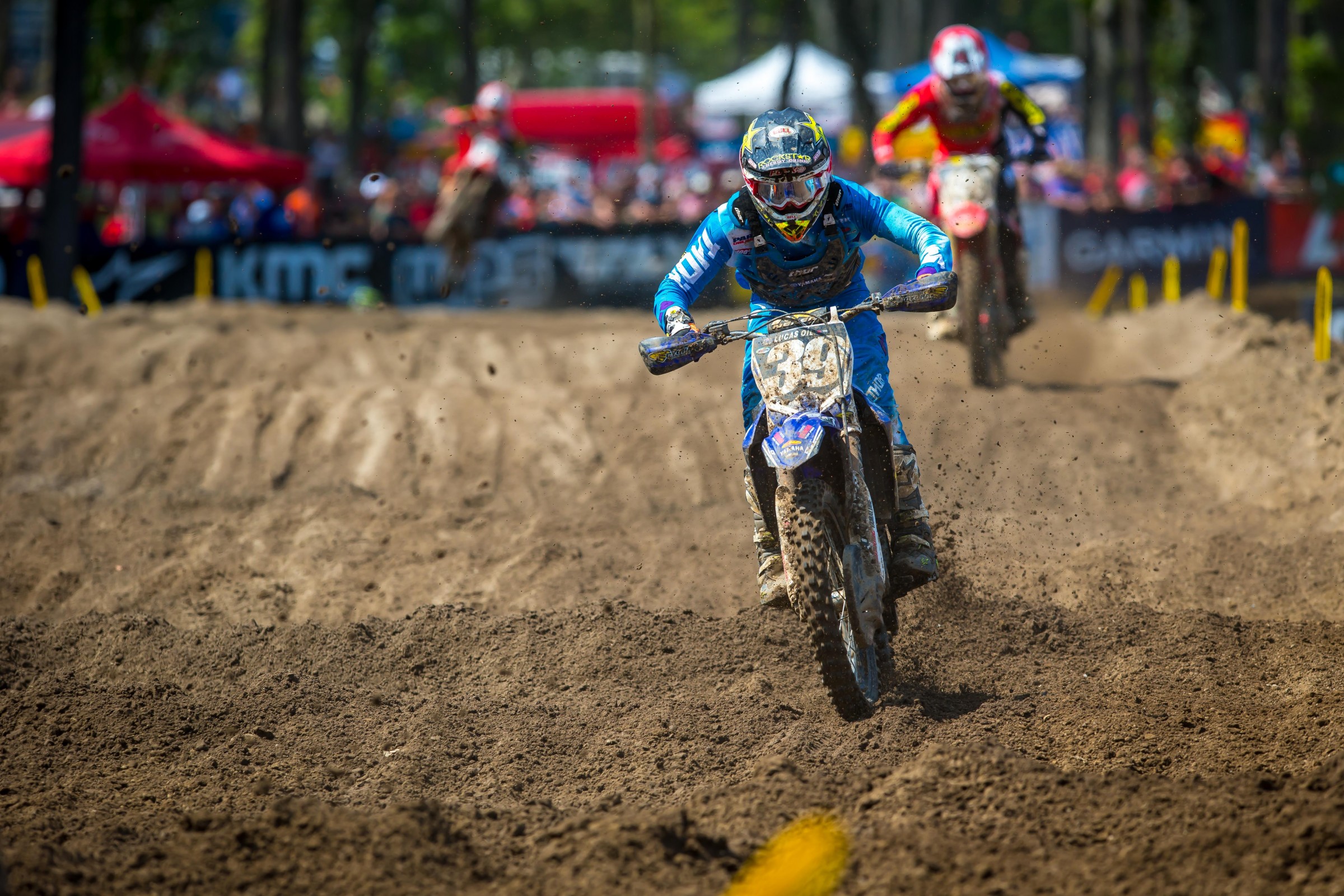 4 6 Jeremy Martin Millville, MN Honda CRF250R 8 3- J-Mart had another weird day where he was fast and should've probably ended up on the podium, but he crashed (with some help from AC) and had to make the best out of a bad situation. He's skipping the USGP this weekend and says he has to figure out what went wrong for him this year both indoors and out. One thing that may be tough to overcome is he's going to be dealing with a brand new CRF250R that's going to be late getting to the U.S. so everyone over there will be burning the midnight oil (Beds are Burning!) to get inside it and make it great.
5 45 Mitchell Harrison Brighton, MI Yamaha YZ 250F 5 8- Harrison ended up finishing the year very strong and inside the top 10 overall. He's looking for a ride for next year and to me and many others, he's the best available 250 guy on the market. JGR Suzuki's got, I think, one spot open for 250SX only, so maybe he'll get that.
6 486 Chase Sexton La Moille, IL Honda CRF250R 10 6- This should read 3-4 or maybe a 3-5 on the day for the rookie, but with two laps to go in the first moto, while running third, he crashed into a lapper. Then, incredibly (due to a front brake issue) he crashed again on the last lap. That's how a third turns into a 10th ladies and gentlemen. Second moto he came together with his teammate RJ Hampshire and he ended up on the ground while RJ rode away. Chase didn't seem too upset at this, but he did like the fact that RJ left his wallet at the track and was at the airport for his flight after the race with no wallet and hence no ID.
7 31 RJ Hampshire Hudson, FL Honda CRF250R 12 5- But Hampshire got lucky in that Mike LaRocco, in his last race as GEICO Honda team manager, brought Hampshire his ID to make it through security. Who says The Rock doesn't have a heart?
8 129 Sean Cantrell Murrieta, CA KTM 250 SX-F FE 6 12- Nice work for Cantrell in the first moto to start strong and break this mini-slump he'd been on and score his highest moto finish of the year! I'm interested to see what he can do in his first year of supercross next year.
9 46 Justin Hill Yoncalla, OR Kawasaki KX 250F 11 9- Hill's had a terrible MX season with injuries and when he was at the races, he wasn't riding very well. In fact his boss Mitch Payton told me after the race that he thought Hill "didn't want to do outdoors" which saddens me to think that Hill and the people around him think that a regional 250SX title means you're set in your career. Far from it. Eventually you have to leave the 250 Class (if you're not named Martin Davalos) and those guys don't play around. Anyway, Hill's also racing the USGP this weekend so it'll be interesting to see how he does.
10 74 Bradley Taft Nixa, MO Yamaha YZ 250F 7 13- Taft had a strong Indiana with his best moto finish of the year (helped out a bit with riders like Ferrandis and Savatgy out with injury) and a good second moto. Taft's been so up and down this year with some bike issues, but also some crashes. And his crash in SX that knocked him out was pretty serious stuff, so it took a while for him to get going.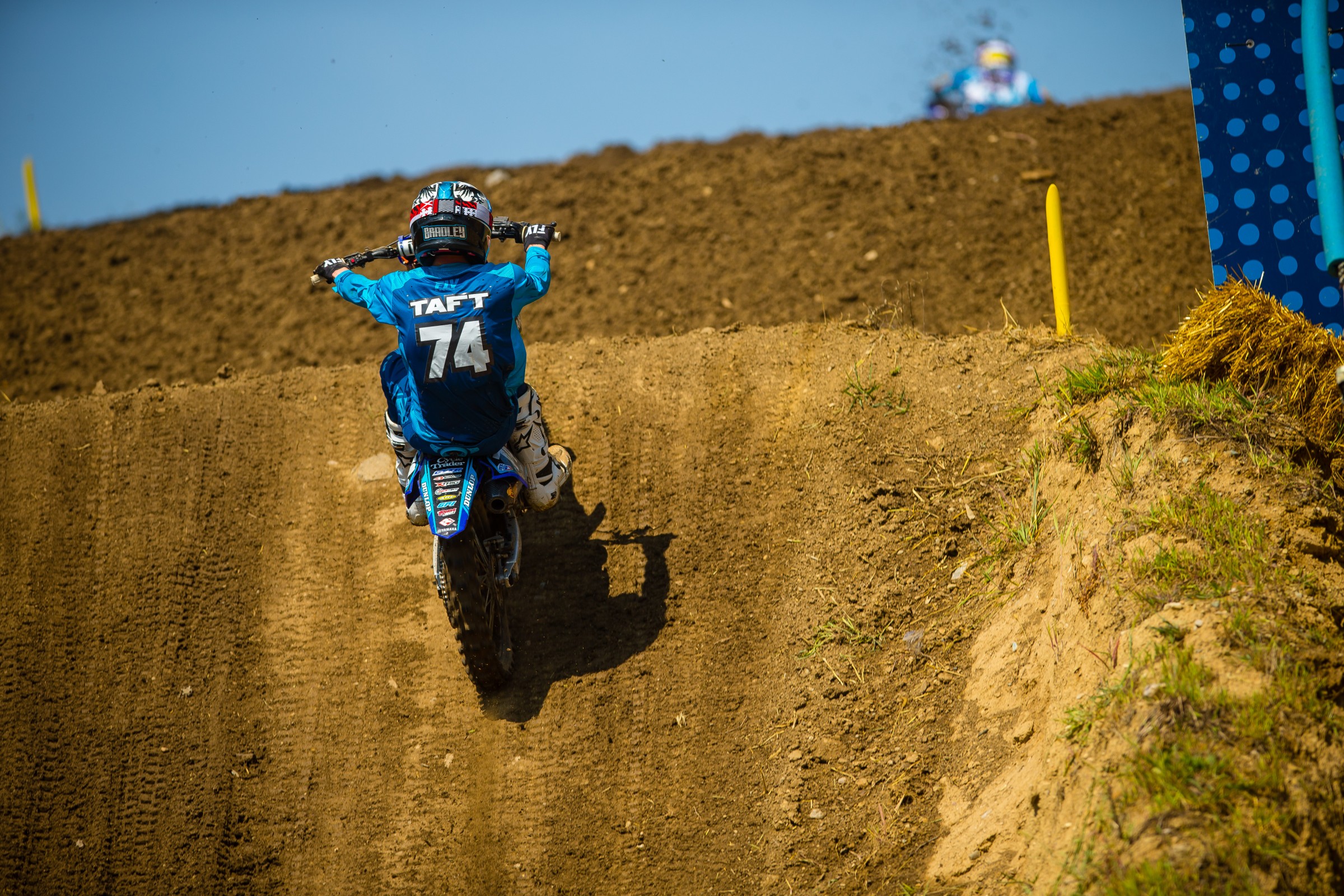 11 191 Justin Cooper Cold Spring Harbor, NY Yamaha YZ 250F 16 7- A 16th moto score is going to happen for a young kid in the 250 Class, it's like peanut butter and chocolate going together. But it's how you rebound from that moto that counts, and the last two weeks Cooper's been able to ride well in the second moto after doing poop in the first one. This is a good thing.
12 78 Nick Gaines Ringgold, GA Yamaha YZ 250F 13 10- I know some of you and the riders don't want to hear about our stupid fantasy MX problems we have but c'mon, man, the rider formally known as "The erratic Nick Gaines" becomes "the consistent Nick Gaines" just in time for me to pick him last week. Where he promptly crashes in the first turn and turns back into his erratic phase and screws me bad. This week he's back to his 2017 form and rides great. Thanks for nothing, Nick.
13 42 Kyle Cunningham Willow Park, TX Suzuki RMZ 250 9 14- Cunningham's results early in the year pretty much blew chunks and it was not all his fault as he did have some bike problems. He was also trying to recover from a crash at Glen Helen and riding through some pain. Much like Nichols, he started feeling better, the team worked on the bike a bit, and in the last four races or so he's been really good.
14 23 Aaron Plessinger Hamilton, OH Yamaha YZ 250F 4 40- This result blows for AP. No doubt in my mind he goes 2-2 on the day and maybe wins if he stays upright. He's very fast at Ironman, but crashes took him down this time. He can't be stoked on his day.
15 183 Lorenzo Locurcio Venezuela Yamaha YZ 250F 14 11- As I said with Taft's write up, there were some really good guys missing so Lorenzo tying his best moto all year isn't that big of a deal for him, but hey, you gotta actually do it, right? And he did.
16 50 Luke Renzland Hewitt, NJ Yamaha YZ 250F 15 15- With Luke's consistent day at Indiana it allowed him to beat his teammate Gaines in the points for the year and yes, these things matter when you're on a team. They both scored points in 21 out of the 24 motos of the year (yes, I picked Nick in one of only three motos he didn't get points in) and Luke beat him by 16.
17 791 Gustavo Souza Brazil Honda CRF250R 25 16- I'm glad that Souza will get a national number for all his hard work this year. The Brazilian was grinding out there all summer long, racing 16 motos and scoring points in eight of them. And he's doing it as a real privateer as well. You know how we have those Brazilian steakhouses over here and everyone loves them so much that it's like a cult? I wonder if Gustavo, like Aussies do with Outback Steakhouse, turns his nose up at them and laughs at us dumb Americans?
18 179 Jon Ames Payson, AZ Yamaha YZ 250F 36 17- You just never know what you're going to get with Ames and I feel like his Ironman score encapsulated his outdoor season perfectly.
19 223 Dylan Wright Canada Honda CRF250R 20 18- The Canadian didn't replicate his 13-13 finish from last weekend, but he still acquitted himself very well with these finishes. He missed his gate pick in one moto and was far, far outside. Both motos it looked like he tipped over at some point and had to work up a few times to score points in both motos.
20 105 Steven Clarke United Kingdom KTM 250 SX-F 17 39- It's like Clarke got more inconsistent after he got a motor from the TLD guys, right? Still, the speed is there, but crashes do suck.
450MX Results
1 784 Jeffrey Herlings Netherlands KTM 450 SX-F FE 1 1- I talked about Herlings above but one more thing: riders, please don't talk about how your bike "setup" was off and it hindered you out there. Herlings USED A DIFFERENT FRAME from what he was used to with minimal practice time and went 1-1. Thank you.
2 25 Marvin Musquin France KTM 450 SX-F FE 2 2- Despite Marv saying he was not pushing it in the press conference afterward, he was very much pushing it to catch Herlings in the first moto. And he was actually doing it as well! Getting sideways, feet coming off, bouncing off lappers, uhhh yeah, Marv, we know this is not usual style for you. Musquin had to go 1-1 to have any hope of winning the title, plus I'm sure he wanted to show the Flying Dutchman what was up. Second moto I wonder if he heard some footsteps out there as he suffered a good crash to allow Herlings by. Again, very unlike Musquin.
3 4 Blake Baggett Grand Terrace, CA KTM 450 SX-F FE 3 3- Baggett rode well at Ironman and he wanted second in the points, but there wasn't anything he could do to hold off Marv.
4 14 Cole Seely Newbury Park, CA Honda CRF450R 4 4- Seely told me he woke up feeling very much under the weather and not sure if he was going to race or not! Yeah, that's how gnarly it was. But he felt a little bit better as the day went on and he got some starts to really help him out. He said if he hadn't gotten out front, it could've been ugly for him to finish well or at all.
5 2 Cooper Webb Newport, NC Yamaha YZ 450F 6 5- Webb had a day that was consistent with his season in that it wasn't too good but it wasn't too bad either. He'll be on the 2018 Yamaha for this weekend (what happened with Yamaha people telling me the '18 was coming real soon around Lakewood?) so I suppose he'll be happier if rumors are to be believed. Still, I have a hard time seeing a machine with some frame improvements turning him into a top three guy this weekend, but I've been wrong before.
6 3 Eli Tomac Cortez, CO Kawasaki KX 450F 5 6- I was wondering what in the heck Tomac was doing going after Herlings before he crashed, but he explained to me that he felt comfortable at that speed, Herlings was making some mistakes, and why not? Then he crashed and plans changed from there, with him "putting my ego in my pocket" as he made sure he got the title. Congrats to him on the season and the Kawasaki guys as well. What emotional swings for the #3 all year long when you look at SX and MX, right? I've been consistent in my thinking all outdoors that Tomac was the best rider and was going to get this done despite a few moments where it looked like he wasn't riding up to his capabilities.
7 32 Weston Peick Menifee, CA Suzuki RMZ 450 7 8- A good day for Peick and you know what, I haven't heard him talk about his injured wrist for a while so I assume it got better. Early on in Lucas Oil Pro Motocross he was really toughing it out.
8 48 Christian Craig Corona, CA Honda CRF450R 9 7- Craig has gotten either ninth or seventh in nine out of his last 11 motos! How weird is that? He capped it by going, you guessed it, 9-7 at Indiana. You can tell how Christian's race is going to go two corners in and seeing where he starts. If he starts well he can run any pace, but if he doesn't, he struggles a bit to find the pace needed. Back to 250s he goes in 2018!
9 19 Justin Bogle Cushing, OK Suzuki RMZ 450 11 9- Bogle didn't back up his win last week and that's fine, but this ride left me a bit puzzled as he was never really up there all day long. Whatever, he's always got that Budds Creek win on the resume! His team—RCH Suzuki—folded up shop after this race and I wonder how much of that kind of stuff hurt his performance at the race. Had to be a bit somber around the rig, right?
10 15 Dean Wilson United Kingdom Husqvarna FC450 12 10- Wilson was sick all day and ended the season with a thud as the last four motos we didn't see his usual excellence. Still, fourth overall in the 450MX points is a nice showing and what a 2017 DW had. He's back with Husqvarna and rumors have him in Fox gear next year head to toe.
11 51 Justin Barcia Greenville, FL Suzuki RMZ 450 10 13- Barcia came back after missing a few races and ran inside the top 10 both motos before dropping back a bit, which is understandable seeing as how he's missed some time. I was sort of expecting a holeshot or top three start from him though because that's how these things go sometimes. JGR Suzuki was planning on sending a truck to the USGP to support the Suzuki MXGP team, but weren't planning on sending any of their riders until Barcia informed them that due to his Monster deal, he's contracted to race it. So he'll be on the gate, too.
12 43 Matthew Bisceglia Tualatin, OR Suzuki RMZ 450 15 11- I couldn't believe Matt didn't pull either start and in fact was outside the top three both motos. What happened???
13 81 Henry Miller Rochester, MN Yamaha YZ 450F 16 12- I got a call from an industry guy after Budds that Henry needed a bike for the last round and to use my connections to see what I could do. Then I promptly forgot about it and felt bad until I checked Vital MX on Thursday and saw that they were looking for a bike also. Whew! Nice to see he figured something out and put in a great ride.
14 40 Fredrik Noren Sweden Honda CRF450R 13 15- Fast Freddie rode well, but he wasn't that noticeable out there except for colliding with Herlings in moto two.
15 34 Benny Bloss Oak Grove, MO KTM 450 SX-F FE 8 28- Great first moto for Benji and his second one was looking good, too, before a crash late in the moto while running 10th did him in. He wasn't as spectacular in his comeback to 450MX this year as he was last year, but he had a serious injury, missed a lot of time, and I think he was doing just fine and getting better each week. Well, except for this second moto.
16 11 Kyle Chisholm Valrico, FL Honda CRF450R 18 16- Chiz has been on some good teams, he's made some good money at different points in his career and so it's a bit strange to see a guy with his background load up and go full privateer route at the Nationals, but that's just what he did these last two. And following him on social media, it seemed that he had a lot of issues as well. Good for him I say, it's nice to see a guy just want to race and not point out the numerous reasons why he couldn't—Kyle had a few of those as well.
17 88 John Short Pilot Point, TX Yamaha YZ 450F 21 14- Short had another good day as the privateer ended up 20th in points this summer. As usual for John, his standout 14th place was probably overlooked by Miller's standout 12th. Both guys rode great all summer long with minimal backing.
18 70 Dakota Alix Jay, VT KTM 450 SX-F FE 17 18- Didn't talk to Alix after the race to find out why this weekend's ride wasn't up to his usual standards. So I guess this was his last U.S. National with the team (I think he's doing the USGP) and I think it was a real breakout summer for Dakota who had just put in some ok rides here and there. I don't know if it's enough to get him a paid gig but someone should pick him up and give him another chance.
19 37 Phillip Nicoletti Cohocton, NY Suzuki RMZ 450 14 38- Filthy hurt his ankle in a bad crash in the second moto. I mean, you have got to give Phil some credit, if he crashes hard enough to DNF, it's an amazing crash that would kill most people. Otherwise, he just gets back up. He was not happy after the race by the way. I asked him yesterday how the ankle was doing and he said he wasn't talking to the media.
20 77 Ben LaMay Wasilla, AK KTM 450 SX-F FE 20 17- LaMay came back last week and scored points in one moto, and this time out he did it in both. Unfortunately for him, he didn't score enough to keep his national number. LaMay told me he wants to come back to SX/MX for 2018 after doing arenacross this year.
I guess it was the promoters trying to make Herlings feel at home or maybe it was a sign of the apocalypse, but there were actually wash bays at Ironman MX! I couldn't believe it! Any listener/reader of mine knows I'm a huge fan of the MXGP system where everyone has to wash their bikes in a designated area. They do it over there for environmental reasons, but makes the pits so much nicer to walk around in. The USA pits usually turn onto something out of Water World (remember that movie? No?) as the teams wash their bikes over and over again. Imagine bringing your wife or some sponsor to the outdoors and they just get mud all over their shoes, their car, inside of trucks, etc, etc. I've been told the U.S. Nationals don't have wash bays because the teams say it takes too much time to go over there and I'll give them that, it doesn't seem like much, but with the TV schedule we have, time is of the essence.
I don't know what changed, I don't even care, but they were there at Indiana and they were glorious! (Editor's note: We hear the track owner decided to build it just to be cool. – Weege). Yay for progress.
Thanks for reading, email me at matthes@racerxonline.com if you want to chat about this race, the wash bays, or anything else.