Ironman Raceway
Crawfordsville

,

IN
Ironman
Lucas Oil AMA Pro Motocross Championship
Even though it's been no secret that the RCH/Yoshimura Suzuki Factory Racing team is shutting down, it's still hard to believe it's all over. After all, the team dominated the Lucas Oil Pro Motocross 450 National Championship in 2016 (and made history as the first privately funded team to do so) and won the 450 overall at Budds Creek with Justin Bogle less than two weeks ago. It feels like a weird dream that makes so little sense we're just waiting to wake up.
Unfortunately, it's reality, but that didn't stop the entire team and, this week's Unsung Hero, team manager Kyle Bentley, from giving 100 percent to the very end. With 2017, and RCH, in the rearview, we spoke with Bentley to get his take on the team's final season.
Racer X: Talk about this season. Are you happy with the way everything turned out?
Kyle Bentley: Yeah. Obviously, coming off a championship season and losing Kenny [Roczen], we had a new face with Justin Bogle on the team and we were excited about him going into 2017. We were happy with the stability and progression of Broc Tickle too. Our expectations weren't as high as in 2016, but we were excited for other battles and adventures. At the end of the year, we'd had success with Broc in supercross; he got a podium, which was very exciting and a new high for him. And going into the motocross season we knew how well Broc had done the season before and we were excited for that. Then, out of nowhere, Justin Bogle made some big changes to his program and moved to Ricky's [Carmichael] house in the middle of the season. Going into Colorado I think you got a preview of what might have been had he had a full season under Ricky's guidance. He got a moto win and that was unexpected, it was another success. And with two rounds to go he pulled off the win at Budds Creek. We couldn't be happier for him and we're proud to have helped him reach his goals. It was a good year for us.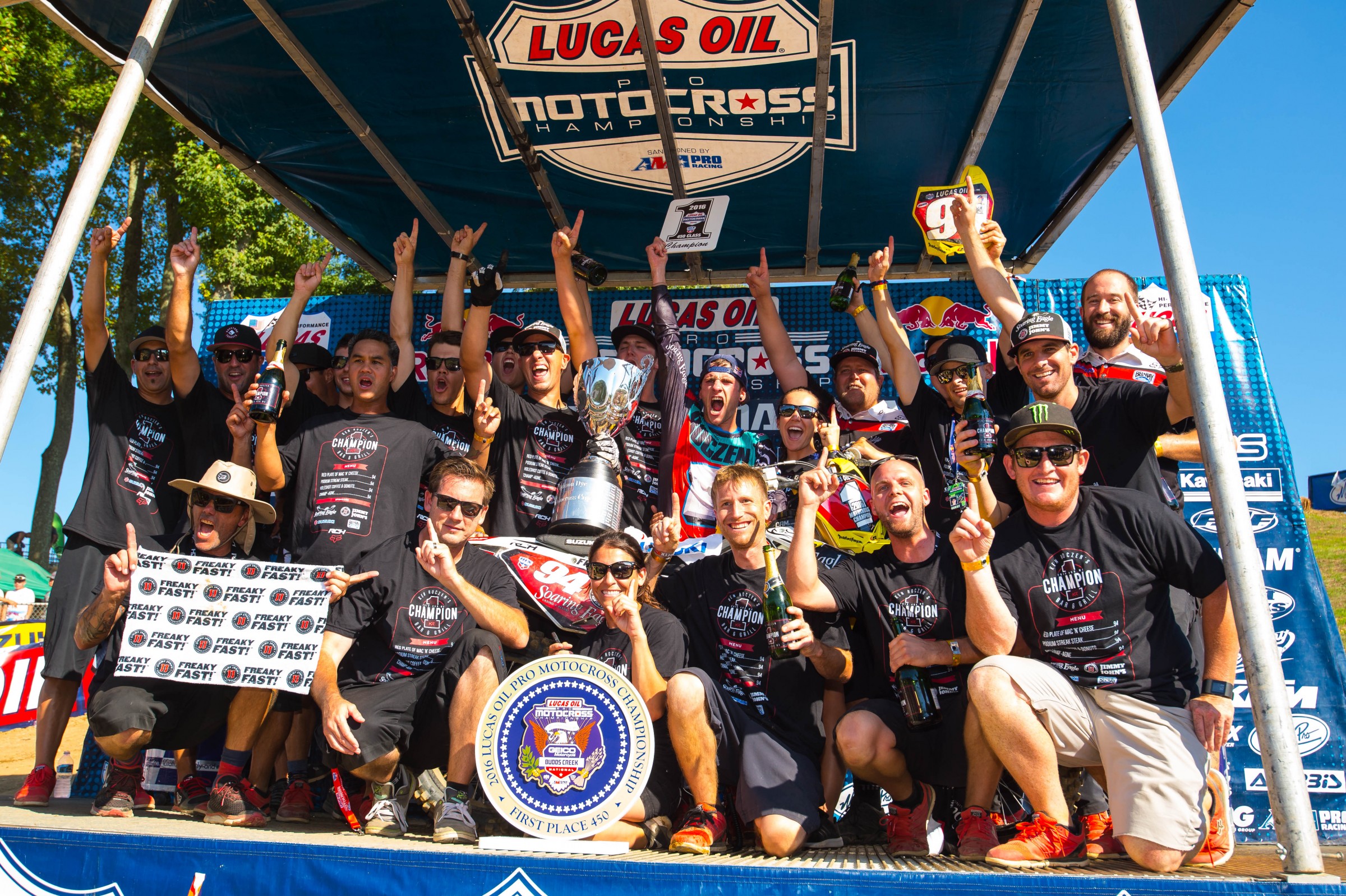 When did you first start seeing there might not be a 2018?
It wasn't abrupt; it wasn't a huge surprise. We had some financial struggles going into this season that started in October and November of 2016. We lost two of our biggest sponsors and were scrambling to try to find funding. Thankfully Suzuki stepped up to the plate and took on some of the financial burden. That allowed us to go racing for the 2017 season. But we had full warning that we needed to find funding if we were going to continue to go racing. We had people working on it, but nothing came to fruition. Suzuki gave us a deadline and we didn't have any funding by the time they needed to make a decision in the direction they were going and they decided to pull the plug. Once that was done the team was pretty much done.
Was it hard to stay motivated and give it 100 percent when you knew the end was coming?
We never said die. What's the point of doing something if you aren't going to give it your best every single time you go out there? That's what I tell the riders all the time—we're here to race. There are two checkered flags every time the gate drops—one at the first turn and one at the finish line. Let's go out and get one of them. Let's holeshot or let's win. We had some of the best staff in the paddock and I'm not afraid to put them up against anybody. No matter who we had on the bike, the bike was good. We just wanted to go racing and never give up. Everybody put their heads down and finished out the season right. We won the 450 overall at Budds Creek, and that was our second-to-last race so you know nobody was giving up. We were all still fully committed to winning.
You didn't hold back in announcing the shutdown early. That doesn't always happen in these situations. What was your motivation for breaking the news early?
There are a lot of things that play into it. We had two contenders in the 450 Class and not telling them early would be hindering their efforts for the 2018 season. We wanted to make sure they were available for any opportunities and rides that came about. We don't want to hold [back] anybody. We needed to do what was right, draw the line, and say we were done and give everyone a fair opportunity to go find another job. Especially our staff. That's the most important thing. This doesn't just affect our team, either. There are other people behind the scenes that work for other companies who are going to be affected by this. We needed to transition smoothly and give everyone adequate time to go find work. I don't think it'll be a problem either. We had great staff members and they should fit in anywhere and be a great component at another team.
Zero chance of anything for the team materializing for next year?
Zero.
What's been the overall feeling for the team these last few weeks? Is it something you've talked about with each other?
It's tough to talk about. The only thing that kept me going and fueling my fire was racing. I love to be competitive. I'll take any bet at any time. I think I'm the most competitive person in the pits. I hold grudges and I want to win. That's what kept this thing going. It's a hard pill to swallow when you did everything right, and your entire staff who works with you every week and is just as committed to the same goal as you are, to have it taken away from you. We weren't done. We all loved our team and we all still wanted to go. We were all pretty bummed out. But, things were out of our control. It was just business. It's a hard pill to swallow when it's out of your control. Nobody wanted to leave, and if you ask any of the guys they were all very happy with our program and the level of racing we competed at. It's tough, but at the end of the day that's life. It's tough to talk about, but I need to talk about it because the staff deserves a lot of praise. They had a lot of loyalty and commitment to the program and I owe it to those guys to talk about the team and how happy and proud I am of what we've achieved over the years.
It's hard to put my feelings out there when the ultimate decision was out of my control. I think there's a big disconnect right now within the industry and sponsors and outside sponsors. We had two of the biggest faces in the industry and we couldn't go out and sell them. I don't know where the disconnect is, but I feel [bad] for the other teams who are trying to come up and get better. It takes a lot of money to do this, and we've bled the industry sponsors dry. There's no money with the graphic companies and aftermarket component companies. We need to figure out how to get bigger names in the sport. We brought in huge names—Chrysler, Dodge, Ram, we brought in Jimmy John's, and they were here for only a short period. We owe it to the fans and the sport to figure it out, grow it, and bring more teams in.
I don't know how it needs to be done, I don't have the answers, I'm just a guy who goes to the races every weekend and loves the sport. To fund these teams, it takes a lot of money. We've got a lot of guys going racing. It's gotten so competitive. We've got mechanical engineers, engineers and fabricators, data analysis guys, chassis specialists, a full-time suspension technician, an engine development group—I've seen it and I know what it takes. We can't live on the industry alone, we need to bring in outside sponsors to do it. We need help from the promoters and sanctioning bodies to facilitate the acquisition of outside sponsors. We all need to work together—there are all kinds of roads that come into one.
I'd like to thank Ricky and Carey [Hart] over the years for their commitment, and I'm glad to have been a part of it. I wouldn't change anything. I just wish we could have continued just a little bit longer. It's tough. I'd like to thank all the sponsors over the years too, for their commitment and funding to the team. And the riders who rode for us, the test guys who did all that work behind the scenes, all the staff, everyone who helped bring RCH to the top of the sport. It was a hell of a run, I have memories for life, and we made history. I appreciate all of it.
Let's switch gears for a second. Talk about the high points of 2017.
There are a lot of moments! The end goal is to win a championship, but there are small battles you have to overcome on a weekly basis to get to that level, and the commitment of the guys to never give up, and keep digging and finding ways to be better, was amazing. Holeshots are the most exciting for me. I love holeshots! That just means the race is going to be that much better. These guys are all championship riders. At the beginning of the season we had 17 guys in the 450 Class who'd won championships! They're all championship riders. There's this mythical aspect of these guys falling into an imaginary pecking order, and to overcome that starts with a holeshot and running out front with the guys who are leading the championship. If they can get up there with those guys early in the race, they can run with them. They've all raced each other their whole lives, so it's nothing new. It's just getting those starts and getting exposed to the first few laps of the race and getting in that zone. You can ask any of my guys, they have to pull their headphones off their ears if we get a holeshot because I'm screaming so loud when we get a holeshot.
What's next for you personally?
I think I'm done. Where I'm at personally, it's too late for me to go somewhere and start over and try to build something or even try to fit in with a new program. I have a family—my wife and two boys—and my oldest is to the age now where he's starting to play flag football and tee-ball, and I'm not willing to sacrifice those memories to go racing. I love racing, but it's time to pull the plug and focus on my family. My mom owns a couple businesses in Southern California I can take over, she's ready to retire. So I think this is the end for me.
Wow! Well, congratulation on everything.
Yeah, thank you. I set out with some goals in mind and I overachieved and ended up winning a couple titles as a mechanic and won a 450 title as a team manager. I'm happy. I'm super stoked I created all these memories and made so many great, lifelong friendships. It was a good run.