Ironman Raceway
Crawfordsville

,

IN
Ironman
Lucas Oil AMA Pro Motocross Championship
Well, that's a wrap on the 2017 Lucas Oil Pro Motocross Championship. Considering the 450MX points leader held more than a full-moto advantage on the field going into the final round at Ironman, there was still a lot of excitement! The real story wasn't about Eli Tomac wrapping up the championship, though. We all realized that the title was a near certainty before the gate dropped Saturday. The real excitement was the addition of MXGP star Jeffrey Herlings.
Entering the weekend, I wasn't sure how Herlings would do. He is incredibly talented and has been winning Grands Prix in his rookie season. This is a different series, though, so he would have to deal with a different weekend format on a different continent and his bike even had a different frame from what he races in the GPs. He and Cooper Webb were about an even match at the Charlotte USGP in MX2 last year, so it certainly wasn't a lock that he would win anything in Indiana. I was open minded and knew he would be competitive, but that performance he turned in … that was a bit more than I was prepared for.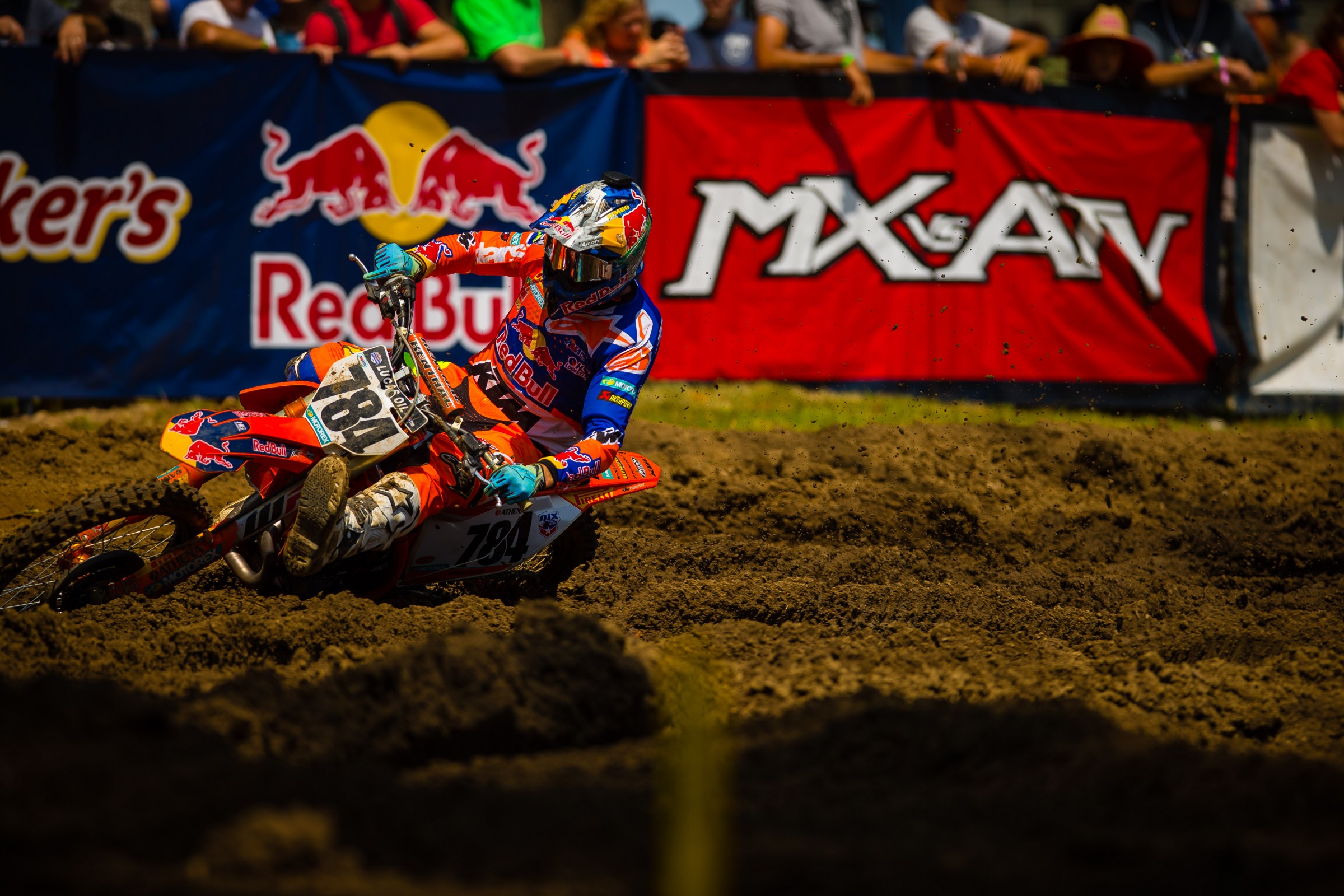 Watching him in timed qualifying, I immediately knew the series regulars were in trouble. Herlings was logging laps several seconds faster than the podium contenders. That simply doesn't happen very often, as the gap between the top riders is usually a few tenths of a second. When you watch Eli Tomac put in pole position laps, you don't normally think there are another couple of seconds to be saved. As Herlings put in his 2:08 laps and the next closest lap was in the 2:10 range, that was a clear warning of a long day to come. I thought maybe he would struggle with the dirt start, the different fuel, the different frame, etc. That was obviously not the case. He was the best guy on Saturday. Period. But how?
Corner speed is everything in high level moto. You can scrub jumps and wheelie bumps all you want, but cornering is what wins races. That was the first thing I noticed when I watched Herlings' qualifying laps Saturday morning. His speed mid-corner was noticeably quicker than everyone else. Grant Langston pointed this out in his commentary and he was spot on. Many other riders were entering the corners with a lot of speed, but in the critical point in the middle of the turn, where speed is very tough to maintain, Herlings was spectacular. It's the part of the corner that requires the most balance and trust. It's easy to lose front-end traction if your body position is off. Too much speed can cause the bike to climb out of the rut at the minimum or high side at the maximum. It's very, very difficult to execute corners with that much momentum lap after lap. Herlings was doing it seemingly with ease!
Watching Marvin Musquin attempt to chase Herlings down in the first moto was great evidence of how difficult it is. He was pushing his limit and made more mistakes than I have seen him make—possibly ever. Marvin is typically picture perfect, the epitome of smooth technique. To match pace with Herlings, he went far beyond that level.
For Tomac, he was in full championship mode in that second moto. He didn't even acknowledge Herlings when he flew by and never made an effort to raise his pace as Herlings rode away. Although I'm sure the fans were disappointed, it was certainly understandable given the circumstances. A week later, with the pressure now gone, will Tomac have any answer for Herlings in Florida?
Keep in mind that Tomac made easy work of the MXGP class last year at the two USGPs. Those were also no pressure situations and Tomac hasn't had one of those in a year or so. Tomac knows how to go fast, I am very sure of that. The performance that Herlings put in on Saturday might be a catalyst for Tomac to excel at the USGP. Losing in that fashion couldn't have sat well with Tomac even if he was in championship mode. I expect a much different Eli Tomac this coming weekend than we've seen lately. I think he will ride loose and fast, but the real question is: is that level fast enough?
Herlings was on a different plane of performance for the most part last weekend. He'll have more confidence than ever going into Florida's MXGP of USA this weekend at the WW Motocross Park. Tomac will be riding without worry for the first time in a long time. I want to see a battle royale between these two and maybe, just maybe, we'll get it.