New Berlin, NY
Unadilla
Lucas Oil AMA Pro Motocross Championship
Back in 2005 I was hired to host the old SupercrossLive! audio webcast, which also included hosting the post-race press conferences. The same thing broke out each weekend. Ricky Carmichael, James Stewart, and Chad Reed (or, occasionally, Kevin Windham) would arrive as the top three. The room would grow tense, the riders would measure every word, and then it would all get ripped to shreds on the MotoTalk message board.
After those Carmichael/Stewart/Reed post-race pressers, though, we'd bring in the 125 riders. The man-friends, coaches, and trainers left, plus most of the media only wanted to hear from the big names anyway. The tension would dissipate, and the 125 riders got to play to a nearly empty room. Suddenly things turned hilarious! The best conferences featured any combo of Grant Langston and/or Davi Millsaps, plus we had guys like Josh Hansen in the mix. It was light, loose, and fun every weekend. Why? Because these guys were in the 125 Class. They didn't have their every word dissected and then served back to them cold on Monday morning. They just let it fly.
Nothing has changed in this scenario. The small-bike class just doesn't get the same scrutiny as the big-bore division. But when a rider moves up and starts winning on the big bikes, the world around them changes quickly. Only now, instead of a single message board, we have social media and website comments (and YouTube comments, which should be considered the dark web).
Welcome to those cross hairs, Eli Tomac. To himself, Eli might still just be doing Eli, but the opinions about him now run the full gamut. In supercross, he went on a huge win streak and rode the popularity wave—he was the fresh-faced new guy, the challenger to the establishment, and Ryan Dungey, who has ridden this love/hate scrutiny roller coaster for a decade, was an easy target. Tomac could do no wrong—he hadn't done anything to make anyone mad, and he was winning races. Plus, everyone loves the new challenger! Jeremy McGrath is one of the most popular riders ever, but Ricky Carmichael was cheered hard when he was dethroning him in 2001 … only to be booed not long after when he became the new establishment. James Stewart was embraced in 2004 when he was coming for Carmichael, but soon got to hear boos, too, once he was actually in the big class.
Dungey was absolutely the establishment. He'd been around forever, so there was plenty of data to work with. Someone was going to dislike something, even though he had done yeoman's work to embrace and grow the sport over the last two years. Opinions spewed in all directions, from criticism that he was backing into a title instead of trying to win it, to questions, fueled by us in the media, that something was "wrong" with him.
(I will defend this question forever. His performance in 2017 was not the same as 2015 and 2016, and he ultimately decided to retire at the end of the year. He was not the same guy.)
Then after one loss, Dungey made a small error—he said "it's just a dirt bike race" and things exploded. It got so bad that in St. Louis, when Dungey was held up by a lapped Chad Reed, some unleashed on Reed, but some also unleashed on Dungey, saying he was either a crybaby for complaining or should just be better at making passes. Being held up by a lapped rider usually brings a nearly universal "These dudes need to see the blue flag and get the $**& out of the way!" But even that argument couldn't even come down 100 percent in Dungey's favor. That's life at the top.
Then Marvin Musquin moved over in New Jersey? Bonfire.
Tomac was all good, though. He just kept winning and making what could have been a routine supercross season very exciting. (Thanks!) Also, he was being quiet and humble in his interviews. What's not to love?
Then Tomac faltered in New Jersey. It wasn't his first mistake, but now the spotlight was at full crank. Many said he had "choked." People posted the link to the 2013 Salt Lake City Supercross, where Tomac similarly struggled with a title hanging in the balance. That actually wasn't such a big deal back when it happened, because it was for a 250SX title. It was much more important as evidence in the 450SX Class.
Then came Las Vegas, and Tomac's #BunchUp strategy, which was either brilliant or disgusting depending on who you ask. Overall, Tomac was now a hero for the near-comeback, or a choker, or cheated by KTM, or just dirty for the Vegas attempt. All over the map. Heavy dissection. That's life at the top.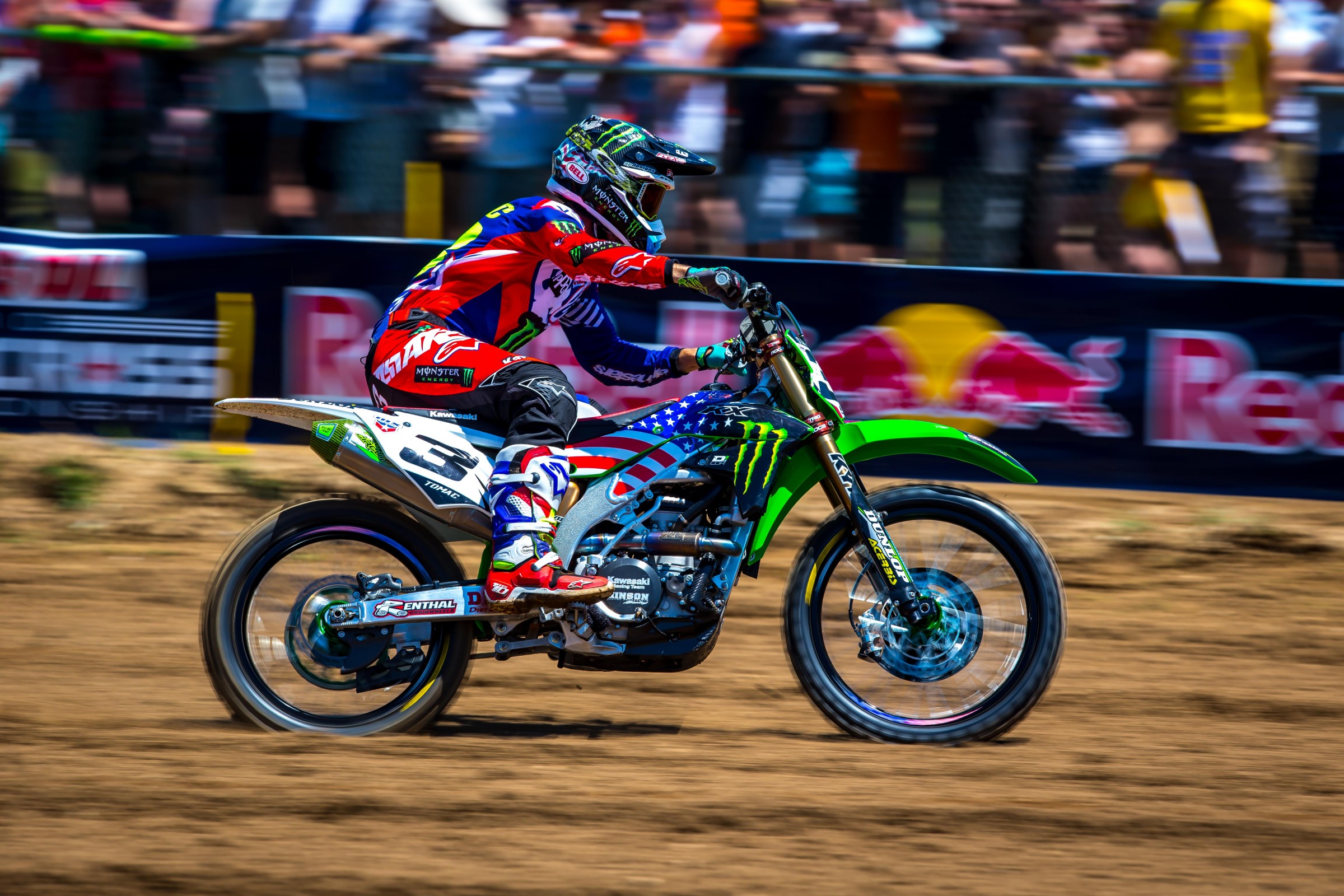 Once Dungey announced his retirement, all previous 450 champions were gone for the summer. The spotlight was going to shine on someone else, and Tomac, after that great supercross campaign, was getting the most. When he wins, it's routine and expected, but if he loses it's a problem, just like it was for Dungey in supercross. If he struggles this weekend at Budds Creek, there will be an entire week of "Can Eli finally close it?" leading into Ironman, and someone will utter the word "choke." Everyone winning in this class now gets to live under the microscope once reserved for their predecessors. Blake Baggett won in Colorado, said some bold words, and it blew up in a way that probably even surprised him. Again, the media (us) was at play there, but so were other teams, riders, and fans. His words just absolutely set the pits ablaze. That stuff doesn't happen in the 250 Class.
Eli's latest? He decided not to race for Team USA at the Motocross of Nations again. He skipped the race last year, but this year's decision seems to have created much more chatter. That's life at the top.