Insight: 250 Podium from Washougal
Washougal Motocross
Washougal

,

WA
Washougal
Lucas Oil AMA Pro Motocross Championship
Racer X: Joey, 7-1 for the overall today. When you were out there in that second moto was that something that you thought was possible, taking the overall victory?
Joey Savatgy: No, honestly not a chance. When I crossed the finish line I thought, maybe if I can be on the podium with a 7-1. That's somewhat realistic. I thought I would be happy with that. We had a crash in the first moto. Seven-one [moto finishes], man, it doesn't win. It doesn't win often, I should say. I would have been stoked to be on the box. As everything worked out and the cards were dealt, we were able to walk away with the win. But I wouldn't expect that to happen again.
Zach, in the first moto, I believe you were basically in dead last off the bat, coming back to fourth. In the second moto rounding in eighth place on the first lap. What was something you may have been lacking in moto number two that you had in moto number one that helped you charge through the field quicker?
Zach Osborne: I went deep in that first moto. I was throwing up after. It was a big effort, a huge effort. I knew I was going to be missing a little bit of pep there for the second race. I was coming through fine and then I got to the bottom of the hill there where the tight "S" section is and [Aaron] Plessinger smashed me. He fell and I went off the track. That cost me some time and I had to work my way back to the tow of the guys in front of me. So, a few different things, but overall after falling in the first moto in the second corner and still getting on the podium today, I'm happy with it.
Dylan, this is your first time at Washougal MX Park. Do you feel like the hard surface suited your French style a little bit more, as you grew up riding a lot of hard pack?
Dylan Ferrandis: For sure the track was looking a little bit what we can have in GPs so that helped a little bit. It was a really crazy track today, especially with the shadows and everything. It was difficult to see. But it was good experience.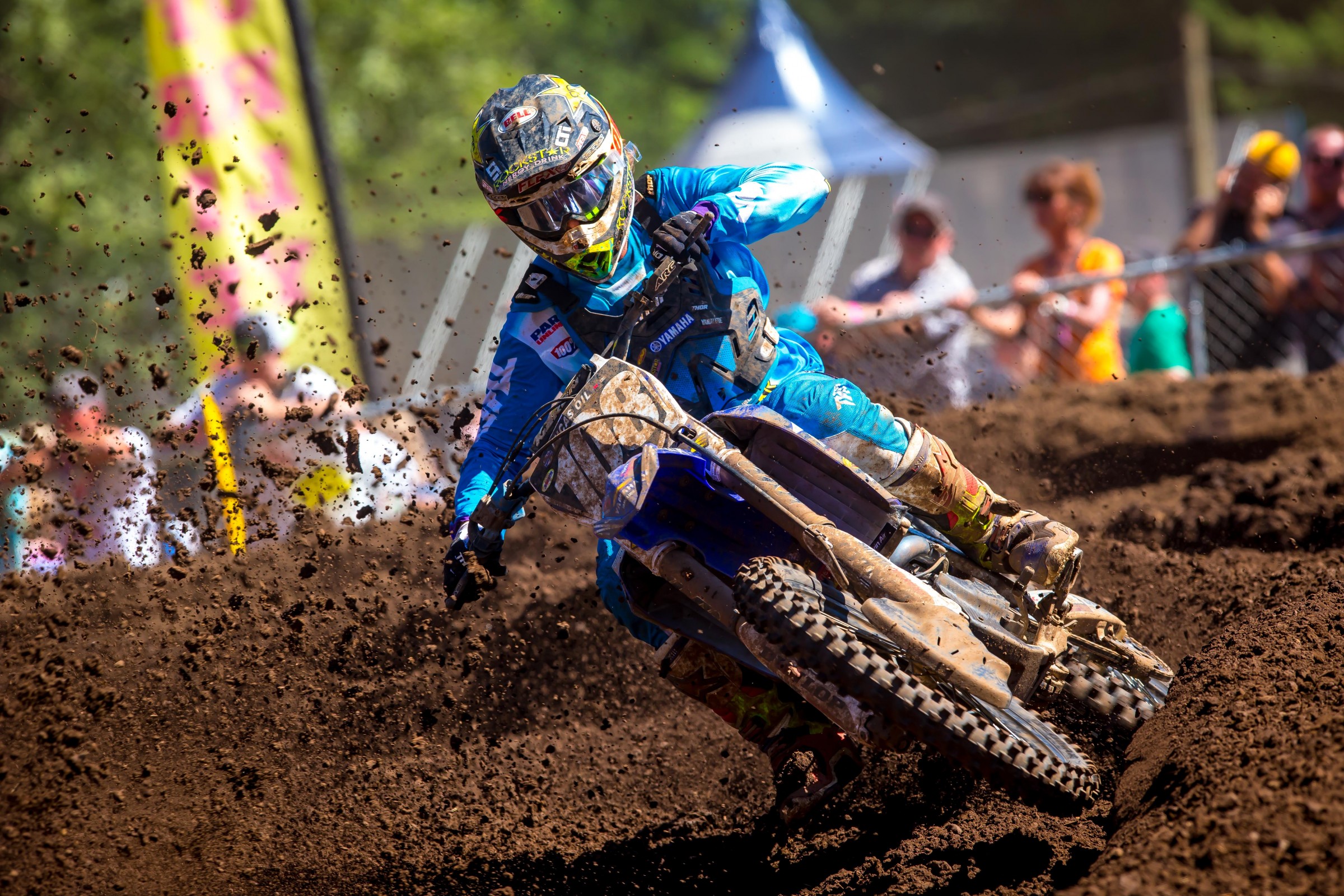 Joey, you talked about changing up some of the suspension stuff. What end are you guys working on? What were you trying to achieve?
Savatgy: Honestly, a little bit of everything. Nothing too specific. I'd say front and rear. I think obviously we've definitely made improvements. There's always room for more improvements. I'd like to think that we're in a way better spot now than obviously we were these last couple weeks. The testing has so far paid off. We're going to stick to it. Like I said last week, ride it a little bit more and then try to figure out the areas where it's not where I want it to be, and then we'll attack that and try to make it even better than what it is now.
For all three of you guys, we've had as wide a range of conditions over the last couple weeks as you can get. Talk about that a little bit. Trying to keep the consistency and keep the results high also.
Savatgy: This weekend thankfully it wasn't like it was two years ago when it was pouring down rain, because this place in the mud is a disaster. We had the rain Southwick late in the moto, and then we went to Millville. Millville was muddy in the morning. Had a lot of rain. Track ended up being, I thought, really good. It was a little spongy, but all-in-all it was good. Then you come to the complete opposite here. We come to Washougal and it's really hard packed, a lot of blue groove, and the shadows are terrible here. So, I think it's from one extreme to the other. If you can adapt quick I think that helps, and get it going early in practices I think a big momentum.
Osborne: For me, this type of track, hard and fast, not a lot of bumps, is something that I have kind of struggled with in the past, but today was pretty good. I definitely prefer the way it was last weekend in Millville, or just deep, rutted tracks in general. Like you said, we've had kind of an array of conditions all year. Some of the tracks that should have been really rough haven't been rough, and some of the tracks that shouldn't have been that bad have been super bad. It was nice to have some decent weather here today and a pretty good track.
Ferrandis: For sure, yeah, the track was totally different this weekend from what we have all the season. It was like they say, if you can adapt quick is okay for that kind of condition. Every weekend it's okay because the day goes so fast, for me that's the thing that I'm struggling with is to adapt really quick and to figure out a track in only two times [practice sessions] 15 minutes during the practice.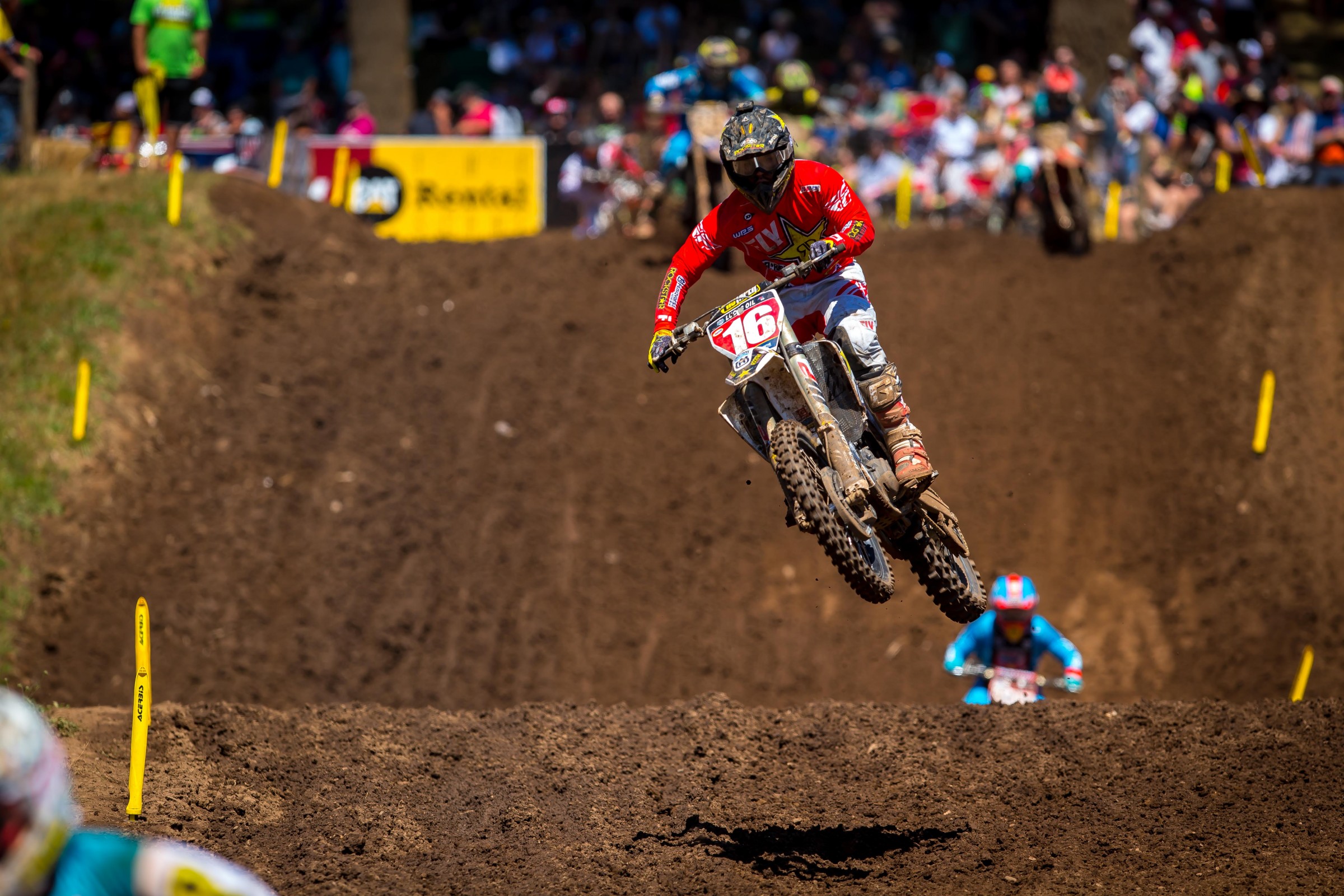 Zach, with Alex Martin not racing today you have a pretty comfortable lead in the points standing. Is that in your mind at all? Especially the first moto when you're down? You mentioned that you dig really deep and you were throwing up after, when do you stop and just try and settle in for some points?
Osborne: I don't know. I'm just not really that kind of rider. Maybe in two more rounds if it stays the way it is then I can do something like that, but today I just want to keep charging and maximize my points every race. I just want to continue to go hard.
Zach, it seemed to be in moto number two there towards the end of the moto your bike was smoking once again. Did you have any idea that that was coming out of the bike? If you do, what could that have been?
Osborne: No, I didn't have any clue, but I think it was the clutch. I was tired and I was kind of hanging off the clutch I think, just to keep myself up on the bike. It was fine. It was running fine and everything, so it was more my fault.
Joey, after kind of having a rough start this season then picking up an overall victory in Colorado it seemed like you had a bit of a stale patch. Now this is your second overall victory in a row, your third on the season. Going into the weekend break, what are you looking at working on to try to put yourself in a position to win the final three rounds?
Savatgy: I think the biggest thing for me is starts. I think we've seen week-in and week-out good starts go a long way. You put yourself inside the top three, I think you're up there in clean air for the most part and you're with fast guys. So, it's a lot easier to get into a rhythm and a flow. When you're stuck back there behind some people that are a little bit slower than you, but just fast enough to where you can't get around them right away, that can really stop the momentum. So, I think the biggest thing for me is obviously all I'm worried about is Unadilla. One weekend at a time and just keep working on us. I think we can always improve everywhere. I think corners can be better and I know the intensity can be better. So, between that and starts it's a never-ending game. I'll watch the race tomorrow when I get home and try to see where I could have been better and take it from there.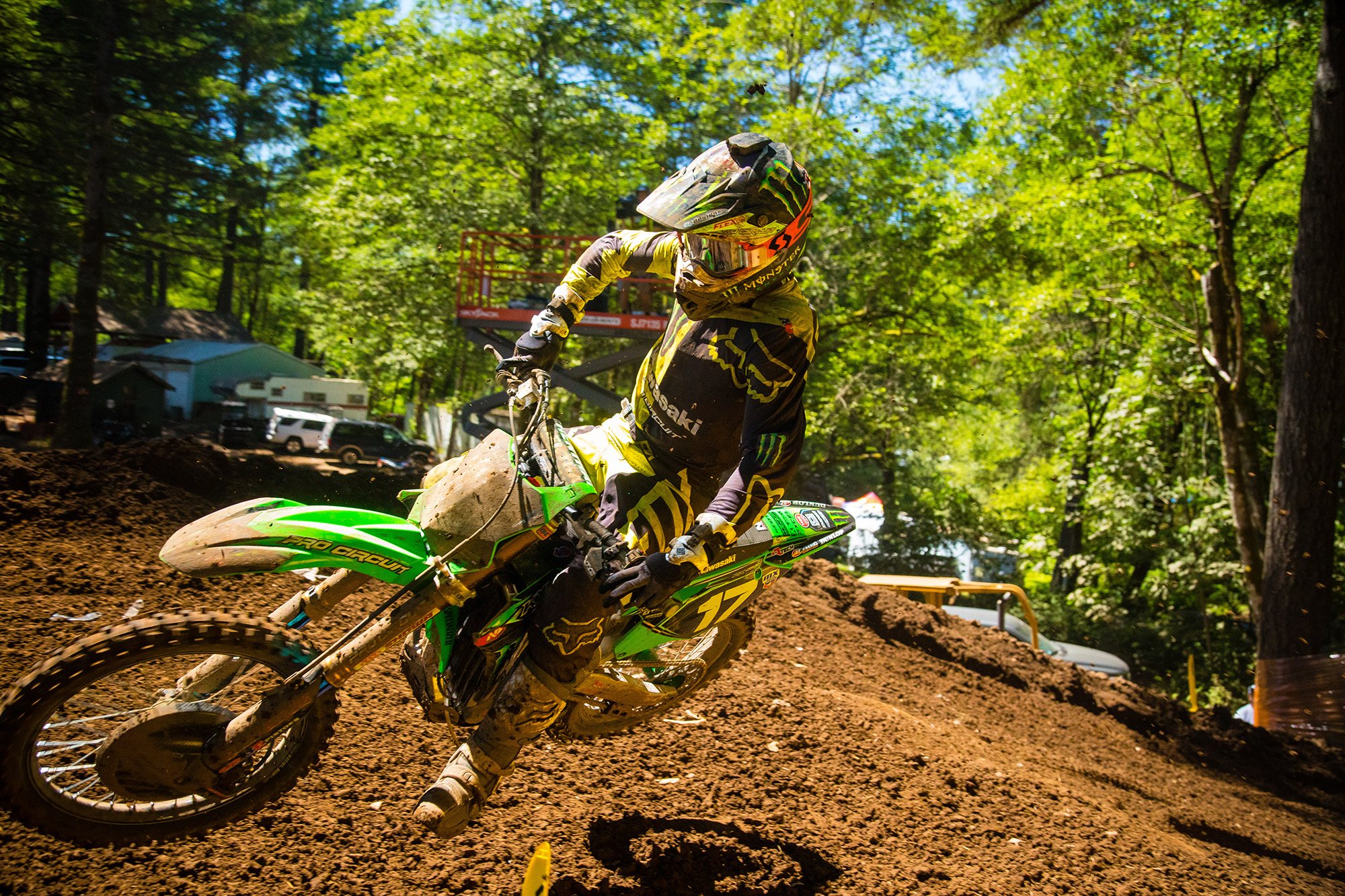 Dylan, with Motocross of Nations creeping up, I know you're probably a strong candidate for Team France. Have you heard any information leading towards you maybe being on the team again this year?
Ferrandis: They will give an answer beginning of August. I think I can be selected. There's many chance I can ride for Team France in 250. We'll see. It's not easy for me now to be in America to ride the des Nations because the race is one month after … maybe five weeks after the last race of the season here in outdoors. So, I will have to work one more month and we'll see. But for sure, I'm excited to ride des Nations for Team France.
Are you planning on possibly racing the MXGP of USA?
Ferrandis: Yeah, like I said, if they choose me to ride des Nations I will do the GP. If not, I will not do the GP.