Las Vegas, NV
Las Vegas
Monster Energy AMA Supercross Championship
This third Monster Energy Supercross Championship didn't come as easy to Red Bull KTM as the last two, with Ryan Dungey back on his heels for much of the season against Monster Energy Kawasaki Eli Tomac's advances. Dungey held on to deliver the title under pressure in Las Vegas, even after Tomac tried to slow him down and hit him in hopes of shoving riders between them and stealing points.
Roger DeCoster, team manager for Red Bull KTM, has seen it all in this sport. We asked him about the night and the season after the race.
Racer X: Did you know what Eli was trying to do? Did you recognize that? It seemed pretty obvious.
Roger DeCoster: Yeah, it was pretty obvious.
What was running through your mind when you realized he was not just going to pull away?
Don't take the bait. That's what I was thinking. It was difficult because things worked exactly the way Eli wanted it to happen. The guys behind were catching them. Eli was pretty aggressive also when Ryan was in front. I think if Ryan went in front again, which happened at the end, he was going to do something. Ryan is not a guy that likes to make contact. If that had been somebody else, he could have given it back with interest.
Or tried to end it and try to knock Eli down himself.
Yeah, but Ryan is not that type. Eli obviously knows how to race Ryan. When you race that much together you know what to expect. You can foresee what's going to happen.
How stressful was that? I know you said last week was stressful watching two teammates battle, but this had to be … you've seen a lot of races. This had to be one of the craziest.
Yeah, it was crazy. In some way I was nervous but I also had some confidence because I had a good feeling about the way Ryan was today. He was prepared to battle and he did the right things, I thought.
What's it say about your guy that everything's on the line here, these winner-take-all things, he rode well? You never know how guys are going to react. What kind of test was this for him, and how did he come through?
It was a big test and he came through. I think the better Ryan was here today. Like he was saying himself, in the middle of the season he was struggling a little bit, maybe with motivation, maybe thinking you want to stay injury-free. There's a fine line between going for the win and not going over your limit. He saw what happened with Kenny [Roczen] early in the season. Normally when it happens to a good guy like Kenny, you say, "It can happen to anybody." You know, if it's a wild guy that hurts himself a lot, you can justify it in your mind. You go, "Yeah, but that guy, he rides out of control." But when it's a guy that rides the way Kenny rides, it gets more of your attention.
So you think that did have an effect on Ryan for a while there?
I don't know for sure, but I think Ryan has a lot of respect for his competitors. He has a lot of respect for Kenny, for sure. So I think it may have had something to do with it.
How tough was this season on you guys? The last two years in supercross, everything has gone so well, and there were big points leads, but this was tough, man. Every week I have to imagine you guys were like, we've got to figure out something. We've got to win races. What do we need to fix? What do we need to change?
Yeah. It's a battle between, is it your rider that is a little bit down or is it your bike? It's very easy to go backwards on the bike. So we didn't make big changes, but we did make some small changes. Ryan is not the type of rider that likes to blame the bike and find things wrong with the bike to justify himself not winning. He doesn't like a lot of changes. The changes we make with Ryan, they're in the one or two percent range. They are not 10 percent. Sometimes that helps you to not be so open to change, and sometimes it helps, sometimes it hurts.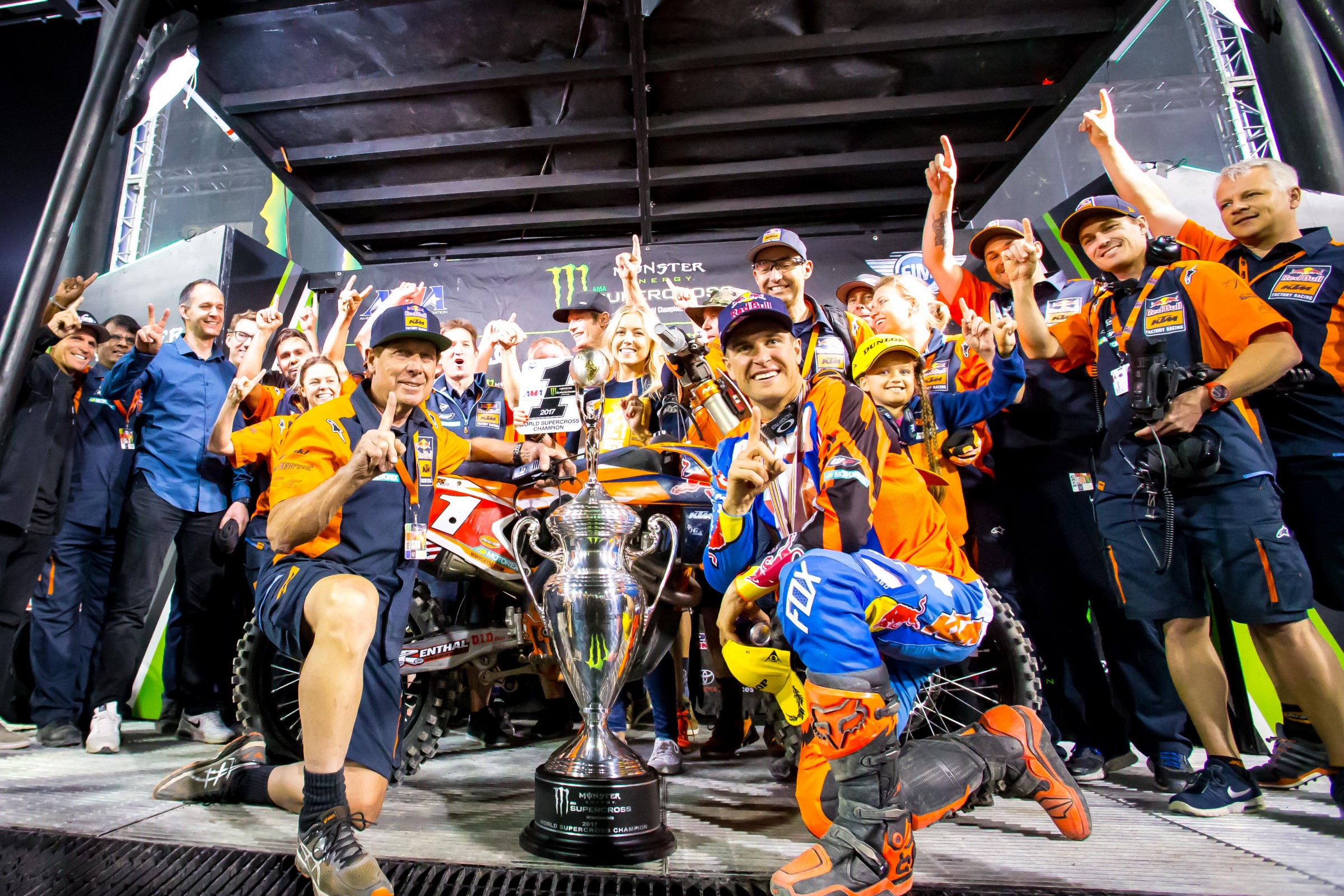 Then there's a third factor. Maybe it's the bike, maybe it's the rider, or maybe just these other guys are just getting good? You have to consider the chance that Eli is just figuring it out, or is Kenny is just figuring it out. These guys improved a lot.
There is no question that Eli got better as the season went. The first couple races were so-so and then he got better. In the middle of the season he was very, very strong. He's on a good team. He's the real thing.
Are you okay with the way Tomac raced tonight? Are you all right with that, or does that get you mad?
That was his only chance to make something happen. I'm fine with it as long as Ryan is fine with it.
Unfortunately you don't really get to enjoy these things. After five months of dealing with all this stress….
Now we have to think about outdoors. We will be testing Monday.