Las Vegas, NV
Las Vegas
Monster Energy AMA Supercross Championship
Back in 2006, the AMA Supercross Championship was coming down to the wire, and things were tense. James Stewart, Ricky Carmichael, and Chad Reed were playing mind games with every word, mining and measuring every quote for slights and confidence. Eventually, all the mechanisms ground to a halt, and they stopped saying anything decent in the press conferences. But the supercross promoters still wanted the announcers to have good info, so one week they brought Carmichael, Stewart, and Reed into a room and then brought in the announcers—Ralph Sheheen and Denny Stephenson from TV, and myself and Jim Holley from the Supercross Live! webcast—and told us all to just have a conversation. No recorders, no cameras, just talk and see what you can learn.
Ralph asked them the obvious question, which was, "How much would winning this supercross championship mean to you?"
Apparently, it wouldn't mean much.
Carmichael said he's won a ton in his career and didn't need this one for validation, plus his bike broke at St. Louis so he wasn't going to lose sleep if he lost a title because of that. Stewart said he was injured for a lot of the previous season, so this was almost like his rookie year, and winning a title would just be a bonus. He also said he was only 20 years old, guys like Ricky and Jeremy McGrath didn't get a SX title until they were 21. Reed said he had hurt his shoulder before Daytona and thought his season would be over right there. Winning the title, again, would be a nice bonus, that's all.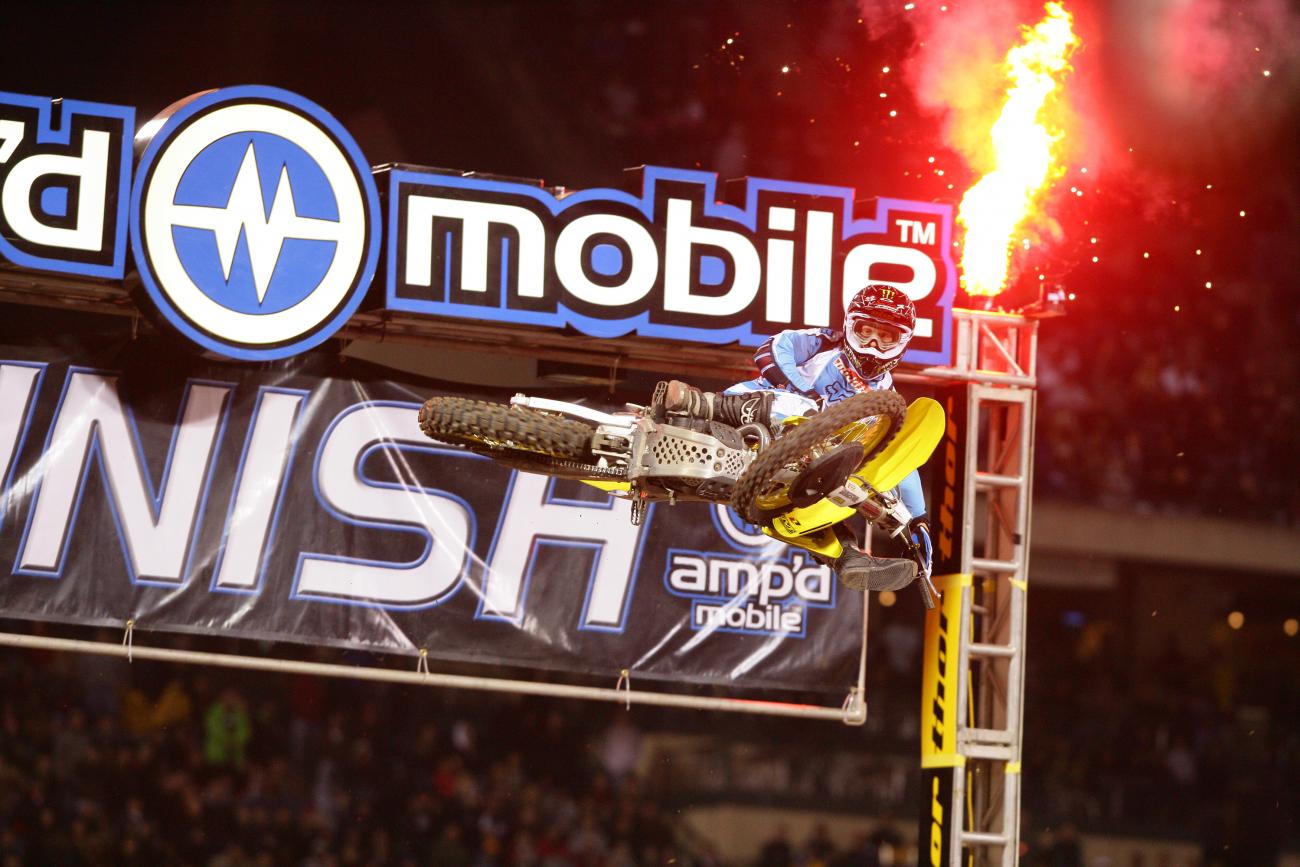 Ralph, I'm pretty sure, was in shock that these three dudes could just write off the most prestigious championship in their sport as merely "a nice bonus." Wasn't it supposed to mean everything to them?
Well, of course it meant everything to them, but the conversation was just a continuation of the mind games. None of the three wanted to look vulnerable. They didn't want to look like they were under too much pressure. What if Carmichael said this was the most important thing ever, and he got beat? That would be terrible. So they all shrugged off the importance of the most important thing.
That sucked. There are people like us, media members or announcers, trying to explain to the world how prestigious this championship is, how hard everyone works to get it, and how badly they want it. We know this is not a hobby, it's a way of life. The effort required to win and the pressure that comes with it leads riders into premature retirement. It's that hard. Winning a supercross championship is everything for these guys.
This is why I have no problem with any of the things that unfolded over the last few weeks of Monster Energy Supercross this year. Yeah, Marvin Musquin moved over for Ryan Dungey. Yeah, Zach Osborne took Joey Savatgy down in the 250 finale. Yeah, Eli Tomac slowed down Dungey and tried to stack the pack behind them, and then bumped Dungey in hopes someone would pass him. Yes, these moves are going to be debated and most will answer based on party lines—if you're a Dunge guy, you think Eli played dirty, and if you're an Eli guy, you think KTM fixed the race last week.
What all of these incidents represent is validation that a Monster Energy Supercross Championship means something and riders and teams are willing to do anything—short of injuring someone—to get it. That is awesome.
"When desires run deep, and we have a lot of invested into this," said Dungey post-race. "Our whole lives as kids and as we get to this moment. I don't blame him [Tomac] for what he did. He did what he had to do. There's a lot riding on a championship and the teams have a lot invested and the riders too."
Thank you, Dunge.
Here's what I want to see when a championship is on the line: I want to see people GOING FOR IT. I want to see KTM using everything at their disposal because this title is important. I want to see Tomac figuring out a strategy beyond just "win Vegas and cross your fingers Dungey has a bad race for the first time since the dinosaurs roamed the Earth." I want to see him try because this title is important. I want to see the living, breathing definition of going for it, which is Osborne sending it on the last lap, seeing the tiniest of an opening, and leaving nothing on the track, because this title is important. The season is over and a few have won and a few have lost—but everyone can say they gave it their all. Can you imagine Osborne waking up on Sunday morning feeling like he might have had an opening, but not taking it because the required move would have been borderline dirty?
Just try. That's all I ask and that's all these dudes did. No one got hurt, either. No one should endorse putting riders in the hospital, but that never happened. Marvin moved over for Dungey, he never came after Tomac's front wheel. Tomac slowed Dungey, jacked Dungey, hit Dungey, but I guarantee you if he wanted to end it and try to break Dungey's leg in a corner, he could have done that too.
He did not.
Osborne's pass was rough, but the intent was to pass, not to T-bone Joey into 2018, plus there was extra mustard on the incident because Savatgy was basically getting passed and had no choice but to stay on the gas and hope something crazy happened to save himself.
I saw Tomac after the race in the pits. He told me how he tried to be careful to figure out where the line was between trying to win the title while not being completely dirty. It's telling that he first passed Dungey in the same corner where Osborne had bashed Savatgy a few minutes earlier. We knew exactly what kind of damage could be done in that corner, but Eli went lighter on the contact, and Dungey stayed up.
"Like I said, I was just doing everything that I could," said Tomac in the post-race press conference. "I wasn't just going to just try to hand it over. We put up the fight that we could and that's all there was to it. At the end of the day, I don't want to be dirty or not earn something. I wanted to be aggressive and maybe make something happen, but at the end of the day I'm a fair guy."
He tried. That's what I like.
There's going to be some talk that crazy shenanigans make the sport look low-brow or WWE. That's ridiculous. You know what this stuff did? It made the races exciting! And no one got hurt. I sat my wife down and made her watch the two Vegas main events. She normally couldn't care less about the races, but when you see Osborne come from so far back to make a wild pass on the last lap, and when you watch Tomac controlling the race out front, not sure what he's going to do next, you get sucked in.
This is not WWE because WWE is fake. This is real. This does not make the sport look low-brow. These are high-end, prestigious championships, and it would only look lowbrow if everyone took a lackadaisical attitude toward winning them. I can't imagine anyone new to the sport would say this was garbage—it looked like an intriguing, exciting night with athletes and teams giving it everything they have to win championships they've worked their whole lives to get. Triumph and heartbreak, all coming down to the wire. How can you not like that?
I believe we just saw the best stretch run of three races in supercross history. Not everyone will agree with everything that happened, but everyone can agree that the riders all looked at these championships as much, much more than just a nice bonus.