Salt Lake City, UT
Salt Lake City
Monster Energy AMA Supercross Championship
So this is what the unicorn looks like. This is what it's like to actually see myth become reality or a dream come true. We have an actual close championship battle in Monster Energy Supercross! Rumors of sightings have been growing for a while now as Eli Tomac kept whittling Ryan Dungey's points lead down. Now it's down to nothing, as the two riders are tied—tied!—heading into action this weekend in Salt Lake City, Round 15 of the championship.
At this point, we don't have to do much. Usually at this time of year we're trying to find stories, trying to drum up buzz and find angles when everyone pretty much knows who will be champion, and everyone pretty much doesn't care who finishes anywhere else. On average, good championship seasons manifest every three to five years. The last one came in 2011, an amazing five-rider duel between Ryan Villopoto, Ryan Dungey, James Stewart, Chad Reed, and Trey Canard.
---
Before that, 2008 was close between Reed and Kevin Windham. Two-thousand-and-six actually offered up a tie for the points lead going into the last round, between Reed and Ricky Carmichael. Windham had a mathematical shot at Reed at the end of 2004 (thanks to Reed losing 25 points due to a fuel penalty) and Reed had a mathematical shot at Carmichael heading into the 2003 finale, but no one walking into Vegas those nights expected the title to turn. It was really only 2011 that offered up insanely unpredictable weekly drama, and 2006 that offered the points tie.
This is what we hope for every year. Those 2006 and 2011 type seasons are what we predict every year during the Anaheim 1 press conference, when you glance at all that talent and figure there's no way anyone can dominate. More often than not, someone does. So when we get what we want, how do we react?
I'm trying to look at as many data points as I can to figure that out. This week Feld Motor Sports put out a press release saying that ratings are up, which I've covered here in two previous columns (the PR also said live attendance is up this year compared to last, but my eyes and many others can tell you none of the races are packed like they were three to five years ago. But I believe there are several factors there so it's hard to make a direct comparison between attendance and exciting points scenarios). I talked to my old buddy Andy "Rev Up" Bowyer this week, who works in Feld's digital marketing department, and he said growth for @Supercrosslive social media has been huge. Now they're trying to figure out if that's because they're just doing a better job with it, if social media itself is just growing and taking every brand's numbers higher, or if the Tomac/Dungey buzz is pulling everything along.
Another platform we wanted to examine was our own. Typically, as the season draws to a close and the championship is all but a certainty, our numbers decline. So when we go into our own racerxonline.com numbers from this year and last and see a notable uptick in hits on our race reports compared to last year, it definitely tells you something.
We post two stories during race-day Saturdays, the Race Day Feed (running blog from practice through the mains) and Saturday Night Live (recap with info and quotes from specific riders). We pulled the data on round 14 last year and round 14 this year, and it shows a 21 percent increase this year in pageviews for the Race Day Feed, and a 17 percent increase in pageviews for Saturday Night Live. Unique pageviews were up 22 percent for the Race Day Feed and 20 percent for Saturday Night Live. I will note that round 14 last year was a day race in St. Louis, so maybe that impacted the numbers somehow, too, and remember, Seattle probably benefitted in interest from Chad Reed's #lappergate. Still, going into round 14 last year, Ryan Dungey had a 49-point lead on Ken Roczen. This year Dungey had a four-point lead on Tomac. Think that number is making a difference?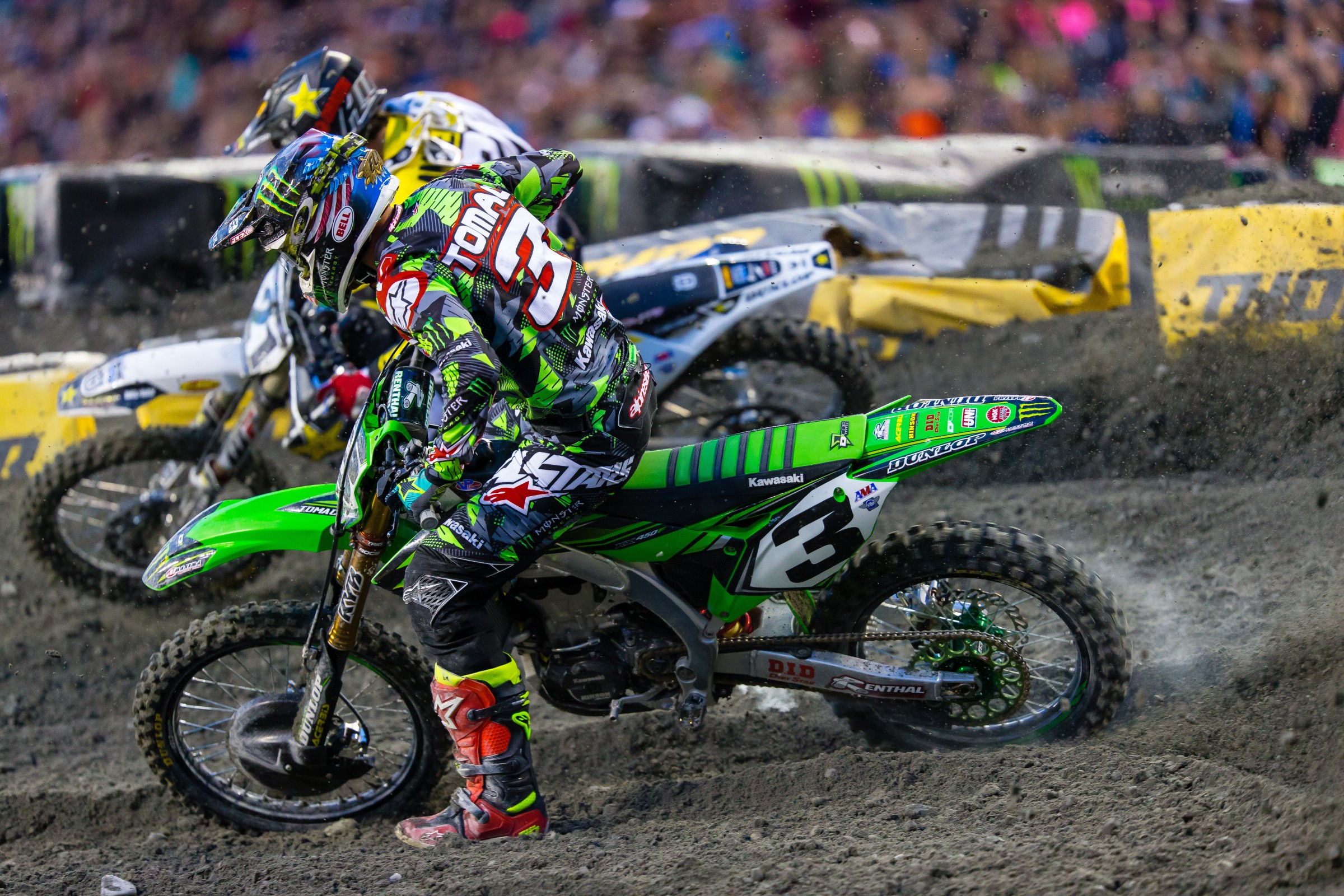 One other metric can only be measured when you're at the races. When Tomac has made passes these last few weeks, the crowd has erupted. It's not quite as loud as the cheers for Chad Reed were when he battled Dungey in the heat race in St. Louis, but it's loud. When Tomac passed Dungey for the lead on lap one in St. Louis, the crowd responded. With each pass Tomac made in Seattle, the crowd responded. With each pass Dungey made in Seattle, the crowd responded. Everyone knows that these passes matter! Half of the time, you just know a dude is going to eventually get the guy in front of him (Dungey was coming from last, you knew he was going to make passes) but even that didn't take away the drama and suspense. The fans were into it, even on a freezing cold night in Seattle. Maybe that's just buzz from Seattle's return to the series after a few off years? Maybe that's just buzz from Seattle's best coffee (which I would presume is actually Starbucks and not Seattle's Best)? Nah, this is championship buzz. Championship fever. We've finally got what we wanted, and now it's on Salt Lake City to bring the heat—some literal, some figurative—and cheer these dudes on.
Because we know people are going to be watching.