Trentino, Italy
MXGP of Trentino
FIM Motocross World Championship
Antonio Cairoli may have reminded everybody of his exceptional abilities and a still-active curriculum vitae which means the Sicilian will carry heavy weight in the annals of Grand Prix and the sport, but prior to the fifth round of MXGP in Italy last weekend current world champion Tim Gajser was (and still is) very much the frame of reference in the premier class.
The 20-year-old Slovenian's chemistry with the works HRC CRF450RW has led to dominant wins in Argentina and Mexico and he claimed the second moto in Cairoli's backyard that was also a focal point for hundreds and hundreds of Gajser's yellow army.
In just his second MXGP term and his fifth in the world championship, Gajser doesn't appear to carry many weaknesses: a strong starter, strong athlete, and unshakable nerve. It will take some doing to remove the red plate from the red Honda.
For a quick catch-up, Tim ventures into the clinical HRC hospitality and, amazingly, does not bear any evidence of his preferred hue or normally prevalent race digit. "I have to!" he laughs in reference to the blue HRC cap he wears instead. "It would be yellow if I could."
A cold dented his potential in Qatar and the mud-soaked Indonesia for rounds one and two, but Gajser has since roared back in his title defense and cuts a happy and confident figure. "Now I feel very comfortable and I'm enjoying myself. I am riding like I know I can," he says.
Racer X: How different is the Tim Gajser now compared to that rookie from 2016?
Tim Gajser: The biggest difference is I now know what to expect. As a rookie you don't know where you belong. Everyone works so hard in this class. Having one year under my belt here means life is just a bit easier. I made mistakes last year and we analysed them in the winter to try not to repeat them. I want to be more smooth and better than I was.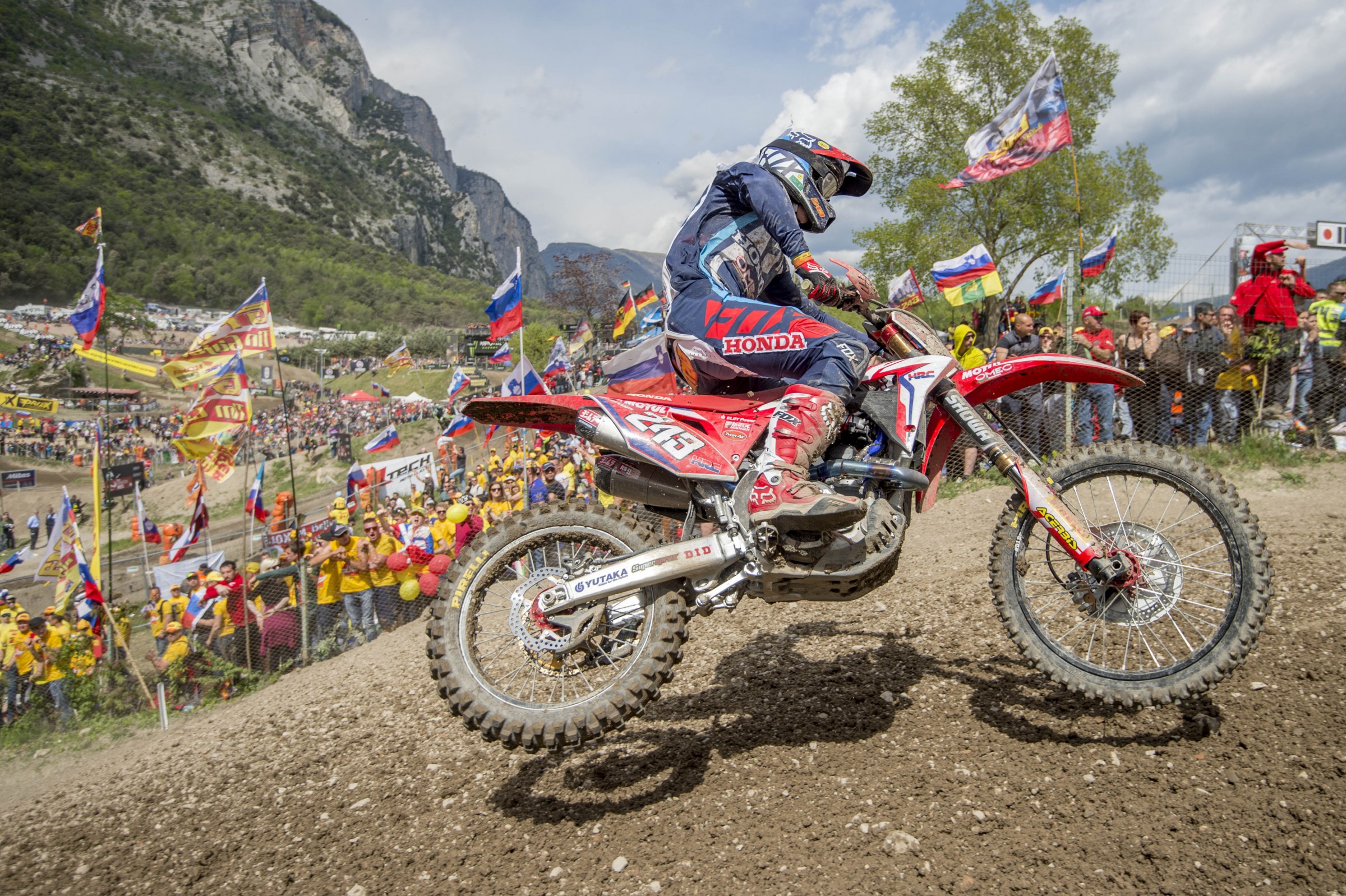 What were those mistakes? There didn't seem to be many.
A good example was here at Arco last year. I was leading by 10 seconds, lost concentration made a stupid mistake and lost the Grand Prix! I wanted to see how I could ride more normal without having to push too much. I was looking to see how and where I could be calmer on the bike, panic less.
The bike seems to help. It really seems like the new CRF is one of the best in the class.
I'm really happy. I think in the pre-season events you could see that we needed a few races with that bike [to get it ready]. We were testing all winter long and rode many hours. I made a lot of changes to have it like I wanted but when we started racing it still felt different. In Argentina everything clicked and I started enjoying myself. Having good settings must be one of the most important things and now I feel at one with it.
Can you be more specific?
Honda came with a new system for the front fork so we had to test that a lot and for a long time it felt quite stiff for me. We were getting it better and better but now it is exactly how I want it, no matter the track.
You have #243 on the bike but it could be a #1. Away from the Honda do you feel the extra attention and expectation of being a champion? You are the main man for the biggest bike manufacturer in the world as well as perhaps the most renowned gear company.
Hmmm, actually I'm not really a person that likes to be the centre of all the attention. I think I am the same guy when it comes to the extra stuff but for sure you notice the differences, like having more fans and everybody knows you. It is a cool feeling. We're in a new season and that means you almost have to forget what you have done to have the focus to go again for another.
Was there a point while you were on holiday or at home where you thought about that achievement of winning MX2 and MXGP back to back?
Actually I didn't have much of a holiday. I really tried to have a week off—after the SMX and other events and when the championship and season had really finished it started to hit home what we had done and that it doesn't happen very often. It is amazing to be the first guy to do that. I didn't think about it too much because with testing and the new Honda there was not much time to sit around congratulating myself. Our minds were quickly on 2017 and the future.
How important is it for you to have good focus? You had a sterling season with that freak moment in Assen, Holland, [a second moto DNF] but once the title was won you had two injuries in quick succession: you missed the Nations and the SMX Cup was costly.
I think it is a long season and it is getting longer each year with more races and events. To make a perfect 19 Grands Prix is almost impossible. You have to be in perfect shape all year from February to October. I also do some national races in Slovenia….
Still?!
Yes, I decided to do it because of the fans. I don't want to disappoint them and it is always fun. I use the events as training. This week we had the national championship and there was around 7,000 people there! In the past that never happened. Four years ago it was a few hundred! The track was empty! Now it was full and that makes you happy because you have helped to grow a sport. It is a bit crazy, but I am really happy to see how everything can change. Motocross was probably one of the smallest sports in our country, but now we are almost at the top.
What do you think about Herlings? He says he has underestimated MXGP and it was only two years ago that you were battling together in MX2.
For sure I don't think we have seen the real Herlings yet. I guess only he can say what is going on but in my opinion he was really strong in the first pre-season race at Ottobiano [Italy] and was also the same at the Nations. He got injured at that Italian race and unless you are 100 percent for the MXGP class then it is tough to be there with us because there are so many good riders. I expect he will improve and be with us by the end if not before. At one point he will be fighting with us because he is a fast rider. It is just a question of when.
You've talked about supercross before and have been known to change career plans quite quickly. What is your thinking at the moment?
Many people knew that we were talking of change after winning the MXGP title, but it happened so quickly that I wasn't sure about moving yet to supercross. I think we made the right decision to stay one more year here and next year we will see. Maybe we will do some [SX] races. The goal now is to do the Monster Cup because for the last two years I haven't had much luck and been injured at that time. I hope it will be third time lucky.