Glendale, AZ
Phoenix
Monster Energy AMA Supercross Championship
Round four of Monster Energy Supercross marked a night of massive improvement for many riders. Eli Tomac went from an eighth at round three to a win, and Chad Reed from a seventh to second. But other riders showed marked improvements, as well. Rocky Mountain ATV/MC-WPS-KTM's Davi Millsaps took his first top-five of the season with fifth, and charged within a bike length of fourth-place Cole Seely at the finish. Millsaps has been good this year with 7-8-9 scores coming into Arizona, but he was on another level this weekend, even fighting off the advances of points leader Ryan Dungey a few times throughout the night in his heat and the main.
What's changed? Well, once again Davi found himself dealing with some big injuries during the off-season, and it slowed his testing process quite a bit. After wrist and thumb problems, Millsaps broke his ribs three weeks before the opener.
"That took a long time to heal, a lot longer than we thought," he explained. "I rode three days outdoors the first or second week in November, and then started riding supercross. Then I made it three weeks before Anaheim and broke my ribs. Then I got sick after I broke my ribs, and then all the rain came. So it really hasn't been into my favor to do anything. We figured a lot of stuff out this week actually."
Specifically, Millsaps had a different feeling with his practice bike and his race bike, and he couldn't figure out why.
"Bike settings, big time. Just going from practice bike to race bike there was some miscommunication between what was going on," he says. "We were definitely scratching our heads. I thought it was me, and everyone thought it was me. And it was! I was going nutty, man. I was really confused. And then Wednesday finally we went back-to-back [with both bikes] and figured out what it was. So today [Saturday] we pretty much threw shots in the dark at it and changed everything for first practice, second practice, and third practice. All those were new settings. I was definitely pumped that Chris from WP, who is with our team, he stuck with it today. I was definitely pumped with what he came up with. It definitely helped me feel better on the bike, feel comfortable. I'm starting to feel like myself again. Hopefully the rain will stay away this week so I can go back and actually get some of my speed and fitness back together."
Actually, the speed looks pretty good, with Millsaps winning a heat race for the second week in a row, and throwing down fast laps throughout practice. Now Millsaps is trying to figure out how to make that happen consistently in the main event.
"The same place that Ryan was saying he was struggling with [the rhythm section] I was struggling with," said Millsaps. "Chad [Reed] I think almost got it about every lap. It was just the three-four. That thing, I couldn't get it to save my life. I almost died in it one lap! For me it's just getting back and working on things like that. That comes with confidence. Chad was confident tonight, and same with Eli [Tomac]. I think Eli hit it every lap. So confidence and riding and speed and good bike settings, it all correlates to being on the podium. I had the speed in practice. I have to have that for the main. I wasn't too far off in the heat race, as far as times go. Like I said, this is the first weekend that I actually felt like I could ride my bike. We were pumped on it. So go back, do quite a bit of testing this week and get it dialed. Now it's just about being able to do that for 20 minutes plus one lap."
Well, it is, but here's one strange thing. Millsaps says he's trying to find his fitness, but his best lap of the race came on the very last lap. How did he do that?
"I was resting [at times early in the race]," he says. "Because I don't know how far I can go, or how fast as I can go at the beginning of the race."
This time Millsaps managed his energy a little too much. He ended up having more than he expected at the end, which is why he made the big run toward Seely. Did he feel he had more in the tank than he expected?
With a smile, he answered encouragingly. "Yeah."
As for Brayton, his start to the season with Smartop/ MotoConcepts Honda has been terrible, with 15-17-13 scores at the first three races. Then, suddenly, a sixth.
"It's a huge confidence booster," he says. "At one point I had pulled up on Cole and was right there on Dungey. I hadn't run up front for a long time so I got a little tight and tired, whatever you want to call it. So I think next round I'll have some more fight in me and fight for the podium. It's fun to feel good on the bike again, absolutely."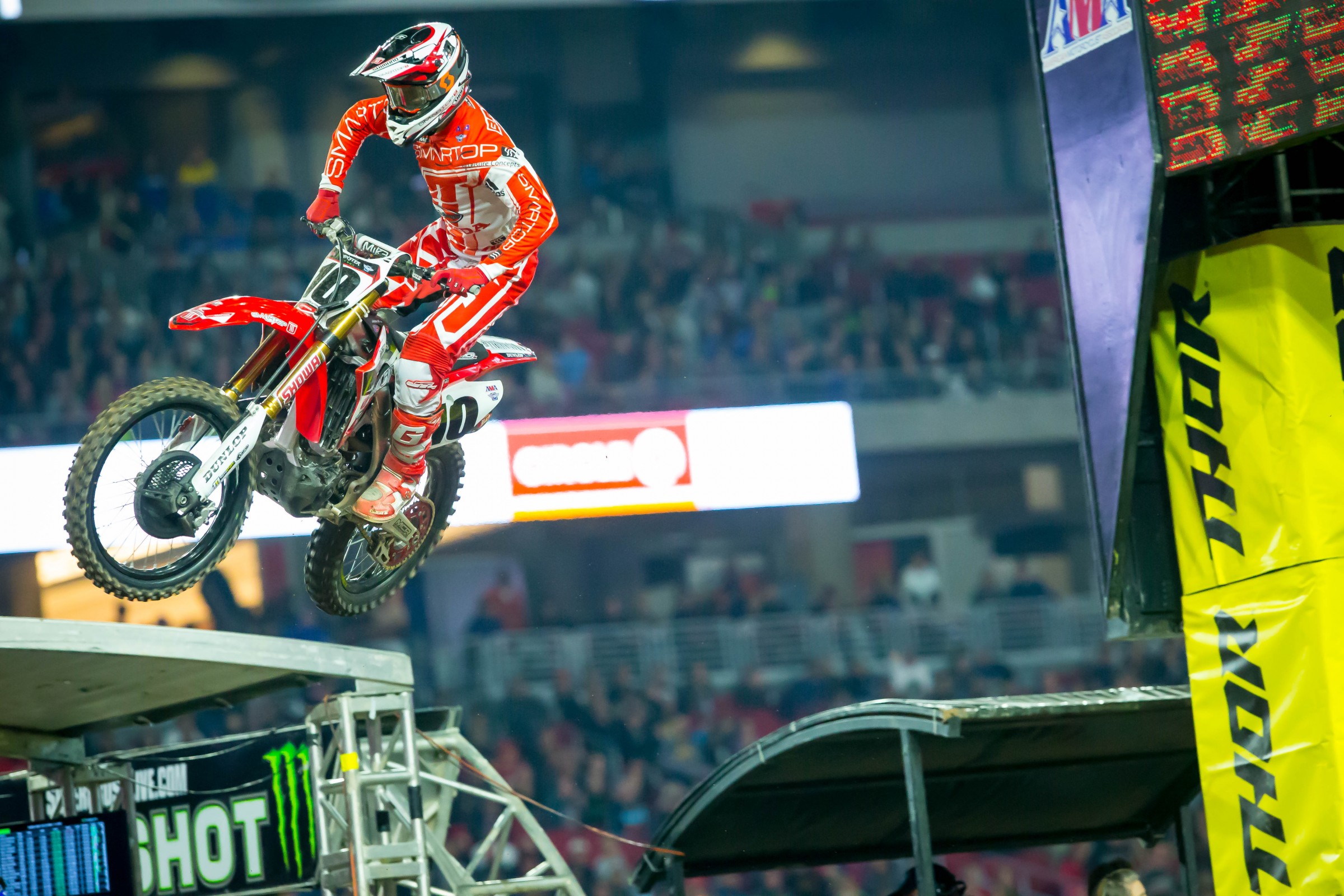 Brayton is getting a lot of help from the factory Honda folks, but he's running different components than what Cole Seely or Ken Roczen have on their bikes, namely Showa suspension instead of KYB. The 2017 Honda was late to make it in production, so the testing has been late, too.
"Obviously I've been riding with Seely a ton," says Brayton. "There'd be days where I would maybe not be as fast but close. Then the next day somebody would blow my doors off. I was searching for mainly just the balance of the bike for me. No issues with parts or engine setting or suspension setting. Really just the balance of it and the way I ride. So that was kind of it. This week we found some stuff. Cole and I came over to Arizona and we rode over here and did some motos and it was the first time I would say maybe since we started doing motos together to where I could actually see him. That helped with some confidence and I started to go through the whoops really good. Showa's been super supportive and helpful, as has Honda and the whole Smartop team. It feels good to be able to ride like I know how and get good starts and run up front and go through the whoops good again with confidence. I'm excited for the rest of the year."