Tristan Charboneau was in a tough position as he began the 2016 season. He was in his final year as an amateur with the GEICO Honda team, but his contract was running out. Charboneau admitted he lacked confidence because of the uncertainty about his future in the pro ranks.
Things began to change after the Spring Nationals for the young recruit. The team scheduled a scrimmage the week after the Freestone Amateur National, in which all GEICO Honda athletes attended, and did practice motos. Charboneau showed speed that week and the talk began to switch from finishing out the amateur season at Loretta Lynn's to racing the Lucas Oil Pro Motocross Championship.
The deal came together as a trial run. Malcolm Stewart wouldn't be racing the outdoors and it created an opening for Charboneau to show his stuff. If he did well during the nationals then the team would explore signing him full-time for 2017.
Like we've seen with so many rookies before, Charboneau didn't last long before injury struck. He showed speed in the first three motos of the year, including a sixth in his first career moto and a seventh in the first moto at Glen Helen. Unfortunately, he ended up breaking his collarbone in the second moto.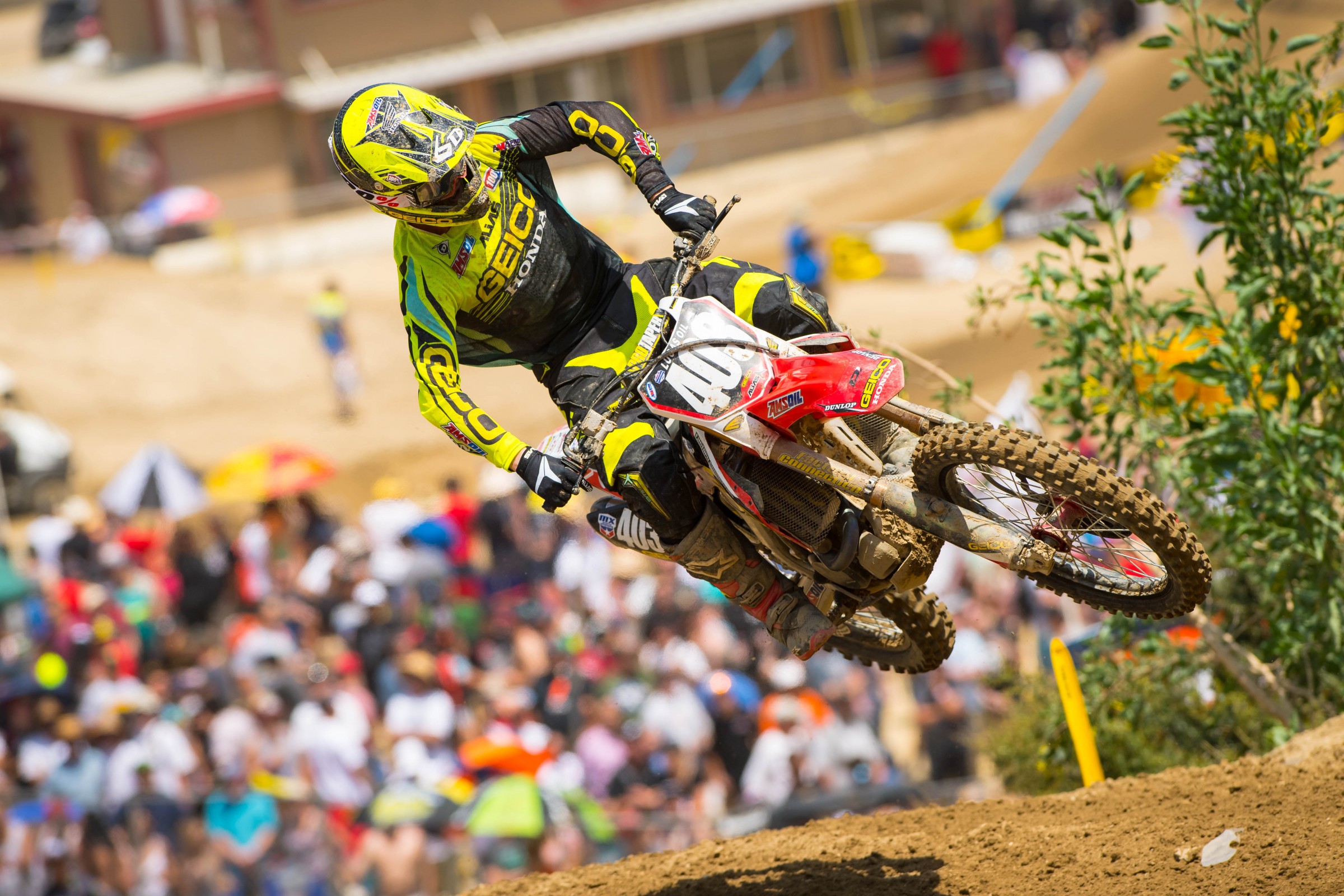 "I actually finished that moto with a broken collarbone, which was the funny part," he said. "I had surgery the following Thursday to get everything plated."
The broken collarbone kept him out until the eighth round at Spring Creek. By the time he made his return, the majority of the riders were deep in their summer groove and Charboneau had to play catch up. The rookie managed to finish 10-10 at Unadilla for ninth overall, which backed up his potential from the first three motos of the season.
"I was pretty consistent with my starts at all of the races, but I always had a problem with crashing," he said. "I'm not usually a crasher, so that was weird of me."
The signing of Jeremy Martin to GEICO Honda filled the team's roster and once the musical chairs stopped, Charboneau was left without a ride. The team allowed him to keep riding his Honda to stay fresh during the off-season or until another deal came along.
Around a month ago, Charboneau was presented a deal with the Bud Racing/Monster Energy Kawasaki team in Europe to race some 250SX West Region rounds and the EMX250 championship in 2017. It's a similar deal to what Darian Sanayei rode with in 2016, and he opened some eyes with a great season in EMX. Sanayei is originally from Washington, just like Charboneau, and the two spoke about the deal at length before Charboneau signed on the dotted line.
"Don't forget his name, because he might end up back in the States as a front-runner somewhere down the road."
The Bud Racing team is affiliated with the Factory Kawasaki team in Europe, which gives him hope that he will have a long future with each team.
"If I do well in Europe, just like Darian did, then I can potentially get a ride racing MX2," he said. "I thought it was a good deal because I can just move on from there."
He will also be taking a piece of home with him, as his good friend Ryan Surratt was also signed to the team. The two currently live only two-miles away from one another and will be living in the same house once their European adventures begin.
"It's cool to have a buddy who I've been racing with my entire life to move over to Europe with me," Charboneau said. "We can help one another out and it should be good."
As Charboneau gets ready for supercross he believes he will do just fine in the rounds that he gets to race. Charboneau's former team manager, Mike LaRocco, has commented on how talented he is on a supercross track. The rookie also believes in himself and that he has great timing, which is hard to argue as evident by his starts this summer.
This new deal has given Charboneau a lot of confidence for the upcoming season. He believes he will be a frontrunner in the competitive EMX250 class because he's put in top-10 finishes here in the states. He thinks he could be a top MX2 rider already, but understands this process will help him adjust in the long run.
As far as personal interests go, Charboneau likes to golf, but admits he doesn't do anything else really. He said he's a really simple guy that wakes up, trains, rides, and goes to sleep. Despite the fact that he hasn't golfed in a long time, he plans on dusting off his clubs at some point over in Europe.
"We'll be living right on the beach near Notre Dame in France and we have a golf course close by," he said. "I think we'll be able to have some fun too. I like to focus on here and now basically."
Heading to Europe might not have been the original plan for Charboneau, but he proved this summer he can adapt quickly. Don't be surprised if he runs up front in his maiden voyage—and don't forget his name, because he might end up back in the States as a front-runner somewhere down the road.