Webb: "I'm Going To Not Live This One Down For a Long Time."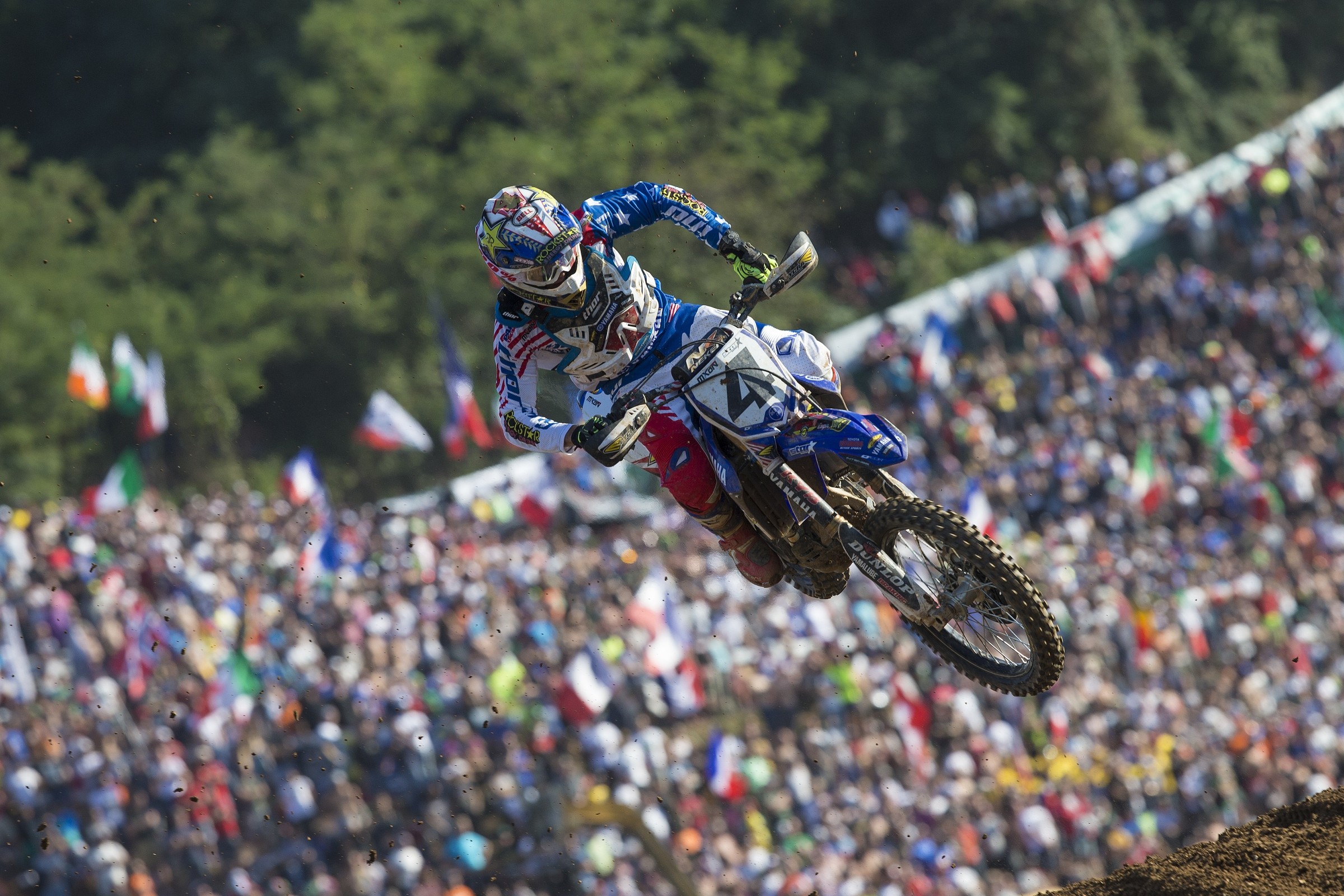 Maggiora, Italy
Motocross of Nations
Motocross of Nations
Cooper Webb wears his heart on his sleeve in good times and bad, and unfortunately the weekend's Motocross of Nations offered plenty of both, from a rough time on Saturday to huge improvements on Sunday that saw Team USA in position to retake the Chamberlain Trophy.
Literally seconds after Jason Anderson won the second moto to put the team well ahead, he was landed on and knocked out of the race. To preserve the win, Webb had to record a strong finish and hope that second-place Team France struggled, and that was materializing until he crashed with two laps to go. The lost positions ultimately opened the door for France—which was also struggling under pressure, with Romain Febvre and Gautier Paulin getting bad starts and fighting just to get into the top five and top 10, after recording 1-3 finishes in their earlier motos. As the white flag came out, the Dutch team had actually taken the lead in event points.
The pressure was real, and after Webb crashed, the emotions were, too. A somber Webb went to the post-race press conference to say the right things and sum it all up.
"Yeah, I want to say the same [as team manager Roger DeCoster], congrats to Team France and the Netherlands, they put up a fight all day. It was definitely a tough one especially considering the way things went yesterday. I'm proud that we were able to turn things around, and coming into today with Jason even being injured, we weren't sure how he would do and what not. I felt that we all did really good and did what we had to do. That incident with Jason, you know, I don't know what to call that…it sucks, and then for me to do that with two laps to go….it was disappointing. We learned from it. We never gave up. I think that was the biggest thing, to not just give up and settle for a podium. We fought the whole time. We did our best, but I'm disappointed. I'm going to not live this one down for a long time."
Later he took to his Instagram account and posted this.
America I'm greatly sorry. Thank you @ama_teamusamxon for all the hard work and support. Thank you Roger @elhombre_21 and@alexmartin_26 for stepping up and doing awesome for us. I've never seen anything like what happened to Jason in my whole racing career. I'm glad he is somewhat ok. I will remember this for the rest of my career but one thing is guaranteed.... I WILL be back. This was the hardest thing I've faced in my entire career