Maggiora Park
Maggiora

,

Italy
Motocross of Nations
Motocross of Nations
Roger DeCoster has been a part of the Motocross of Nations for more than half of its 70-year existence, first as a rider on Team Belgium and then as team manager for Team USA. Of all of those years, though, the 2016 edition will stick out as one of the strangest.
DeCoster spoke briefly about it in the post-race press conference.
Roger DeCoster: First of all, I want to say congrats to France and the Netherlands. I also want to say I'm very proud that my riders fought back today. They were on the ground yesterday and we were almost into the B-Final, some of my guys from [KTM] Austria were joking around telling me we should be in the D and the C-Final! Yeah, it started off bad yesterday and we turned it around today and I was very proud of them.
Unfortunately what happened at the end of the second race with Jason [Anderson], being landed on by a lapper after the finish line, I don't know. You cannot find a worse incident, I don't think. Then there was still a chance, but my guy here [Cooper Webb], he's feeling really bad, I know how bad he feels, but he did what he had to do. He tried everything. To ride with that pressure, he had to perform, it was all on his shoulders, and that probably had something to do with his fall with two laps to go. But I have a plan for next year. I'm gonna ask Pascal [Finot, French team manager] where he goes and how many candles he drops off at the church before the weekend. I'm gonna buy a few more than him!
Racer X's Steve Matthes caught up to DeCoster after the press conference.
Racer X: Another Motocross des Nations and USA loss. But honestly yesterday went so bad and today, with Anderson's mistake, you were down a rider. I think of it as almost a miracle win instead of Team USA blew it.
Roger DeCoster: Less than three minutes. Two and a half minutes from the end we were winning, and even with all the bad stuff that happened yesterday and then with Jason today, we got hit three times. Yesterday was actually three times by itself because in each race we had our guys go down and Cooper went down even twice.
I look at it like, what an amazing day, almost.
That's how I feel about it, too. For these guys to turn things around the way they did and for young guys to do that, as young as they are, two of them rookies and Cooper only had his second experience, was impressive. It's too bad that they're not getting rewarded for their efforts because they deserved it.
"We never gave up. I think that was the biggest thing, to not just give up and settle for a podium. We fought the whole time." – Cooper Webb
Do you have words with them after a Saturday like that? Do you gather them around or do you talk to Cooper?
We talked a little bit but nobody really wants to talk about when you feel the way he feels. But he knows the way I feel about him. Alex [Martin] was really feeling bad also, not to the extent of Cooper of course. It's a bummer. What happened to Jason, I cannot believe it.
I guess the Japanese rider didn't know he was on the finish line but you kind of have to be aware of what's going on…
The finish line flag, the checkered flag is there, and he should have been looking for the finish line because he was lapped.
I don't know if I've ever seen that. Have you?
I've never seen anything like it.
It goes back to what you were saying too, though. The quality of riders at this event have a wide disparity. I also think that you spend all this money and time and effort to get here and then the ping pong ball they draw for Saturday's gate picks puts you at a disadvantage right away if it's a bad one.
Right. It should be decided by lap times. They should separate the riders that way. If they don't address some of those problems the participation from the U.S. is going to… I'm sure Jason is going to think twice to be on the Motocross of Nations team in the future.
Is that something where you could call Giuseppe [Luongo, Youthstream president] personally and say, "Hey, we got to try to do something?"
I will let them know what I think but it's not the first time I let them know. A lot of teams do really well when you see what effort they put in building this thing. Look at all this stuff. It's impressive, a lot of things they do. But there's a little lack of attention to the real racing part. It's nice to make all this show and to build it, but you cannot forget why we're here in the first place.
Jason Anderson's moto before that, phenomenal. Probably the real story. Broken foot and got a holeshot. Herlings caught him but he held him off. Great ride.
Yeah, it was awesome. He was impressive.
Did you say anything to the team after this one?
I did talk to both Alex and Cooper, but I've not had a chance to talk to Jason yet. We will spend some more time together later today.
O'Show [Johnny O'Mara], [David] Bailey, and RJ [Rick Johnson] were here brought in by the organizers. You were part of that team. That made it a really cool deal. I'm glad they were here. They all seemed to be happy. You were a big part of it. That was special.
Yeah, it was really cool. It was nice to see them being together and being honored. It's really good memories. What they did, to the extent of how they dominated, people forget sometimes. They do 1-2, 1-2, 1-2 [in the three motos], you see today how difficult that is.
One of these years I'm going to talk to you when USA wins. Hopefully next year, right?
I sure hope so.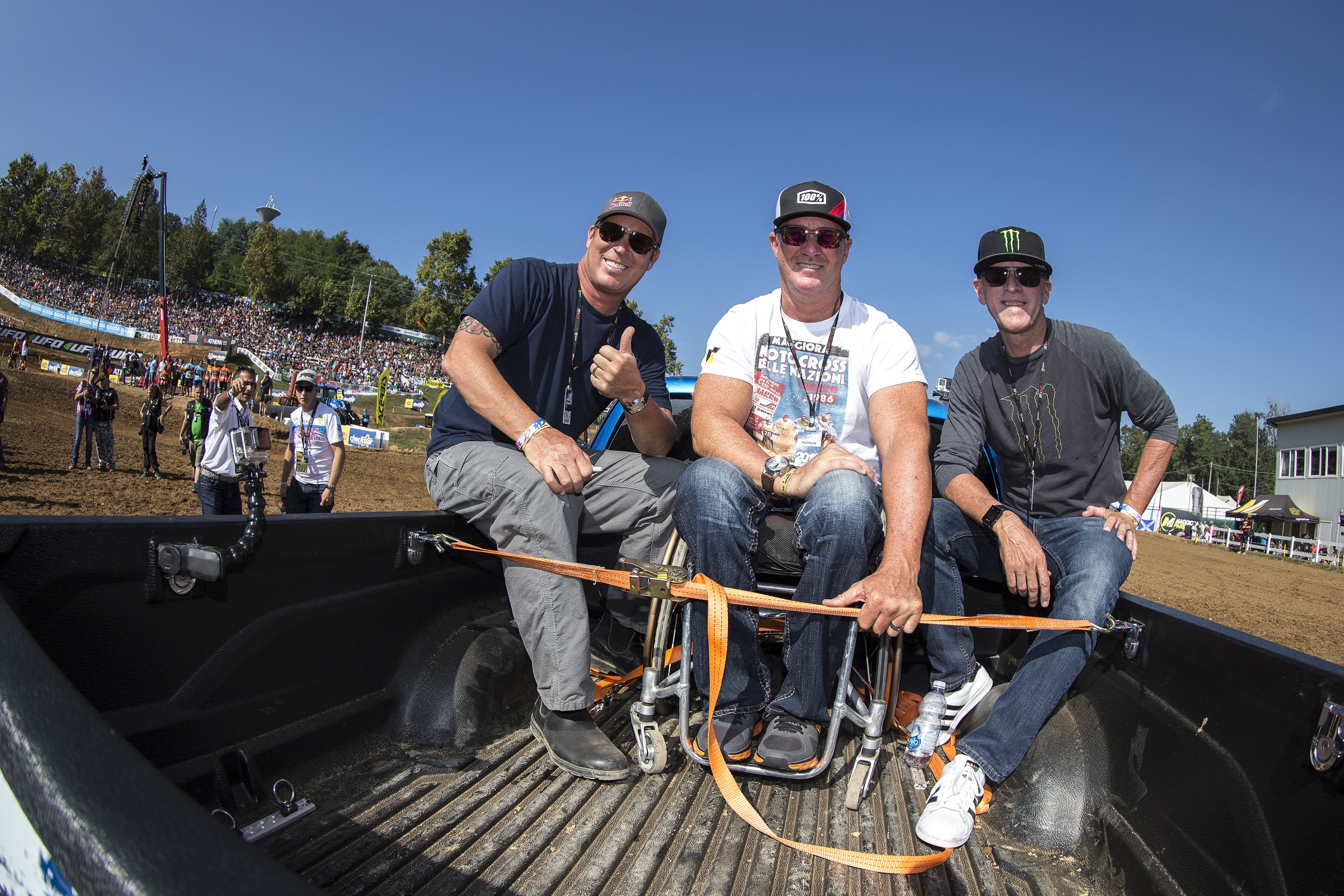 We spoke to Alex Martin after the race, but obviously Jason Anderson, who was heading to the hospital by the time the third moto began, wasn't available for an interview. Cooper Webb declined additional interviews as well, but did speak at the post-race press conference.
Cooper Webb: Yeah, I want to say the same [as Roger], congrats to Team France and the Netherlands, they put up a fight all day. It was definitely a tough one especially considering the way things went yesterday. I'm proud that we were able to turn things around, and coming into today, with Jason even being injured, we weren't sure how he would do and what not. I felt that we all did really good and did what we had to do. That incident with Jason, you know, I don't know what to call that. It sucks, and then for me to do that with two laps to go….it was disappointing. We learned from it. We never gave up. I think that was the biggest thing, to not just give up and settle for a podium. We fought the whole time. We did our best, but I'm disappointed. I'm going to not live this one down for a long time.