Maggiora, Italy
Motocross of Nations
Motocross of Nations
Sunday marked the 70th running of the FIM Motocross of Nations. In probably zero of those 70 years has it offered up an ending like this. Over the final lap and a half of the event, the team victory switched between the U.S., Holland, and France, with France ultimately prevailing when Cooper Webb crashed and Romain Febvre made a last-lap pass on Tommy Searle to vault the French team to a third-straight win.
The crazy ending left many emotional scars for the American team, which had victory in site with about three minutes left in the event. Webb was somber in the post-race press conference, and Jason Anderson was in the hospital after getting landed on.
All Alex Martin could do for the final moto was watch. Steve Matthes talked to him when it was all over.
Racer X: I've been to a lot of these. That might be the most insane race out of all of them. Holland had it, then the U.S. had it. Coop made some great moves, then with like a lap and a half to go, he fell. France wins it again. I guess you were just a spectator at that point.
Alex Martin: Yeah, nothing I could do at that point. I was just watching it on TV. But I've never really experienced anything like this in my life, an emotional roller coaster of ups and downs throughout the weekend. We came in confident, chest high, and then Saturday definitely deflated. The fact that we were even considering going to the B-Final is just terrible. With all the resources and everything that comes with Team USA the expectation and the pressure is high and you're expected to win. That's the attitude we had and we were determined to turn it around on Sunday. I rode two solid motos I feel. It's really tough on the 250. You're eating 450 roost. It's really tough to get that start against the 450s.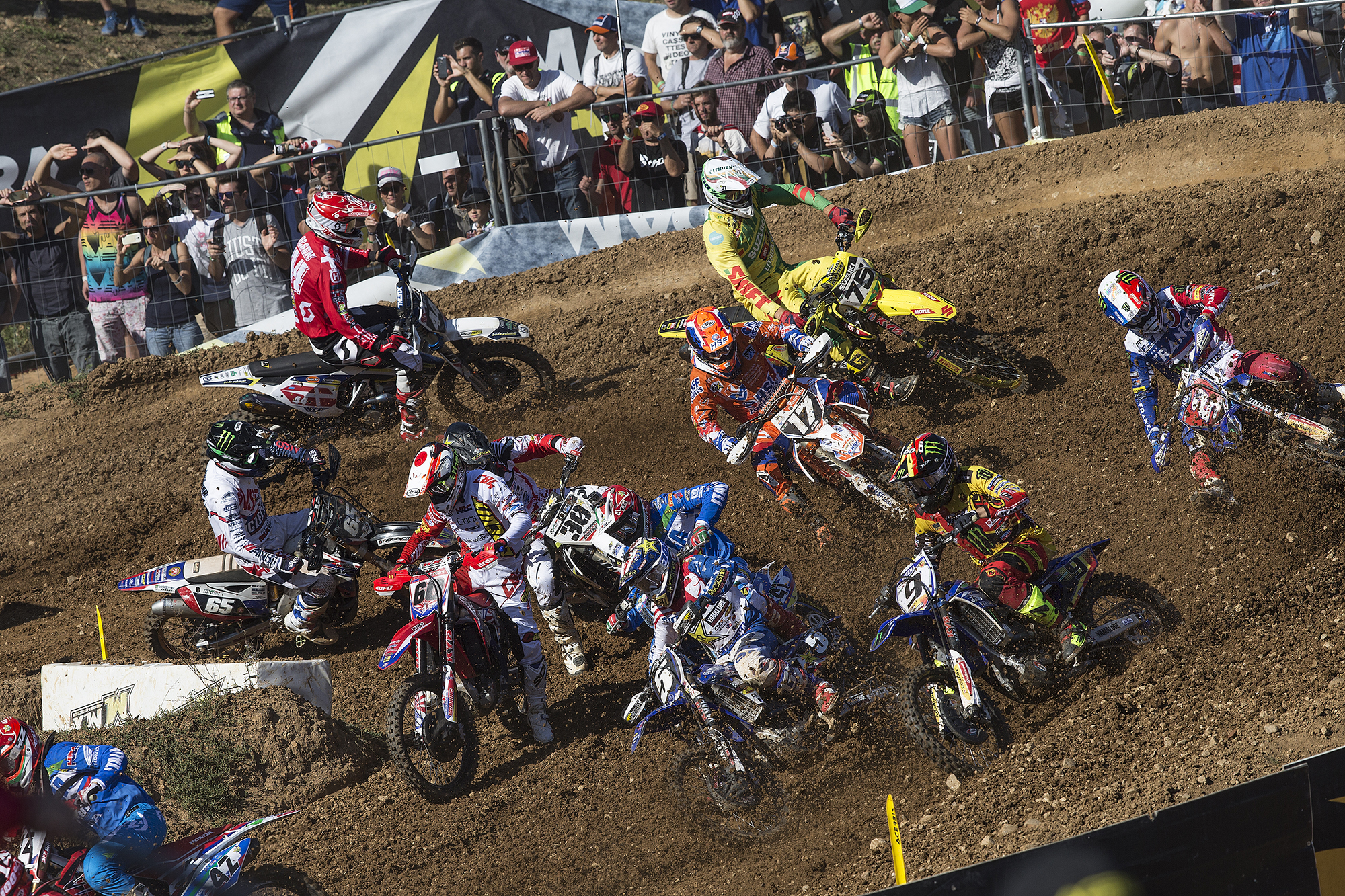 You gave up your gate pick I hear?
I was 35th gate pick, they gave the 450 guys the 15th gate pick. So I was outside both motos on a 450. It is what it is. I had a good charge. I think I came from 22nd up to eighth in the first moto.
I thought your first moto ride was one of the best of the day. You were really on it.
I made a lot of good passes and a lot of them on 450 guys, and just short of [Jeremy] Van Horebeek there at the end. It would have been nice to get him.
I think second overall in MX2?
Yeah, I believe so. I did my job and it's tough because with what happened with Jason and Cooper it's like it wasn't meant to be this year because we were so close and Jason had a phenomenal ride. I think it was amazing what he did, and the doubters, I think he definitely put down the doubters with that ride. To get landed on like that by some absolute goon, it's infuriating. It really is. What is that guy's deal? But then it was all up to Cooper and that's a lot of pressure. The whole country is riding on his shoulders and literally with one lap to go we had it by two points. Literally with one lap to go is when it all kind of fell apart. It felt for me like a kick in the nuts and I can't even imagine what it feels like for Cooper because he's the one that had the crash and I just can't imagine what's going through his mind.
"There's really no race in the U.S. that will prepare you for this type of pressure. It's pretty surreal."
When you think about it from yesterday to Jason to Coop, it was one of those things where just maybe it wasn't meant to be. Yet still somehow it almost was.
Yeah. People were saying we qualified 15th. To be basically leading by two points with one lap left, that's a massive comeback.
It surprised me. I was like, I don't know how they're going to pull it off, and you almost did, down a guy.
Yeah, for sure. That's tough, too, with Jason out. That's immediately your throwout moto, a guy that's not even on the gate. We had a lot of adversity this weekend and I think for the most part we overcame it all, up until about a lap to go.
And you were happy with your rides? I thought they were good both motos.
Yeah, I was quite happy with the first moto. I just made up a lot of ground on the guys, and to get eighth in a field where it's split between 250s and 450s, I felt pretty good about that.
Jeremy Seewer was right there pretty much the whole moto.
I'm not going to lie, second moto I just didn't have it. Literally 35 minutes, I think we have 20 minutes less than we have in the US for recovery. I tried to get some food down and I was honestly five laps in and I was puking it back up. It was just one of those things. It was a tough day and I made the most of it. A little disappointed with my second moto. When Cooper goes down it's like, man, if I would have passed three or four guys, but honestly I think I would have had to have been second to still get it. We ended up with 33 points, so we were down quite a bit.
What'd you think of the track?
The track was amazing, actually. I was really impressed. Really liked it at the beginning of the day when it was wet and tacky. Practice was bitching on Saturday. I was like, this track is sick. You could whip it off the jumps. Then as the day went on the track got more and more deteriorated. It had kickers on the faces and the really gnarly pot holes. We just don't have tracks like this in the U.S. to ride. It was a fun track definitely and this is a pretty impressive facility as well.
I think my race reports and my talking about this race is going to be like, look what they almost did instead of look how they blew it. I was pretty blown away. It was a great ride. I know it sucks for you. That doesn't mean much, but I think it was still an amazing day.
Yeah. It was tough because the French guys with [Romain] Febvre and Gautier [Paulin], those guys were really, really strong on 450s. Even with Jeffrey [Herlings] and Glenn Coldenhoff, there's a lot of strong 450 guys over here in the GPs. When you come to their home court they have the advantage. It's tough. We have our work cut out for us. It's not by any means easy. Looking back I thought maybe the Puerto Rico experience would benefit me but…
It's like a different level.
It's like three steps up. It's unbelievable. The pressure and expectations, and you're battling with guys that are contenders over here and with Puerto Rico I was kind of in the back of the pack, so it's a big switch. But it was a huge experience. There's really no race in the U.S. that will prepare you for this type of pressure. It's pretty surreal.