Travel Stories: We Go on the Road with Stank and Swan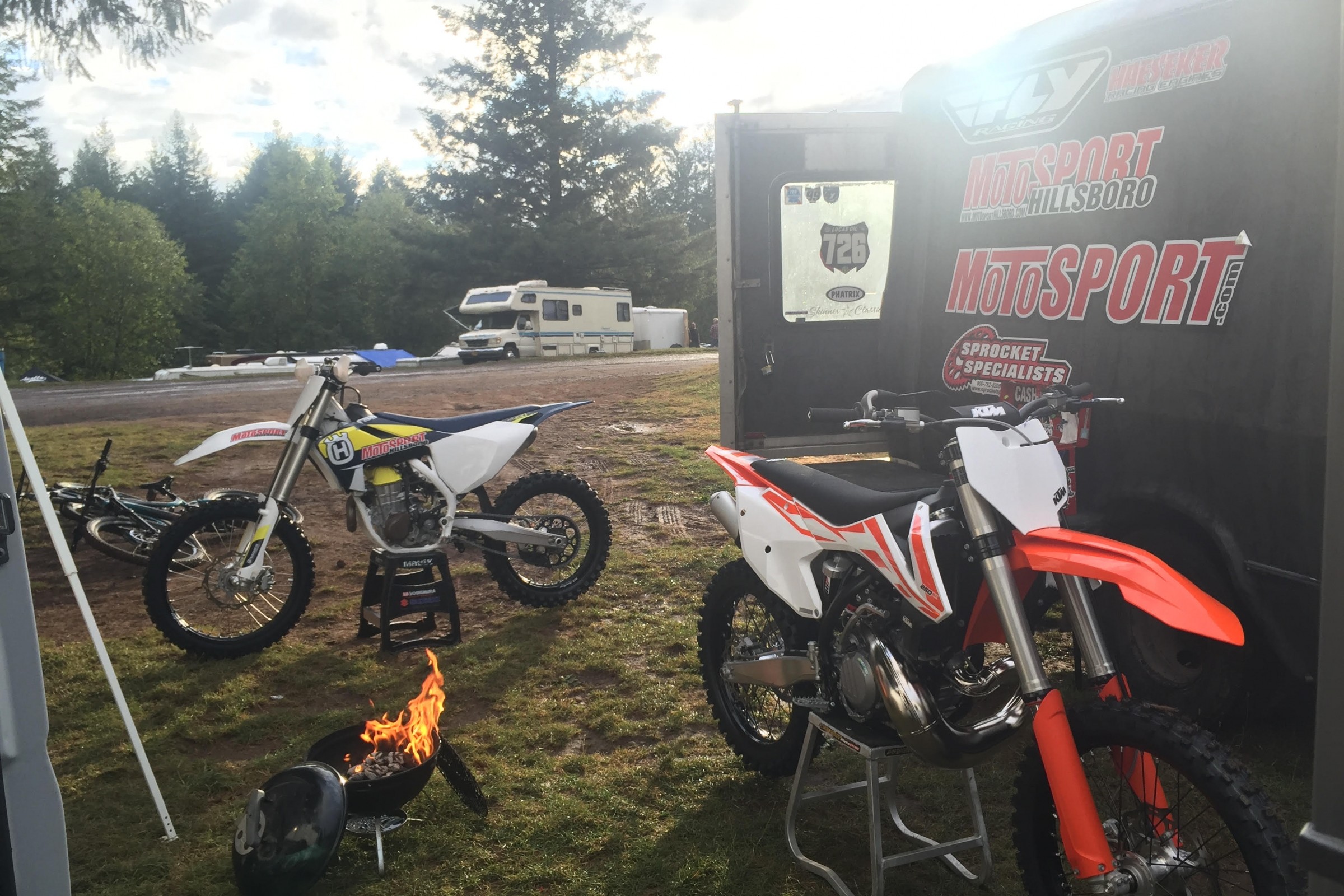 Ironman Raceway
Crawfordsville

,

IN
Ironman
Lucas Oil AMA Pro Motocross Championship
We've sent our West Coast Editor, Kyle Scott, on the ultimate road trip. Over the course of the next few days, he will be traveling from Crawfordsville, Indiana, to Washougal, Washington, with privateers Gared Steinke and Arik Swan. He'll be updating the trip daily, so make sure to check this post. Also, we'll have a full story in an upcoming issue of Racer X Illustrated.
Sunday, September 4
On Sunday Stank Dog and Swan rode well and their starts were also pretty good. It's our fourth and final day here at Washougal and Swan is ready for a new piece of scenery. It's all still a little up in the air, but the plan is to go to some hot springs tomorrow, do some trail riding Wednesday, and then fly home Wednesday night for the MXGP at Glen Helen this weekend.
Stank
25+ A: 1-1 (raced second and third moto of this class)
250 A: 1st
450 Pro: 3rd
250 Two-stroke: 1st
Unlimited Pro: 1st
Swan
25+ A: 3-3
30+ A: 1st
Unlimited Open: 6th
Saturday, September 3
Here is a breakdown of how Stank and Swan did on Saturday.
Swan
25+ A: 5th
30+ A: 2nd
Unlimited Open: 5th
Stank:
25+ A: 2nd (after crashing)
250 A: 2nd
450 Pro: 1st
250 Two-stroke: 1st
Unlimited Pro: 8th (crashed twice)
Friday, September 2
I haven't had much time to sit and think and write since arriving to the Pacific Northwest. Since we last spoke I had an interesting date, worked on Stank Dog's bike, wrecked Stank Dog's bike and visited See See Motor Coffee.
On our way to Washougal Thursday night, the crew dropped me off with a lady friend that I met the weekend of the Washougal National with plans to meet them at the track later. My date was a bit strange and lets just say I was happy to see the "Washougal MX Park" sign after an awkward hour drive with her on the dark windy roads to the track. If you've ever been to Washougal, you know that there is a front entrance and a side entrance. The side entrance is much closer to where Swan and Stank were parked. The last message I received from Swan before my phone lost service read, "Kinda by old start first turn and the bowl corner after the finish."
Luckily I had an idea of where that was having shot the national weeks earlier; and after roaming the amateur pits for an hour looking for Josh Hansen for an interview at the 125 Dream Race Invitational, I had a good lay of the land.
After walking in the dark for a few minutes I realized I was in fact at the front entrance, not at the side entrance, and that I had a bit of a walk ahead of me. Using the moonlight, I found horsepower hill and then the whoops, and eventually the Stank Bus and Swan's Van by the bowl corner after the finish. I climbed into the front seat of Cedes and caught some Zs.
When we woke up the next morning we were informed that practice had been canceled due to rain. Stank used that time to get some RnR of his own and Swan and I snagged a ride to Portland to visit Thor at See See Motor Coffee in Sandy, OR.
Thor is another rad dude I met on my last trip here and the owner of See See. His shop was at the top of my list of things to do while in town.
See See Motor Coffee is a custom bike shop/race shop retail shop/coffee shop with the best kind of cool moto vibes. They build bikes, sell parts, sell clothes/gear, and coffee. You can get breakfast and coffee, stay out of the rain, and do some bench racing, what else can you ask for?
Thor is also in the process of building a KTM race shop around the block. He gave us a tour of the under construction shop and I spent a few minutes getting a better idea of where See See Motor Coffee's roots come from. More with Thor and See See to come in the next issue of the mag.
When we got back to the track it was raining and we did some work to get ready for today's racing. Stank Dog got a hold of a TC 450 and KTM 250 for the weekend and is signed up for six classes. Stank said, "The last time I did six motos in the day I was 8 years old!" I spent the evening helping put on graphics and Stank even trusted me enough to swap out the forks on the 250. So far the forks haven't fallen off, but I have.
After watching the boys do the first motos of the day, I got a little too excited and rounded up some gear for myself. Stank let me line up on his fresh KTM 250 in his Rockstar Fly Racing arenacross gear. Everything was going great until I got whiskey throttle and sent myself head on into the announcer's tower to the right of the finish line. I huck-n-bucked at the end of the whoops and ended up on my head pinned under my bike with my legs flailing—Ronnie Mac would approve.
After someone pulled the bike off me and I got it started again, the checkered flag was already waving. I didn't even bother to cross it, not because I'm a quitter, but because I was more worried about what I had just done to Stank Dog's bike. The same bike he was trying to make some money on this weekend. In retrospect, maybe, me the camera guy, shouldn't have lined up for a race on a bike that I'd never ridden, on a track that I'd never ridden on a bike a pro was using to pay his bills on.
When I returned to the truck we assessed the damage and here's what it came out to: broken frame guard, missing side panel, broken fork guard (holeshot device side), and I bent the shit out of the sub frame.
Stank Dog wasn't as upset as I'd thought, but reminded me this seems to be a re-occurring theme as I knocked over the BBQ last night and ruined some dogs in the process.
He did burn some chicken earlier and take a digger in his last moto so I feel a little better, but I got to go find a drill to fix the holeshot device I messed up in my crash before he gets back from the moto he's leading right now. Tomorrow I'll have an update on how Swan and Stank did in their motos today and tomorrow I'll stick to staying behind my lens and not a set handlebars.
Wednesday, September 1
On the road again. Yesterday we had a final lunch with Eric after we spent the morning getting cleaned up, unpacking the Stank Bus, and separating Eric and Stank's stuff. From Reno we had a couple hour drive to Sacramento, where Stank Dog calls home. The Steinke property has its own arenacross track and his parent's Don and Jill, are so rad. Everyone was excited to see Gared, so we had a nice spaghetti dinner with his mom and dad, brother and sister and Aunt. Then we did some drinking, hence the delay on this post.
This morning we left Tom at the Steinke residence. Tom has a flight back to the East Coast later this morning to shoot the Charlotte GP this weekend and Jill, being the sweetheart that she is, is dropping Tom off while we hit the road. (Thanks for the hospitality and for the help with my laundry, Jill.) Delilah, Stank Dog's dog was also left behind as the Stank Bus's AC went out and is a little too hot for her.
Swan, Apollo (Swan's dog), and I are in the Cedes and Stank Dog and Kristin are in the Stank Bus on a six-hour mission to Roseburg, Oregon, to pickup a gear care package from Shift and Fox for Swan for this weekend's racing before we drive another five hours to Portland, OR.
Stank isn't exactly sure which classes or bikes he will be riding this weekend as his 125 is currently still blown up. With Eric, his mechanic, out with a broken leg and arm, he's not sure when his bike will get fixed. And with the 2017 Husqvarna's trickling in, Stank is having trouble getting a 125 for the weekend so he may be riding a 250 two-stroke or he might get his hands on a 450. It's still up in the air. If everything works out he'll race 25-plus, 250 Pro, 450 Pro, and Open Pro. Swan plans on racing 25-plus A, 30-plus A, Open Pro and/or 450 Pro.
It's supposedly raining pretty hard up north right now, but we're sticking to positive thinking and we're bringing the sunshine with us to 'Shougal. The sky has been quite hazy on our drive up to Washington due to all the forest fires going on in Northern, California. I must say this has by far been the most scenic route of the trip thus far. If we get in early enough tonight, we plan on doing a night out in Portland. A night out in Portland is actually how Stank Dog, Swan, and I met each other the Saturday after Washougal six weeks ago. Sorry, but that story has zero chance of making it to print.
Tuesday, August 30
We're currently about 400 miles from Reno, Nevada, where we'll be dropping Eric and Lola off. After spending a week in a hospital bed, two weeks on a motor home table/bed, and two days in a van bed, Eric is ready to be home and in his own bed.
Yesterday Stank and Swan drove more than 1,100 miles. Stank Dog, Kristin and Tom are in the 'Stank Bus' and Eric, Swan, the dogs, and myself are in 'Cedes,' Swan's Mercedes Sprinter Van. Other than the scattered rainstorms and Lola nearly having a vomit incident in the van around 4 a.m., the day was pretty uneventful. The sleeping arrangements are quite different than my normal, comfortable accommodations provided by Racer X, which I appreciate much more now.
Our first obstacle of the trip occurred after breakfast today. Prior to hopping back on the highway, I requested Cedes and the Stank Bus be moved to the back of the parking lot near a set of train tracks for a photo op. As we left the lot Stank Dog noticed a hissing noise, which was caused by a nail in his tire. I'll take the blame on this one. Forty minutes later, we were able to get back on the road after a patch job and were headed westbound again.
Can I highlight heading westbound real quick? As a Southern California native, I'm very biased, and especially glad to be closer to the Rockies than the Appalachian Mountains. Further away from the heat, humidity, and especially bugs. I currently have over fifty glorious mosquito bites all over my body from our first night parked in front of Travis Sewell's parent's house in Indiana. With four of us in the Stank Bus a window or two was required to be cracked. The skeeters had a feast on us, but mostly me.
Maybe I should have packed a blanket or anything that would be useful for camping. I may have done that had I planned on being a part of this journey prior to the Sunday morning we left. The same Sunday I already had a flight home. The same Sunday before Weege and I came to the conclusion of having me miss my evening flight home, to hop on the road with this crew, see what happens along the way, and figure out how to get home later.
Our current game plan is to get to Reno around 9 or 10 p.m., charge our batteries (phones, cameras, laptops, extra phone chargers), take some showers, and clean some dirty underwear (which I may be triple dipping in at the moment). We'll probably stay at Eric's tonight until departing in the morning for Stank Dog's. Tomorrow will be a lighter day than the more than 900 miles we will have completed today. It should only take us two hours or so to get to Stank Dog's. The Stank Bus needs some TLC and R&R of her own, but she's only getting a half-day off before we head up to Washougal Thursday morning.
I'll let you know if we got into any trouble in Reno in tomorrow's update. There's no telling what may grab our attention—the short attention spans that we all have that is.
Monday, August 29
Hello! I mean, howdy, from I-80 in Omaha, Nebraska. I'm currently on a road trip which began Sunday at Ironman in Crawfordsville, Indiana, and will ultimately end at Washougal, Washington, with some new friends whom you'll meet below. The trip will be ongoing until next Sunday or Monday, after the conclusion of the Top Gun MX Team Shootout this weekend at Washougal.
The leaders of the crew are Stank Dog (Gared Steinke, AKA the guy who scores top twenties on a 125) and Arik Swan (recent Loretta's 30+ Champion giving the pro nationals a shot). Stank and Swan are two of the most colorful characters in the privateer pits, and a week on the road with them will surely offer up some great stories. Read more for more details and keep checking in as our trip unfolds.
Meet the crew:
Kristin Marie, Tom Journet, and Stank Dog. Kristin comes from Champagne, IL. Tom hails from Somerset, NJ and works for Vurbmoto. And Stank Dog is coming from Sacramento, CA. Stank had some bad luck the last couple of rounds. His mechanic got hurt the weekend of Unadilla and had several mechanicals prevent him from making the show at the last few races.
Delilah, Stank Dog's dog. She's a bit of a savage like her dad and when I asked what happened to her eye, Stank Dog's response was, "She was playing too hard and I found it on the ground."
Eric Gillen and Lola are originally from Mississippi, but we're dropping these two off in Reno, NV, on our way to 'Shougal. Eric is Stank Dog's mechanic, and he had a big crash racing at Unadilla the day before the national. Eric was hit by another rider while already on the ground...a discussion for another day. Eric suffered a shattered tib and broken spiral fracture on his fib which required a rod to be inserted in his right leg. He also broke the ulna in his right arm and he now has a blue cast nearly to his shoulder. There is a GoFundMe setup for Eric who also has some large bills after spending a week in the hospital.
Privateers stick together. Yesterday we traveled about two and half hours north to visit Travis Sewell, who broke himself pretty badly in a fair race last month. Travis and Stank Dog are fellow Amsoil Arenacross riders, and Eric used to wrench for him as well. Travis was doing a local track race when he crashed. More from Sewell in an update to come next week.
Arik swan hails from Santa Cruz, CA. Arik went 1-1-1 in the 30+ class at Loretta Lynn's this year and also did some riding for us last month for the 2017 Fox intro. But just like Stank Dog, his results and speed are only one thing, his personality is what what really draws you in. At Loretta's, he celebrated by drinking a few beers on the podium!
After his Loretta's title, Arik also signed up for Unadilla, Budd's Creek, and Ironman, but failed to qualify at Unadilla and Budds due to some bike problems. Plus, he's never been to any of the tracks before and didn't have much time to get comfortable. Have I also mentioned he's racing on a 2014 Kawasaki KX450F with 120 hours on it? Arik decided not to race at Ironman, calling it before practice. A big mudder was predicted and he didn't want to thrash his bike. He's got to wash it, wrench it, ride it, and pay for it.
Arik has been planning to race Top Gun and he told me he has a much higher likelihood of not only getting into the show, but doing well in the race, so for him that's a smarter call to make. But the decision wasn't that easy. I'll let you in on a little secret that describes Arik's let-it-ride style: The ultimate deciding factor on not racing Ironman was a coin toss. "Heads I'm sending it (in the race), and tails I'm sending it (home)."
It was tails.
After that, he took off his boots, cracked a beer, and enjoyed the day with the friends he had been camping with. "I've never been to these tracks. I'm just stoked to be here. Take a pano [photo] and drink some beers."