The irony wasn't lost on either of us. I was talking to Roger DeCoster about scheduling and the ever-longer, more pressure packed season for today's riders. It's taken a toll on the Team USA Motocross of Nations effort, for starters, with top riders like Ryan Dungey and Eli Tomac no longer raising their hand to go to the event (you also have Ken Roczen missing three-straight years for Team Germany).
But we were at Unadilla, where DeCoster would come to race after his season of Grand Prix motocross was complete. DeCoster would actually spend three months in the U.S. racing the old Trans-AMA series, and then add another month of travel promoting the sport in Australia. Roger says in his peak season, he raced fifty-two times in a year. Knowing all that, it would be very easy for him to talk about walking uphill to school both ways (or riding bikes with scant suspension travel; or traveling through Europe and Asia during the Cold War, to be more accurate) but instead, he still showed sympathy for the situation these riders now face. Roger cautions to not just look at the proliferation of events, but the rise in sophistication in training programs, pressure and all-around obligations. That's what it takes to compete at the top level of the sport these days, and most teams, riders and trainers see that isn't meshing with an ever-growing race schedule. Most want less, but they are being asked for more.
Guys like Johnny O'Mara and Jeff Ward were animal trainers during the week. In fact, the early 1980s were even dubbed "the super training era." But DeCoster thinks the tide possibly turned with Ricky Carmichael's mother, Jeannie, who never let RC get on a bike without a stopwatch to take lap times. Never. No play riding, no riding for fun. If Ricky was on the bike, he was all business and on the watch. That worked, so today's training programs have taken that basic philosophy to the Nth degree, plus riders are getting pulled in every direction for TV, digital and social media obligations that didn't even exist until recently. Everything is so tuned, processed, tested, clinical and scheduled that a few extra events—especially when your competitors might not be doing them—gets magnified.
I'll give an example. The 1996 Team USA Motocross des Nations team dominated, and the two premiere American riders at the time, Jeremy McGrath and Jeff Emig, didn't hesitate to race. But MC and Fro had an entirely different existence during the week compared to today's riders. All we can say is, thank goodness no one had smart phones back in those days. #HavasuLife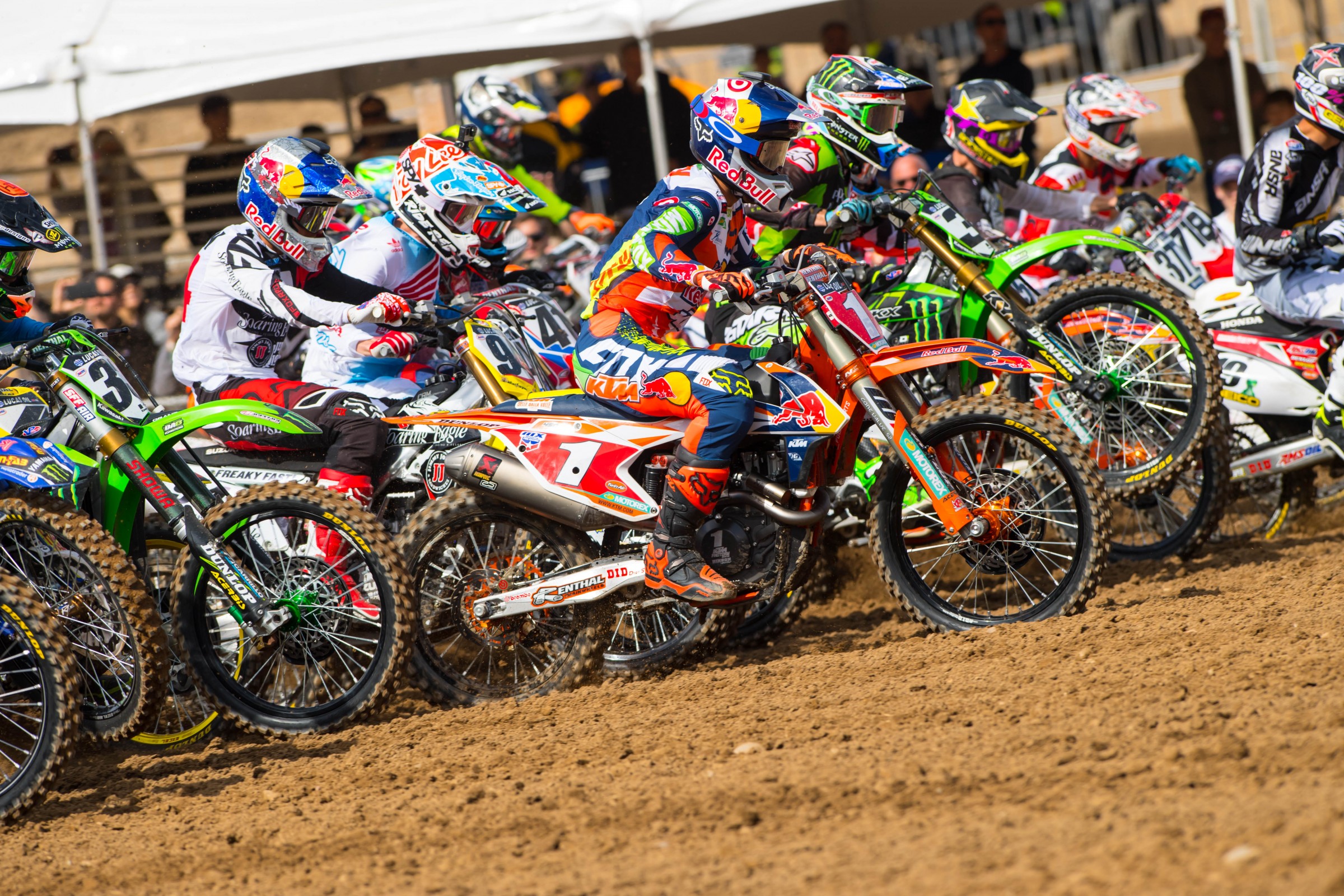 Everything has ramped up, and now the schedule has, too. In addition to the 'Nations, we now have two USGP events run in back-to-back weekends after Lucas Oil Pro Motocross. There's the Red Bull Straight Rhythm and Monster Energy Cup, the new SMX Manufacturer's Cup in Europe, and then traditional off-season money-makers for the riders in Europe, Australia and more. Just one of these events on its own wouldn't be a deal breaker, but adding them all together makes for a mess. A rider could be asked to do each event as a favor for an unrelated group. For example, Monster makes its race the USGPs, the manufacturers would like riders in the SMX Cup, the fans (and pride) want riders in the MXoN, Feld Motor Sports wants riders in the Monster Energy Cup, and it's hard to pass up good money for any athlete—and the Monster Energy Cup, Red Bull Straight Rhythm, and the off-season international SX events all pay pretty well. There's something for everyone in each of these races. Red Bull insists it invites everyone but pressures no one for Straight Rhythm, but that event has the most convenient location (in California) and probably the least pressure and effort. Also a nice, cushy NBC network time slot, too. The Monster Energy Cup isn't exactly like a traditional supercross, but it's not a bad way to get an off-season testing point, and probably generates the most overall coverage and exposure, outside of the Motocross of Nations. Many of these events do have legitimate appeal—but racing all of them doesn't seem very appealing at all.
Hey, the riders use to race all the time, too. While David Bailey, Johnny O'Mara and Ricky Johnson not only raised their hand for Team USA for an all-time dominant run in 1986, those guys also raced one USGP a year, had testing and racing dates in Japan, and off-season money grabs in Europe, often in the same races today's riders continue to compete in. However, you'll note that while the Bercy SX once featured just about every single top American superstar rider, the lineup now consists of just a few names each year, and never have those names been Ryan Dungey or Ryan Villopoto. Jeff Stanton is known and respected as one of the all-time ironmen of this sport, but even he begged off of the Motocross des Nations effort once, and retired at age 26, citing his bevy of off-season races as one of his main sources of burnout. But you make hay while the sun shines. While Stanton was in his prime, he raced as much as he could and piled the money away. That probably cost him a few seasons on the back end of his career, so this stuff isn't anything new. But we're hearing about it more and more, because, as DeCoster claims, the riders' weekly schedules keep getting stricter.
So now it's on to today's riders to figure out how to cope. We can use Tomac as an example, because he's made all the Monster Energy Supercross and Lucas Oil Pro Motocross rounds this year. If he added every one of these off-season races to his schedule—two USGPs, the 'Nations, Monster Energy Cup, Red Bull Straight Rhythm, the SMX Cup, and maybe a date in Lille (Bercy) and the AUS-X Open in Australia—he'd be looking at 36 weekends at the races. It's not like Tomac would be pressured into all of those, but it just shows how daunting a task it would be, especially when the real paychecks and real judgements on a career come from those base 29 races (17 in Monster Energy Supercross, 12 in Lucas Oil Pro Motocross). In the end, those are the races the teams are investing in. Anything that endangers that starts to look very risky.
So that's where we stand now. A season about to end, but an off-season that is still a long way off. The proliferation of events, the obligations to sponsors, and the rising intensity in training and schedule obligations are making for some serious headaches for a lot of people. We'll see who ends up racing where.