Jeff Ward is a seven-time AMA National Champion in supercross and motocross. That was just the start. Since retiring at the end of the 1992 season, Wardy has reinvented himself as a racer over and over, from nearly winning the Indy 500 twice, to earning two AMA Supermoto Championships, to off-road trucks, to today's Red Bull Rallycross series—he's literally been a competitive racer since the 1970s and is still going! Between his own races, he trains Cole Seely, and his kids are athletes, too. Wardy is a bad, bad dude. We called him last week just to hear some more awesome stories.
Racer X: I saw this Instagram post from you after the Indy 500. You mentioned how close you were to winning that race until the fuel strategy got you—and then this year Alexander Rossi wins the big 100th edition of it by gambling on fuel. I think people might forget that. You were within laps of winning the Indy 500! I'm sure you don't forget.
Jeff Ward: No, I still have nightmares! [Laughs] A couple times actually. The first year I was there, my rookie year, we gambled on pitting to where we couldn't make it probably until about ten laps to go. We didn't have a fuel setting to save fuel, so my strategy was just to sprint. I had a half a lap lead, and it was okay because everybody had to pit unless we had a couple yellows. I was pulling away and they were all saving fuel banking on a yellow, and we got a yellow! So it dropped me to third. Then Tony Stewart had to pit, and [Arie] Luyendyk and Scott Goodyear stayed out. Actually there was one more yellow. Stewart was behind me, he brushed the wall for a lap or so. And then they went green with one lap to go and Luyendyk won—and he ran out of gas on the cool down lap just like the kid did this year! He was that close to running out and I could have won. So it was that type of deal.
Then another time I was in second. Robbie Gordon was leading and he was like making fuel somehow. He wasn't going to be able to make it from like ten laps to the end, that's what everybody else calculated. But he kept going and going. I was in second and coming up on turn four this lapper was down at the bottom and was going so slow I thought he was going in the pits so I went around him. He came up on me and I had to slam on the brakes. Kenny Brack was behind me—he was behind me for like the last 40 laps. I fought him off on the front straightaway just trying to block him and block him. I just didn't have the run to do it. He got by into turn one and then three laps later Robbie Gordon pulled in the pits to get fuel on the last lap. Kenny Brack won and I got second. So if that guy wasn't in the way I had the win in the bag because Kenny was not getting by me, and I didn't have to catch Robbie because he was going to run out of fuel, which he did with about a lap and a half to go. So it's frustrating. That's what I was saying on Instagram. AJ Foyt [IndyCcar legend] once told me you're better being lucky than good. It's not always the fastest car that wins that race. I was fast but I was unlucky. It's kind of hard on you I guess.
But it's amazing what you've accomplished to go from a motocross guy to just even making it in the Indy 500, then finishing second. That's amazing, but do you ever think of it that way? Or do you just think second sucks?
I'm pretty proud of it because it wasn't my sport. I didn't start in go karts. I didn't touch a car until I was retired from motocross at 31. So in motocross you have all the skills, you have the mindset, but you have to learn by mistakes. But mistakes in car racing are expensive! And in cars there's so much more involved than just racing on the track. So that was the hardest part. The other hard part is finding money to go race because your talent just doesn't get you a ride. You have to have funding, and that's a challenge.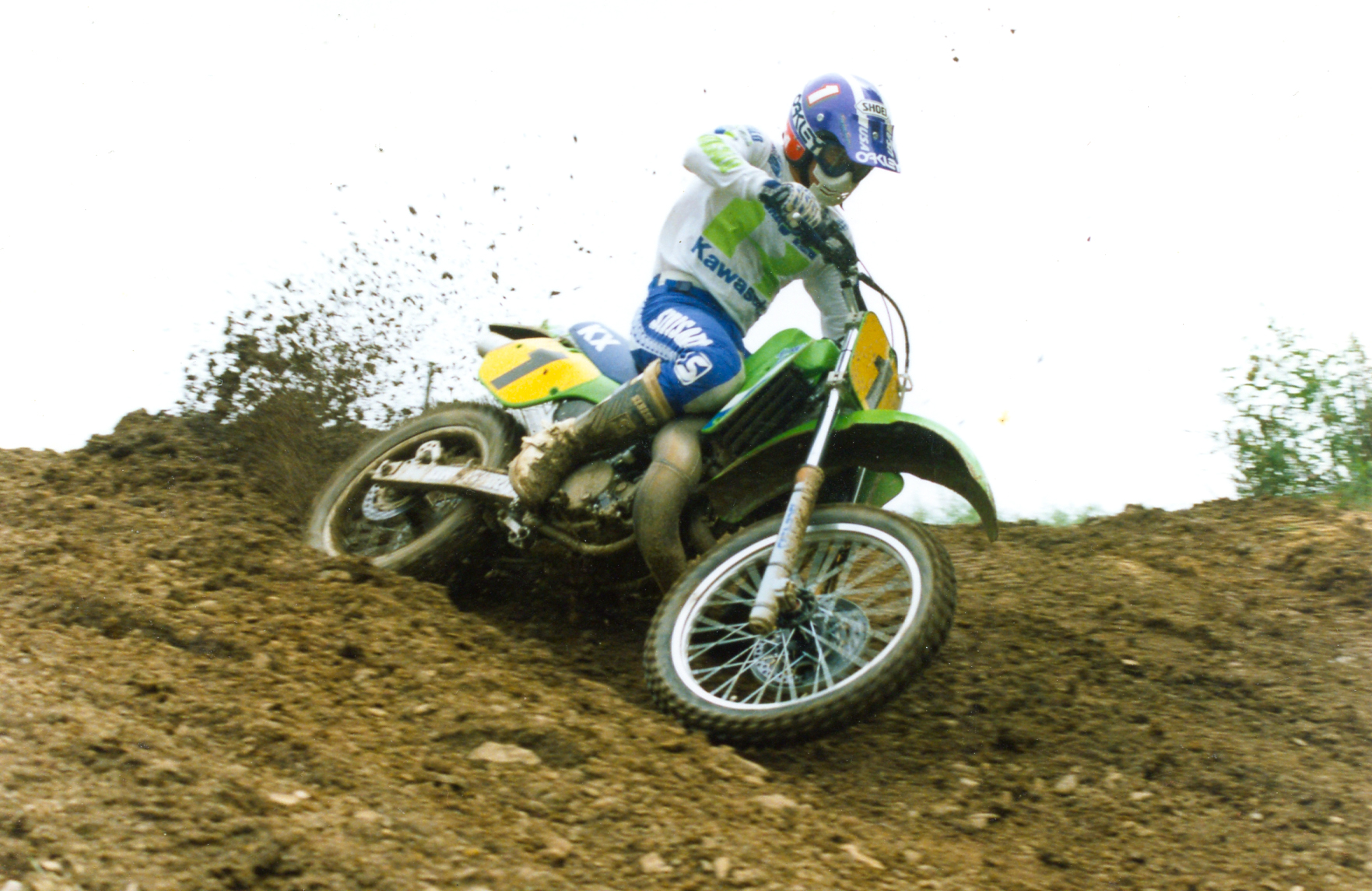 There are a lot of motocrossers who think about getting into the car racing thing. But what stops a lot of them is that by then they've already spent 25 years in the trenches, starting from nothing and working all the way up. Starting over again is really intimidating to some people. But it seems like you even now, you still have the same desire as you always did. Do you ever get tired of it?
No! The only thing I get tired of is if it doesn't go well! If I didn't care then I'd just be having fun. But for me I can't have fun unless I'm competitive. A lot of guys just want to be out there racing because they want to be involved in something. I don't need to be doing that. The only way I want to do it is if I can win races. That's what makes it fun. If I'm just out there floundering around then I don't want to be there. I'm still competitive. Even mountain biking, it's still just in me. There are days where I'm tired. I'm not as motivated as I used to be where when I was tired I'd make myself do stuff. But when it comes down to racing, when I get on the starting line, in my brain I can win. Whether it's true or not, it's still in there! If I went to a marathon race tomorrow and got on the front row I would take off like I had a chance. And I haven't run a single day for like 20 years since I quit racing, but I still have it in my brain that I got a shot here if I take off fast!
What's your outlet now? Are you doing all the global rallycross races?
Yeah, I signed for the whole year in that series. I had a blast last year with team Ganassi, but I'm in a different car with a different team this year and it's just not working the way I want it to work or the way it should work. So it's a little frustrating, but we're getting competitive. It'll get there; it's just a different car. I was pretty excited to get the full year put together. So now I'm gone eight more weekends a year than I used to be.
Well, how do you get those deals. Car racing is expensive and it's hard to get these rides. Are you actively fighting all the time to find another outlet? Do these things kind of come into your lap because of the connections you already have?
I always wanted to do the rally at the X Games but it was so hard to get in. You had to run their series. I talked to [Travis] Pastrana. I talked to [Ken] Block. It was just so hard to get just a car, so I sort of just put it on the back burner. And then I saw [Brian] Deegan did a deal with Ganassi last year when Ganassi started a Rallycross team. I drove with them for IndyCar. So I gave them a call. They said Deegan had his sponsors but he can only do eight races out of the twelve. I had the sponsor that wanted to do some stuff. So the races were open and we made a deal to put me in the car. I got the pole for two of them and ran up front. So then I wanted to do something for this year with Ganassi but they didn't have a third car and they didn't have enough money. The the team I'm with right now, SH Rallycross, they pretty much had all the sponsorship and I had a little bit throwing in to help out. So we just put that deal together. But I made phone calls. I called Andretti. I made a bunch of calls. You never know who has spots for a second car or half a season or whatever. But if you don't call and knock on doors, nobody was just going to call me up and say, "Hey, we have a deal for you."
"Our big plan this year, yeah, we're going to be at a race or two where he's maybe a little over trained because he's stepping it up a lot, riding more and everything more. But it's basically building into supercross season next year that we start off in October uninjured, way ahead of where we were."
And why do you do that at this point? Is driving a moneymaking operation or are you just looking for an outlet? Do you just enjoy it? Why do you try so hard to keep going?
I don't know. I just like to win. It's just fun driving. I would go go karting every day if I could. It doesn't take too much away from what I'm doing, and it'll actually make some money. So that always helps, my kids are going to college. If I had to spend money, I'm not going to do that. I know a lot of guys that… when I first started car racing I bought my Indy Lites car. At some point you kind of have to make an investment in yourself a little bit. But I don't need to do that anymore. I just still enjoy it. I still like going there and trying to figure it out. I'm 55 years old next week, so to go out there and beat guys and still be as competitive as I am just kind of shows what I was really like when I was younger. I had to be pretty tough back then!
I don't think anyone doubts the toughness. You once told me this story, you rode like 90 days in a row or something like that, something crazy.
Yeah, I rode on Christmas. I rode on New Year's. I did everything. I just started riding and I kept going and next thing you know it was like two months in and I still hadn't missed a day. I'd change my flight to fly out late so I could ride in the morning before I left the race!
Let me ask you about your training regimen when you were racing. Nowadays I hear so many guys talk about recovery and not overdoing it. It did not seem like you and (Johnny) O'Mara and all these guys were very concerned about that. Do you look back and think you ever did too much?
No, I think I did it pretty good. Johnny was extreme. There's only one O'Mara in the world I think. The stuff he can do and get away with it… I actually did take days off sometimes. I would do three things a day. I'd motocross, cycle, run, or swim with the running. We raced some triathlons, so I always did at least about three things a day. But the days that I was tired I would taper back. I wouldn't push it as hard. I'd still like to go for a run or cycle but I figured out a way to go easy was to go by yourself. If I was doing it with anyone else, it was always a race, so I'd do that most of the time but I would go by myself if I was tired. I tried to go in to the weekend knowing that my Sunday was going to be my biggest effort I gave during the week. That day was going to deplete me. Then the rest was building back up to get ready for that following Sunday, depending on how I felt, heart rate and all that. Compared to nowadays probably mileage-wise and running-wise we were probably doing more, but guys like to do more stuff on the bike now. I don't know, we did just as much plus. Not saying it was right or wrong, but when I started we were doing 40 minutes plus two laps. There was another extra ten minutes in there that really hurt! But you just had to kind of prepare for that.
Your guy Cole Seely is making some big strides here outdoors, and he's said that he's actually working so hard that he's even willing to come into the races maybe a little bit tired because of the work you're putting in during the week. It sounds like he's got some new stuff going and it seems to be working pretty quickly, too.
Yeah. He's getting confident. With the outdoors you either want to do it or you don't. They're tough and you have to be willing to suffer. Last year we didn't go into it overdoing it because we knew we wanted to just get through the year, but then he got hurt. That setback and then surgery and it kind of hurt his supercross this year. So this year he's had a lot more to build up for it. We've put in more work on just everything. He's got a new program now with his training with weight stuff. He's never been a kid that isn't willing to do it, it's just getting it in and getting everything the right balance at the right time. That's been happening. The bike's working good, too. So when everything's working good it's a lot more fun outdoors than when you struggle. Our big plan this year, yeah, we're going to be at a race or two where he's maybe a little over trained because he's stepping it up a lot, riding more and everything more. But it's basically building into supercross season next year that we start off in October uninjured, way ahead of where we were. Then he can be a top guy right from the get-go at A1.
It seems like the trends change a lot. I feel like ten or fifteen years ago Lance Armstrong was hot, so everybody was riding their road bikes for two or three hours a day, and that was everybody's training. Now I see a lot of weight training and balance and flexibility work. Have you seen changes?
I don't see much change. Everybody's doing the 30 minute motos, a couple of them a day. Guys are mountain biking, cycling, there's heart rate zones. Each individual's different. There's different strengths that you have to have. Some guys have more endurance than other guys, so guys need to work on strength. A rider throwing around a bike today is pretty much going through what I did when I threw a bike around. Your heart rates are all about the same. But yeah, scientific stuff is a little better. I think it's probably just easier now to do stuff like get blood checked and check your levels and see how your body is feeling. I don't remember getting my blood checked ever!
A lot of it is about sticking to a program and doing it. That builds your confidence. These guys get busy and they start missing days and say they'll go to the gym tomorrow. Well, if you do today's gym tomorrow, what about the gym work you had already scheduled for tomorrow? That's one workout instead of two. Just not skipping days is critical. A lot of this sport is mental. A lot of guys do a lot of work but some of them just don't do it the right way to build confidence.
I saw some stuff on social media what Cole's doing. It looks totally different than what I'm used to seeing motocrossers do. Where'd you guys come up with this?
We went to a place called Exos, right behind what used to be called the Home Depot Center, where the LA Galaxy [Major League Soccer] and the U.S. Olympic soccer team play. It's just trainers, strength training, vitamins when you come in, shakes when you leave. They just have a good routine and we went through what he needs to do for motocross. He's got somebody that he has to listen to and he has to be there. Everyone has to have a trainer—I was motivated but I had one, Jeff Spencer, and I would drive two hours to his house to work out with him. When someone is holding you accountable and you're paying them, it becomes a job and you do it.
There's an even bigger reason. You get somebody like myself that has experience and has been in a ton of situations, you can give some logic to why something's happening during a day. You can have the parents, the team manager, and everybody else telling them one thing or the other and they get confused. But if you have somebody that's been there—it's like Roger DeCoster, I always use him as an example. I worked with him for Motocross des Nations. You believe in him and if he tells you something, you go do it. That's the kind of confidence you get. I had it in car racing from guys like Luyendyk. If you have somebody that hasn't been there, you just don't quite have the respect or the confidence in them. Like if it's your dad. You'll say, "I remember my dad saying I could clear that triple and I didn't and I broke my femur. So I'm not quite going to believe him this time!"
You were watching Cole do motos at Glen Helen today?
Yup. I usually drive with Cole. Now actually he's moving within five miles from where I'm at in Costa Mesa so I just drive to his house and I hop in the Sprinter Van and then we go do our stuff. Then come back home and we'll go for a mountain bike ride. I've missed some of his races due to Rallycross but I try to be there.
It's just fascinating to me. You've done it like five times now between motocross, Indy, supermoto, rally, off-road truck and anything else. Just can't put the fire out.
Yeah. My kids love it. They like me racing. I guess maybe they just want me out of the house! My daughter's in club soccer. I flew back last week Saturday night and went to her games on Monday. I fly to her stuff when she goes back east. Every weekend there's something. My son is doing his qualifiers for Loretta's, so I was just at Dunlop getting tires. He's working on 250B for Loretta's, which is a tough class, and he'll be at Mammoth, too. It's a busy time. Right now I'm just heading home. I'll be going mountain biking here in about 40 minutes, my regular 25 or 30 miles a day ride. We have a group text with like six or seven guys, I've been getting all these texts while on this call. And that's why you have to go—we will call each other out if you don't show up by 3 o'clock and go. And then I'll be out there like I'm going to die again. They'll be some climb and one day you're the stronger guy and then next day you're not feeling it—but we just keep pushing each other. That's the name of the game.