Wheels Up: The 3 Cs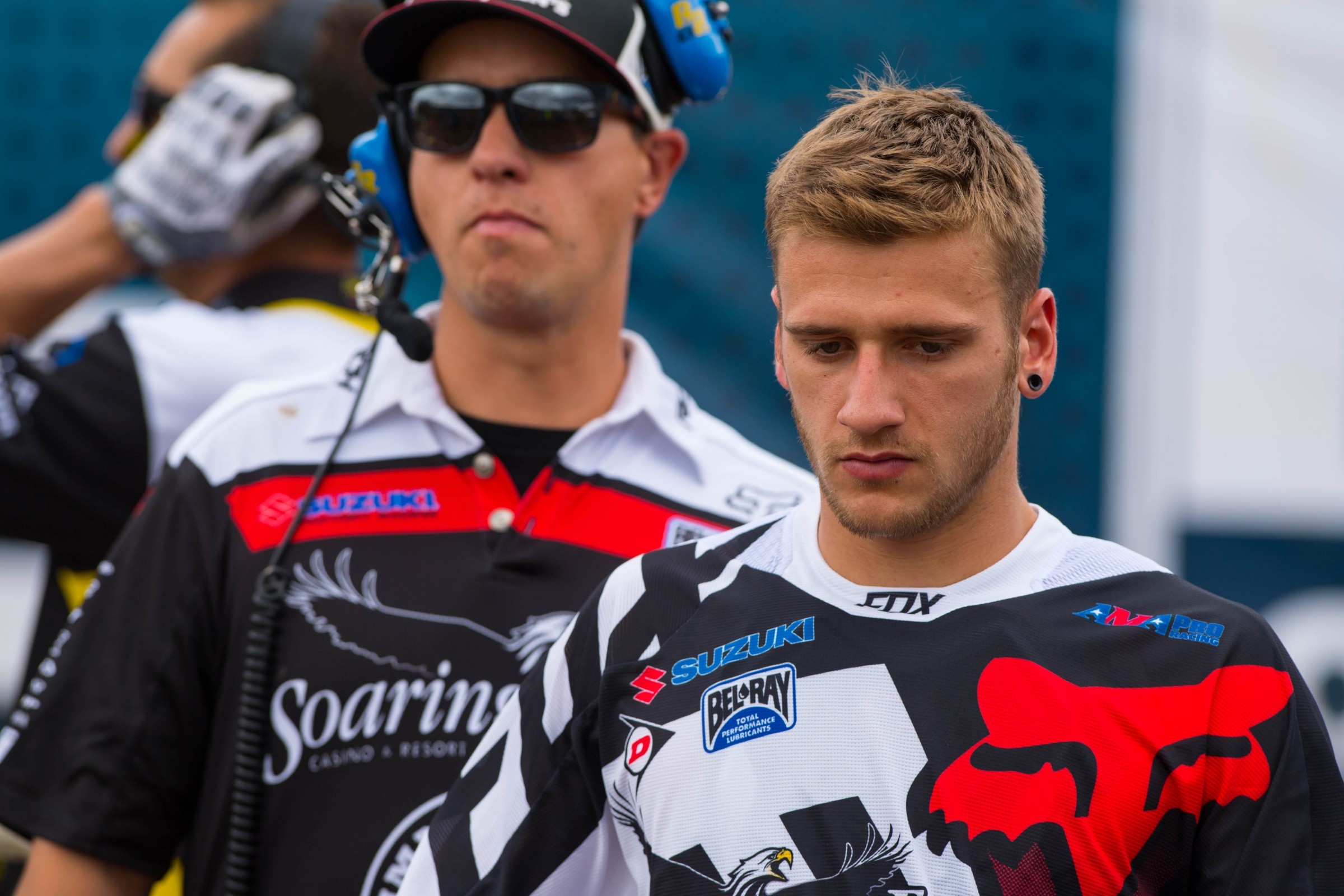 Ah, summertime! Birds are chirping, cicadas are screeching, the sun is shining, there's meat on the grill, the bass are biting, and the adult beverages are ice cold—oh, and the Lucas Oil Pro Motocross Championship is already at its quarter turn. We're three races in on a twelve-round series, so it's time to bring you this month's rendition of Wheels Up!
The first three rounds have been nothing short of phenomenal. From 250 Class showdowns to Ken Roczen's superb efforts in front of the 450 Class to an unlikely injury for defending champ Ryan Dungey, it's difficult to decide where to begin. The three Cs—California (Hangtown), California (Glen Helen), and Colorado (Thunder Valley)—have been no disappointment, as each round has brought its share of excitement.
Round 1 at Hangtown would see Monster Energy/Pro Circuit Kawasaki's newest rider, Austin Forkner, make his much anticipated professional debut. The young rider from Missouri ventured into the pro ranks riding a wave of talk and speculation, none of which was unwarranted.
Being from the Midwest myself, I have been at some of the same tracks as Austin on occasion and have obviously seen him race at Loretta Lynn's and other big amateur races. It's hard to not notice a young amateur standout who puts in stellar performances like Forkner has. And while Austin has indeed had an impressive career as an amateur motocross racer, that matters very little now. What does bear weight, however, is how well he seems to be adapting to the pro scene. No, he didn't pull a Justin Barcia or Eli Tomac and just kill it the moment that first gate dropped, but he did land on the podium in just his second professional motocross race, at Glen Helen—a very impressive feat. Still, I am not going to jump on a bandwagon and say this kid will win in 2016. He may, and that would be awesome, but in my opinion he is living up to the hype that he came in with. Austin seems to get better and stronger each time he races, with the exception of a rough first moto in Colorado, and there is zero doubt in my mind that he will have a successful career.
Tristan Charboneau, on the other hand, came onto the pro motocross scene relatively unknown. To be completely honest, I myself know very little about the GEICO Honda young gun. In fact, the only time that I have ever really even seen Tristan was at Loretta Lynn's in 2015 when I was talking to Chase Marquier about a close encounter he had with a snake in his canoe earlier that day. Charboneau was sitting on Stage Coach Hill in a super nice pickup truck and randomly joined our conversation. I didn't even know who he was until I read the license plate!
Anyway, Tristan actually impressed me more than Forkner did at Hangtown. He ran up front and also finished sixth in the first moto—well under the radar, but flying. Despite sustaining an injury at Glen Helen, Charboneau also looks to have a solid future ahead of him and could just be a threat for wins by this time next year. If I'm Mike LaRocco and GEICO Honda, I'm absolutely satisfied with the decision to bring this kid up from the amateur ranks.
"Martin wins the overall!" are pretty familiar words to hear throughout the Lucas Oil Pro Motocross Championship, right? But in this case we're talking about Alex, not Jeremy. Alex Martin has his first overall win, has held the red plates, and is a bona fide contender to take his little brother's #1 plate away. He has been absolutely ripping, as apparent by his performance at Thunder Valley after a big first-moto crash (and his efforts at Hangtown, and of course his Glen Helen win). Will "Big Al" keep the momentum going and be "in it" all summer? I certainly hope so. This could shape up to be the coolest sibling rivalry ever.
There is no way that I can put this piece together without mentioning Joey Savatgy and his stellar 1-1 performance at Hangtown, backed up by a solid Thunder Valley win. The Kawasaki rider was very good in supercross and nearly won the 250 West championship, and he undoubtedly used the momentum from winning the last round of SX in Las Vegas to stay up front outdoors. Glen Helen was a struggle for Savatgy, but don't forget who Joey has training him: the Carmichaels. Case in point, Thunder Valley: Joey set out to forget Glen Helen and redeem himself in Colorado, and he did just that, nearly winning moto one and taking the win (and overall) in moto two. That surely makes him stand out against a sea of blue Yamalube/Star Racing Yamahas belonging to the Martins, Cooper Webb, and Aaron Plessinger.
I'd like to quickly mention Adam Cianciarulo. It was great to see AC grab the holeshot in 250 moto two at Thunder Valley and to run up front for a little bit. Unfortunately, he went down, and it looked like another summer might be done for the kid, but he later reported via social media that he was okay. Cianciarulo is unarguably one of the quickest riders in the sport, and now that he has had this bit of a confidence-booster, I hope things will begin to turn around for him. I like AC. He knows the time to perform is now, and I believe he will soon silence the critics. Motocross is a tough sport, and once injuries start happening, it's hard to know when they will stop—ask Robbie Reynard about that. If Cianciarulo can just get some momentum going, maybe he will finally have a chance to win some outdoor races.
Moving up to the 450 Class, Soaring Eagle/Jimmy John's/RCH Racing Suzuki's Ken Roczen has started his run at a second 450 campaign in dominant fashion. Despite the mechanical issue that he had during moto one at Glen Helen, Kenny has straight-up beaten the champ and everyone else each time out. Roczen is riding extremely well at the moment and appears to be quite happy. That's a recipe for success in this sport.
In no way will I rip on and/or say anything negative toward or about Ryan Dungey for getting beaten in each of the first three rounds, but I will express that maybe there is a sense of "uh-oh" to be felt. His uncharacteristic crash in Colorado ruined his summer before it really got started. I mean, how often does Dungey actually fall down? Not very often. One might wonder if he felt a sense of urgency knowing Kenny was back there and made a costly miscalculation. Now, after ninety-nine straight national starts, Dungey will take High Point, Muddy Creek, RedBud, and more off. When he returns, here's hoping he's 100 percent and ready to get back after K-Roc.
What a difference one year can make. In early June 2015, Eli Tomac was untouchable outdoors, right up until the point where he crashed and injured his shoulder. Now, in 2016, Tomac hasn't won a moto yet. And yes, he appears to be the most bummed-out third-place finisher ever, but rightfully so. Tomac is a bulldog. He pounds and fights his way through, all race long. Things may not be going the way that he had hoped for at the moment, but I'd wager that something will "click" for the #3 and his Kawasaki, and when it does, Roczen will have his hands full.
The three names that have been dropped the most when speaking of podium finishes during the pro nationals have been Roczen, Dungey, and Tomac. Evidently, someone forgot to copy Blake Baggett in those emails, because El Chupacabra was mega impressive at Hangtown. While he did suffer a crash in moto two and broke his collarbone, he still made a statement that he can run the podium pace on the 450. When he returns from injury I look for Blake to be ready to pick up right where he left off.
As for the rest of the field, I'm excited to see what this year will bring. As with the 250 Class, the talent pool is not shallow by any means. Guys such as Trey Canard, Justin Barcia, Jason Anderson, Marvin Musquin, Cole Seely, and more are all capable of podiums and even wins. And I know I've written about him a time or two before, but Josh Grant has been flat-out sending it this year. He's been relatively consistent and always right there in the mix of things. I sincerely hope the folks at Kawasaki grant JG a contract (pun intended). It is my belief that if he were to have a solid deal and could focus solely on racing and not have the stress of "am I employed?" to worry about, he would continue to be a benefit to the team and himself.
Lastly, before I finish, I'd like to give a shout out to Gared Steinke. Not only is he racing the Nationals on a 125 two-stroke, but he qualified for Glen Helen on it! Qualifying for a National is a feat in itself, let alone qualifying on a 125. But to make it in at Glen Helen on a 125? You're just a bad dude on a dirt bike. In my mind, he's probably having more fun than most. I know I would be. Kudos, sir, and keep killing it.
That's all for now. I will be in attendance for High Point, Muddy Creek, RedBud, Millville, and Crawfordsville, so if you see me, be sure to say hello. As always, thanks for reading!
- Wheels