Lucas Oil Stadium
Indianapolis

,

IN
Indianapolis
Monster Energy AMA Supercross Championship
Alex Frye had been a name in the amateur ranks for a while, and that rewarded him with a pro deal for last year's Lucas Oil Pro Motocross Championship with KTM's Orange Brigade unit. That squad has now merged with KTM's official factory 250 program—Troy Lee Designs/Red Bull KTM—so Frye migrated to the team for his first season in Monster Energy Supercross. Despite that backing, he's much newer to this than you'd imagine, as just two years ago he was still stuck at home in Maryland, unable to ride year round. So while his early 250SX East Region results have been good—including a fourth in Toronto—there could be much more to come.
Racer X: Give us your story about how this has all gone. You started the nationals but I know it probably wasn't as smooth as you wanted it to be. It's going a little better now.
Alex Frye: I came out of the amateurs really good, won races, the whole deal. Got signed by KTM. Went pro, but I wasn't 100 percent. I came off a hand injury and just tried to build, and then I got hurt again at High Point. Dislocated wrist, the whole deal. The 2015 season was definitely very tough, a lot of ups and downs, plus the learning curve going into the pros. I just finished the last three rounds; I think my best was like a 17th. Just took it as we could. I learned a lot but we just quickly tried to move on and forget a lot of it! Fast forward maybe a month after the last outdoor, on a new team, Troy Lee Designs KTM.
Yes, that's right, you were on the Orange Brigade team. How different is it with TLD?
It's a lot different. It's a really big difference. Totally different people, new bike, new team. I also moved from the Carmichael Farm to California. So, totally new environment. Just getting on supercross was a big change, too. Officially started riding supercross October 1 [2015].
Had you dabbled on it?
I did Road to Supercross [in Amsoil Arenacross] and that was really rough for me. I struggled through that. That kind of almost set the tempo for the rest of my season in 2015. Just struggled from arenacross.
Is that where you got your injury?
I got my injury at Daytona at the amateur race, so I missed Daytona and Freestone, which were supposed to be my last amateur nationals. So then we just decided to go pro at Muddy Creek, and then to get hurt two rounds in—dislocated wrist—set us back even more. So it was a tough year. So, when you fast forward to September, new bike, new team, basically a clean slate, and the team doesn't really know how I am as a rider and where I'm at skill-wise. I started working with Billy Laninovich. He helped me out a lot just with technique and things like that. Night and day difference rider of what I was in supercross in October compared to now. I could only do maybe one or two laps on a supercross track. I wouldn't hit the whoops!
Obviously you know how to ride. But supercross was that tough?
Yeah. Supercross was totally different. It was just the struggle of putting laps together, hitting every obstacle the right way, hitting the whoops consistently. It really took all the way until December to really get going good. Originally I was supposed to race West Coast but when [Shane] McElrath got hurt that put me on the East. It was the last three weeks before Atlanta that I really made a big improvement and got better and put in the motos and the consistency and things like that. So it's been a long road. What's crazy is that I've been the only one of my teammates consistently riding with no injuries for the past six months. It's been a lot of work.
So you first get out there in the beginning of October, supercross is new to you and it's a new team, you're supposed to be learning all this pressure free. But you had to feel a little bit like, "I got to show these guys I can ride!"
Yeah, for sure. I had to show my capabilities. What's tough about being an East Coast guy and being in Tallahassee was that none of the West Coast guys like Tyler Keefe or any of the KTM guys got to see me practice on a regular basis. The only thing they saw was just on race day, so I was only judged based on that, and maybe race day didn't go the way we wanted. So that's all they had to judge off of. So coming out to California was really a must and getting close with my team, being with my teammates, testing, all that. So it was a big change. For a while I didn't like California, but I've got used to it and accepted it.
Had to be some rough days. So you're learning supercross, it's a new team, you're moving… This is what you always wanted to do, but it's not probably as glorious like, "I'm here! I'm a pro! I'm a factory guy!" It probably wasn't as awesome as it sounds on the outside.
No, for sure. It was a lot of hard work. Again, going back to the Carmichael's, I was used to working really hard down there and I was just able to transfer over here. With supercross, Billy Laninovich helped me out a lot. It went from getting lapped by Shane or Jessy [Nelson] in maybe five or six laps to being able to hold them off and do 25 laps. So big improvement in the past six months. There was a lot of pressure to prove the skill of my capabilities. Through the whole process they've seen my improvement. Tyler Keefe's seen my improvement. We have Tyla Rattray working on our fitness and there's been the big growth in that. What you see in race day now in supercross is night and day difference of what I was just six months ago.
How do you feel it's going?
The first race we got a ninth, which was great. I wasn't expecting that. Daytona, had some bad luck. Actually got taken out, then I went down on my own. Then to a fourth in Toronto, which was great. I wasn't expecting that. The goal from the beginning was just to finish races and build. It was never the goal to podium or finish in a certain place; it was just always to just ride how we do at the test track. Detroit was rough too. We were riding really good, but again me and [Martin] Davalos came together and went down. It was a rough night, but me as a rookie it's part of the learning process. You just take it and move on to the next race and just try and get better each weekend.
You realize that it's a long fifteen laps and you can relax and just put in the time.
In outdoors, where you'd be more comfortable, last year you were never really probably where you wanted to be.
No. Definitely wasn't where I wanted to be. Now I know that I have the best equipment, the testing the amount of laps we put in, it makes race day a lot easier. You'd be surprised what makes a difference, like just not having to worry about putting on tear-offs on my goggles and where my gear's going to be on race day! But most of all, I feel like you learn way more through adversity than I would have if it had gone well. Just like in arenacross—it was really tough for me, so everything that I learned through arenacross I was able to apply to supercross and all my training this year to make it that much easier.
So even though it didn't go well for you, you're not going to say that that arenacross program was stupid? It still helped?
Yeah, the Road to Arenacross definitely helped a lot. You can see some of the rookies that didn't do it and how much different they are compared to the guys that did have to go through it. It's night and day difference. All the adversity that I went through there was great. It made my transition to supercross a lot easier and smoother, and in the end was a lot safer.
Will your mindset change a little bit when we get to outdoors, if you're healthy unlike last year?
Yeah, for sure. I'm really comfortable with outdoors. It's what I know. I have a great bike this year. I wouldn't say we're going to win races, but we're going to show we can run up front, get holeshots, be a contender, and just be in the race. Top five, that's where I want to be. For the last five rounds of supercross, we just want to finish them out. We know we have top-five to top-seven speed, but at the end of the day you've got to finish the races to be able to finish in that position. The wonderful thing about the pros is that the races are long enough to be able to show fitness and things like that.
It's so funny because people would think 250 supercross is so short, but not compared to what you're used to!
[Laughs] Yeah, you realize that it's a long fifteen laps and you can relax and just put in the time. The cream always rises to the top. The main thing is just staying up and just putting in the laps.
Give me an idea of your background. You're from Maryland. How did you eventually make that transition to go to Carmichael's?
I'm originally from Maryland. I went down to Florida multiple times before hooking up with the Carmichaels. I have to give credit to the guys from Fox Racing, and Todd Hicks, he saw that I could use the full-time in Florida all winter and really improve. Riding was definitely an issue coming up as an amateur. I really can't say that I was able to ride consistently until summer of 2013. So all the way through my amateurs kind of chasing the ride time.
How old would you have been when you went to RC's?
I was 16 or 17.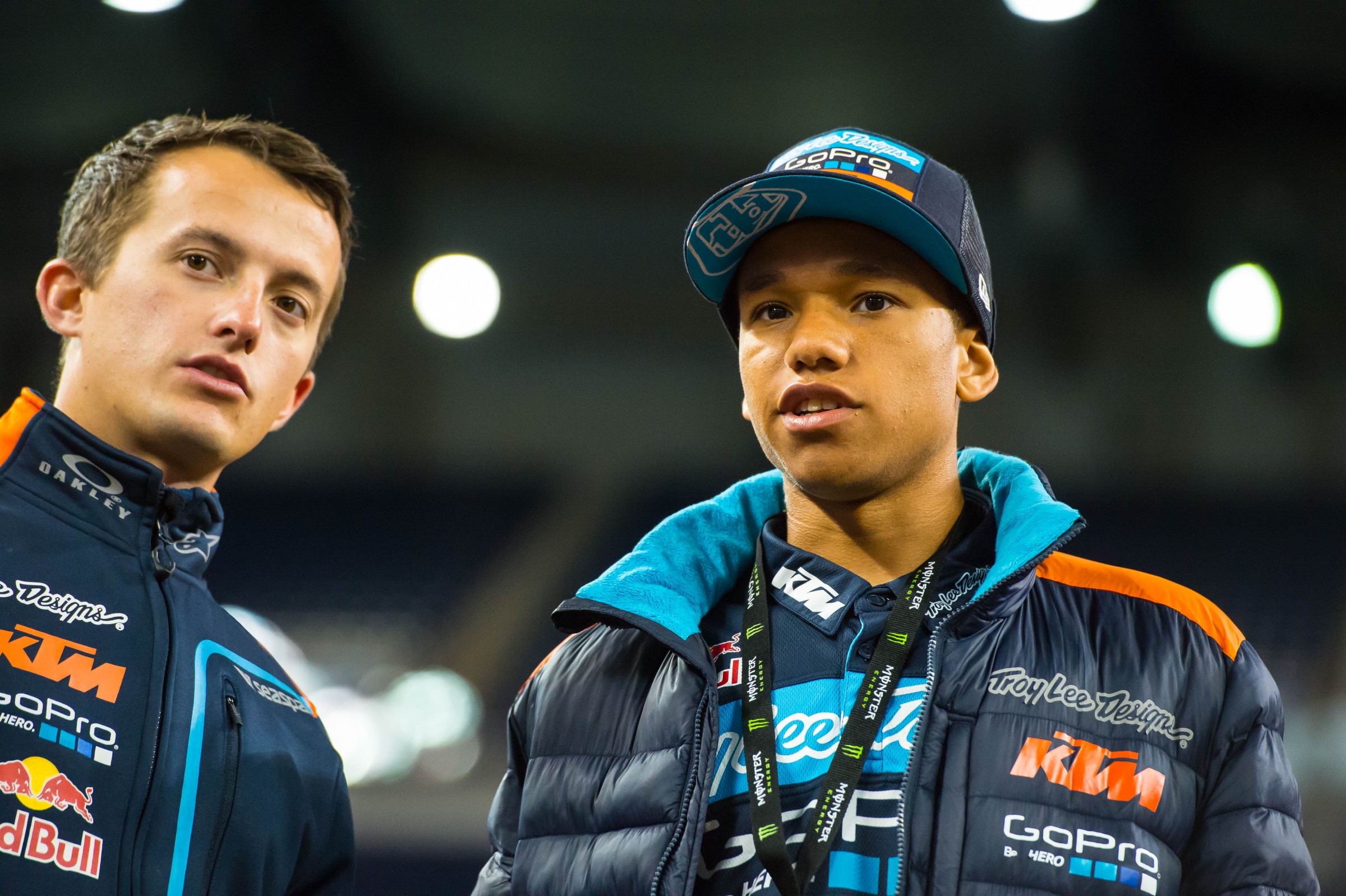 Before you were able to ride year-round?
Yeah, year-round consistently. I always had the talent and the speed with not very much riding, but as you get older you just have to have the seat time. That was one thing that kind of hindered my amateur career a little bit, but really where it counted at the end I really buckled down and was able to get it done. I couldn't have done it without being at the Carmichaels, for sure. Before the Carmichaels I never knew what a training program really was, the off the bike stuff and that. Without that, the transition would have been nearly impossible, realizing that this is a job and it's something that you do every day.
There are a lot of guys like you these days. Even Ryan Dungey wasn't mega amateur guy at age eight, and he was stuck in the winter in Minnesota. More and more guys are hitting their prime later. They didn't hit their peak at age 12. So it's got to almost be a little encouraging.
For sure. It's not a sprint, it's a marathon. At the end of the day it's the guy who can just consistently put in the time, not have many injuries…. You see it in the results, like this past weekend in the 450 class. You've got Dungey, Roczen, your top guys that just consistently have been able to improve over the years. I won races, but was never a dominant amateur. I feel like you learn a lot from your adversities than you would if I had a great amateur career.
I think it's weird though because you were still a big name in amateurs. I think people assume that you've gotten all this guidance, you've ridden supercross tracks for years, and you had year-round riding and training all the time. It's not necessarily true.
No, that's not true at all. I basically really didn't start training full-time until 2014. Honestly, just my last two and a half years as an amateur was when I really started training full-time. Before that it was just here and there, trying to ride during the week. It wasn't like a set plan of what we're doing. That's part of the reason why there's been so much growth just in the past two and a half years.
So don't judge you necessarily on what we've seen yet. There's more to come.
Yeah, for sure. There's a lot more to come. We have a really good program and I'm definitely here to stay for sure.