Glendale, AZ
Glendale
Monster Energy AMA Supercross Championship
Christian Craig 2.0 has gone to places the 1.0 version never got to—now including the top step on the box. The GEICO Honda rider, who retired at the end of the 2013 season only to come back stronger than ever last summer, had been fighting 250SX West Region dominator Cooper Webb with everything he had for the last three weeks. His persistence paid off when Webb crashed during Saturday night's battle in Glendale, Arizona, and Craig took the big W. We found him smiling wide in the team truck after the race.
Racer X: Well, this was a good one.
Christian Craig: Yeah, and last week was shaping up to be a good battle again. Unfortunately, I went down on the fourth lap and rode around. Ended up getting third still. I was happy with that. Still making my way up in the points. Tonight was something special for sure. All day I was struggling with the track. My setup was a little off, but after the heat race we made some changes—put on some hand guards because I was getting hit with some rocks. My fists swelled up pretty bad after the heat race. I'm like, "Put some hand guards on there!" I think that was the trick. Gonna have to have hand guards for every race … no! But I got a good start. [Jimmy] Decotis, my teammate, holeshot. I think that's almost every holeshot for the team. I was pumped for him but made the pass through the whoops. That was my strong point all day. I was like, All right, here we go again. I saw that #1 coming and he caught me. Same thing lap ten: he tried to run it in on me in one of the corners before the whoops and I saw his front end push right under me. Right there I'm like, All right, five more laps—just ride it out yourself and take the win. Crossing that finish line was a dream come true for sure and a feeling I'll never forget. It was awesome.
It looked like it kind of hit you on the podium.
Yeah, it did. Riding around after the parade lap or whatever you call it, I just had my eyes closed and was just so thankful for being here and racing again. Thankful for the opportunity I have with GEICO Honda and everybody. I had a strong off-season with a great group of people around me, and all of that hard work that we all put in made this happen.
There was a point where you might not have gotten to here.
I said on the podium last year I was working construction right now. To be here today, I didn't see that happening. But when I came in the outdoors I started to believe in myself, and about round three I knew I could win. Got all the flusters out in the first couple rounds. I wish I could have put in a good result in the first round instead of a seventeenth. I could have been a lot closer in the championship. but we're still 11 points out, and each weekend we're getting closer.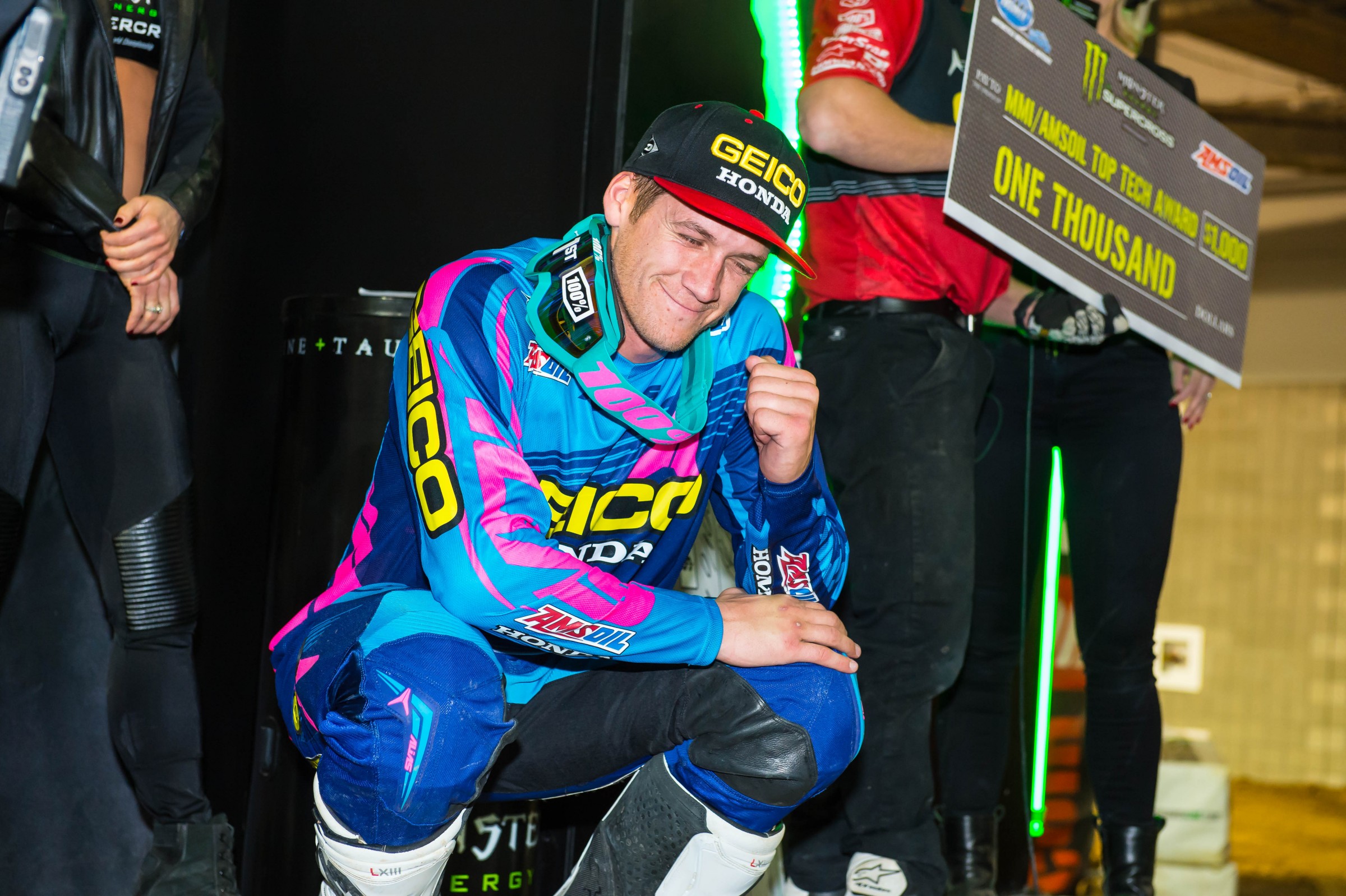 You've had a chance to battle with Cooper actually quite a bit, between heat races and mains.
Yeah, he's a good rider. He reels me in every time! It's frustrating! In the heat race, I was leading and he just gets me. But I'm slowly getting closer to him and matching his speed. Unfortunately, he goes down [tonight]. It was shaping up to be a good battle. I wasn't going to let him by, for sure. I was going to put up a fight until the end. There were five more laps and I figured, why not? Just hang it out. I was planning on holding him off for sure, but when he fell I'm like, All right, let's take a breather and ride it out. So that was a fun race. It was an amazing race, and to win is unbelievable.
The whoops were a strong point for you.
Yeah, those things were dangerous in the main. In the parade lap I was rolling them, and I'm like, How is this going to happen for fifteen laps? So I found a little line in the far right where no one went, and I hit those every lap at that same line. Actually, Cooper tried to take that line from me one time and we hit in the air. I still got to that line [that I wanted]. But that was my strong point for sure. It seems like when there's big whoops, that's where I make up my time, or I pull someone. Cooper had a little bit more time in a couple other sections, but I would slowly gap him right there and we would end up right on each other again every lap. So that was good.
When you touched in the air there, that was actually a battle not just to hold him off but to get to that line you wanted in the whoops. That was the main thing?
I was just watching the race and [TV announcer Jeff] Emig was like, "That's his line. He's just taking his line. He's not trying to cut Cooper off." That's what I was doing, and he knew that I was going far right all night. [Cooper's] like, "I'm going to try to take it from you and force me in the middle." But I'm like, "No way. I've got to get over there because I'm not going in those chewed-up whoops." We hit and it kind of got me startled, but I still got a good drive and came out good.
You heard Emig say this? You were watching the race after you get back here?
Oh, yeah, I watched it already. I'll be watching that, like, twenty times. I watch every weekend. There's always something to learn. I was watching Cooper on TV and just watching his strongpoints and just learning from him.
Were the last five laps weird? Was it difficult to hold on? You're going for your first win and now all of a sudden you're riding by yourself. Was it tough?
It was not tough, because I knew I had a four-second lead, and I had a spot where I'd see Cooper every lap and I'm like, All right, he's not catching me. I think I got this. And then I saw three laps to go and I'm like, Okay, I got this. The scariest thing was the last lap—I'm thinking, What am I going to do through these whoops? They were so inconsistent. You would hit them and your back end would slide. I'm like, Should I just roll these things and just play it safe? But I ended up just gunning it and getting through them. It was actually one of my cleanest runs all night. Once I got through there I was like, All right, I got this. Let's ride it out. It was a great feeling.
You could probably talk for hours about this, but could you point to why you're riding so much better and the results are better than the first time you went about this?
I'd say preparation. I've never had an off-season where I was putting in the hours on the dirt bike and off the bike and had a consistent program. I have an awesome mechanic and trainer, a whole family support group. So to be healthy and be strong, that's why I'm up here. We've got to stay that way. We have a championship to win.