Some racers become "one of the greats" purely by winning championships. Others end up in that category almost purely because of who they are; how they treat fans, treat the media, and what they represent off the motorcycle. Like the King of Supercross, Jeremy McGrath, Red Bull KTM's Ryan Dungey could be considered "one of the greats" by either method.
Heading into his first season defending both 450cc titles since 2011, 26-year-old Dungey is doing what he needs to do to stay fresh and perhaps successfully defend a championship for the first time in his career. We had the chance to catch up with him at the recent KTM Team Introduction at the KTM test track.
Racer X: With your teammate Dean Wilson being injured for much of 2015, you've spent most of your 450cc career as the only 450cc guy on the team, haven't you?
Ryan Dungey: Yeah, for the most part. There was 2014 when Ken [Roczen] moved up to the 450 class. He did good. We had a good year. All of KTM had a good year that year. But that has been the only moment where I've kind of been in a championship fight with a teammate.
I was thinking more along the lines of at the test track, where you have the benefit of having somebody who's near your pace or at your pace, like I'm sure Wilson and Marvin Musquin are expected to be now. Is that a big deal to have teammates to push and who push you?
I think it's good. The older I get the more I realize how, whether it's a teammate or not, just having a guy in your class to chase or to push, or whether you start before him or he starts before you and you have to run him down or put the pressure on, I realize how beneficial it is and how good it is for preparation for racing. Being at Aldon's [trainer Aldon Baker's] now, there's Jason Anderson, there's Marvin Musquin, there's Adam Cianciarulo. We all line up and chase each other down. I don't start first all the time. Sometimes I start from the back and have to come through or do as best as I can. You find yourself in those race situations sometimes, and you can see how much that benefited you and helped.
When you're actually racing, the goal is obviously to get holeshots or good starts, but that doesn't happen every time...
Yeah, you've got to prepare and put yourself in different situations. All of us could probably ride alone on a supercross track and it's going to be a great day. You have really nobody to gauge off of. But now you get some pressure, you kind of push the bike a little harder, and the flaws kind of start to come out, and then you can kind of work on those areas. I'd rather work on them before the season starts than just show up like I usually did.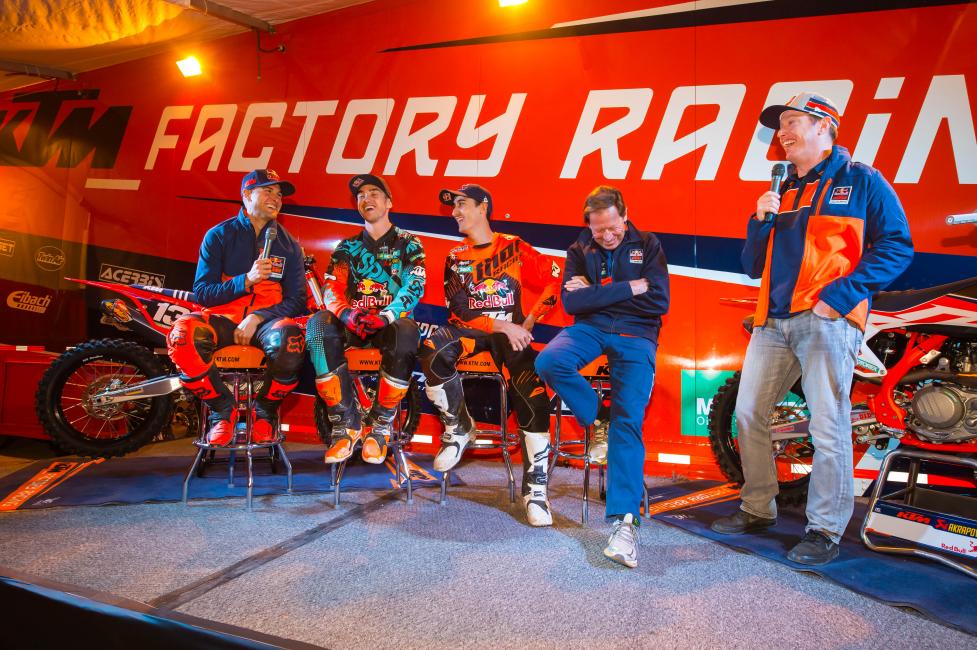 This is your seventh season coming up in the 450 class. Seven years is a long time to be at the top of the sport. What parts of that experience help you keep calm, and what parts are still a little nerve-wracking?
I guess all the experience up until this point goes into what lies ahead; what all I've learned. Everything has been crucial as far as learning in some way. I've always worked hard to be on the top or try to be that guy on the top. It's not necessarily pressure. If I'm going to do it, I want to do it the best I can and I want to be the best guy, or try to be. I think my best is my best. But we don't put in all the work to just get second. We want to win and win championships, and that's what the team pays you for, too. It's fun what we get to do. It's not that I'm not in a grateful position, but the team doesn't pay you to go out there and get fifth and sixth. They want the best result. They work with you. They're patient. They do everything they can, but it's in our control; where I want it to be. We pray we have a great season, a healthy season, and all these other things. A lot goes into a championship. A lot goes into winning a race, let alone a championship. That's a lot of races. You've got to be there for them. A lot of people make that happen.
Is there a difference as far as you're concerned between racing with the number-one plate and not racing with the number-one plate?
No. I think the one thing that I need to keep in mind is that we worked hard for that number-one plate. You can't forget all the years before that that you came runner-up or came in third in the championship. To be able to be in that position, I feel like we earned it. But now it's taking on that role and that responsibility.
Do you feel like there's any more of a target on your back from other riders or anything like that when you have the big number one?
In a way, yes. For me personally I'm going to go out there and do my best. You also want to run that number-one plate like you earned it. And look, we're not here to mess around. We're here to get the job done. It's to defend that title; to defend your title another year. That's not an easy task. But the only pressure that is on me is what I put on myself. I want to go after another championship. Regardless of the number, last year was last year. We're in a whole new series. It's time to take the good from the past and use it for the future.
Trust me, seeing it from my position, it's definitely something as a kid I guess you dream of.
So, you're saying that once the gate drops at round one, what matters most is a red plate not a number-one plate, right?
Yeah, absolutely. The best result is important. But everybody is "results, results, results," well it all starts when the gate drops and you have to take one corner at a time, and one lap at a time, and one race at a time. You've got to break it down. You can't get too far ahead of yourself.
That's one thing that you've always been really great at is avoiding dumb things; avoiding dumb errors that as fans you might sit there and be like, "What was he doing?" We don't see you do things like that a lot.
You try to eliminate the mistakes, but really focus on yourself. Do your own thing. It doesn't help me if I'm focused on any of the other guys on the line but myself. It's taking away from my focus and my performance.
The Factory Edition bike has your name attached to it. What's that like? It's a huge company making all these motorcycles all around the world, shipping them everywhere, and a lot of them have your name on the bike.
Trust me, seeing it from my position, it's definitely something as a kid I guess you dream of. I dreamed of doing a lot of things as a kid and winning races was one of them, championships was one of them, but helping a team become the number-one manufacturer in the sport that nobody really had a lot of faith or believed in in America, I never thought I'd be a part of that. I'm definitely very fortunate and blessed. I'm just grateful and honored to be that guy; to be that rider for them. When I came on I had a lot of trust in Roger [Decoster] and Ian [Harrison] and the team and everybody at KTM. The turnaround was quick and they got a lot of stuff done in a short amount of time, and still are. We had some good success off the bat but now we're four years later… It's crazy to think that we've already done four years. The results on the track are awesome, all that's great but it's even cooler to see the brand and the company grow and to see the Troy Lee team [accomplish so much]. Now, there's [the] BTO Sports [team] there are all these race teams that are wanting to use KTM. And we've had some good results around the whole world.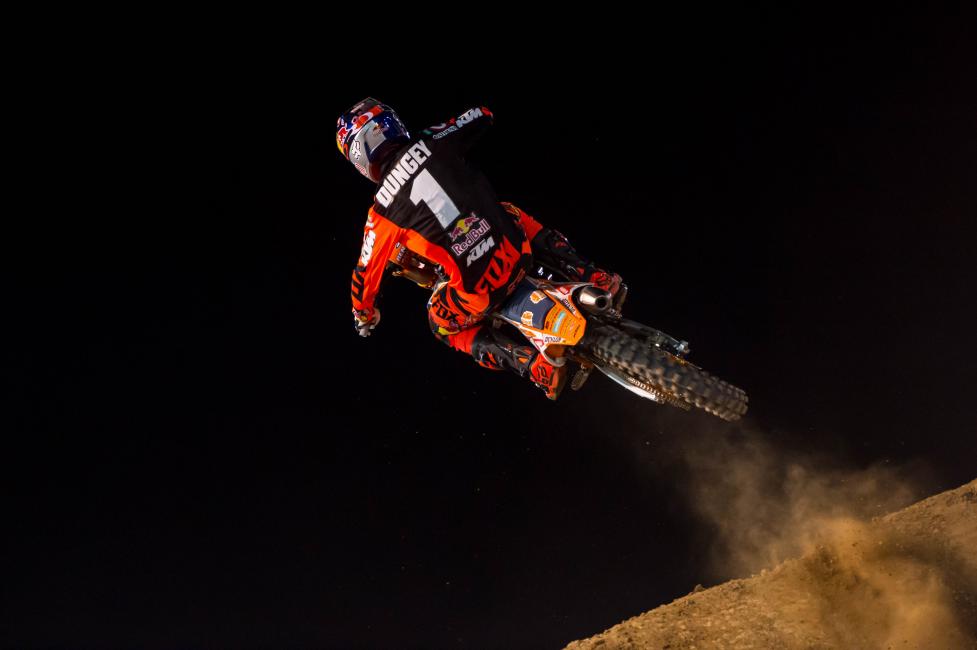 Some of that has to be on you, right?
Whether it is or not, great, but I'm just glad to be a part of it and I want to help do my best and hopefully we can keep doing that and keep building the brand and growing it even more. From what I heard we're two years number one in the off-road [segment]. It's our second year in a row that we're leading in the sales in the off-road department, KTM is. That's all I could ask for from a brand that I ride for. And the support and the effort they give me and the team and our atmosphere here in America is great.
Four years ago when you switched from Suzuki to KTM, there were a lot of people that were thinking, "KTM in the big bike class hasn't really done anything in the USA. Is this the end of Ryan Dungey? Or on the other side, if Ryan Dungey goes out and wins on it is it him or the bike?" People were trying to debate it. But now four years later people aren't even thinking like that anymore.
That's what everybody did in the beginning. When all the cards are stacked against you that's sometimes the best because it's all upward from here. I think it was a blessing in disguise. Honestly, I was ready for a change. I was ready for something different. I'd been looking at the color of a front fender for so long, I was ready. Switching to a team wasn't going to be enough; it was going to have to be something like this, and that was motivating as a rider. I guess I haven't said that to many people but I was looking forward to the challenge. If I failed and it didn't go well, and trust me when we weren't winning and we were getting seconds and thirds in the championship, it was hard on me for sure, but if we failed and it didn't work then I was okay with it because I'd felt like I'd done everything I wanted to do or accomplish before I came to KTM. So here it almost maybe took the pressure off a little bit, and let's just build from here.