We know, we know—you all want to see Malcolm Stewart race a 450, and we do, too. Besides the Daytona Supercross for fun in 2014, we've yet to see what Mookie can do on a 450 in supercross. We won't see it this year, either, most likely, as he's back with the GEICO Honda team with eyes on winning in the 250SX Class. Maybe someday a 450 team will offer Malcolm a deal. For now, the money for him is in the 250 class, and he's doing what he can to take advantage.
So, to race over the weekend in Bulgaria, GEICO sent a full-race CRF250R so Mookie could get more racing laps in on his actual racing bike. He finished third overall behind 450-mounted Justin Brayton and Weston Peick. Matthes talked to him about it after the race.
Racer X: In some ways, the 250F was an advantage. In some ways, it was a disadvantage.
Malcolm Stewart: Some advantages. It was good around the corners and some of the flat track stuff. But there was a wall jump and then a set of whoops. I was losing a little bit of drive where the 450 had just a little more torque. The start, I can't say I gave up too much because I actually got the holeshot. So I would say just a little bit of areas, but mainly I have to risk [riding] the 250F just because that's what I'm racing back in the States. It was cool that GEICO actually would want to send the motorcycle over here, get my factory motorcycle for me to race and compete on instead of just coming in on a 250 and putting a pipe on it—stuff like that. So, definitely, thanks to GEICO on that. But overall I had a great weekend. There was some good racing. First experience for everybody. Hopefully we'll be back next year.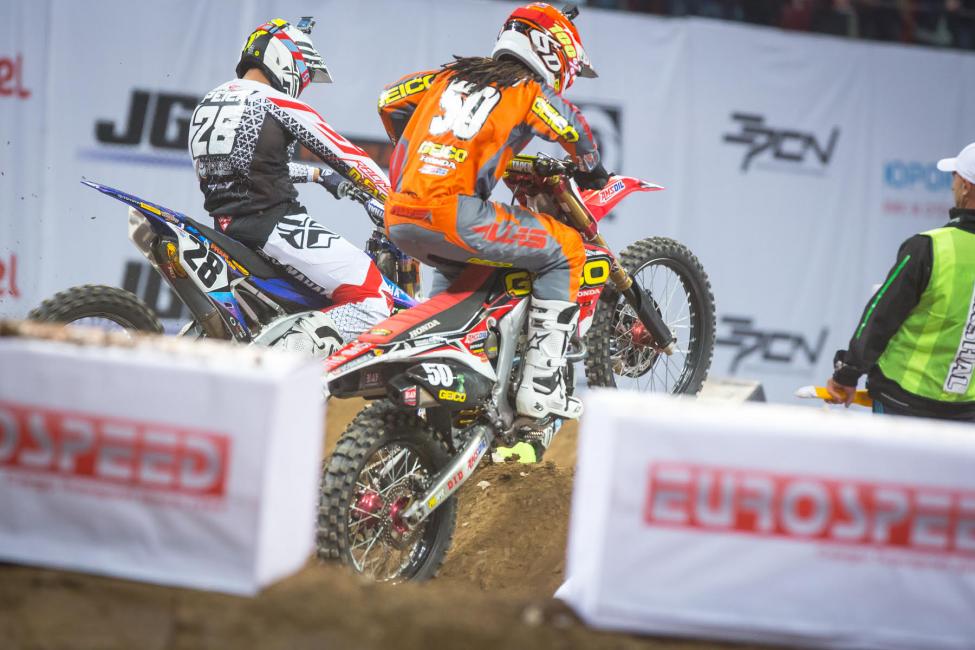 For you, the track was pretty easy, which doesn't help you because you're a technical guy. You're really good at supercross, so you're just dying to try to make time up out there on an easy track.
I was definitely trying to make some time up, but you've got to think that it's November now, so the races to take chances and stuff are back in the States at Anaheim 1, not over here. A lot of the riders get paid to show up, and it doesn't make any difference if you win or not. Fortunately, this is one of the races where if you do win or get on the box, you do get a watch. So I think that it's kind of cool that these guys changed it up for us. I can't imagine what they're going to do for next year.
Classic example: I think if this was Anaheim and Peick and the bracket racing, you needed that spot and you wouldn't have went down. It looked like you jumped into him. Maybe you were like, "Uh oh, I may hit him," and you checked up and went down.
It was actually Brayton. When I went and I jumped inside, at the time I came in and I second-guessed myself. I didn't want to hit the guy. I didn't want to take him out. I just wanted to do a little block pass. So I just grabbed a handful of front brake and just laid her down. We're not racing for Anaheim 1; this is just bracket racing. Just doing stuff for fun. I told him, and he knew what I was doing and I laid it down. Nobody got hurt or anything. But it's good racing. It makes it fun. I have no bad blood with Brayton either, but if it were somebody else that I didn't like, yeah, for sure, I would have never laid it down.
What'd you think of Bulgaria and Sofia in general?
It's not a bad country; it's actually pretty cool. Really chill, I would say. Mainly, I haven't really gone out and experienced everything. It's definitely a lot more different as far as how they do things and food. But any food in Europe is a lot different. I think it's honestly just like any other country, but we only come back here once a year, so it feels like it's different.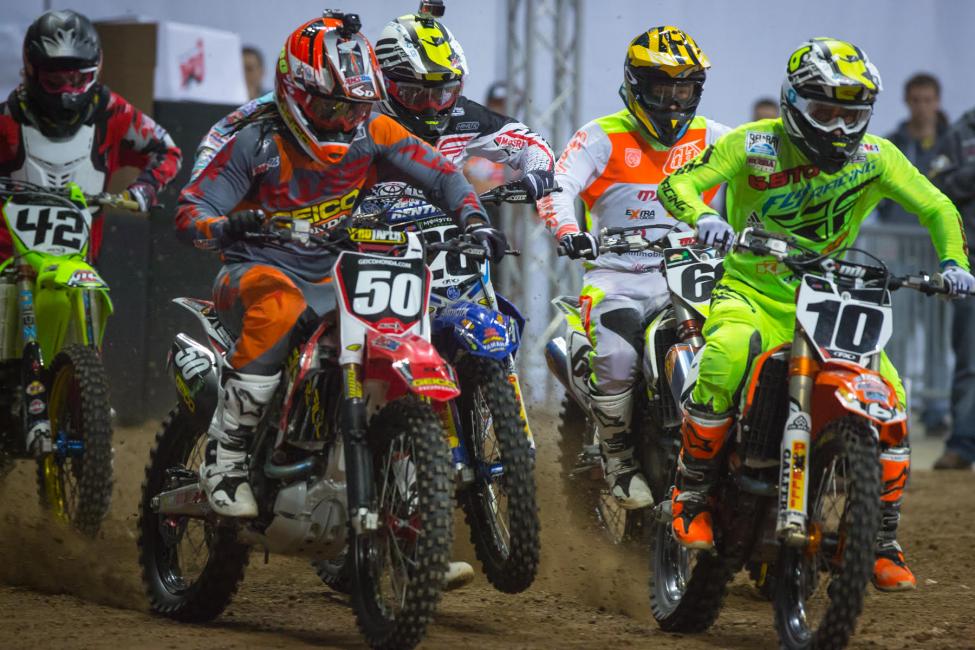 And you're doing all four [Sofia, Genova, Bercy, Geneva]. It's hard to turn down the money and it's real racing. You get some experience underneath you. You don't have a lot of gate drops—you only did supercross. It's a win-win-win thing. I guess the traveling sucks, but it's a nice thing.
Coming overseas, the money is good, but also, I took the entire summer off so I haven't had any gate drops since May 2, and then I did Straight Rhythm and this race. So I have two races under my belt, where all the guys like Brayton, Peick, the class I'm racing against, they've been racing. It's hard to turn down money, but if you do it, you've got to plan it. You don't just jump on a plane and fly fifteen hours and go to a race. You've got to plan this and think about all the training and all the other things that you are not going to be able to do back over here. But the money's good and money talks. A lot of riders turn down this stuff, and they might regret it if they didn't. You take this little chump change like this and just throw it in the bank and then go make your real money at A1.
It is good racing. It's intense. At the end of the day, nothing can beat racing.
Not at all. These types of tracks are really intense, believe it or not. It's not that it's technical; it's because it's so small that you don't have any place to breathe. Usually, in supercross, I've had times where I'm leading a race and I pull away from the guy because you've got room; there's plenty of track. But here it's so short and everybody does the same thing, so you can't make a mistake. That guy's right behind you and then you run into lappers…. You're talking about twenty-second lap times. You're not talking about forty-five- or fifty-second lap times. So it's cool. I like it.