Up in Canada, the Rockstar Energy CMRC Nationals are winding down. With just two rounds left, it looks like the new boss in the MX2 class is the old boss. KTM's Kaven Benoit has a commanding lead and could possibly clinch his second title this weekend in his hometown province of Quebec. Last year, Benoit switched between a 250 four-stroke and two-stroke (legal in Canada) to win a tight title battle with Vince Friese. The CMRC changed the rules in 2015 to prevent switching machinery, and a rider cannot have an internal motor mod if he rides a 250 two-stroke. No matter, Benoit chose the smoker, and it's been working better than ever for him.
I called him to get his take on the year, as well as what it's like riding, and winning, on a two-stroke.
Racer X: You are on quite a roll—eight moto wins in a row and six out of eight overalls in the 250 class. You've got to be happy about the season so far.
Kaven Benoit: Yeah, for sure. It's a dream season so far. I've won six weekends out of eight, like you said, and eight moto wins straight. I'm feeling awesome. Nothing's wrong right now. Everything's rolling and I'm really happy.
Last year, you won the title and you switched between the two-stroke and a four-stroke. Now, the CMRC put in what we all call the "Benoit rule," where you had to pick a bike ahead of time. You've picked the two-stroke. What went behind that decision to ride the two-stroke all year?
That was a tough decision for sure. We had to go back to the drawing board and make some tests over the winter. Last year, my two-stroke was legal, but we had some motor work in it. It made it an awesome bike. This year, we had to leave the bike stock, no engine modifications. So it was just a pipe and fuel. I was not sure in the beginning, but we compared lap times like we did the year before with both bikes, and it came up that the two-stroke was still the way to go for me. The other thing for me was the reliability of the bike. You don't ask yourself if it's going to finish a moto or not. The motor is going to last for sure. Anything can happen for sure. It's a mechanical machine, but compared to the four-stroke and especially a modified one, it lasts longer. Guys had problems with four-strokes, especially the 250s because you want them to be fast and you put some extra risk in it. So that was the main thing that made me decide to ride the two-stroke this year. I know I can ride it really good on any type of track. It was the way to go for me this year.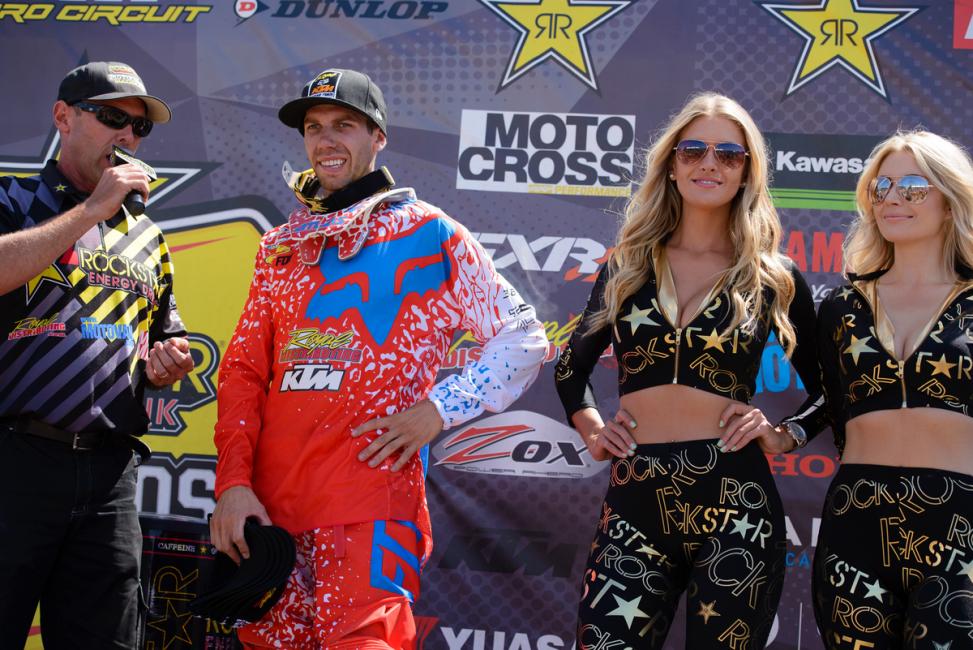 Are there times where you're thinking that you wish you had a four-stroke, and are there times you think you're happy that you switched to a two-stroke?
Well, Moncton this last weekend was very tough. Even though I won both motos, I had to work really hard and had to focus a lot because the two-stroke is a hard bike to ride on slippery tracks. This weekend, the track was pretty slippery. We started in the mud in the morning, and it kind of stayed wet a bit all day. Even when it got dry in some sections, it was kind of flat corners, and it made it tough for the two-stroke. If I had the choice, I would have rode a four-stroke last weekend, but I still made it work. I'm not a quitter, so I don't put negative thoughts in my mind even if I know that the bike is maybe not the perfect one for that track. I'm still going to make it work. I'm super positive about my riding abilities. There are some tracks this year that, if I had the choice, I would have switched to the four-stroke. But at the sand tracks, I had six holeshots in a row, so it works good for starts on sand tracks. On the hard-pack, I'm not sure there's any advantage. I didn't get a lot of holeshots on the hard-pack tracks. It evens out a lot with the four-strokes there.
Do you notice the die-hard two-stroke guys at the races who just love you now?
Yeah, the two-stroke fans—that's a big thing. We saw this year just having FMF and Fox Racing in the U.S., people are just posting stuff of me. This year I got a bunch more fans. It makes people talk about it for sure. I'm different because I'm not riding the four-stroke—everyone else is. There's a couple other two-stroke riders, but they're not winning motos. I'm the only one winning motos on it. So, for sure, for the older guys and the two-stroke fans in general, they're kind of all pumped about it.
Little change for you this year—Jean-Sebastian Roy, Canada's second-best motocross rider ever, is the manager now. He's been working with the team for a while, but now he's the big boss. How's that been?
Yeah, it's been cool this year. I get along really good with JS. With him running the team, it's not a lot different. The program was strong and he got handed a really good program. He improved some things that maybe weren't the best before for us, but this year he's been doing great with that. We're a small team. There's not a lot of people on it, but I think he's done a great job taking care of us. Nothing bad to say about him, for sure.
He was a great trainer back in the day, and he still keeps in pretty good shape. When it comes to fitness, training, or even line selection, that kind of stuff, I imagine he must be a great guy to lean on, right?
Yeah, he's always there in my corner. For sure, we talk a lot on the race days, just talking about lines, like you said, for sure. We're doing that kind of stuff. I got to listen to him because he knows it a lot, and he's done it a lot of times winning those championships. When I have any concerns he's there to help, and that's the good part of it.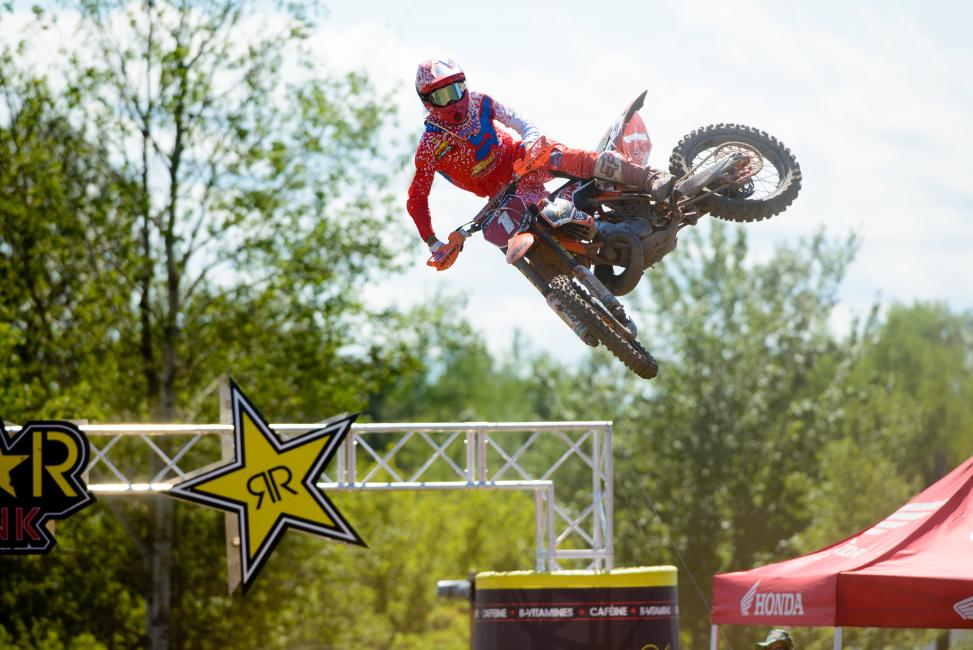 Is your contract up? You're going to have to move to MX1 next year. What's the deal for next year?
Before the season, I re-signed my contract for two years, so it was already in the deal that next year I was riding the 450 no matter what, if I was winning or not. Next year, I will be racing for KTM in the MX1 class.
I know you tried to do Geneva SX a couple times, but it hasn't worked out. Any American stuff planned, or overseas stuff for you?
Well, we were talking, me and my teammate Cole Thompson, last weekend about doing the last AMA National. We haven't set that in stone right now, but we're thinking about it. Looking to team up together and go. I would like to do that. It will probably be on the 450 because we don't have any 250s right now. We're looking to do that, but it's not sure yet. But there's some chances that we show up.
How's the competition for you been? Early on it was you and Jimmy Decotis for many motos. And then Jeremy Medaglia, of course, has shown some speed here and there. How's the relationship with those guys, and how is it racing with Decotis and Medaglia and the other guys?
Competition has been really good this year. It was a bit more relaxed than last year. It was a bit easier on the mind. But Jimmy's a great guy. Had no issues with him. He's been really fast in some rounds. He had his troubles lately, but he's probably going to have some other good motos by the end. And Jeremy's been really solid too, but both guys had bike issues during the season, so it hurt them a bit in the championship. The racing's been really good. Some people say it was boring a bit in some ones because I was kind of alone out front. But these guys are fast. I got to be honest, for sure, because they're fast also.