Spring Creek MX Park
Millville

,

MN
Spring Creek (Millville)
Lucas Oil AMA Pro Motocross Championship
For years, it seemed Ryan Dungey might never lose at his home race in Millville, Minnesota. It didn't matter the class (250 or 450) nor the competition (From Ryan Villopoto to James Stewart); Dungey had Spring Creek dialed. But after winning the event in consecutive years from 2008-12, Dungey had gone winless the past two seasons with Stewart (2013) and Eli Tomac (2014) capturing wins. Although Stewart and Tomac were gone, Dungey had to deal with a red-hot Justin Barcia, winner of consecutive overalls, if he wanted to break his two-year losing streak. Dungey was nearly flawless on Saturday, topping qualifying and putting in a 1-1 performance—his first sweep of the year—to claim his first overall since the Tennessee National in early June. He talked about his day in the post-race press conference.
Racer X: Congratulations. A fine race day for you, definitely from where we were sitting. How did it translate from your perspective?
Ryan Dungey: I guess just starting the day out right from practice. The first practice wasn't so good—it was a little muddy. But then the second practice, the track came around. Going into last night, we got woken up at 2:00 a.m. because the storms were just hitting hard and it was raining. I was like, I know it's going to be muddy, but if we don't get that afternoon shower, judging from the experience here that I've had, the track's going to be awesome by the time we go out there racing, especially for second moto. And it was. We got off to a good start and got into the lead the first moto and just tried to be consistent. Put down good laps. It was really tricky because there was a lot of soft spots and hard spots, so the bike wanted to get sucked up a lot in the soft areas. And then the second moto I had a good start but then got shuffled there in the first turn. Kind of got back, made some passes, and then got up to [Justin] Barcia, and then was able to make the pass and just really tried to push it from there. Opened up a gap and then came in for the win. Overall it was good. I was looking for that 1-1. I had won that first moto, but I really wanted that 1-1 just because I hadn't done that all year, and I really feel like it was time to get that done as well. Not greedily or anything like that, but that was my goal today regardless of being at the hometown race.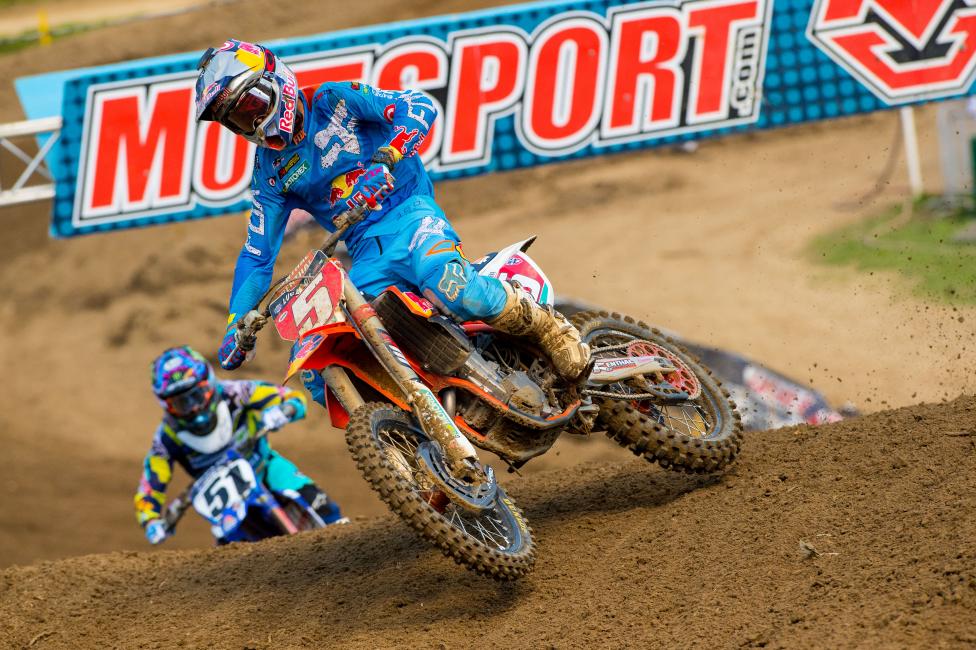 Talk about the downhills. It really looked like you were picking up a ton of time there. What were you doing different or special?
I guess the credit I got to give to the team. We did some testing this week and found some new things. With the new bike that we started with this year, it was new coming into outdoors, so it's taken us some time, but I really feel like we're adapting with the times and the tracks and gaining really good progress. They're minor changes these days, but I really felt like a couple adjustments we were able to make during the week and then a couple clickers this week, I just felt comfortable. I felt like my bike allowed me to do that. It felt plush and comfortable. There's a point where the bumps got pretty steep towards the end of the moto. So you were getting kicked more, but in the beginning that's where I was able to make up a lot of ground I think in both motos, just coming down the hill and getting down into the corner quicker. I knew that if there was going to be a pass made, that's where I needed to do it, so that's what we were able to do.
The storm last night, how did that interrupt you? Would you have been well asleep normally on a night before a race, or how did last night's storm affect the way you might have normally prepared for a race?
It woke us up. I definitely was a little bit nervous because there's no cell service down here [note: Dungey sleeps in his motorhome in the pro pits at the track]. I couldn't check the weather. I didn't know how bad it was. It looked nasty. And then on top of it, if there were a tornado, not just me, but all of us here, we would never know unless somebody came around and said something. But me and my two other brothers, Jade and Blake, we were in our underwear outside trying to get the awning down before the wind started picking up. You should have seen us three out there. It was chaos, but comedy too. So we got back to bed. No big deal. It was just… what do you do? You're in a motorhome. It literally woke us up, all of us at the same time. A big gust of wind hit the motorhome, and it almost took the awning and it slammed back into the motorhome. Pretty crazy, but it worked out.
Considering the outcome at RedBud, how much concern did you have with Barcia in that second moto when you were chasing him and then also once he got by you?
Barcia's going good. The last three races he's coming off of some confidence. He's got some confidence from winning the races and then obviously beating me straight up at RedBud. There were some things at RedBud we needed to fine tune, and that's what we were able to do this week. Like I said, we did an awesome job. But I knew that both motos he's going to come out… the starts are good. It seems like he always gets good starts and he opens up good. He's got that intensity, so therefore I'm going to have to match that and then some. Then the second moto I was about fifth. I got shuffled back, and then I made the passes happen real back. Found myself on Barcia, and it took about four or five laps I believe to get around him, but once I was able to get around him then I know I can't stop. Then I know I need to just keep on that pace and even try to pick it up, because when you're behind somebody, it's tougher because you're getting roosted. But when you're in front, now I'm able to ride my lines. So I was able to kind of raise that intensity even more. And yeah, it's uncomfortable physically, but that's what it's going to take to get away from him and open up that gap and win. So knowing that and then the last couple laps I was able to kind of chill out a little bit and run it in for the win.
Did you pick up anything watching his lines when you were behind him, or did you just stick to your lines?
No, I stuck to my lines. I searched around the first moto a lot. I knew what I should and shouldn't do by the second moto. I feel like some insides really opened up really nice. Like I said, the track was unbelievably good. I knew by the second moto traction was fine. The bumps were a lot of fun to time and everything. And then the sand rollers in the back got really good. So the track really set in, and I was able to kind of take the lines I wanted to in the first moto, but the first moto wouldn't allow me because it was just so deep.
What about in the first moto when you tried to do the triple up the hill? You thought you had the drive, right?
[Laughs] Oh, yeah. I knew we were going to be doing it either way, but I heard [Jeremy] Martin went for it and came up a little short. So I kind of tested it out on the parade lap, kind of let's see here. But it took a little bit more gas than I anticipated, and I didn't give it all the gas I should have. It's funny because you'd think it would just carry you up over the hill, over the triple, and it didn't do that. It more shot me up. I'm like, oh, man. So you're coming down with all this [force], straight down. And it's sticky and it just sucked up everything. I almost got passed back by [Phil] Nicoletti. I cased it a bunch of times. I couldn't get it timed right the first moto. By the second moto, I was like, all right, I'm just going to over-jump it a little bit. When I was able to land I was just on the gas driving. You had to do it clean to get the double after it too. And there's time to be made there. There was a lot of time you could gain or lose.
It looked pretty miserable the first time you did it.
I think there was only three of us doing it, from what I understood.
You had won here I think five straight years and then lost the last two. How important was it to come back here and win on your home track?
Important. I felt like it's a track that if we're going to win this is one… I like the dirt. I like everything about it, so there's a good comfort here. But to not win was a little bit upsetting. The first year, 2013, I'm not sure what happened. Oh, yeah, wait, my chain derailed and I had to put the chain back on. So I was fortunate to even get a podium that year. And then last year I just shuffled around, fell over, this and that. So I was really upset just because I really felt like it should have been a win. So this year things were dialed in more. The bike was better. I felt better. There were just a lot of positives. And we're at that point in the season that everybody's kind of slowly getting separated mentally. I really wanted to be that guy to push through to the end.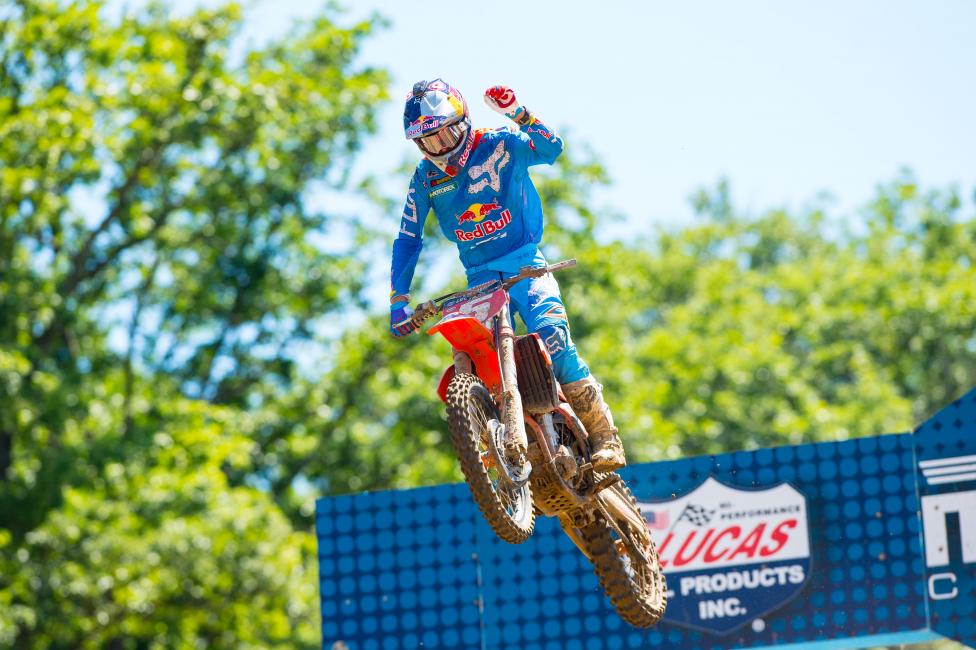 Talk about the ESPY. You're the first motocross/supercross racer to do it. First motorcyclist since Pastrana in, like, 2007. What does this mean for you and the sport?
Well, the sport especially. We found out Wednesday night as everything was taking place. We didn't get to make it, which is fine. We had a lot of press and media around the race, so that's why I flew home. But it was kind of cool. I walked in the door and I got the text. I saw Twitter from a guy named Dan, and then I got a text from Mark, my agent, and congrats. I was hoping that we were going to win it, and it seemed like a long shot, but we won. I was like, wow. My mom and dad, me and Lindsay [Ryan's wife], we were jumping up and down screaming. It was kind of a cool moment, not just for us, but for the sport. I think it's really important that the sport gets that recognition, and I really think it's the dedication of all of us, the motocross community, and all the sacrifice we've all made to get everything better, and the TV packages, everybody. Not leaving a person out. I think we're reaping the benefits of all that over the years. It's definitely cool to be the first one, but by no means do I look at it as me. It's all of us who won that one. So it's definitely exciting and I think our sport has a bright future. A lot more good times up ahead for sure.
The charity event going on Sunday, are you going to run? Are you going to cycle?
I'm doing the 5k. I'm going to recover after today.
And then what do you have going on the rest of the week? Is it more testing for you guys?
Tomorrow is the Minnesota Major. We'll do that. That finishes up about 1:30, and then after that I get some time to hang out with the family. And then Monday we have some things going on downtown at the Target headquarters. So that's exciting as well and good for our sport. Back to Florida Monday night, and then to Washougal Friday morning.