Spring Creek MX Park
Millville

,

MN
Spring Creek (Millville)
Lucas Oil AMA Pro Motocross Championship
Coming into the 2015 Lucas Oil Pro Motocross Championship, Gannon Audette had not raced outside since the Spring Creek National in 2013. Before that solo national in 2013, it had been since the summer of 2012 since he had raced the majority of an outdoor season. A lack of support and several injuries have been Audette's Achilles heel the past few seasons.
Gannon has some support now, though, from the Legends and Heroes crew. The Legends and Heroes museum/hauler transports Audette's bike to the races, so all he has to worry about is just getting to the track. The Minnesota native is doing the East Coast rounds this season, and for the first time in his career, he's riding a 450.
We woke Audette up early after a late-night drive from Tallahassee to Millville, Minnesota, to get his thoughts on his return to the Nationals and his homecoming race this weekend.
Racer X: A bit of a late night for you last night, right?
Gannon Audette: Yeah, it was really late. I wasn't really planning on it, but it was kind of a last-minute decision to come up to Minnesota. I just came up to stay with some family for Millville this weekend. I'm just doing the East Coast races this season, so I'll have a three-week break after Millville. I'm just going to hang out up here and get some training in. I brought my mountain bike, and it'll be a little different training up here.
Did you drive straight through from Tallahassee?
Yeah, we got to Minnesota around 1:30 in the morning.
That's quite a haul.
It honestly wasn't as bad as I thought it was going to be. I suppose that's good though. It was twenty and a half hours and 1,400 miles.
You have an interesting deal where you don't have to drive to all of the races. The Legends and Heroes team takes the bike from race to race for you. How many races have you actually driven to?
My dad and I drove to Muddy Creek to get the bike there. The Privateer Journey semi then took my bike to High Point. After that, my team took my bike to the rest of the rounds. The only rounds that I have driven to were Muddy Creek and now Millville. The Muddy Creek drive wasn't bad at all. That trip took only ten hours and we were in the motorhome.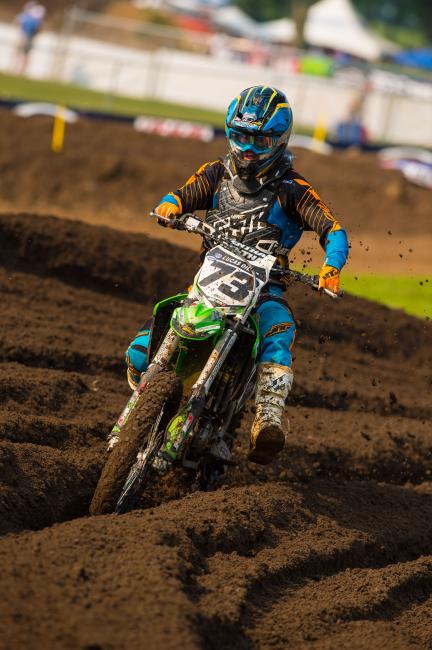 You have been healthy, have moved up to a 450, and have been doing it on your own for the most part. What do you make of your season so far?
It started off well and it's gotten better. At Muddy Creek, I went 17-21 for nineteenth overall. I was pretty happy with that considering I haven't raced outdoors in two years. Moving up to the 450 Class has gone well, and it's caused me to ride a bit differently. I feel that the 450 suits my riding style a lot better. I've been improving every weekend. It's been great, and I've really enjoyed it. Last week at RedBud, I had a bike issue. Otherwise I have improved every week. It's been a great year so far, and I'm looking forward to the rest of the rounds.
As far as not racing the outdoor series for the past two years and now getting back into it, are you pleased with the results that you have been getting?
I guess I'm happy with my results, but you always want to do better. I really want to be in the top fifteen. That would be really nice. I just need to work on a few things. For the most part I'm happy with the results and how the year has been going. I'm just looking to improve, and hopefully I'll get inside of the top fifteen in the remaining rounds.
Your best result was at Budds Creek, and you finished fourteenth in the first moto. Did you feel more comfortable in the mud?
I don't really like the mud or the sand, but my best moto ever was at Southwick in 2011 and I got fourth. That was in the muddy sand too. I guess I like the mud now [laughs]. At Budds Creek I didn't get the best start in the first moto. I just tried to stay consistent and on two wheels basically. In the second moto I ended up getting a flat tire on the fourth lap. Luckily, I had a good start and the track was really muddy. I was able to keep it on two wheels. Thankfully, I still came away with a twentieth in that moto. It was a good weekend. It was something different, but I wouldn't want it for every race.
You couldn't have asked for a better race to get a flat tire though. At least you were able to still be competitive in the slop.
I was pretty happy with how it all worked out. The flat happened right away, and I could feel it when I hit the jumps and things like that. I had to stop doing the jumps, but thankfully there weren't too many jumps to do. It was slippery in the off-cambers because there were no ruts. Underneath the mud was a hard, rocky base, so that was really slick. I just had to work it a bit.
It's funny that you mentioned that you don't like the sand. You live in Florida now and you grew up racing Millville. How about relocating to the Midwest?
[Laughs] It doesn't make much sense, I know. Down where I live, in Tallahassee, we don't have much sand to ride. I ride at Earl May's track, and he has a mixture of dirt. It's not deep sand or anything.
How's Earl looking for Loretta's this year?
He should be ready! I think he leaves for the race next Wednesday. He's looking good.
What were your goals coming into the 2015 season? You only have three races left on the year; did you accomplish what you set out to do?
I just wanted to prove myself. Even though my results didn't show it in supercross, I still feel like I made a lot of progress. Things that I was struggling with last year I made huge improvements on this year. Everybody stepped their game up this season, like always. It wasn't a terrible supercross season, but it wasn't my best. I was happy with how I was riding. In the outdoors I just wanted to be inside the top twenty and scoring points. So far I have accomplished that. I just want to get better each weekend and learn as much as I can. This year has been good, but it's had its ups and downs. For the most part I have been pretty consistent.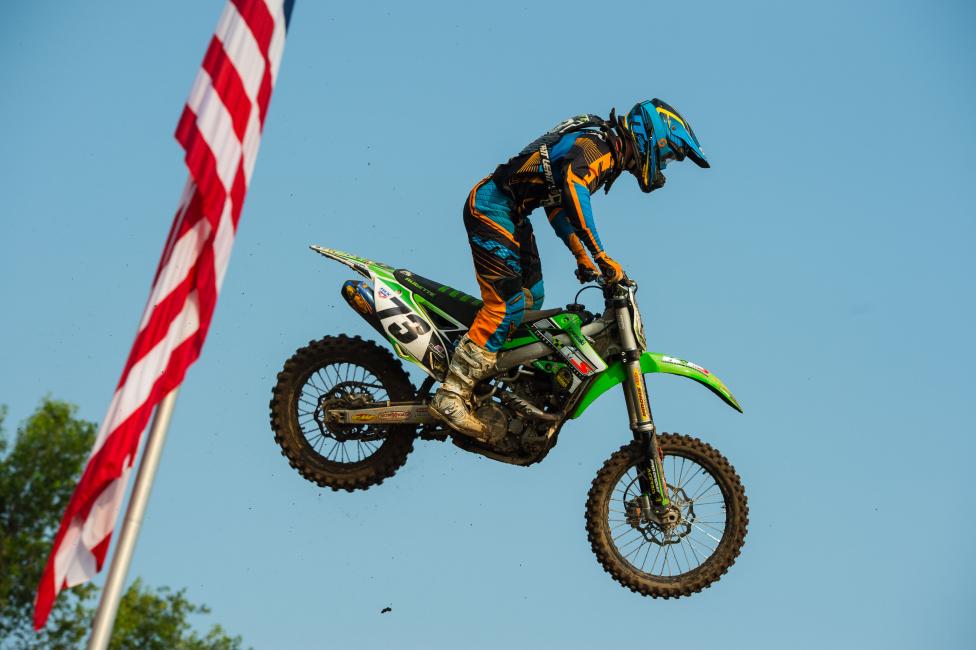 Gearing up for Millville on Saturday, do you have a lot of family and friends coming to the race?
Yeah, I have a few friends coming out and of course my family. Millville is always a good race to be at. I like to have them all there because they don't get to come to many races. It's nice to have everyone there, and it gives me some extra motivation. It's always a fun race, and I look forward to racing the track every time I come here.
A lot of the riders will have that home-field advantage this weekend, including you. What do you think about all of the Minnesotans doing well on the national circuit?
It's pretty cool to see. There are a lot of us, and it's great to see everyone doing well. It's crazy, growing up and racing all of the other guys in Minnesota, and now here we are ten years later and I'm still racing them.
Who is Gannon Audette when he is off of the bike?
I just like to hang out pretty much. I live a mile away from Jeremy [Martin], and we hang out a lot. Other than that I just lay low and get ready for what I have to do each day training-wise. I enjoy golfing as well. During the season I enjoy cycling a lot, and that keeps me pretty busy. I'm a pretty laid-back person and I'm easy to talk to.
Do you Minnesotans have a big old-school sleepover the night before the national in the Martin's backyard?
I don't think so [laughs]. If they do I haven't gotten an invite yet!