Jeff Ward rode for Kawasaki for basically his entire career, as did Ryan Villopoto. Jeff Ward wore Sinisalo gear for virtually his entire career, as RV did with Thor. Jeff Ward is one of the all-time greats, as is Ryan Villopoto.
We figured Jeff Ward might have some perspective on the Villopoto retirement news, although it's also worth noting that while Wardy retired from professional motocross and supercross in 1992, he's still a racer, competing at a high level in a variety of car racing series.
Racer X: Let's get to what you're up to. You're back driving a car really fast again. What's going on these days?
Jeff Ward: It's the Red Bull Global Rallycross that they have in the X Games. Their series has been running for three years or so. I tried to get into the rally at one of the X Games maybe four years ago, and you had to race one of their races, Rally America. I would qualify to ride it, but it was hard to find a team that had a car. I was kind of over it. And then I didn't want to do off-road trucks. They kind of beat you up when you roll and stuff. It's fun, but it's a different type of racing.
And then I saw that Chip Ganassi was going to have a rally team. [Brian] Deegan signed up for some races, kind of hired them to run his cars through his sponsorship. So I called Chip and he's like, "Heck yeah. Let's see what we can do." So I talked to his people and put a deal together with 360 Fly and a couple other things. So we have three races. We did two in Daytona, and then Washington D.C., I think, is August 14. And then maybe one in L.A. in September depending on the availability of the car. That's kind of how it got going. I jumped right in and was competitive right away, so it was cool.
You drove the off-road trucks. You've driven IndyCar. Yeah, this is rallycross, but a good driver's a good driver, right? It didn't take much for you to figure it out?
No, the car is a little different. Four-wheel drive. Dirt sections, and the pavement stuff is pretty easy, and the dirt was easy. The off-road truck stuff I did for a few years got me ready for this. So it's a lot less aggressive than that, a little more precise. I've got to admit, it's kind of like supermoto. You got a car on dirt with slicks looking for traction, and then you kind of come onto the pavement with dirt and you don't have the grip that you would in a normal car. So you've got to let up a little bit and then be aggressive when you can. It's right up my ally, really. I won a couple heat races and a semi, just that type of racing where you get banged around. I was on pole on the second day, qualified third the first day. So right away I was one of the fastest guys, but it helps that he [Chip Ganassi] always has a good team. The car was a good car. I feel like I'm competitive, and I should be able to be right up there. I have been with everything else I've done. And it's fun. It is a fun car to drive. That's a plus. It's not like going IndyCar racing, where it's so hectic. It's just a lot more fun. But it's nerve-wracking.
You're a guy that seems like you need the adrenaline and the competition. It seems like you're always doing something like that. You're always racing something. Sitting around riding your bicycle, I guess, gets a little boring for you?
Yeah, since I was 4 years old that's all I've done is race. It's all I've ever done. And except for a year or so of maybe not doing anything, I've raced something. I've gone from motocross to IndyCar to supermoto to off-road trucks to maybe a year off and then mountain bike stuff. I also did the Robbie Gordon [off-rod truck] series last year. I'm just competitive, and if it's fun, I'm there. I love mountain biking. I do mountain biking every day. I did some of those races, and they're fun in their own way, but sometimes it's torture. I've kind of suffered in the past a lot, but I still enjoy that too. I just have to be realistic on that stuff. So I'll see where this goes.
It doesn't really conflict with any supercross or any training with Cole [Seely] or anybody I work with up until summertime. And then once the Nationals start you're kind of on your own anyway. I can't help with the track as much because you can't see the whole thing. It's not like supercross where you can say, "Here's what you need to do. Here's this, this, and this, and it works." Outdoors, you're like, "I don't know. I can't see 90 percent of the track. So I can only get you ready before you get there." So it'll work out good. We'll see where it goes. Should be fun.
Talk about working with Cole a little bit. He won some races this year, and I think overall it's been a really good year for him in the 450 Class. Talk about what you're working on and what it feels like to be back at a lot of the races again.
I worked with [Jason] Anderson last year, so it was all the West Coast, the Nationals, so I had to kind of get back in the role. [For this year] Jason was doing something with Aldon [Baker]. I was like, "What am I going to do for you?" He still wanted to work with me, but I'm not going to be able to do what I want to do. I've always known Cole from mini bikes. I've worked with him before. He's stayed at my house. We've traveled with him with my oldest son, so I know the family and it kind of came together. Cole always had a ton of potential. I think it showed this year at supercross. His confidence didn't come in until probably halfway through the season. Now he's got that for indoors, and next year we're really going to build on what we've been building on this year and try not to get hurt.
He did get hurt with his hamstring, kind of knee/butt muscle area. We just started riding today, and he feels fine, but he's behind the eight ball with the outdoors. He's proved that he can run up there. At the beginning he just got hurt at Hangtown, hit his head, but then he started running up there. It's kind of been not going the way he wanted it to, but he showed his speed at Colorado and a few other races. He just hasn't got to that level yet of confidence that he feels he can run with the leaders for the whole moto. He's missed a lot of training because of some little stuff. Next year he's just going to be way ahead of what it was last year going in. I feel he's going to be a title contender next year in supercross. That's what we're shooting for.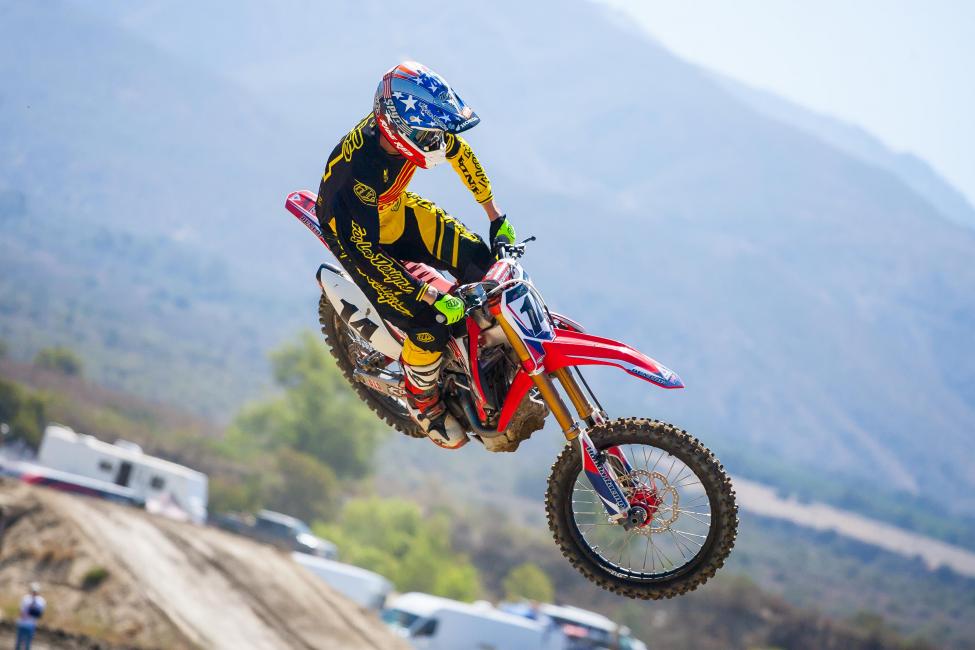 What's his best strength on a dirt bike do you think? And what's his thing that you need to work on?
In supercross his talent of carrying his speed and staying low over rhythm sections and just his flow and his line choice—he gets that from his BMX stuff—and his timing. He's always needed more strength. His cardio is actually pretty damn good on a bicycle, which translates over to supercross because the breathing thing, but then he needs a little bit more of the physical [side], and then the mental side is the big thing. He got that little bit this year. It's always been a downfall throughout his whole career. It's that mental confidence, and it's hard to give that to somebody. They have to dig down deep within themselves no matter what they do. It doesn't have to be just motocross—it can be life.
We'll see if he can put a whole year together with confidence and just doing everything right. He needs some more mental strength. That's all these young kids need. They get it for a bit and then it gets knocked off. All of them. [Justin] Barcia's gone through it. He's had it and then he gets hurt and it's like, where'd he come from? All of a sudden now he's worked his ass off. He's got his confidence back. Cole was beating him halfway through the season here in the outdoors. That's the kind of toughness that you need to find. Cole's got to bring that and I think he will for supercross, and until he finds it on the outdoors a little bit it will be a little struggle.
I wrote in my column this week that with Barcia, they didn't find new bike settings, he didn't train harder—all he did was win a moto in the mud, realized he could do it, and he went out and won again. This was probably one of your big strengths. Confidence is something that's hard to get, but it's easy to lose.
I just had it from an early age. I doubted myself when I started the Nationals. I was small. I would get beat. I would get lapped. That was unfamiliar territory. You just buckle down and you just do what you do, and then all of a sudden you're there. Then you win a moto and then it's all of a sudden… nothing's changed. It's just all of a sudden your mindset from the start is that there's none of that crap going on. It's just "I'm winning, and that's all I've got to do." Where these guys have so many things going through their head. Barcia, you hadn't heard about him all this year until he won that moto, but he's also been putting hard weeks in. After his injury I'm sure there's three weeks or so where he tanked a little bit. Then all of a sudden it comes together and it just clicks, and bam, you're right back. I would expect him to come out no different this weekend—holeshotting and running up front—until something else changes or an injury or something happens.
But now he's at a point where you can be dead last, and when you pick it up, the only thing in your brain is that I'm winning this moto. That's how you get on the podium. You don't say, "I want to get top five." Then you're going to get eighth. So that's what these guys have to get. To this day I still go in believing I can win no matter what I do. It's weird. Even if it's a stupid mountain bike race, I'm on the starting line with O'Show [Johnny O'Mara]. My mentality is still I can win this thing, but the reality is no way. Doesn't take long to figure it out. Only a couple minutes, then I realize I'm in over my head. Just that mentality of no matter what it is I can do this.
Obviously you know all about Ryan Villopoto hanging it up last week. One of the greatest riders of all time. He went to try the GPs and it didn't go well. What are your thoughts on him hanging it up and his quest to be world champion that didn't quite work out?
I was bummed about that. I really wanted him to go over there… I know there were bike issues and so many things, things are so different over there. The fact is that those guys haul ass on those tracks over there. No matter what they do over here, it's different going over there. I really thought once he settled in he would be a championship contender for sure, once he figured it out. But I haven't talked to him, so I don't know where he was at beyond this year, like if it went well, if he won, or this was going to be it. It's a mindset. I don't know his mindset, what he had down the road.
But that's his focus. It doesn't take much whether an injury or a bad season to pull the plug. He doesn't need the money. He doesn't need to prove himself. So when that kind of stuff snowballs it's pretty easy to step out. The guys that step out and come back either need money, or they didn't get what they wanted out of the sport and they still feel they can do it and they come back. But he seems happy with his decision, so more power to him.