Warren Reid grew up in Southern California and rose to fame during the 1970s in the golden age of motocross. As a kid, Reid cut his teeth running around the famous Indian Dunes riding park. During his career, Reid had factory rides with FMF Honda and Team Honda, as well as Kawasaki, Suzuki, and Yamaha. In addition, after his motocross career slowed down, he also rode for BMW (in Baja) as well as ATK.
Reid was an incredibly talented rider and enjoyed a professional career from 1975 to 1985, a time when the technology in racing was growing and changing literally by the month. In his time, a ten-year career as a professional racer was somewhat rare. Reid was known as one of the good guys in the sport, but he was also a fierce competitor who had a knack for being self-sufficient. He managed to avoid injuries and retired on his own terms.
Today, Reid lives in Atlanta, Georgia, and works for American Honda's power equipment division. We rang him up to talk about his life as a racer and what he has going on today.
Racer X: Warren, what's going on? What are you doing these days?
Warren Reid: Well, I've been with American Honda for twenty-five years now, and I'm in the power equipment division. We're in charge of selling all of Honda's lawn mowers, generators, and marine outboards. My primary focus is on sales of generators and water pumps, trimmers, tillers, and snow blowers. I have a team that manages sales from the Colorado Rockies all over to the western part of the States. We're based out of Alpharetta, Georgia, and I've been down here for about eight years now. But when I started with them [Honda], I lived in Williamsport, Pennsylvania, which is basically right in central PA.
Not many people know, but central Pennsylvania has a pretty good motorcycle community, doesn't it?
Yes, it does. It's very strong back there. Ryan Young was my neighbor as was his dad Jerry. But yes, there is a big motorcycle following in that area of Pennsylvania.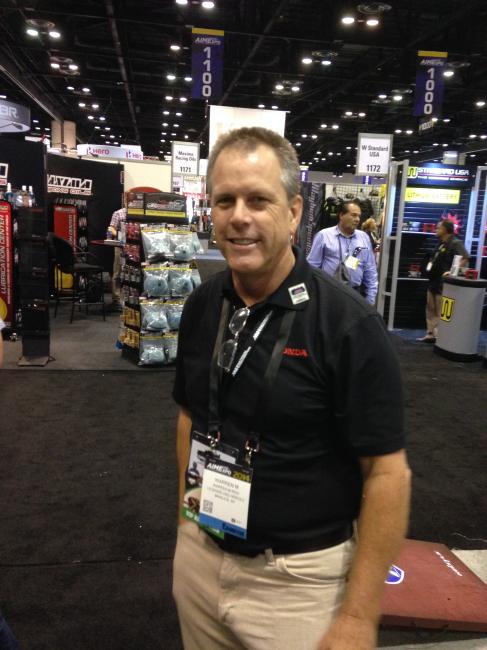 So, here is the question: With your two-wheeled background, how did you end up in the power products division?
Well, I think it starts with the fact that Honda appreciates an eclectic background. The on-road side of motorcycles doesn't interest me that much, and my family was always in the construction trade, so tools are more of a fit to my mindset. When I first started, I was a tech rep and out in the field fixing problems. I worked my way up to the national service manager level for a period as well. So, mechanically, I had a solid background in understanding things. But Honda moves you around to grow your experiences. And for me, I've been able to do both mechanical services as well as the sale function, which has been very cool.
Tell me a little more about the eclectic nature of the Honda environment?
The beauty of American Honda is that someone who has an MBA has the same chance to succeed as someone who might not have gone to college, but instead founded, operated, and sold at a dealership. The company rewards people who aren't afraid to get out and make accomplishments. For me, I didn't go to college. Instead I raced and started my own company after I was done racing. And back then everyone had been screwed by a contract, so the sharp guys figure it out. Honda likes that, and I think the eclectic knowledge and experience can only be learned in person.
Your racing career—it lasted ten years and you had some top results, including winning a national and large number of podium visits. What sticks out when you think back to your racing days?
Well, back then the Trans-Am and Trans USA were almost bigger than the Nationals and supercross. And that's because the best guys came to town from Europe—guys like Roger DeCoster, Adolf Weil, Heikki Mikkola, and Graham Noyce would all come over and teach us a thing or two, and those events were my favorites. But I had long career, which lasted from 1975 through 1983. Then in 1984 I broke my leg. I had never broken a bone before and had never missed a race from injury. So I sat out the whole year of 1984. And that same season, there was a big change over from the teams—the team managers thought there were all these new guys coming up, and a bunch of the older guys got cut. I didn't take too kindly to that and felt that the mentality doesn't accept what perhaps the older guys were capable of. My last season, I was already running as a privateer. Jim Jannard of Oakley was paying my airline flights, and I did pretty good. I was fifth in the 500 Nationals and seventh in supercross. You have to remember that back then the 500 Nationals were huge and that year was stacked. We had Magoo [Danny Chandler], [Kent] Howertown, [Goat] Breker, Alan King, and myself. I was the only one on a production bike.
What happened then in 1984? Did you get a factory ride again?
Well, no. I broke my leg in 1984, and I was pretty much done with racing full-time. I started falling back on cabinet and wood-working trades, and started my own business building cabinets. But I was still healthy and felt that I could ride well, so I became a contract racer. I did a lot of races for Horst Leitner and the White Brothers. And then in 1985, despite starting my own business, I started racing speedway. In April of 1985, I raced the Ascot flat track national. I was racing with guys like Springer, Ricky Graham, and Bubba Shobert, which was cool for a motocross guy. I raced that event and made the program on a motocross bike with dirt track tires. After that night was over I loaded up and drove all night to Hangtown Classic the next day. I was hurting bad, but it was a great experience.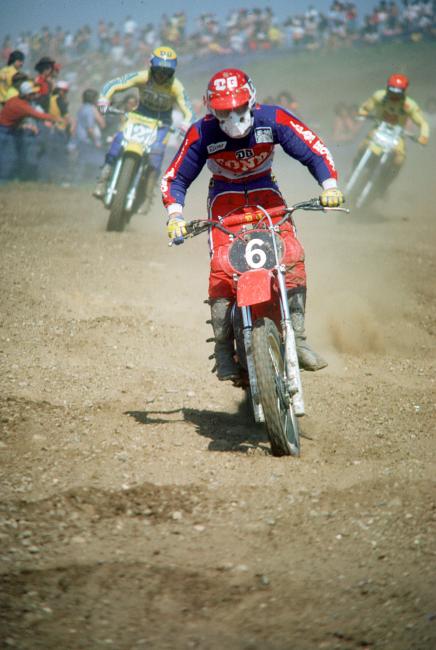 You still managed to finish twentieth that day on an ATK. That is pretty cool.
Yeah, but I crashed pretty bad. Back then, the motos were forty-five minutes—not like the thirty-minute baby motos we have today. And you can print that. But I'm not impressed by the thirty minutes. For me, the last ten minutes of the motos was where you could really make a difference if you were fit. Guys like [David] Bailey, [Johnny] O'Mara, [Broc] Glover—those guys trained hard and could really turn it up for the last ten minutes. But yeah, after that race we drove home and I had to work on Monday morning.
What other races did you do in 1985?
Two weeks after the Hangtown and Ascot race, I went and raced the Austrian 500cc Grand Prix on the ATK. I was racing a 500 four-stroke, and I didn't have a chance against the 500cc two-strokes, but it was still fun. Then in June I raced the USGP at Carlsbad. By then I was working full-time in my cabinet business and also racing speedway during the week. I wasn't that serious about it, but I just liked sliding sideways. Then in the fall factory BMW called me and asked me to race the Baja 1000. We got fourth on that bike; it was the same one they used in the Paris Dakar. Then I rode the Whiskey Pete's Hare and Hound series.
Wow, that is a really diverse year—and you did pretty well from the sounds of it.
Yeah, I'm pretty sure no one has done that many top-line events in one year. It was fun, and I was just enjoying being partially retired and doing what I wanted. Then in 1986 I earned a national number for flat track, but I never really went any further—I was too busy with my business and things were going well. And I knew that the less I rode, the more risk of injury when racing at that level. Looking back it, I think my biggest accomplishment was that I could ride any bike on any track on any surface.
No road racing?
No. I had a pro license to do it, but I never did it. I did do the Superbikers event and beat a lot of the road guys, except for Eddie Lawson. He was good.
Tell me about the progression of the sport during the 1970s—that must have been a crazy time to be involved with the sport, with all the changes and improvements in technology.
Oh, yeah—we had huge changes in the bikes and in the tracks, mostly between 1975 and 1982. By 1982 we were double-jumping, but not like it is today. The jumps were super-peaky. Now, chances are most jumps have a safe landing. Back then doubles were sketchy. The mid-range power-bands helped out, so I was in the transition from motocross into stadium races, which today are the specific tracks that they are.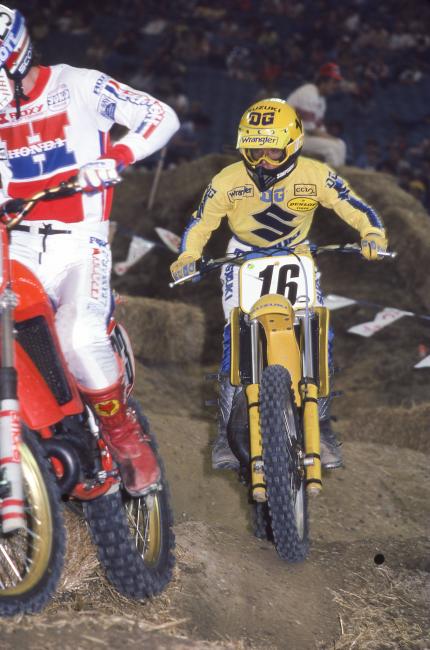 What's your favorite memory from your career?
When I think about my legacy, David Bailey was really the one who summed it up for me. He reminded me at Dallas in 2004 that guys were "using my technique." I wasn't sure what he was talking about, but he said how the guys would get up on top of the whoops and skip through them. Well, I used to do that and really mastered that technique. I was surprised he knew, but I was the first guy to really do it, and I did it at the Pittsburgh Supercross in 1983. That was the year I beat Bailey in the heat race because of my technique. You see, back then guys would dance through the whoops jumping say 3–4 at time and making little doubles out of them. I just pinned it across the tops and said screw it.
How did you know you could do it without crashing?
Well, I didn't really, but I knew from my time riding at Indian Dunes, there was this one section of whoops that was really long, and I started doing it there. I knew as long as the front wheel stayed on top, I knew I could skip across them. But they were really peaky and nasty back then and it was hard. But yeah, I'm happy to take some credit for that move.
You have some pretty deep family ties to motocross, don't you?
You could say that! My step-dad was Jon Rosenstiel, who was Broc Glover's mechanic and the famous Yamaha engineer. He met my mom through my racing. I was out there at Indian [Dunes] on an SL125 waxing some guys. He told her to get me a new bike—which was a new Honda CR125 that had just come out. I turned pro after only six months of racing. But Jon taught me to think about technique and how to make the bikes better. With his support, I started to make my own pipes. My mom got me a welder, and I started welding pipes for FMF. For me, it was so cool to have that kind of mentor. We were a single parent household, and we just hung out with motorcycle people. I think the three people who had the biggest impact were Dennis Blanton, Roy Turner (who worked at the local Honda shop), and Jon R. I was around those guys all the time.
The sport was so young back then; it must have been a special era.
Oh, for sure. My mom Carroll was always at the races in 1973 and '74, and by the time 1975 rolled around I was testing with Al Baker. He taught me to think about handling and where the best places were to apply the throttle. I was all over the place with so many great people. I had some skill and these guys taught me so much more. A lot of the guys working in the porting room at FMF were awesome as well—Robert Haag, I remember him well. I also met Dave Miller of DMC and was around the FMF and the Honda factory program back then. You really learned how to think and to prepare a motorcycle, as well as when you could get experimental. And you know, those guys had a blast back then—it was a lot of fun. I somehow don't think there is as much fun in it today.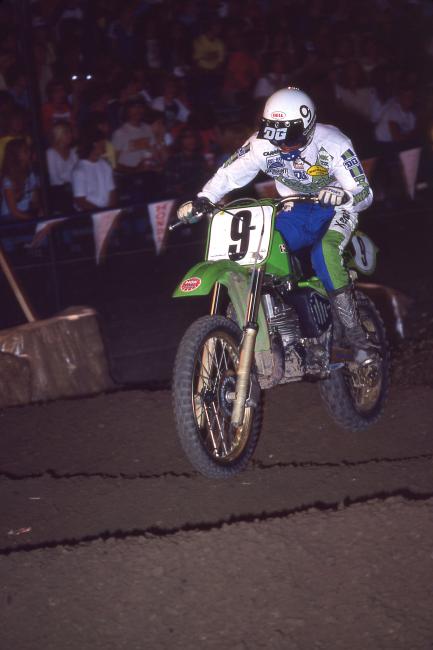 What advice would you give to a kid that was coming up today?
It can still be done on the cheap. The bikes are so good even bone stock. In my opinion, the number one thing for a rider to do is wear out the motorcycle. Learn to set suspension and learn to rebuild—it will make you a better person and give you a future when you retire.
How closely do you still follow the sport?
I still watch it all the time. I used to be able to name everyone in both classes, but not as much any more. One thing I think would be cool would be to see all the top guys in one class—and I mean the top arenacross guys, the top 250 guys and the top 450 guys. That would be huge, and it would be a stacked field. I know it wouldn't fit the show—I get that—but the top guys wouldn't win any less, and the racing in the back would be better.
What about your personal life?
Well, I've been married for thirty-five years and we have three grown children. We actually got married and had kids during my racing career, which back then was the mark of the death; team managers would literally say it. So I'm glad to see that changed today. I have two sons—Jarred is 33 and Aldon is 31. My daughter Courtney is 29, and we have some grandkids. My oldest one was a razor scooter champion and went all over the world for that sport. But motorcycles were never a big thing for them, though they all can ride. They have good jobs and are doing very well, and I'm most happy with my grandkids.
It seems that quite a few top-level guys end up divorced shorty after their careers are over. With your thirty-five-year marriage, what is your take on that?
It's always been like that. A lot of racing marriages don't survive. But I met my wife [Cinda] before I was factory, and the relationship wasn't based on how popular I was or how much money I made. My feeling—and it's all sports—very often the relationship starts after the hero status is attained. And it really only came to be because here is this important guy making all this money, and people get used to spending lots of money. But then when you are done, it's gone, and very quickly. The whole foundation is not there—whatever started it. The results of having some consistency in your life are crucial. But I got to do more and see more than anyone I know and I didn't give up anything on the family side either.