With each passing year, social media plays a larger and larger role in our day-to-day lives. More and more people are beginning to, or already do, receive a lot of their news through outlets such as Twitter, Facebook, and Instagram. The New York Times recently said, "Facebook represents from 14 to 16 percent of its web traffic—a figure that has doubled in recent months." That's a significant portion of daily traffic.
Racing, especially motocross and supercross, is driven by advertising. Company A pays Rider B a significant amount of money to not only represent the company in a positive light, but to drive people to buy their products. One hand feeds the other. The rise of social media has given athletes an outlet to control their own message. Plugging sponsors is no longer a gloomy prospect. It's at your fingertips. Grab a riding photo, place a caption, and bang—you've just reached a couple million people. People that buy products.
We teamed with Hookit—a digital platform for sports created to support and connect athletes, brands and sports, which provides real-time rankings, data and insights to quantify the talent and marketability of athletes for the industry—this year to not only shine more light on how important a tool social media can be, but to also quantify statistics along the way.
Missing Races
Ken Roczen, a global magnet, dominated social media during the Monster Energy Supercross season. Being young and handsome, having global appeal, and winning brings followers. To his credit, Roczen isn't a robot on social. He actually lets fans into his life and posts some rather humorous things.
Through the Monster Energy Supercross season (January-May) Roczen had 6.730 million interactions (likes, comments) across Facebook and Instagram. To put in perspective: Ryan Dungey, who won the 450SX Championship, was second with 2.947 million. Like we said, Roczen is huge on social media.
Most experts agree that television doesn't carry the same clout it once did. In a November 2014 article, The Wall Street Journal reported: "Third-quarter results at big U.S. media companies are pointing to an ominous trend: The television ad market is on shaky ground—especially in cable—as marketers pull back amid economic uncertainty and shift dollars to digital outlets."
While advertisers may be pulling back from TV, people are still turning on their televisions in big numbers for marquee events. The recent mega-fight between Floyd Mayweather Jr. and Manny Pacquiao brought in "4.4 million pay-per-view buys, generating more than $400 million in domestic revenue, with $500 million expected worldwide," reports ESPN. In short: TV still has its place.
Ken Roczen missed eight rounds of Monster Energy Supercross this year with an ankle injury. Eight rounds he was not racing live on Fox Sports every weekend. Eight rounds where the media spotlight wasn't focused on him. Ken did do some TV spots on Fox Sports, but in general, the spotlight had moved to Dungey. How important were those missed races to his social profile? More important than one might think. According to Hookit, Roczen's interactions on Instagram and Facebook declined during the rounds he was injured. Check out the chart below.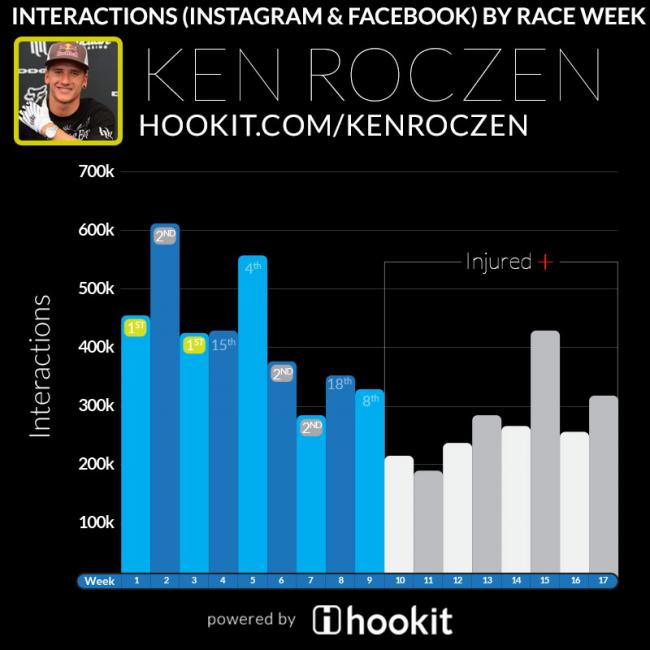 For Roczen this isn't that big of a deal. He still leads nearly every category in social media. But, to a mid-pack rider, or even a fifth-place guy, being out for a significant amount of time hurts in more ways than one.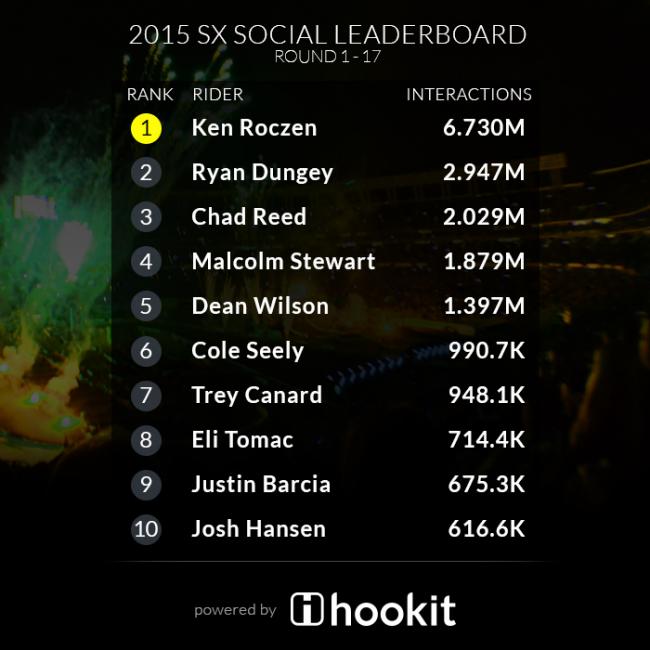 Privateers
Social media has probably helped privateers more than any group of riders. Without much TV time, it used to be hard for privateers to gain sponsorships. That's changed. Jimmy Albertson, Nick Wey, and Jimmy Decotis among others have built loyal followings through social media and their riding. All three are great at showcasing their personalities and it resonates with fans and sponsors. Let's look at some other privateers that did well in social media during supercross.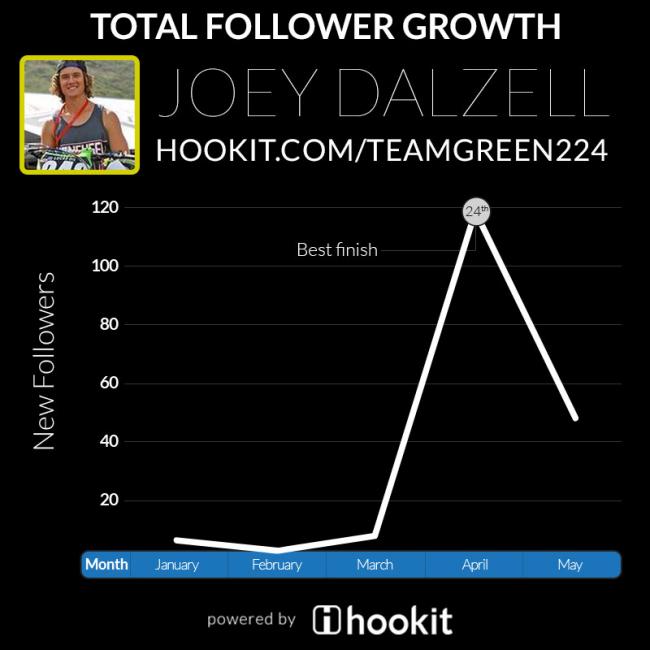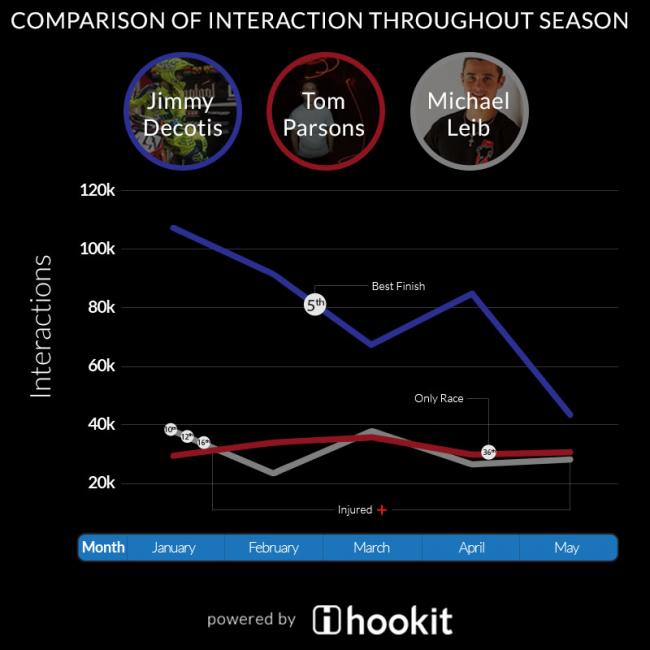 Winning Helps
"Win on Sunday, sell on Monday" has always been the old adage in motorsports. While it doesn't hold as much clout as it used to, nothing cures something as quick as winning. In his first 450SX season with HRC Honda, Cole Seely blossomed into a consistent podium guy—and even a winner. How much did it help his social profile? Take a look at his interactions by podium performances—his interactions were at their highest when he won.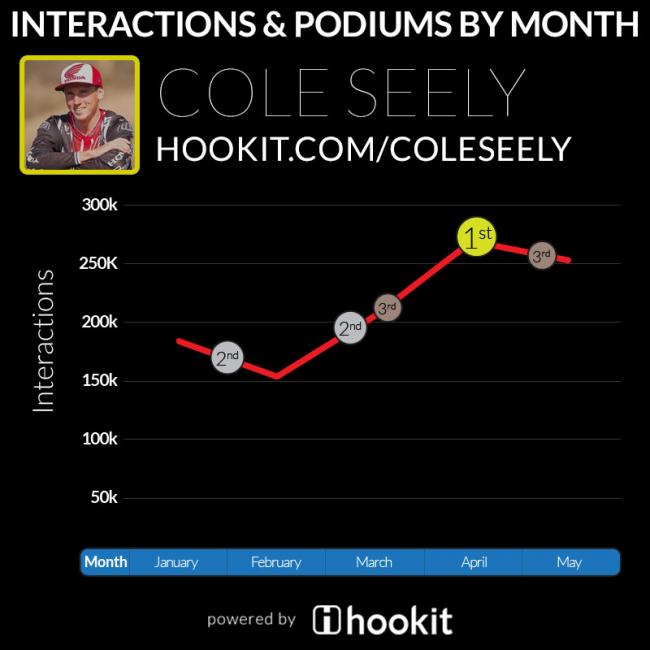 Cole also gained 126,788 new followers in supercross. As we mentioned in Racerhead Weston Peick's stock also rose this year. Check out the full list below.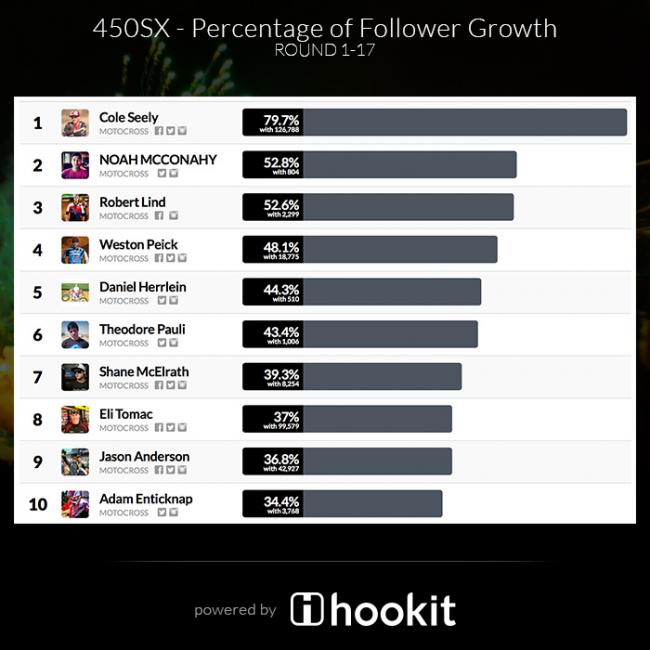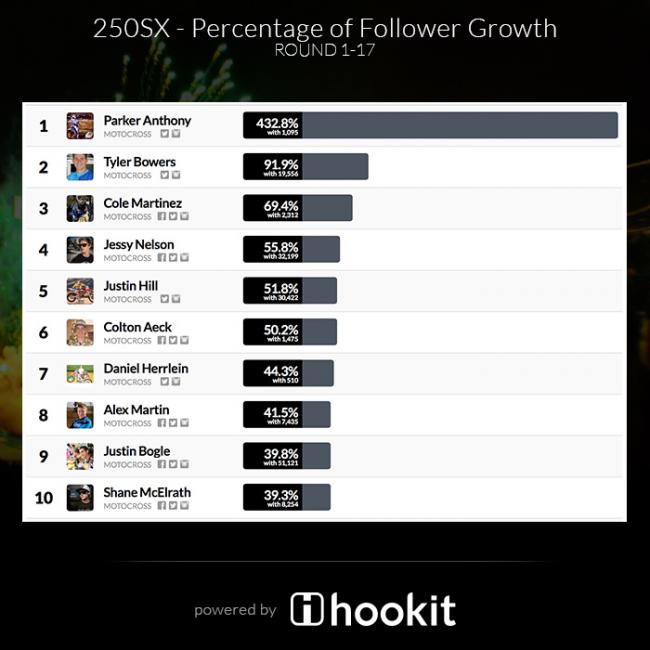 All numbers provided by Hookit.