San Diego, CA
San Diego
Monster Energy AMA Supercross Championship
Last Wednesday, Josh Hill had a tough decision to make: continue with his Monster Energy Supercross season or turn his focus elsewhere.
"There was a couple days where I wasn't going to race the rest of the season," Hill told us earlier today. "I was never going to stop riding; I would have just looked at other options for the future."
To figure out how the former race winner got to this point, you first have to go back to how his season came together.
Josh Hill's off-season was filled with uncertainty. While the eight-year veteran trekked the globe racing—from Sweden to South Africa to France—his future in America was murky.
"I'll be racing supercross—100 percent," Hill told Racer X in November. "Even if I have to do it on my own dime."
Hill's season was thrown a life preserver at the last minute, when Chad Lanza of Valli Motorsports and Yamaha, along with Josh's personal sponsors, struck a deal for the first six races of Monster Energy AMA Supercross.
"I got this last minute opportunity to ride the Yamaha," said Hill earlier this week. "I got the bike two weeks before A1. I got on it right around Christmas time. We were hoping to have success and continue for the rest of the season, but the success didn't come that easy."
Although Hill's season was saved, his results were underwhelming as he failed to qualify for three of the first five rounds.
"I think it was completely disappointing for everyone involved. For myself, for everyone that helped me out," said Hill of his early season results.
Talent wasn't in question with Hill. He wasn't washed up. He didn't lose his speed. But his results were so discouraging it nearly drove Hill to quit.
"I literally almost didn't show up to Anaheim this weekend," said Hill earlier this week. "It was pretty discouraging. I think on Wednesday I made the call that we were going racing. I'm glad we did. It was a somewhat step in the right direction."
Hill did show up and his season, both on the track and off, changed in the last visit to Anaheim. On the track, Hill looked like a new rider. He battled from a dead-last start to finish tenth—his first top-ten this season. And following an early season battle with the flu, and a late start with the Yamaha, Hill began to look like the Josh Hill we all expected to see this year. The problem was, Hill's Valli deal wasn't guaranteed beyond the first six races out west. He'd have to work something out to go east. Perhaps Valli would keep going, or maybe he'd have to do it on his own. Then things changed in a hurry, as the parts to his new deal, announced today with CycleTrader.com/Rock River Yamaha, were put into motion.
"Christina [Denny, CycleTrader.com/Rock River team manager] came up to me at Anaheim 3 and we talked about the possibility of making something happen," Hill said. "I wanted to continue my program east and it was kind of getting to be a struggle—just a lot of things to do and a lot of weight on my shoulders. I checked out the bike and really liked it, and now we're going from there."
Hill will make his debut for the team this weekend at San Diego and stay with them for the remainder of Monster Energy Supercross, but he doesn't think the team change will have much of an affect.
"It's not extremely different, but they do have some chassis equipment that I think is better," Hill said of the similarities between the bikes. "Enzo did my suspension already and they also does the Rock River suspension, so there will be no hiccup there. I already have a good suspension setting, just putting it on a new bike with some updated equipment. I think riding the bike this weekend was a call based on how I thought the bike was better. So, if anything, it should improve my results."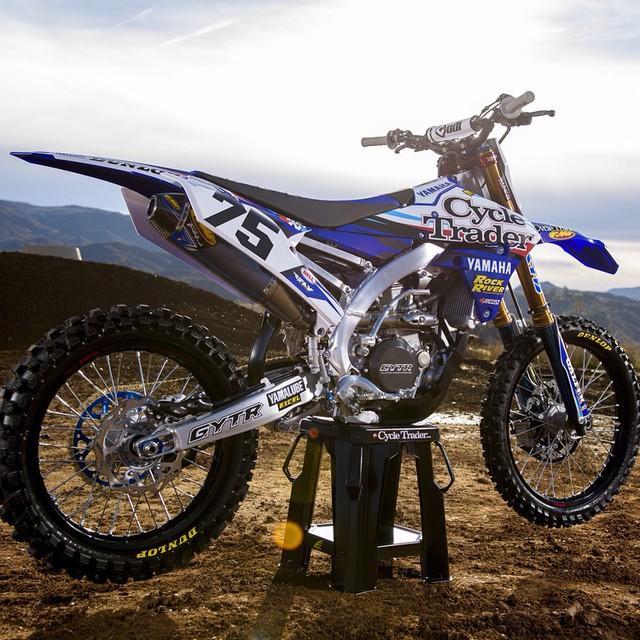 Josh will be able to keep his personal sponsorships with Monster Energy and SPY, but will have to change from Fox gear to Fly—the gear associated with the team. Also staying on board with Hill is Larry Brooks, who oversaw titles with Jeremy McGrath, Chad Reed, and James Stewart. Hill worked with Brooks back in 2010 while with San Manuel Yamaha and credits him for his success that season.
"I owe the majority of the success I had in 2010 to Larry Brooks. He signed me in November after I had a terrible 2009 season," Hill said. "He was the team manager of the San Manuel Yamaha team at the time, but he was spending days in and out with me at the track.
"We just work well together. He's a great guy. He's extremely knowledgeable. He brings more than just a team manager and bike setup—he knows what it takes to be a champion. He's one of the only satellite team [managers] to win a championship, and he's won a ton of them with Jeremy McGrath, Chad Reed, and James Stewart. Having a guy like that on your side that you can trust 100 percent on judgment… and if I'm unsure of something, I'll let him make the call for me. Just having that insurance is priceless."
A week ago Hill was ready to give up the dream, and a week from now his deal was set to expire. Now he's going to get another life preserver. What a week in the world of Josh Hill.