"He's been riding a lot. He's also been training a lot. He's used to training for arenacross where you have to peak for just four laps," said Oliver Stone, Tyler Bowers' Monster Energy/Pro Circuit Kawasaki mechanic. "Supercross is a lot different, and that's what Tyler and his trainer have been working on."
For the last four years, Tyler Bowers has been the lord of the rinks—i.e. the hockey and basketball arenas that comprise the Amsoil Arenacross tour. However, for 2015 he will abdicate his arenacross throne for a year in an effort to reach his ultimate goal of becoming an Monster Energy AMA Supercross Champion. Having won a supercross (Vegas in 2013), as well as being versed in the fine art of stringing together a title, we wondered aloud just how different and difficult it would be to switch gears from racing an arena as opposed to a stadium. We found him at the Pro Circuit SX test track in bleached-out San Bernardino.
Racer X: Tyler, we found you. What's going on?
Tyler Bowers: The Pro Circuit track has just been rebuilt here at Glen Helen, so I'm here to ride.
If I have it right, this is the first time in your career where you've been going to a supercross test track day-in and day-out.
Exactly. I always rode supercross before arenacross, but the arenacross program was quite a bit smaller, so there wasn't a lot of testing or anything like that that we did. We tested some things and we had a couple things to try, but it was never as extensive as the Pro Circuit program, where you basically go out every day for months before the season. You're always trying new things whether it's new engine parts or new levers or chassis parts or suspension. There is always something to try. Whether it makes the bike better or not, there's always something there to try, and there's always something good to get from it. A lot of times you get to the point where you think the bike is as good as it's going to get, and then Bones [Jim Bacon, Pro Circuit suspension technician] or Zack White will come up with something to put on the bike that makes it light years better. Of course sometimes it's a no-go, but we'll go right back to the drawing board.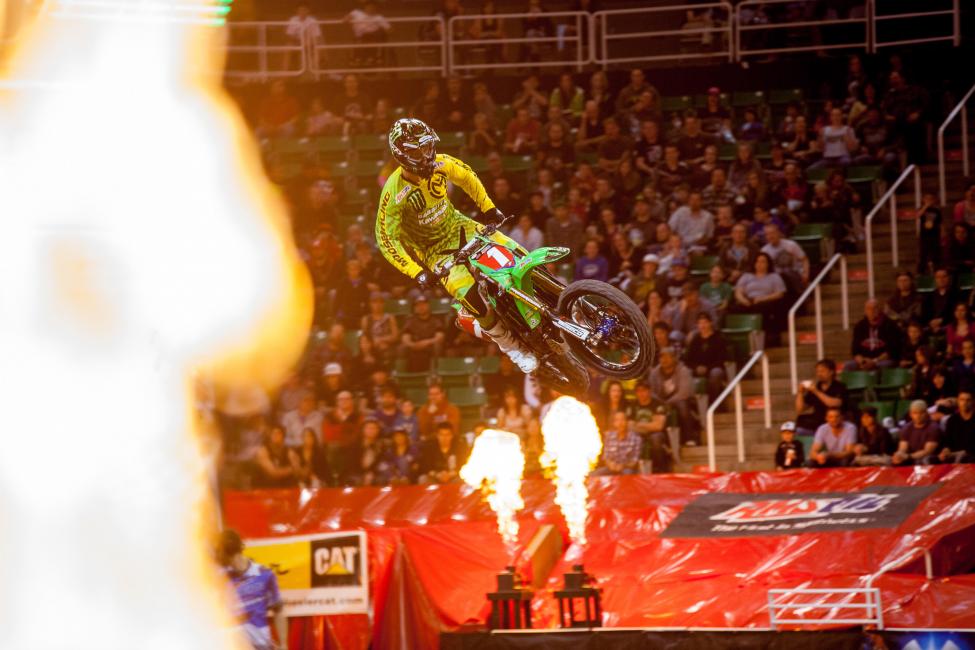 How do you like doing the testing and working on all the different technical variables of the motorcycle?
I actually love it. I'm a racer, man. It's cool to be able to go out there and do what I've always thought of actual racing where we have so many different options to try and see what makes a difference—whether it's for the better or worse, or even if it's just a lateral move. You can just see what parts you want. It also really helps to sharpen your skills on the bike because you have to adapt to a lot of things. It all helps you to adapt. It's really cool to have a team behind me that can go and just create these parts or make changes to the bike to make things better.
Your mechanic Oliver Stone told me that you have had to retool and restructure your pre-season arenacross program to be more applicable for supercross. Can you explain?
Yeah, the riding part of it all has just gone through the roof. Instead of riding and just doing my normal laps and my training laps from 9 a.m. to 1 in the afternoon, Bones will have me out there until 6 p.m. And the sun is going down. It's like, "Hey, Bones, we have to stop. We can't see the track anymore." There's a lot more riding that goes into it. In arenacross we realistically only needed a month or two, at most, to actual training and riding to get ready for it. The tracks were never really technical. The were only four lanes—one of which was usually a straightaway—and it wasn't real hard to figure out the track, as there wasn't a whole lot to it. We didn't really have to a whole lot of testing. And the main events were only four minutes long, so the training wasn't as extensive as the supercross training. Arenacross was more about short bursts with a lot of power and lot of sprints. I had a lot of strength training going to arenacross to make sure I always had that power. And, as you might expect, I also did a lot of sprint laps.
Can you speak to the physical preparation you're doing for the 2015 supercross season?
Yeah, I've been working with Gareth Swanepoel this year. I've been really, really happy with Gareth. Our biggest goal in the last couple of months has been trying to cut weight. I'm a heavier guy and one point this summer I was almost 210 pounds. In the motocross world weight is horsepower. If myself and another racer are on the same exact bike and he's forty pounds less than me, he's already gaining horsepower on me. He's already got an advantage. I've tried my best to slim down as much as I can this year. With Gareth, we've done a lot more cycling and swimming and so forth to try and shed the weight early on so I'm not shedding it right before the season starts. Right now I'm actually down to 190 pounds, so I've been losing about a pound and a half a week. We've been making really good progress, and I feel good on the bike. I think I feel better on the bike than I have my entire professional career. I'm really excited about the new season, and I think we're more than prepared.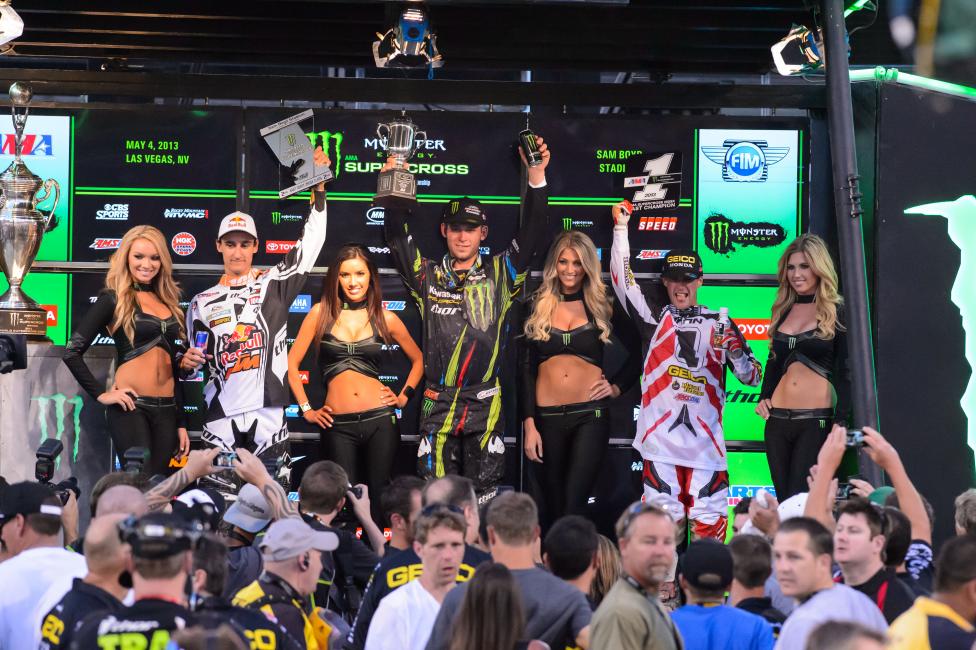 Mitch Payton recently told me that whoever is really on it and ready to go come Anaheim will be who he sends out on the West Region. It appears everything is really coming together for you, so would you, if asked, ride the West Region?
Honestly, I thought I would rather ride East, but at this point I'm just so pent up and ready to race that I'm just ready to go. Just like you said, it'll be whoever is the most ready, and I feel I'm ready to go. I've actually been taking a little bit of time off because I felt like I was peaking too early. I'm just getting ready to get back on the bike. I think we're going to be right on schedule for West Coast, and if Mitch decides to put me there I think there's going to be some guys in trouble. I'm just amped and ready. I don't care what coast they put me on; I'm trying to win the thing.
Do you think your overall lifestyle will be different in 2015? What I mean by that is that you won't be going from arena to arena and racing on two nights at most of the venues.
Yeah, definitely. I've dabbled in supercross a little bit, and the feeling is quite a bit different just because of the bigger stadiums and the domes. I actually think you feel like you're more alone on the track in supercross even though there's triple the amount of people watching. At the same time I actually think this year will be less stressful on me because in arenacross I was actually doing all the press days every weekend as well as the racing. A lot of times I would fly out on Wednesday morning, do press on Thursday, race Friday and Saturday. I'd be super worn out by the time Saturday rolled around, and then I'd fly home on Sunday and have two days at home before I had to fly out again. There were some gnarly weeks for me. In supercross we'll have some press days here and there, but they're always one-night events, so I'll have plenty of time at home to do my work and to get ready for the weekend.