Over the past few seasons covering the "Where Are They Now" beat, I have listened as some of the best racers in the world describe some very personal details of life after racing. From the harrowing tales of alcohol and drug addition, all the way to just quietly fading away and living comfortably off their motocross earnings, I have heard it all.
Despite the personal variations in each story, one theme is consistent: a rider still has the next phase of his life to live, and once the lights go down and the contracts expire, things still happen.
Stevie Childress was an aspiring professional who was really good—but he didn't make it all the way to the top. He did sign a factory Suzuki contract, and he also stood on the podium in a supercross race. But somewhere near the top of the motocross ladder, Childress turned his focus in a different direction, went to college, and never looked back.
He rode his education all the way to obtaining his DDS credentials. Today, he is a very successful and respected dentist with a burgeoning practice near his hometown of Beckley, West Virginia. And in case you are wondering, he is still blazing fast on a dirt bike—when he feels like riding one.
Racer X: Steve, back in the day you built up a strong resume that included winning at Loretta's. One year you even beat Damon Bradshaw, Jeff Emig, and Tallon Vohland for a national championship. What are some of your best memories from the ranch?
Steve Childress: My first memories at LL's are camping by the creek and loving the mud motos. I had mixed finishes throughout my time on the mini bikes. My first year at the ranch was 1982. I'm both cursed and blessed by the fact I have never really gotten nervous about how many people are at the race, nor what their names are. Of course, I was (and still am) very competitive, but I always felt like I can and should win—regardless of who the competitors are. I got three championships and a second place in my last two years at the ranch, so that was really cool.
But then I went back as a vet in 2005 and 2007. And to relive the coolness and grandeur that I remembered—I have to admit, I had some help—but it was a lot more work than I thought it would be to get ready for the event, race the event, and then get home and decompress from the event. If I could get someone to take care of all of that stuff, the way Mom, Dad, and Mark (my mechanic) did back in the day, I would likely be a regular at the ranch still today.
Talk to me about your transition from amateur to pro and the 1989 season.
I felt like the progression was preplanned from the first time I did well at Loretta's. In my head, I was supposed to race my classes each year, moving up to the next class immediately after the Mini Os, so it just felt natural to take that next step. During the mini-bike years, we all progress by age, but then I began racing the B class for the 1987 season. I then moved up and raced the A class in 1988. And then my rookie pro year was 1989. Kawasaki wanted to help me, but they wanted me to stay in the amateur ranks for one more year. Following that progression, I spoke about [how] I wanted to move up. So, toward the end of the 1988 season, we were at a race in Pennsylvania. Big Dave Coombs said Suzuki was asking him about me, and that I should call them. So, I did call, and Suzuki made me an offer. Next thing I know, Pat Alexander flew to Charleston, West Virginia, and we had lunch together. We chatted some, and I signed the contract. He then flew back to California that afternoon.
Was it a full factory contract, and how did you do?
When the pro season started, I was considered a factory rider. But I pitted out of a pickup truck and had random friends that were my mechanics. My parents went with me to nearly every pro race my very first year. My first pro race was that supercross in Miami, Florida, and I qualified last out of the LCQ. If you find the YouTube video of the 125 Class, I was last gate pick, so I'm right beside the camera. In the main, I got caught with some guys and crashed on the first jump off the start. I did better than I remembered—thanks to the YouTube clip—and passed my way back up and finished seventh in my first main.
What about the rest of your pro career? Are you happy with what you achieved?
I am satisfied with most of my results and very happy with two in particular. I got a third at the Pontiac SX in 1990—that was my best supercross finish. My best outdoor race was in 1989 and in moto 1 at Binghamton, New York. I was involved in a first-turn crash and came from way back to finish fifth. Unfortunately, I did not duplicate that speed in the second moto and placed fifteenth,so my overall was not as good.
What are some of your fondest moments as a racer?
When I was racing, I would have told you a completely different answer than what I'm going to tell you now. Now, twenty-five years removed from signing my pro contract, my biggest smile comes from thinking about the three-race family weekends. I recall my father driving a silver Chevy Cavalier station wagon pulling a rail trailer with my mom and myself, and an 80 behind us. I did a lot of sleeping in the back seat of that car. Mom and Dad would find races on Friday night, Saturday day or Saturday night, and Sunday almost every weekend in the spring and summer. During the winter, they would drive me to Florida for races, and not just the Mini Os or the big winter series races. They would take me to any race they could find—sometimes it would be so far away they would drop me off at school without even going home.
When I turned 18, I thought I was supposed to be completely on my own and independent. So during my rookie year pro, and the years that followed, Mom and Dad gave me the space I pushed for and began going to fewer races.
What did motocross teach you?
In the midst of growing up in the motocross community, I learned all the lessons I feel any one needs to survive and prosper. The two most significant lessons motocross taught me are how to diagnose and be self-motivated with mental toughness.
Even though I didn't know the word diagnose when I was little, Dad, through the help of motorcycles and cars, was teaching me how. I think it started with items as trivial as this example: I rev the engine but I am not going anywhere. Step one: Is the bike in gear? If the bike is in gear, proceed to step two: Is the chain on the bike? And of course it moved onto everything possible on a motorcycle and just about everything on a car. I could find out what was wrong and fix it. Many people might scratch their head and think to themselves, "How is that a lesson paramount to life?" Think about this. Nearly everyday we live all of us use diagnostics. Diagnostics help us find out why your computer does not turn on. It lets us understand why a phone call will not go through to one of our family members. And from the diagnosis, hopefully you have the resources and the skill set to proceed to remedy the problem.
As far as self-motivation, this one is pretty obvious. Most fans have at least some idea of the training involved. But it actually goes a step farther. Like so many others, I was out running nine miles a day, and without a trainer. The same thing goes with practice, the people I got to ride with would play ride and mostly only ride fifteen minutes at a time. I was out pounding out sixty-minute moto on most days. My short moto would be a forty-minute session. With no one there to watch and make sure you did what you needed to do, it takes quite a bit of self-motivation and mental toughness to put your body through the rigors of gunning for the top of the top level of motocross.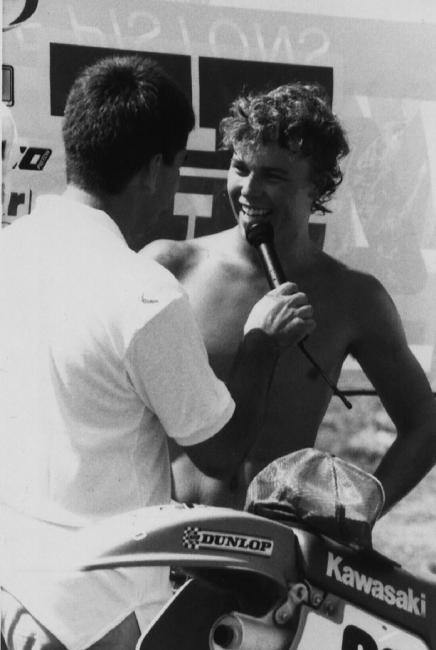 How and when did you make the decision to quit?
I've made that decision a few times now! But I assume you are asking when I decided to quit being a professional racer. My dedication did waver back and forth the last couple years in the early 1990s. But I was racing and taking college classes. The big moment was when I was accepted into dental school at WVU [West Virginia University] in 1994.
But backing up a bit, that January, myself and two friends daringly escaped Morgantown with a blizzard chasing us, and with the goal to hit the season opening Orlando Supercross. We nearly crashed once or twice by the time we got far enough south to be out of the storm. As it would happen, in the first practice for the Orlando SX, I cased a triple—like dead-stop case. I bounced sideways and rolled off the side of the third jump. I knew immediately that I had broken my ankle. A flagger came down to check on me. He asked, "Are you okay?" When I attempted to answer, I spit up blood, and then shook my head no. I had crushed my esophagus and trachea as well as broken my ankle. During my recovery time, I got my acceptance letter for dental school. So, that was the first time I quit.
Was it hard to let go of your dream?
Yes. The next spring I decided to go to a few Mega Series races in Tennessee. Next thing you know, I tried to force it in on a guy, and we both crashed. I broke my wrist and had to have surgery, which came right during my second semester of dental school. The professors told me that if I would have to have a cast during a semester when I need to provide patient care, I would have to sit out the rest of that year and repeat it. That is the moment I really quit. That lasted until 2003. And after I had my own practice, that is when I started to ride again for fun.
So you still ride today? If so, how much, and what is it that your really enjoy about the sport?
Yes, I still ride and race some today. I quit for a while there, but then my first race back was in July of 2003. I started back right where I quit the second time: needing surgery. I snapped my left ACL my very first moto of the day. I followed that up the next year with a gnarly get-off at Rolling Hills Cycle Park in NC. That one got me a helicopter ride and another surgery. But now it has all been good since then, with just the normal light injuries that come with being addicted to motocross. In the mid 2000s, I was racing a lot, but now I ride maybe an average of every other weekend and racing maybe 5-10 times per season, and strictly just for fun.
What made you decide to become a dentist?
I'm not sure exactly what prompted me to become a dentist. The first I remember is in seventh grade the school counselor asked me, "What are you going to be when you grow up?" And my reply was, "A pro motocrosser, but if that doesn't work out, I'll be a dentist." I think my parents made a comment when I was younger about dentists being able to make their own hours, and if I became a dentist I could ride whenever I wanted to ride.
Tell me about your family?
My wife Susan is incredible. We live near Beckley, West Virginia, in a town named Glade Springs. We have no children, but live within forty-five-minute drive to three tracks and ten minutes from three golf courses. My Mom and Dad are doing great, and they are both retired now. Dad is 64, and when he is home, he is still riding 2-3 times a week as well.
Tell me about your dental practice, where are you located and how big is it? What kind of work do you specialize in?
My dental practice is in Beckley, West Virginia. I have four operatories, two for me to work in and two for the hygienists to work in. I have incorporated a machine call CEREC [Chair-side Economical Restoration of Esthetic Ceramics] into my practice. It's a really hi-tech CAD/CAM [computer-aided design and computer-aided manufacturing] machine used to make veneers, crowns, bridges, and custom implant abutments. I have coupled that with a Galileos CT machine. This allows me to do flapless implants surgery and make a patient's custom abutment for the implant as well as the crown, and all in my office. In 2008, Sirona [the company that makes the CEREC machine] recognized how complicated and involved some of my clinical cases were and hired me to give regional lectures. They have also contracted me as an in office trainer for the new dentists buying CEREC machines. It has been a good ride!
Well, thanks for chatting Steve. Good luck with your riding, and thanks for your time to update us on your life and your career.
Thank you for opportunity!