Glen Helen Raceway
San Bernardino

,

CA
Glen Helen
Lucas Oil AMA Pro Motocross Championship
PJ Larsen grew up in the small fishing town of Awendaw, South Carolina, a stone's throw away from the majestic, historically rich Charleston coastline. That's not exactly the epicenter of motocross racing, but along with the likes of Austin Stroupe, Broc Tickle and Taylor Futrell in nearby North Carolina, riders from the Carolinas started to take control of the amateur ranks (with a young Cooper Webb coming next). Larsen capped off a successful amateur career with a share of the 2008 AMA Horizon Award—awarded to the top amateur rider in the country—along with Darryn Durham.
Larsen signed with the Bobby Hewitt owned Team Canidae/Motosport Kawasaki team (now Rockstar KTM). Following an injury-riddled rookie season, Larsen signed a deal with JDR KTM to race in Australia. He won both the Australian SX and MX titles that year, before returning to the states with the team in 2011. But, once again, injuries stunted his growth. Now, six years after his pro debut, Larsen is trying to figure out where his career will go from here.
Unable to secure a ride for Monster Energy Supercross, Larsen took a step back and revaluated his career. In March, he made the decision to race the first two rounds of Lucas Oil Pro Motocross Championship. With help from KTM, Larsen will make his 2014 debut in the 450 Class next weekend.
We caught up with the outgoing Larsen earlier this week to talk about his return.
Racer X: Rumor is that we will see you at Glen Helen. Is that the case?
PJ Larsen: As long as I can get my MX Sports entry in on time, then yeah, I'll be at Glen Helen. [Laughs] I'm going to Hangtown, also. Just do the first two for right now. I lost a bet and now I have to race! But I'm actually looking forward to it. I was kind of wanting to race the first two rounds anyway. KTM and Christy LaCurelle stepped up and got me a bike. Just going to go out there and do everything on my own and have some fun.
It's been a while since we've actually seen you on a track. Where are you race condition-wise?
It's been a while since I've been really even riding. I didn't have a bike for quite a while. I got this bike about a month ago and have been doing motos and testing and stuff. I feel pretty good. I know my fitness isn't where it should be because I didn't ride for so long. It was probably five or six months where I only rode two or three times. I know my fitness could be a lot better, but with the time that I've had to get ready I feel like I'm pretty good. I feel like the speed is coming around. Like I said, I just kind of want to go out there and have fun. Not really expecting too much.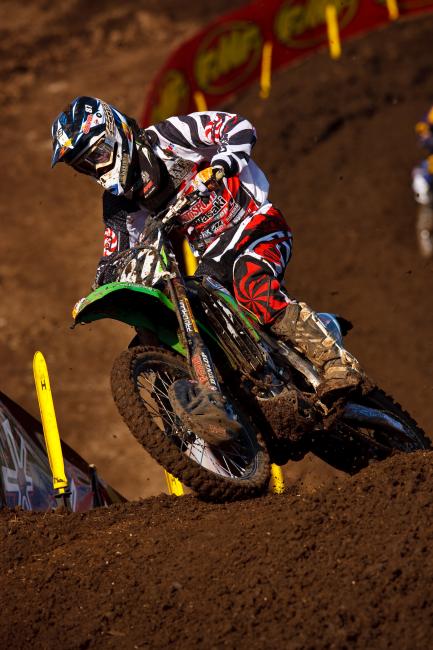 I think the main question on everybody's mind is where have you been? We haven't seen you since Las Vegas last year and then the Monster Energy Cup.
Last year after supercross I actually did a deal with an Italian team to race the Italian Supercross series, which was pretty spread out. I think we did five or six rounds and it took them about six months to do those. I ended up winning the championship over there, so I was pretty happy with that. Other than that I've actually gotten invested into a new dog food company called Maximum Bully. So I've been doing a lot with that, traveling around, talking to distributors and going to stores, doing shows and stuff like that. I invested quite a bit of money into it. It's one of the things where I believed in the product, so I got involved in it. I think that's going to be a good thing down the road for me.
You started off your career with a dog food sponsor as a racer and now you've come full-circle and are working with a dog food company.
[Laughs] Yeah, the guy that actually did the deal for the team in 2009 is actually one of my business partners. So that's how I came full-circle.
You've always planned around the end of your career. It seems like you're always involved with some new business adventure. Is that something you were mindful of when you began your pro career?
Not really, but the longer I was around racing I knew that it wasn't going to be anything that you would retire from. I always tried to be pretty sparing with my money and didn't spend money where I didn't need to. I knew that I would have to find something to invest in to get me through after racing.
And your career in general has taken a different path, so to speak. You won the Horizon Award, then dealt with injuries, went to Australia, won a couple titles, came back, then had more injuries. Has your career gone according to what you had planned?
No, it definitely didn't. The first year, supercross was quite a learning experience for me. I definitely didn't do nearly as well as I wanted to throughout supercross. It was a struggle for me, but everything always happens for a reason. I got the opportunity to go to Australia in 2010 and that was awesome. I went down there and it was just a cool experience to live and race in a foreign country. I met so many people and made so many new friends. The Rynenberg [former owners of JDR KTM] family were awesome. It was a lot of fun. In some ways I wish I could go back down there, but it seems like they're kind of hurting down there a lot worse than what we are over here. I don't think that things went to plan as I had it in my own head but, like I said, everything always happens for a reason. It was still a cool experience.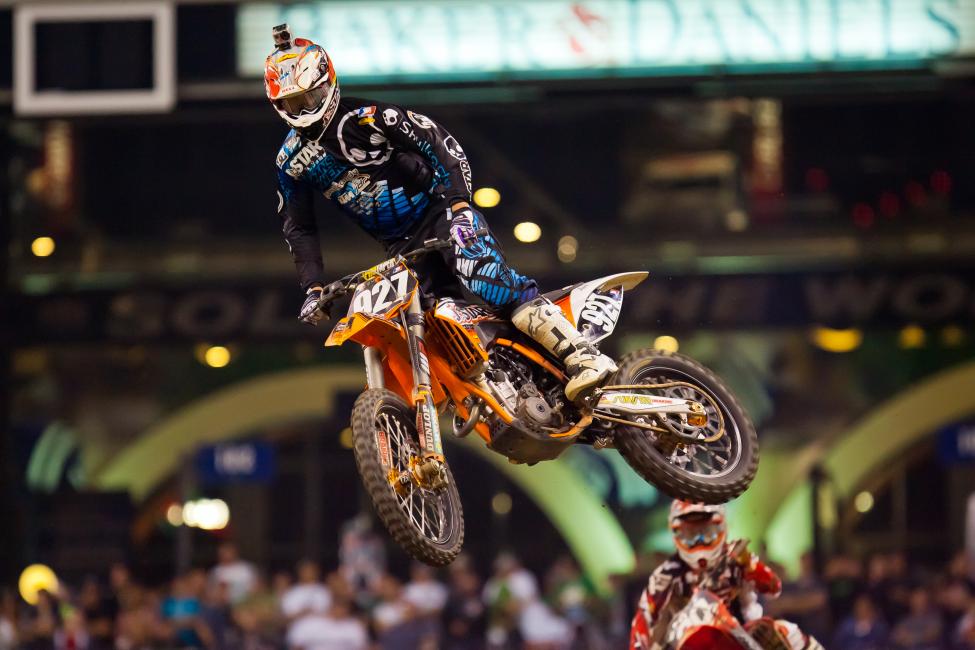 This is probably one of the few years that you weren't actually racing of some sort during the winter. Did you watch much of the supercross season?
I watched every race on TV. I went to Anaheim 1 and watched. I went to Dallas and watched, but I kind of stayed away from it. Whenever I did go to the races I said hi to the people that I am fairly close to. Other than that I kind of just stepped away from it a little bit this year, which in some ways is good and some ways is bad. It just depends how you look at it.
Talk about trying to take a step back. I think a lot of people throughout their careers realize that every once in a while it's good to reevaluate what's going on.
For sure. I actually talked to one of the teams last year and they just flat out told me, "Well, you know if you don't race this year you're never going to get back involved into it again." I think a lot of the teams look at it as bad thing. Or they go, "Well, where were you for the last year? What were you doing? Why weren't you riding and racing?" Well, it's pretty simple: I can't afford to. I couldn't get any help and everybody wanted me to pay for everything to go racing. I don't have endless pockets with money flowing out of them. [Laughs]
So now you're coming back to a certain extent. If those two races go well, could you see yourself doing more races?
For sure I can. Like I said, I don't have expectations going into the first two rounds; I just want to go out and have fun. It's been a while since I went to a race to have fun. That's really what I want to get out of it. If something comes about then of course I'd be interested. I've actually called a few people about maybe doing arenacross next year. I'm going to call a few guys and check and see maybe about doing some supercross next year. It's one of those deals where if it feels right and I feel like it could be a good thing then of course I'll do it. You never know until you start making phone calls and see where it goes.
For someone that's been in the sport for pretty much their entire life, is it tough to watch other riders that you raced against?
It is for sure. I think I'm a lot better about it now to where I can watch it and just kind of smile about it and go, I could have been out there. I've had a few people that have asked me, "If you were racing this year how do you think you'd do?" Well, I don't know. Even though I might have beat that guy five years ago, or three years ago, that guy's obviously up to my level now. The only thing I can do is sit here and guess at where I could be or where I should be. If I can get the right deal, the right program, I can do good. Everything has to fit together.
Sometimes the industry has those loyal sponsors that do stick beside you. That has to mean a lot to you to have companies like Fly, WP, KTM and Rocket Exhaust. You've worked with those guys for years now. How much does that mean that they've stuck behind you when at points you weren't even racing?
It's been awesome. No matter where you go there's always going to be the people that just kind of use and abuse you for what you can do for them now, but the people that are still around supporting me are obviously the ones that like me a lot and that still believe in me. I appreciate the hell out of them all. Like I said, there's probably not too many of them out there that actually do.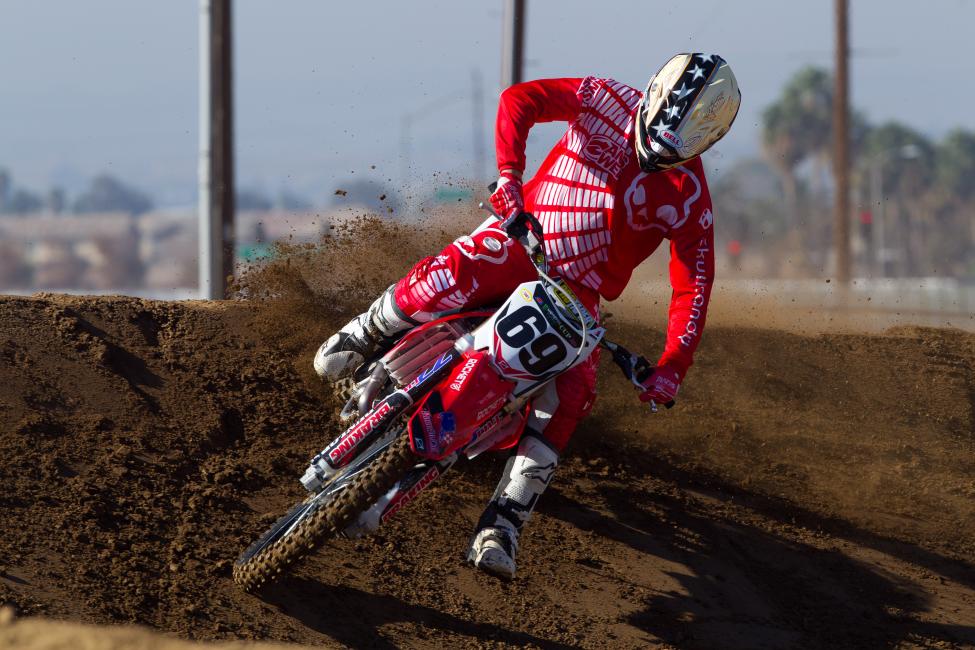 In January when you were sitting on the sidelines, did you see yourself racing Glen Helen or was this spur of the moment?
Last year with some of the deals that I had happen I really thought I was done. I wasn't going to do it again. I didn't care to do it again. Probably March is when I figured I would race Glen Helen just for fun. It took me a little while to really want to race and get back involved just because I was tired of having people basically lie to me about things to make themselves feel better or to make me feel better. Come out and say the truth. Say no, you're not right for our program, or we don't think you could win so we don't want to have you. Whatever it is, just say it. Don't beat around the bush and then later down the road not come through with what you said you would.
I think with you it's never really been a results issue.
For sure. That's one of the things that I think if I do call anybody to try and do anything for next year they're going to go, "Why should we hire you? You didn't do anything last year." But the thing is people have to understand, too, is that if you go and you try to do it on your own… I can't afford to do it. I know that I can go out there and I can get good results, it's just a matter of being on the right program, around the right people, and everything working right. Heck, last year for East Coast Supercross I never rode the bike during the week. The only time I ever rode that thing was at a race and half the time the thing didn't run in practice. I know that I can get results and I know what I can do, it's just a matter of if anybody out there believes in me to do it.
Thanks, PJ. Anyone you would like to thank?
The way that I'd close is to say thank you to KTM and Christy LaCurelle and Jon Erik Burleson for still believing in me to the extent of providing me a bike for the races, and WP Suspension. I've been doing some testing for them, but obviously they helped me out a lot. I also want to thank Maximum Bully Dog Food, Rocket Exhaust, Fly, 100%, Split Designs, Alliance Wraps, Dunlop, Race SoCal, DT1, Mika Metals, Strauts and the Leib family.