Welcome to Racerhead. The weird thing about the off-season is that, while during the racing season we often can't wait for some time off, as soon as we get some, we can't wait for some races! At least as a fan and a journalist, that's how I feel—there's no doubt that the riders and the mechanics and race teams are thrilled to have downtime right now. Some are healing up injuries or switching teams; others are getting ready for the upcoming FIM Motocross of Nations, as well as the Monster Energy Cup in October. And some, like Chad Reed, are apparently still trying to figure out where exactly they might land.
If you're in need of a racing fix, you're going to love next Tuesday. That's when NBC Sports will run its first Moto Marathon, which will air Tuesday night beginning at 7 p.m. (ET) with the High Point National replay, followed by Southwick at 9 p.m, Unadilla at 11 p.m., and finally the Utah National at 1 a.m. early Wednesday morning. That's eight hours of wall-to-wall motocross coverage on NBC Sports, so please check it out.
There's also some live racing going online this weekend. The final round of the FIM World Motocross Championships will take place at Lierop, Holland, on Sunday, and you can watch it stream live on www.mx-life.tv (and if you haven't watched the races online there, you might want to check it out just to be ready for the upcoming MXoN, which will air live on September 28-29). There's a lot of speculation about whether or not MX2 champ Jeffrey Herlings will race—he's been out with a broken shoulder blade, though on a sandy track like Lierop, he might be able to win with the proverbial arm tied behind his back! And of course Tony Cairoli has already clinched another world title in MX1 but surely wants to go out with a win.
And then there's the GNCC racing that will stream live on www.racertv.com. That's the same site where we streamed the 2013 Red Bull AMA Amateur National Championships from Loretta Lynn Ranch. The ATVs race on Saturday, bikes on Sunday. (And we also got word that www.racertv.com will be streaming the Mini Os in November during Thanksgiving!)
In the meantime, we sit and wait and bench-race among ourselves and talk about last year and next year and so on.... Since we were running out of tear-offs, someone suggested we canvas the riders themselves to see what they are all up. Here's what we found out.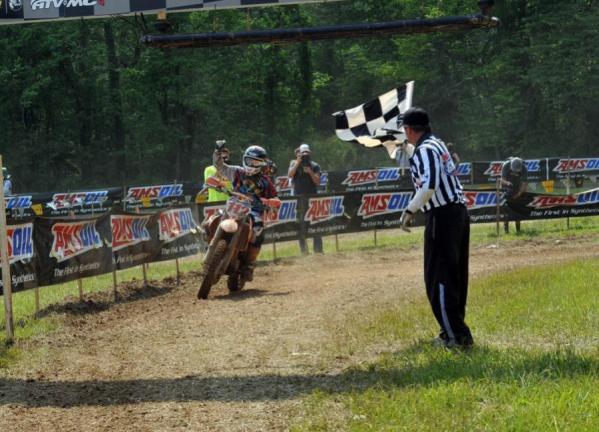 GNCC Racing returns this weekend with Charlie Mullins looking to extend his points lead.
Ken Hill photo
RIDER CHAT (Staff)
The pro racing season lasts eight full months, so riders don't get much time to get away from the bikes and act like normal people. So what do the riders do in these early weeks? We asked a bunch of them.
Trey Canard: "Been watching seventh-grade football. A little testing and a lot of wedding planning. And some good old-fashioned fun!"
Jake Weimer: "Been chilling out. Spending a lot of time at the dentist. Went to the river over Labor Day weekend and I'm riding supercross today [Thursday]."
Phil Nicoletti: "Took a week off from riding after Elsinore. I had kept training, though, and started riding this week to prepare for the MXDN where I'll be riding for Puerto Rico. Yee-haw!"
Tim Ferry: "Was with Trey [Canard] testing after Lake Elsinore and then did a camp in Indiana last weekend. It's something I do every year around this time."
Wil Hahn: "I've not been drinking any Caribou. I've been being a normal guy. Enjoying my downtime, riding my bicycle and going to concerts. I came back to Texas this week to see my family and hang out."
Cole Seely: "Since the races ended, I've been hanging out with friends and family. I spent last weekend on a private lake with my girlfriend and her family. Now I'm in North Carolina for my good friend Justin Brayton's wedding."
Adam Cianciarulo: "I've been putting in a lot of miles on the road bike in hopes of taking RV to school when we get back at it full-time. Other than that I've been chilling and giving my body a break from all the suffering it did this summer."
Joey Savatgy: "I've been riding a little bit. A few days of SX on motocross suspension, and I rode Barcia's MX track this week. So I've ridden about four times or so. Haven't been doing a lot of riding, obviously, but a lot of road biking and lifting trying to get my strength back to where it was."
Davi Millsaps: "Training, riding, bachelor party and a wedding."
Marvin Musquin: "We rested at home and we did stuff that we didn't have time to do during the season—things like paperwork, etc. And we organized a trip to France."
Matt Bisceglia: "I haven't ridden since Elsinore. I got to come to Hawaii, so I've been here [in Hawaii] the last nine days. I'm going home now, though, to start riding and training hard again. Like I said, I went on a little vacation, so I have been just relaxing. It's really nice, for sure! It's time to get back to reality, though. I'll have had about two weeks off the bike, so it's time to get back on it."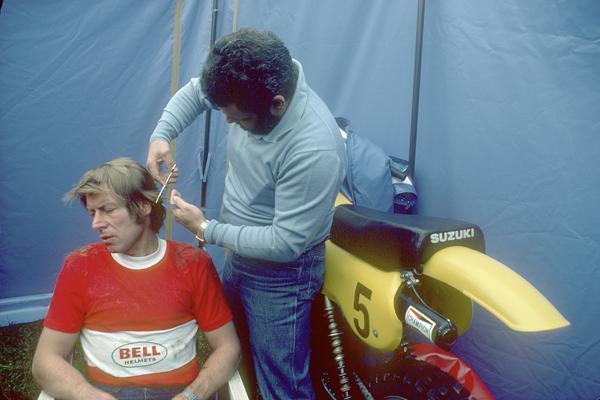 Roger DeCoster got a haircut.
Jeremy Martin: "The last time I rode was on Tuesday after Lake Elsinore at Milestone on the new 2014 YZ250. I haven't touched a bike since then. The new bike is good—I like the front end and chassis better than the 2013. I've been hanging out with friends and figuring stuff out for next year in the off-season so far. Also been training for a duathlon up in Minnesota on the 21st of this month."
Cooper Webb: "I've ridden a few times since Elsinore. I actually rode Monday through Tuesday after Elsinore. I filmed Monday and Tuesday for the Moto 5 movie, which was really cool. On Wednesday I filmed for the Transworld movie, The Flow, so I've been spending time filming and having fun. I've been doing a lot of surfing since Elsinore, and that's been awesome. Mainly I've been kind of relaxing, catching up with friends and family and actually doing a lot of schoolwork. I've been golfing a little, and I went dove hunting on opening day."
Justin Hill: "I've been riding—I went and raced a local race at Washougal. I've mainly been taking it easy and preparing to get back into it for supercross. But mainly just hanging out with friends and doing fun stuff. Back at it soon."
Kyle Cunningham: "Elsinore was going all right until the second moto. I lost the front about three laps in and broke my foot. It was kind of a washout, so I thought I was going to get back up quickly, but that wasn't the case. I had to have surgery Saturday night after the race. I broke the first three metatarsals, so I had to have a plate, screws, and a pin put in. Luckily there were no joints or any other bones broken. They told me six to eight weeks, so I've just been taking it easy and letting this foot heal. I'm taking a vacation with my family and some close friends in a couple weeks to Mexico, so it should be fun to get away and have a little vacation. Didn't want to spend the time off hurt, but I'm still enjoying it and looking forward to getting back on the bike when my foot is good to go!"
Shane McElrath: "I actually haven't ridden at all since Elsinore. I crashed at Elsinore and my handlebar hit the inside of my leg and I got a hematoma, and I'm just now starting to walk normal. I haven't been able to do much at all with my leg, but I've been taking advantage of that and spending much-needed time with my family and friends. I've been going nonstop lately, and I needed a break."
Les Smith:
"I'm mainly focused on my fitness and strength, as well as getting a ride. Things are super tough right now, but I do have some irons in the fire. In the meantime I'm 100 percent focused on getting my arms back strong and my fitness back to where it was. The plan as of now is to be back on the bike not this weekend but next."
Jimmy Albertson: "I've just been working hard with my new trainer, Seiji, on the bike doing long motos outdoors to make up from missing the summer. Off the bike I've been really busy putting my own team together with Merge Racing and Kyle Regal. Everything is coming together nice and I'm hoping to be able to present everything at Monster Cup. Either way I'll be there racing."

Kyle Chisholm: "I obviously didn't get to ride any outdoors this year, but I got back on the bike the week before Elsinore, and I've just been riding, cycling, and training trying to get myself back fit and in riding shape since I was off the bike for about five and a half months. Looking forward to putting in more work and hitting some offseason races to prepare myself for 2014."

Michael Byrne: "Two days after Elsinore I had surgery on my leg to fix the bend in my tibia from where it healed wrong last year. I just wasn't myself all summer with how it was; I tried my best and hoped that it may get better, but it didn't, and I was pretty much just riding around out there making a fool out of myself, which wasn't good for me or my sponsors. So it was times to get it fixed."

Matt Goerke: "I've just been taking a few weeks off to try and heal up."
Ben LaMay: "I rode one day since Elsinore, just wanted to go out and have fun on the bike. I've just been spending time with my girlfriend, and I got a tattoo last week. I had surgery on my knee on Wednesday so now I'm gonna be chillin' on the couch for about three weeks. Surgery went good. Knee is sore, though."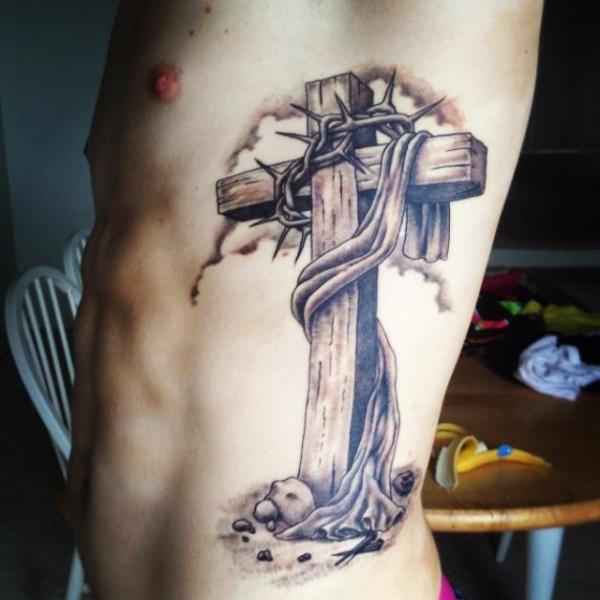 Ben LaMay got a new tat.
Ben LaMay photo
From Stew PR man Greg Hatton:
Malcolm: Hasn't done too much but relax so far. This year was pretty good. Had its ups and downs, but he's happy yo just be able to rest for a little bit. Lately he's been visiting and spending time with family and friends. No vacations yet!
James has really been resting and relaxing. This year has been a wild one and testing for '14 starts soon. But right now the only thing we got is planning out the Seven MX product launch and starting up the plans to get all the champions of the James Stewart Spring Championship (James' Amateur National at Freestone) down to the house for the Champion's Ride Day.
TWO RETIREMENTS (Chase Stallo)
We were dismayed to see the Instagram announcement that Troy Lee Designs Honda rider Christian Craig was retiring, though we weren't totally surprised. Christian is an incredibly fast guy, but he's also had way more than anyone's fair share of injuries over the years. The shame is that he never got to achieve the kind of success his talent and drive deserved, as the injuries just kept coming. We wish him good luck on whatever comes next, and thanks, Christian, for always being good to us with interviews and questions and cool photos and all that.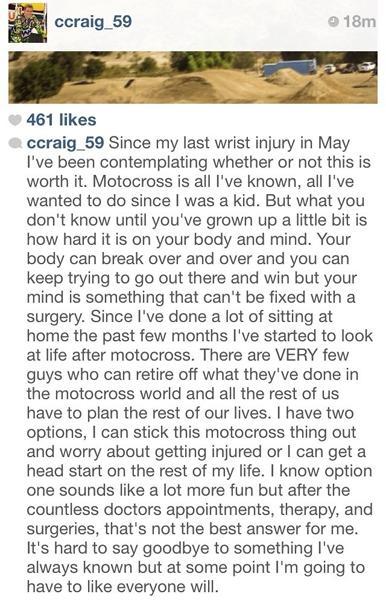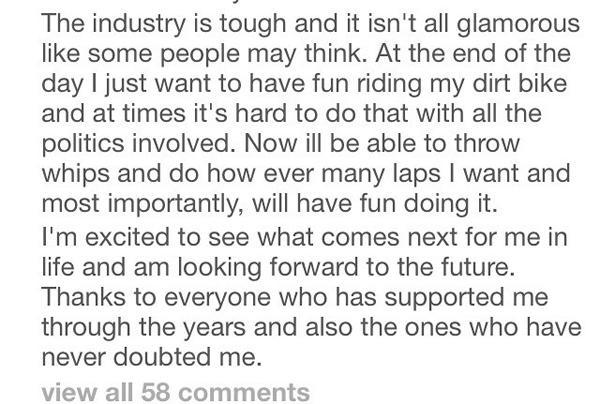 Following Craig's announcement came another Instagram retirement from Lance Vincent:
"Well with the season over and my buddy @ccraig_59 hitting the nail on the head ill let everyone know where i am these days.With the industry like it is these days you cant make a living racing dirtbikes unless your a top 3 guy every moto and while im young an healthy i want to be able to start a life outside of motocross so i choose to give it up an ride for fun on my spare time.Just wanted to let all the people who didnt know i quit riding know that i quit an kinda give everyone a look at it from the inside out.Its not what it seems like being a (PRO) dirtbike rider i can promise you that.Some things need to change in the sport or else it wont ever grow.HUGE thanks to everyone who has helped me get as far as i did and along with all my fans that supported me along the way it fun and I'll never forget the memories!"
THE COUNTDOWN(DC)
We're having a blast with another one of our countdowns, this one Monster Energy's Top 25 Team USA riders of all time. We are 23 days away from the start of the 2013 FIM Motocross of Nations, which will be held on September 28-29 in Germany. Team USA is hoping to avenge the thrashing they took last year in the sands of Lommel, Belgium—ironically, the same track where Team USA's dominance (twenty-two wins since) began in 1981. We're basing the rankings on success of the team, tours of duty for the rider, individual results, overall impact, and more. Starting out at #25 was Mark "The Bomber" Barnett, who rode for Team USA in 1983, and then the late Jim Pomeroy, a five-time member and the first American to ever win a moto at the Nations, came in at #24. Read about today's #23 here.
We expected to get a lot of feedback, and we have as people start looking ahead to the race three weeks and one day from now. Check out this comment from "AMC El Cajon 360cc 2-Stroke!"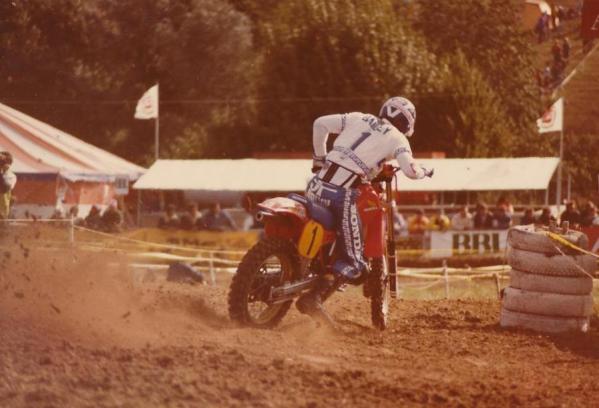 Where will David Bailey end up on the Team USA Top 25 list?
Racer X Archives
"Americans learn pretty fast! first national championships in 1972, first GP win in 1973, first moto win at the MXN in 1975 and first MXN overall win in 1981, and two fist world GP title in 1982!
Comparing to the two biggest mx country in Europe now, France & Italy; first national championships in the 1950's, first world GP title in the middle of the 1980's, first MXN moto win in the 90's and first and only MXN win in 1999 and 2001!"
Off- and On-Road (Weege)
Motocross and supercross might be done, but there's plenty of other racing remaining this year in the motorcycle world. The off-road set welcomes the Amsoil Grand National Cross Country Series back to action this weekend at Unadilla, where FMF KTM Teammates Kailub Russell and Charlie Mullins are locked in a battle royale with four races to go. They're tied for the points lead through nine races, and each has four wins this year. Mullins was fast out of the blocks, but Russell won three straight heading into the GNCC summer break. There hasn't been a GNCC in over two months, though, so no one really has momentum. Should be a … wait for it … thrilla at Unadilla.
Also racing Unadilla is Zach Osborne, who raced the first two GNCCs back in March to get a little preseason motocross training. He was solid in the XC2 Lites class with a pair of thirds. Now Zach is back not for motocross training, but to polish up his off-road chops for his debut in the International Six-Days Enduro at the end of the month.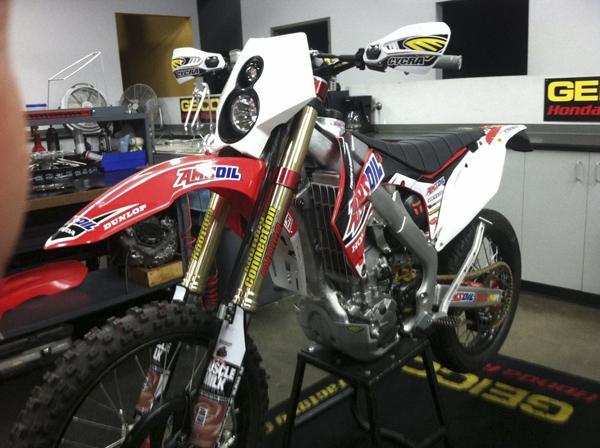 Osborne getting his bike ready for the ISDE.
ISDE is a weird mix of old- and new-school. The actual riding part isn't what you'd think—instead of day after day of the gnarliest trails ever, the event nowadays features simple trails connecting special tests, which are usually wide open and fast. A motocrosser could do well. But the old-school part requires a rider do all of his own bike work (key ingredient: changing tires), and bikes must be street-legal and ridden on real roads!
For that, Osborne had to bolt a dual sport kit onto his CRF250R. Check it out! And never mind the street rear tire; Zach will put on the real dual sport tires when he gets over to Italy. He also needs to have his real street motorcycle license, so he's taking the actual on-road skills test next week on a Honda Grom. I have a feeling Zach has the motorcycle skills needed to ride safely.
WHAT MATTHES HAS LEARNED (Steve Matthes)
Learning. It's a good thing to do. In the two weeks off from Elsinore, I learned a few things. Thanks to the Racer X guys for letting me share these with you guys.
Here's what I learned since the racing has stopped:
I learned that JT is heartbroken over his BFF Chad Reed's motocross season over in this story.
I learned that Swizcore can do more than just have his own corner in this Honest Look at the 250MX points.
I learned that you can send DC two black-and-white shots from who-knows-what-year-or-tracks, asking him who the riders are, and he replies with an answer in one minute. All hail the bench racing king!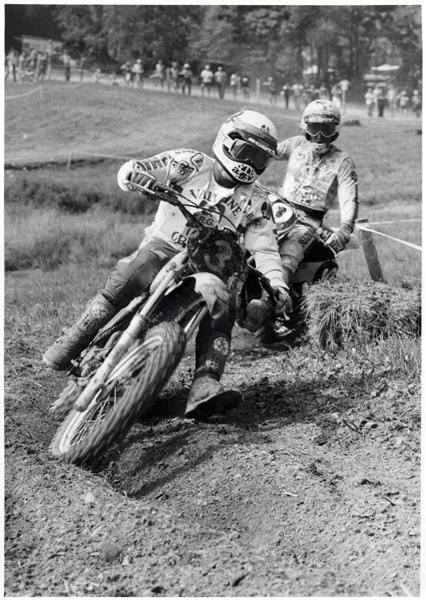 That's three-time world champ Gaston Rahier leading Brian Myerscough at the 125cc U.S. Grand Prix at Mid-Ohio.
SCOTT USA photo
Even though I was hella busy a few weeks back, I learned that when you have passion, you find the time to write out
a 3,000+ word column
on Ross "Rollerball" Pederson's greatest feats. Yes, I'm probably the only one who cares. And the fact that Ross read it and texted me with "You're good to me" made my day.
I learned that my wife gets mad when you're buried in group texts with JT and Weege at dinner talking about, what else, motocross.
I learned that Doug Dubach wasn't that much of a fan of the YZ360 in 1989.
And finally, I learned that Andrew Short is looking to watch video to learn how to go faster next year.
See ya next week!
HEY, WATCH IT
Racer X Tested: Honda 2014 CRF250R
GoPro: The Untold Story of RV
Australian National Highlights
While researching old videos for our Racer X Top 25 Team USA riders, DC stumbled upon this silent film of the 1974 Polish 250cc Grand Prix, with glimpses of the late Jim Pomeroy and Gaston Rahier, plus men like Jaroslav Falta, Gennady Moisseev and more on a brutal, dusty old track. Check it out.
RANDOM NOTES
Here's a cool act of kindness from the people at Monster Energy, by way of Slaton Racing. Bruce Slaton forwarded us the note that he sent to Monster after they donated cases of their various beverages for the firemen and volunteers who helped fight the Rim Fire in Northern California:
We at Slaton Racing would like to thank you for your help.  This fire came within 4 miles of our race headquarters and home. We have had thick, unhealthy smoke everyday until the afternoon when it blows away. Everyday hundreds of firefighters drove past our shop to fight the fire. We drove by Highway Patrol at road blocks and the staging areas for all the crews and dozers. We have been passing out our  left over Monster Energy drinks that you supply us at the supercross race, along with waters, as these men and woman have been working 24 hours a day for weeks to protect our homes from fire and protect the homes of people that have been evacuated. They have all taken the Monster Energy drinks with a smile and thought that it was pretty cool to be helped this way, because they could use the energy.  The "Hot Shots" are the ones that climb and hike up the extreme terrain every day to hand-cut fire breaks—they loved getting cases to take with them back out to the fire. I would also like to thank Bradley Miller because after I told him what we were doing, he got on the phone to Feld Motorsports and the next thing we know Monster Energy was calling us to help out.  Again all the firefighters, Highway Patrol and the Slatons would like to thank Monster Energy for their support in this state of emergency!
Sincerely
Bruce Slaton
Slaton Racing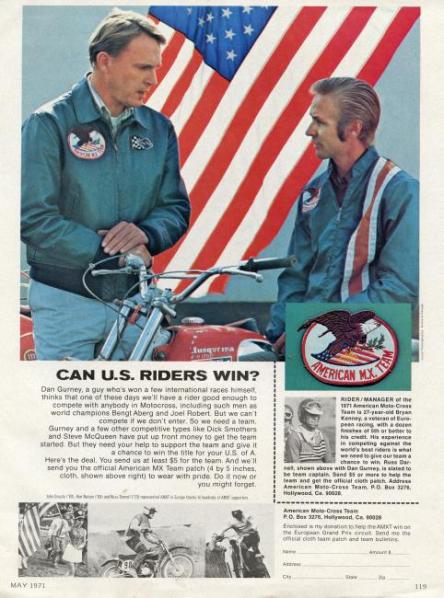 Jeffrey Herlings (@JHerlings84)
Its now 100% sure I will NOT be racing in Lierop. I tried hard.. Did everything I could, But to fight against time and nature is difficult.
Rachel Witt and her husband, Jason, and friend Cody traveled all across the country this summer in the Lucas Oil/Mav-TV rig, following the Lucas Oil Pro Motocross Championship and enjoying the chance to see America. They went to every round and even stayed here in Morgantown at the Racer X offices in between some events. Rachel blogged all along the way, including this week's post about the end of their summer journey. It's good stuff!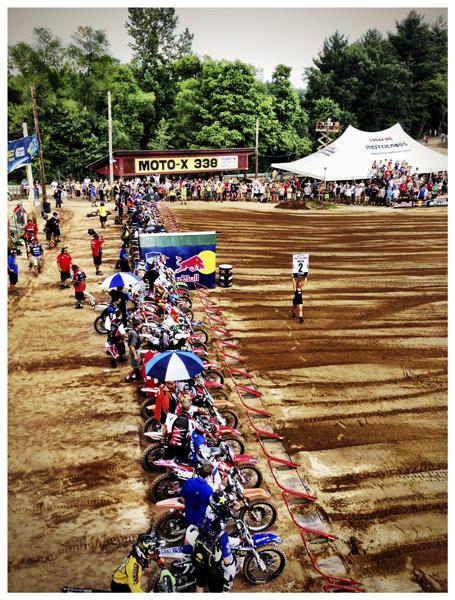 Rachel Witt volunteered to be the 30-second girl at Southwick.
DC photo
And now it sounds like Herlings might race after all. MX Large posted: "In what has become a little like the American series These Are The Days of Our Lives, Jeffrey Herlings bikes have been put through scrutineering and the Dutchman has put on his twitter account "I got a suprise 4 ya all." (I hope someone lets MXGeoff know that it's actually Days of Our Lives.)
Reynard Raceway is holding the second annual Warrior MX Ride Day on September 7, 2013. The ride day will host appearances by Honda Muscle Milk factory rider Trey Canard, along with Robbie Reynard, up-and-coming professional rookie Colt Nichols, and GEICO Honda rider Justin Bogle, presented by Warriors for Freedom Foundation and Reynard Raceway. Proceeds from the event will benefit the Oklahoma based Warriors for Freedom Foundation. A non-profit, tax-exempt organization that provides support to our nation's heroes and their families in the areas of outdoor activities, scholarships, legal assistance, mental health and wellness as well as promote awareness of Post Traumatic Stress Disorder (PTSD), Traumatic Brain Injuries (TBI) and Combat Stress Reaction (CSR) in partnership with Real Warriors Campaign, Folds of Honor Foundation and other military non-profit organizations. The Warriors MX Ride Day will be open for all ages of riders beginning at 10am. The event will offer auction items and autographed memorabilia.
For more information call Josh Massey at (918) 576-8677, Brett Dick (405)315-8727 or visit www.warriorsforfreedom.org/mxrideday
That's it for Racerhead. See you at the races ... in Germany!