Spring Creek MX Park
Millville

,

MN
Spring Creek (Millville)
Lucas Oil AMA Pro Motocross Championship
Its just hours before the first 250 moto of the Red Bull RedBud National in Buchanan, Michigan, and Jesse Wentland is getting dressed for practice. He's packed inside the back of a white van that's filled with a practice bike, extra tires, gas and an arsenal of other necessities for the weekend. It's not exactly spacious. And not where Wentland pictured himself a year removed from winning the Open Pro Sport class—and scoring a runner-up performance in 450 A—at the Red Bull AMA Amateur National Motocross Championship.
"You come off winning a championship [at Loretta's] and are being told that you would be able to get a ride," says the privateer from Minnesota. "I went around to everyone asking for at least a try-out and got turned down."
Wentland wasn't deterred. Instead he worked part-time during the off-season for fellow Minnesotan and professional rider Zack Williams' father, saving money so that he could race in 2013. (Williams, by the way, was the one who just barely outdueled Wentland for that 450 A title at Loretta's last summer in a battle to the finish). Wentland headed into 2013 looking to make a splash in his first season ever in Monster Energy Supercross, but after qualifying in the 250SX East Region opener in Dallas, things quickly began to trend downward. Wentland failed to make another main and suffered a broken collarbone at his home race—Minneapolis—in practice.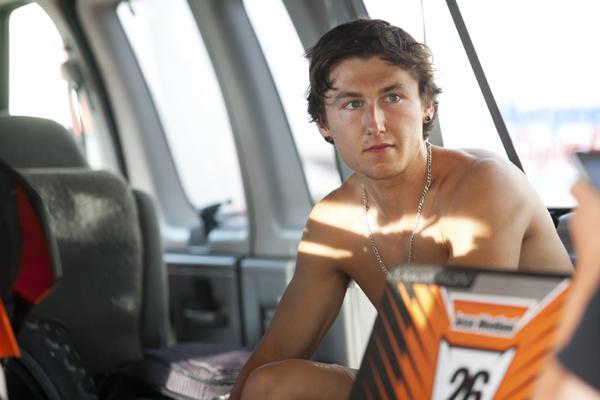 Wentland getting prepared for the first motos of the Red Bull RedBud National.
Andrew Fredrickson photo
"It was a rough year in supercross," he concedes. "I didn't know what to expect coming in and after Dallas it was all downhill."
The transition to Lucas Oil Pro Motocross hasn't proven to be a smooth road, either, as Wentland tries to juggle being his own mechanic at the races and driving through the night, all while growing accustomed to much different track conditions during the short, one-day pro schedule.
"It took us around 21 hours to get to Budds Creek and that takes a toll on your body," says Wentland.
But the drive is sometimes the easiest part of his journey. "We are pretty much screwed if we have major problems at the race like a motor blowing or something," explains Wentland. "My trainer [Jesse Goskey, Fitness Performance] or my dad will wash the bike while I change the filters and stuff. In between motos I have to get my bike ready and get my helmet washed and everything, so I have about a ten-minute break to where I get to cool off."
Things may be trending by upwards, though. Following a breakout ride at the Red Bull RedBud National where he garnered his first career top 15-moto finish, Wentland took his talents North of the Border. With help from Steve Drewlo and Andy White [KTM rep in Canada] Wentland would compete in two rounds of the Canadian National series at Gopher Dunes and Sand Del Lee for factory KTM.
"I thought it would be a good experience to try Canada," explained Wentland. "Gopher Dunes was one of the rougher tracks I've ridden, other than Southwick. And Sand Del Lee reminds me a lot of Millville in regards to the dirt, so it was good practice for the upcoming Nationals."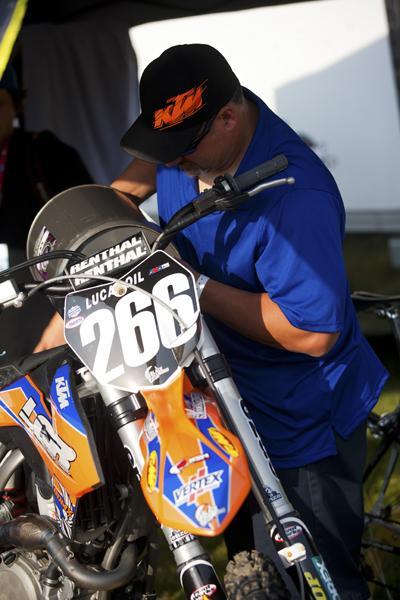 Wentland's dad played the role of mechanic at RedBud.
Andrew Fredrickson photo
In a 250 class that features more than 15 factory-supported riders it's easy to lose confidence as a rookie privateer. It may have taken a trip to Canada (Wentland won the first moto at Sand Del Lee last weekend), but Wentland finally feels he has his confidence back.
"It had been a while since I've been in a winning position, so it was definitely a confidence booster to go to Canada and run up front and get a win," he says.
With his Canada plans on hold (he plans on returning to race the final round following Unadilla), Wentland will return to Lucas Oil Pro Motocross this weekend at the track that made him what he is today—Spring Creek. Growing up just two hours away from the renowned raceway, Wentland spent a majority of his amateur career racing there. But after spending many years standing on the outside looking in, Wentland is finally ready to race with the big boys.
"I'm looking forward to finally getting to race the pro national there after doing all the amateur days growing up," he says. "I used to watch all the pros race on Saturday and now it's finally my turn."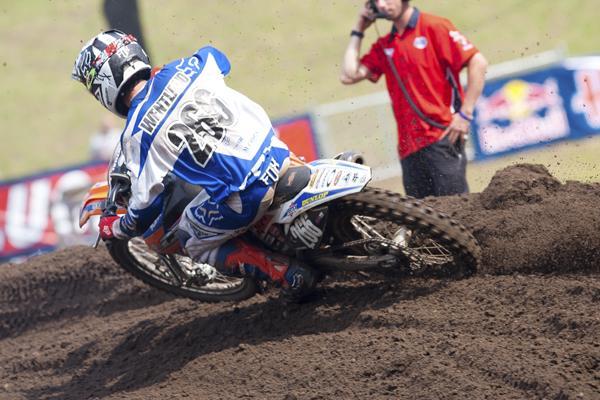 Wentland is hoping for a breakout ride at his home track this weekend.
Andrew Fredrickson photo
As for the huge expectations that come with racing in front of family and friends, Wentland is approaching it just like any other race. "You always want to do well in front of the home crowd, but I've gone into every round trying to not put pressure on myself, so I'm going to go into this round with the same mentality."
While headlines this weekend will surround Ryan Dungey's attempt at a sixth consecutive overall at his home track, and the home pro debut of Jeremy Martin, along with his older brother Alex returning home, Jesse Wentland is left trying to find his place at a track that he has so much familiarity with.
"I've put in so many laps there that I feel comfortable on it instead of going to a track I've never been to before. It's definitely an advantage when you already know the track."