Spring Creek MX Park
Millville

,

MN
Spring Creek (Millville)
Lucas Oil AMA Pro Motocross Championship
Hello, everyone, and welcome to the Rev Up. We have arrived upon the most stimulating weeks of the year in American Motocross. On the amateur side, Ponca City's Grand National Championships have been taking place in Oklahoma as they have for over 30 years. One of the many cool stories from that event is this year's attendance of multi-time X Game Gold Medalist, '97 L.A. 125 Supercrosss winner and General of the Metal Mulisha, Brian Deegan. Instead of terrorizing the go cart track and water park like he did in the early 90s, Deegan and his son Haiden are striking fear into their competitors in the pee-wee classes. I think it is really special to see someone who was once one of the most rotten apples in the orchard end up as a successful and devoted family man. Dare I say, Mini Dad?
Deegan received no gifts while earning the joy of chasing his son around at a venue he himself once bled at and was victorious. Brian was an ordinary kid from Nebraska that would go on to do extraordinary things. He's probably made as many bad decisions as anyone, but when the opportunity arrived to make some positive changes, Deegan turned a new leaf. He's a symbol that you should never give up on people, and even the most tarnished of personalities can change for the better.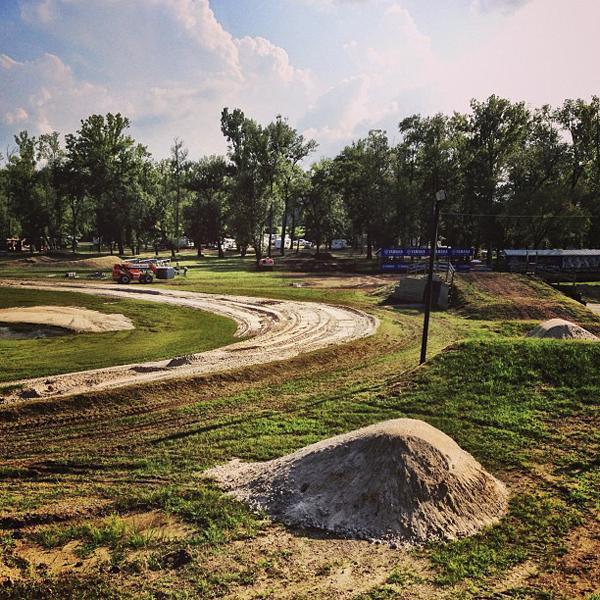 Track prep for Loretta's is underway.
DC photo
More on the amateur side, as this is preparation week for the AMA Amateur National Motocross Championships at Loretta Lynn's. As you read this, motor homes are already parking for their stay and busy bees are buzzing all across the ranch. Hay bales are being pulled off of open trailers, hundreds of banners are going up and the grass covered racetrack is being cut and watered. It is some kind of a sticky sweaty hell in central Tennessee and I used to lose 10-15 pounds during prep week alone, all in an effort to reward the few and proud that have qualified. The reward is the view they see as they crest "Stagecoach Hill" and set their eyes on the greatest amateur motocross venue in the world. Whether it's your first time, or your 20th time, said view will make the hair on the back of your neck stand at attention.
Meanwhile, the Lucas Oil Pro Motocross Championship is on fire. What a time to be a motocross fan! The Spring Creek National in Millville, Minnesota is one of the most popular stops on the tour with its beautiful landscape and rich history. To name several:
- Home track of legendary two-time World Champion and Minnesota native Donny Schmit, winner of the 125cc overall in 1987 and 1988.
- Site of Damon Bradshaw's spectacular pro debut, where he scored fourth place in 125 Class in '88, the week after his last ride at Loretta Lynn's.
- Beginning of "The Hype" in 2004 where Mike Alessi made his pro debut going 27-25 in the 450 Class.
- Site of Ricky Carmichael's last professional race in 2007, also the venue where he lapped second place in route to a muddy victory in '06.
- Ryan Dungey's pro debut in 2006 (Lites class 8-8 for 7th O/A). More recently, Dungey has won an overall here for the last five years.
I've said it all series long that each round of the outdoor nationals is special. Thus far this year, every round has produced a beautiful day of incredible racing action watched by huge crowds. Again, I've been a broken record regarding the weather, but the forecast is calling for absolutely perfect moto conditions with mid 70's and partly sunny skies. It's astonishing how blessed we've been by Mother Nature this summer. With four rounds to go, the title looks to be set in the 450 Class, but a single point separates Red Bull KTM's Ken Roczen and GEICO Honda mounted Eli Tomac.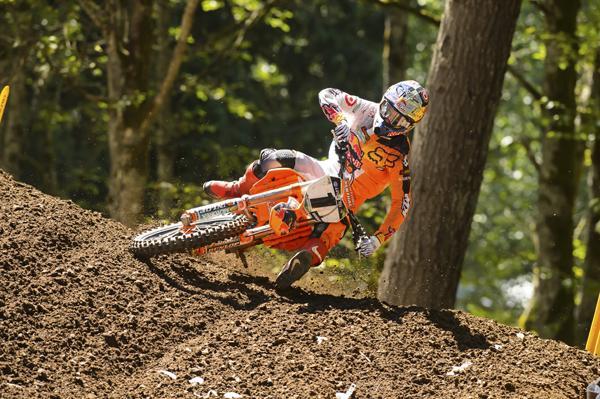 Dungey is seeking his sixth straight overall at Millville this weekend.
Simon Cudby photo
The soil at Spring Creek is a soft/semi-sandy hybrid with a plethora of natural terrain jumps, and the dreaded sand whoops. The lion's share of the passing takes place in the wickedly fast whoop section and it'll be incredible watching the two 250cc title contenders dance through them. Roczen is a renowned sand rider, but Tomac was on another planet at Southwick. The starts are all important, and with teammates of the title contenders proving they can get up front early and stay there—like Justin Bogle showing serious speed at Washougal, along with Red Bull KTM's Marvin Musquin regaining his early series form, the going will be tough.
Enter a special aspect of the event in that the facility is owned and maintained by the Martin family. MyPlash/Metal Mulisha/Yamaha mounted Jeremy Martin comes into this race with a real shot of another podium or his first moto win. It's a shame his older brother Alex is injured, but he's expected to give it a go. Imagine the pride of John Martin watching his two sons race in front of their local family and friends. That's motocross soul all the way.
Equally nostalgic is the event being Red Bull KTM's Ryan Dungey's home race. The title might be a long reach, but he is fighting Monster Energy Kawasaki's Ryan Villopoto hard. The two mega stars have traded moto wins and overalls all summer, and we should be in for a real donnybrook this Saturday afternoon. A well-deserved call goes out to Yoshimura Suzuki's James Stewart who has clicked off four solid motos in a row. Millville has very similar conditions to Bubba's practice facility and he should be closer to Dungey and Villopoto this time. He's doing very well with those podiums, and nobody wants to see anymore big bails from #7. Honda Muscle Milk's Trey Canard flies at this track and needs a couple good starts, meanwhile his teammate Justin Barcia's ship has been taking on water and is overdue for a good race.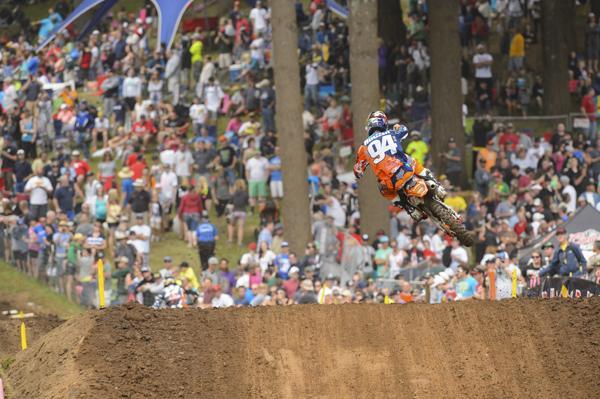 Roczen looks to extend his one point lead over Tomac at Millville.
Simon Cudby photo
TwoTwo Motorsports/Discount Tire mounted Chad Reed has been left out of my column for several weeks because his riding has been less than newsworthy. He showed some speed last week and ironic as it may be, he takes that momentum into a track where he had the scariest crash of his career. Reed appears to be trying hard, so let's give one of the sport's all-time best a little extra boost for the weekend.
Also pushing to the starting line at the place that began his drama-filled pro career, will be MotoConcepts' Mike Alessi. All controversy aside, #800 is one of the best racers in the 450 Class. He can put everything behind him and race to his potential in the top five, and I hope people get behind him as he goes for it on his own. Mike hasn't behaved well on the track in years past, but has put down a couple solid seasons devoid of trouble by his own doing as of late. His is a unique situation, but I don't think we've seen the best days out of Mike Alessi yet. You never know how people will end up, or what changes in their lives may put them on a more positive path. It happens in our sport all the time. Take a page from Brian Deegan's book of motocross history.
To all of the amateur families competing in Ponca City, or making their way to Loretta Lynn's I offer my very best heartfelt well wishes. To the men taking it to the starting line at Spring Creek, I offer my right fist in the air as encouragement to unleash hell. What a summer, folks. What a great time to be a part of American motocross.
Thanks for reading, see you next week.