Southwick, MA
Southwick
AMA Pro Motocross Championship
"I don't care if you have to weld it, tape it, glue it, whatever, I just need to race Southwick," said Robby Marshall. After a great run in qualifying three weeks ago at the Tennessee National, he was a victim of a collision with Trey Canard's downed Honda in the first moto. Marshall broke his collarbone, and his day was done. Immediately, the native of Stowe, Massachusetts, circled the calendar for Southwick, his local race. One way or another, he was going to race, and that's what he told the doctors.
Marshall is here today and is going racing. He didn't have surgery to get a plate in the collarbone, and he didn't even wear a sling to help it heal. He can't. Marshall is far enough down the privateer depth chart that he has to work during the week, and right now he's actually taken up residence in Concord, North Carolina and runs a dozer helping build tracks. The JGR team, local to the area, pitched in and let him work with one of their NASCAR team physicians to try to heal up more quickly. This morning, the Asterisk medical crew taped his shoulder up, and he said that has helped tremendously. He has to go for it, because this is his shot at glory. Last year, Marshall finished fourth in the first 450 moto. A few years earlier, he was running in third until a crash late in a moto. He flies here, and if that shoulder holds up, the #82 KTM could be up front again.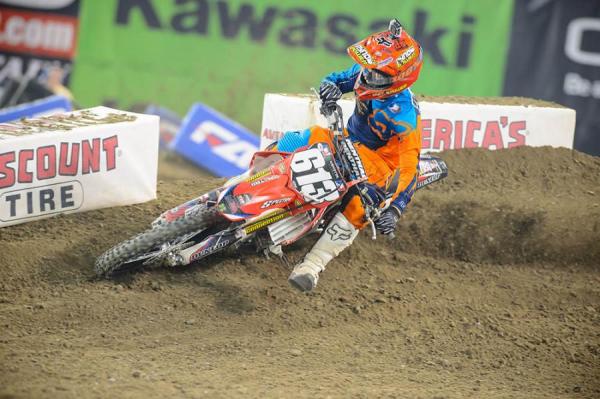 Decotis was last seen in the U.S. racing supercross.
Simon Cudby photo
By the way, Marshall is racing a 450 today, even though he's been on a KTM 250SX two-stroke at previous races. He's got to bring his best weapon on the day when he has his best shot a good finish. "I'm bringing the two stroke back for Unadilla," he says. "I'm a privateer and I'm not making any money at this, so I might as well just have some fun."
On the fun scale, no one is enjoying their day at Southwick more than Jimmy Decotis. After a rough few months in Europe racing for the CLS Kawasaki team in the GPs, Jimmy had enough and decided to come home. His results over there weren't great, but, more importantly, he just didn't like living there. He wanted to go home, so now he's pulled the #613 Honda he raced in supercross out of the shed, and he'll race this weekend and some of the other rounds on the east, like Unadilla and Millville. "I feel fast and I feel like I'm in shape," he said this morning. "When I was in Europe, all I did was ride sand, so I'm ready."
Another local favorite is AJ Catanzaro, however unlike most New England rippahs, he doesn't claim to be a sand rider. "I live 45 minutes from here, but there's a track ten minutes from my house that's hard pack and just all jumps," he says. "That's why I like supercross." Indeed, AJ has had more success in supercross and arenacross than outdoors, but he has been riding more sand than usual this year to try to prepare for this event. A few weeks ago, he was here at a local race, battling none other than John Dowd for the race win. AJ came out on top after a knock-down drag out battle. "So there's a little confidence there," he says.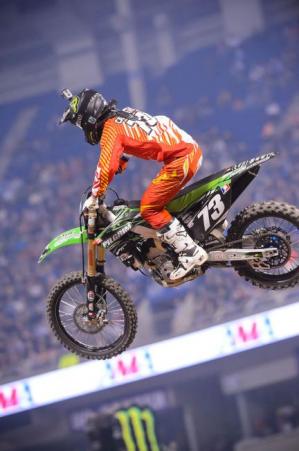 AJ Catanzaro says he likes indoors better than out, but he's gonna give it his all at the Wick this year.
Cudby photo
No track on the Lucas Oil Pro Motocross Championship circuit favors local products like Southwick. But the locals also know this will be there last chance, ever, to shine on this track for a National crowd. Be it broken bones or living a world away, they weren't going to miss this one.