We've featured some hilarious and crazy stories from some outstanding riders in the past, but Denny Stephenson took things to an entirely new level in this particular Rewind. We have to admit, we weren't quite prepared for him to be so honest in his interview, and you probably aren't prepared for what you're about to read. So buckle up, make sure there are no young children looking over your shoulder and get ready to laugh at Denny's outlandish and sordid tales.
Stephenson on advanced pranking:
One year, I believe it was 1991, we were leaving practice at Hangtown on that gravel road. It was me, Bud Man (Buddy Antunez), Ronnie Tichenor and Jeromy Buehl. Tichenor was driving, and all of a sudden we got slammed from the back by another car. It was Chicken (Jeff Matiasevich), O'Show (Johnny O'Mara) and Wardy (Jeff Ward). They proceeded to ram the back of Ronnie's rental car and damaged it, denting the trunk and breaking a taillight. Ronnie was pissed. Anyway, we went to the mall after that and bought some shoes and stuff, and as we were leaving we remembered that Chicken was staying at the hotel, I think it was the Radisson, right next to the mall. We knew that they were probably getting ready for their dealer appearance, so we decided to leave them with a surprise. We found the rental car in the parking lot, emptied out our shopping bags and proceeded to go into the bathroom and poop in the bags. Then we wiped it all over the windshield and windows and under the door handles.
Later Chicken told me the story, and it turns out they came out in their Kawasaki whites and dress pants to go to the dealership and they found our sh&t all over their car. Literally! O'Show I guess was getting ready to throw up! Chicken went inside and got a towel and started wiping down the car. Then they put their hands under the door handles and found the rest of our poop!
So the next morning, we came out to our rental car, and they had taken all the wheels of our car, then put the car back on top of the wheels, put the lug nuts in the hubcaps and crapped and pissed all over them. So we were out there in the morning with some towels and Formula 409 trying to put our car back together, and the head Japanese guys from Suzuki came rolling by and asked us what happened. Needless to say, we made up a story and said we just got a couple flats!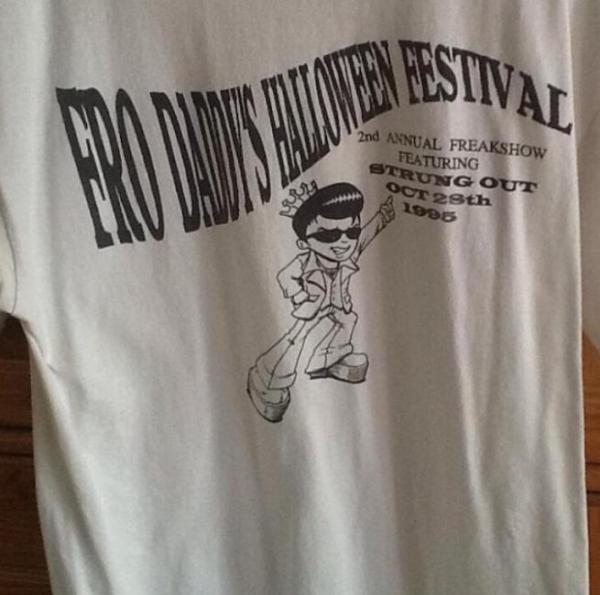 Oh, this would have been fun.
Courtesy Stephenson
On the old weekend National format:
We had way too much time on our hands back then. On Saturdays we'd go play basketball with the locals, hit the waterslides, we'd go buy badminton racquets and generally just be obnoxious. One year we went a week early to Budds Creek and rode all week. We got a couple rooms between a bunch of guys, and we immediately stacked the beds up in one corner and went and bought like $500 worth of slot car track. That room was specifically for slot car tracks, and we did that every night. I think after we threw the tracks in someone's box van and gave them to a kid at the races or something.
On Celebrating Jeff Emig's 1992 125 National Championship
I remember when Fro won his championship in '92. It was a muddy downpour that weekend at Budds Creek, and me and Fro and Bud Man were pretty tight then. Before the 250 class moto was even over, we were in the back of Fro's box van making margaritas, still in our muddy gear. We were all pretty stoked for Fro. Then that night we went to a restaurant that was like twenty minutes away from our hotel. Ronnie Tichenor was there that weekend, and he and I started a food fight. I think Jeff Glass was there with us too. Anyway, we started this huge food fight and Ronnie and I got thrown out. Everyone was mad at us at this point, so we just decided to walk back to the hotel. Only it was like ten miles away and it was pouring rain! While walking back we got in a huge mud fight and were completely covered. About then Ray Sommo came by and was going to pick us up, but we were all muddy so we just jumped in the bed of the truck with Sommo's KX500. As we're going down the interstate, Ronnie proceeded to get on Sommo's bike, started it and started grabbing gears. He was like fifth gear pinned just destroying the tire in the back of the pickup going down the road. That was one of our better championship celebrations, but Fro wasn't even there to celebrate with us! But we had fun without him.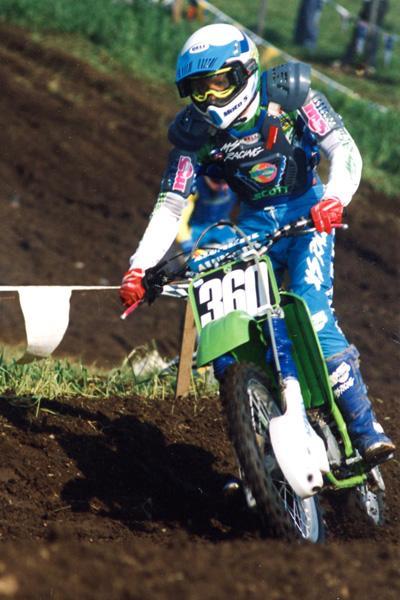 Here's Denny rocking his original digits, 360.
Thom Veety photo
On Fro's house:
We used to have pretty good parties at Fro's house, and I stayed there a couple summers. He had that huge Fro Daddy Halloween Festival there two years in a row, and one year we bought some couches, got a couple Port-o-Johns and Strung Out came and played at the party. He had a big pool in the back of the yard, and by the end of the night the band was in the pool playing, live mics and everything. A police helicopter showed up and was shining a spotlight on all of us, and the lead singer got everyone at the party to chant, 'Eff you!'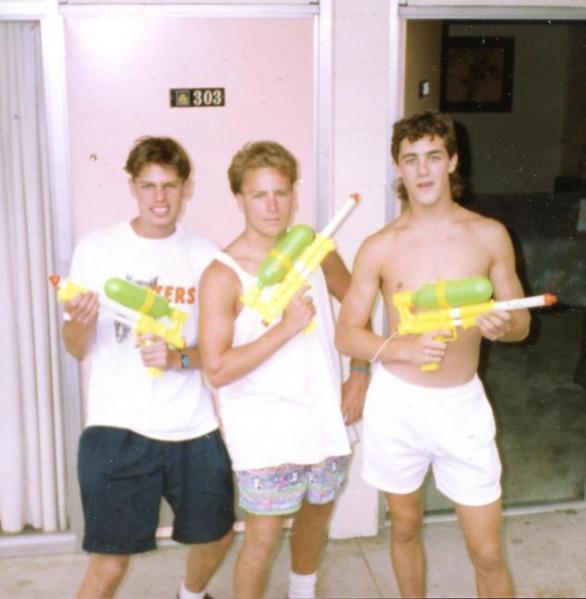 Said Denny of this photo: "We used to have a lot of extra time on our hands on national weekends. Pretty sure this is Millville or Binghamton. Clearly this weekend was water guns weekend."
Courtesy Stephenson
On winning the Eastern Regional 125 Supercross Championship:
It happened so quickly I don't even really remember that much of the year. I came in that year, and the Suzuki bikes that year were unreal, and I just showed up feeling like it was my turn to win. We started the season off at Houston and I got jumped on when I doubled a triple. Mike Craig landed on me and I think I started the season with an eighteenth. But then I just went on a tear, I think I won like eight of eleven that year and ended up wadding at Oklahoma City and breaking my wrist. It was a year of highs and lows. I broke my navicular, and at the time they didn't know how gnarly that is. They said, 'You can either ride with it or we'll put you in a cast for six months.' Well, I was an 18-year-old kid from Nebraska with a two-year contract, and the last thing I wanted to do was put a cast on for six months and screw up the rest of my contract.
So I raced with it like that for the next year. I tried a brace, a rubber cast, and in a National I couldn't even grip the handlebar. Nowadays we know how bad that is, and they go in and pin it and stuff. Anyway, after about a year I ended up getting a cast. After four months I asked if I could ride with a cast on and they said I could, and that the vibration might actually stimulate growth. So I started taking a handlebar into the doctor with me and they would shape the cast around my hand on the handlebar. I had a lot of fun riding like that, and I ended up racing the Gainesville National and the Daytona Supercross with a cast on my arm. The cast was new and too tight at Gainesville though and I pumped up and my arm went numb and I had to pull off. At Daytona I made the main, but I had to pull off about halfway through because I couldn't feel my hand. The trials and tribulations of being young and dumb.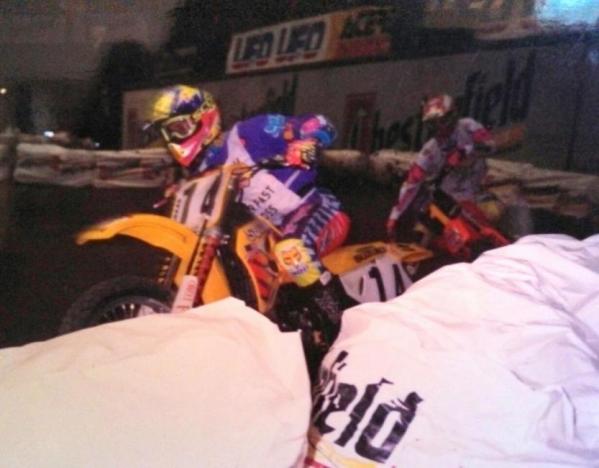 Here's Denny in Italy, where he forged his Dash for Cash legend.
Courtesy Stephenson
On his favorite trophy:
My favorite trophy is from Italy. It was a match race (one-on-one) that we did, and we'd race like two laps. I think I beat Fro, I beat Jeff Stanton, then I ended up getting second to Lamson. The last match was between him and me, and the last turn was one of those turns that went up the face of the finish-line tabletop. I hit Lamson so hard I broke his front brake lever! I tried pushing him off the tunnel jump. I was trying to kill him basically. It was my opportunity to show that I could go fast for a lap-and-a-half! Those races were kind of like what they did at Bercy, and I think it set me up for the Dash-for-Cash when I raced Arenacross eventually. A lap-and-a-half? I was like, 'I can beat anyone in the world, let's do it! I beat Jeff Stanton once, I can sure as hell beat Bud Man!"