Budds Creek Motocross Park
Mechanicsville

,

MD
Budds Creek
Lucas Oil AMA Pro Motocross Championship
Hello, everyone and welcome to the Rev Up. There are a lot of really cool things going on in motocross right now! None more so than the 2013 Lucas Oil Pro Motocross Championship returning to action at legendary Budd's Creek in Mechanicsville, Maryland. As a writer, you have to be careful using
legend
so flippantly. Budd's Creek has only hosted nationals since 1989, but what really constitutes legendary status? Age is merely a number and I've always favored quality over quantity. This track has already produced some of the most electrifying moments in motocross history.
I will go no further before reminding everyone that Budd's Creek is home of Henry Hill. Jeremy McGrath gave a sickening and shocking quote in Cycle News following the incident in the summer of 1995. Said MC: "We go riding in the dunes and jump forever, but I've never seen anyone go that high and that far before." Legendary, electrifying, terrifying, you can go ahead and pick whatever adjective you so desire. Doug Henry has seen things that nobody ever has. For as long as I am able to write about Budd's Creek I'll never fail to put down some ink to help people remember how legendary Doug Henry is. The guy busted both arms at the track two years later, but then returned the following year to win the race en route to the 250 National Championship! Legend from that point forward, forever and always.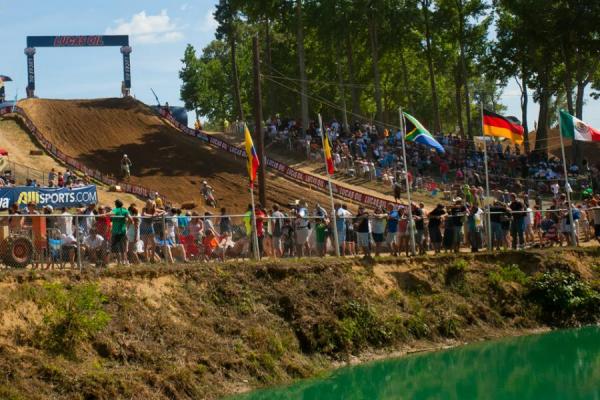 Get to the fences, folks.
Fredrickson photo
More recently, the 2007 Motocross of Nations occurred within the sharp green valley of this racetrack. Facing the best in the world at a time when there were some fairly salty members of the fraternity, Ryan Villopoto holeshot on a 250F Kawasaki and raced the fastest laps I've ever seen ridden on a motorcycle of that size. He had a 30-second lead near halfway, crashed and was stagnant for 20 seconds at least, then he opened up another 30-second lead! Budd's has that long sweeping corner at the base of the valley, and on that day it had a curbed up and crusty eight-inch rut on the outside. I was standing about six feet away from said sweeper when I saw him shift wide open from 3rd to 4th and then 5th with his elbows down in a tuck. His 250cc four-stroke engine was throwing a temper tantrum of sound and power….
Budds Creek is already legendary.
What is so awesome is that this summer has already produced some legendary races. Each National this year has been its own monumental event. Hangtown was huge this year, Colorado produced their best event in their brief history, then Muddy Creek was the elephant in the room that ended up drawing an absolutely massive group of fans. I was there to see the crowd, but more importantly, the racing was gargantuan. Of course High Point was High Point, which bring us to this 14-day void of inactivity.
We're going racing again, folks. Everyone had the week off to train and get stronger, do beer bongs at the lake and/or watch the NBA Finals. No matter how they chose to spend their time, the time is up. The boiler months of the summer have arrived in the company of the challenges of Budd's Creek, Southwick Motocross 338, and Red Bud. During the next three weeks we'll see the championship picture sharpen in the 250 class, while everyone is probably going to be watching Ryan Villopoto's legend grow in the 450's. As far as smack talk banter, James Stewart proclaimed at High Point that Bubba will be back this Saturday afternoon at Budds. At one point in time this venue was re-named Bubba's Creek. Remember, it was his incredible low-leaps at Budds in 2003 that unleashed the term Bubba Scrub, and now scrubbing is a trick in the toolbox of every pro rider. The legend started here, folks.
And I think its great that James still has some fight left in him! He'll do good to lead some laps, and if he does more, than his legend will grow further. And hey, if anything is legendary this summer it is the weather. We'll see blue-bird 83 degree temperatures and perfect track conditions. We're seeing perfect riding weather each week here so far, and while the gnarly test of a oppressively hot and humid day is something of legend, too, for those lining the fences, it's kind of nice to have cooler temps and a cool breeze rolling all day long.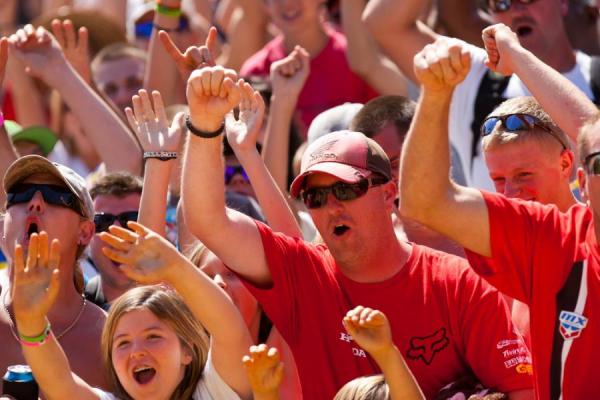 Yeah!
Fredrickson photo
Time to return to the charge. The 250 class is going to be insane! Marvin Musquin has nailed down two overalls in a row, Ken Roczen has won every first moto so far, Eli Tomac is always capable, El Chupacabra has done damage at this track before, Wil Hahn is back, and we'll see Adam Cianciarulo make his pro debut. Can Mike Alessi land his 450 on the podium, or will it be Justin Barcia, Trey Canard or James Stewart? The only predictions I'm making are for Mike Alessi and Wil Hahn to earn their first holeshots of the series, and it's going to be a legendary Saturday afternoon at the races!
Thanks for reading, see you next week.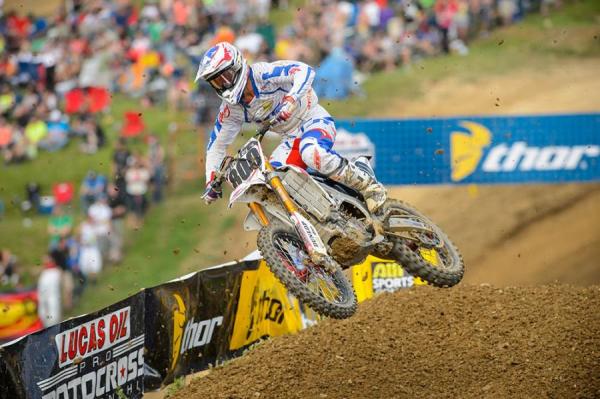 Is this the weekend MA800 finally gets on the holeshot board?
Cudby photo