Reliant Stadium
Houston

,

TX
Houston
Monster Energy AMA Supercross Championship
Welcome to Racerhead, and welcome back to the grind after a blessed weekend off for Easter break. Now everyone can hunker down and focus on the five-race stretch run that will bring the curtain down on Monster Energy Supercross for 2013. Tomorrow night's race is in Houston at Reliant Stadium, and it will once again air live on SPEED—that still has a nice ring to it.
First, a nod to an old friend. A lot has changed in the last ten years in the media business. We've all gone from film to digital, slow mail to email, AOL to whatever system you use, and with our phones we hold access to more knowledge in the palm of our hands than our parents had all around them a generation ago. The magazine business has morphed into the online and social media business, and everyone has their own outlets via Facebook, Instagram, Twitter, and more.
One thing that hasn't changed in the last ten years is American Honda's sponsorship of this column. Since 2003 Honda has been the title sponsor of Racerhead—that's like a century in Internet years!
On behalf of everyone who helps me get this column past the finish line every Friday, I would like to thank Honda for their continued support. We aim high every week in trying to present a cohesive round-up of the week's moto news, as well as a few funny things and pop-culture suggestions here and there. Thanks for to our loyal readers, and thanks to American Honda.


Also before we start, here's a nod to a more recent friend. Red Bull KTM's Marvin Musquin just landed his first Racer X Illustrated cover, page one of the June 2013 issue, as shot by Simon Cudby at the Daytona Supercross, where he won his first main event in America. Congratulations, Marvin, it was well-earned.
Let's get into the week's news, and a weekend preview.

HOW TO WATCH (Chase Stallo)
After a week-long hiatus, Monster Energy Supercross returns Saturday night with live coverage on SPEED beginning at 8:30 p.m. Eastern. You can also watch live coverage of qualifying on Supercrossonline.com starting at 3 p.m. Eastern. As always, be sure to follow Racer X on Instagram and Twitter (@racerxonline) for the latest from round 13.

STREAKERS (DC)
Going into tomorrow night's race there are two streaks currently running at the head of each class. Monster Energy Kawasaki's Ryan Villopoto has won four straight races, and in the process he has taken over the red plate from Rockstar Energy Racing's Davi Millsaps. In the 250 SX class Red Bull KTM's Marvin Musquin has won three straight—the first three-straight streak ever in this class for orange bikes (or white, going back to the early days of the brand). For Musquin to get to the all-time record for consecutive wins in this class, he needs to win out the season and then some races next year too, because the standard is Ricky Carmichael's nine in a row back in 1998. (A more realistic record to break would be most consecutive wins for a foreign rider, which stands at the seven straight won by Monster Energy/Pro Circuit Kawasaki's Christophe Pourcel back in 2009-10.). And he's also got to keep working on GEICO Honda's Wil Hahn, who's still the points leader in the East Region despite Marvin's run.
As for RV, he has a much more difficult task ahead of him if he wants to break any records. The gold standard here is thirteen straight, shared by Carmichael (2001) and Jeremy McGrath (1996). Villopoto will tell you he doesn't care much for records, so he won't be disappointed if he doesn't make it that far. What he's after is three-in-a-row,—as in three Monster Energy Supercross titles. That goal is very doable right now.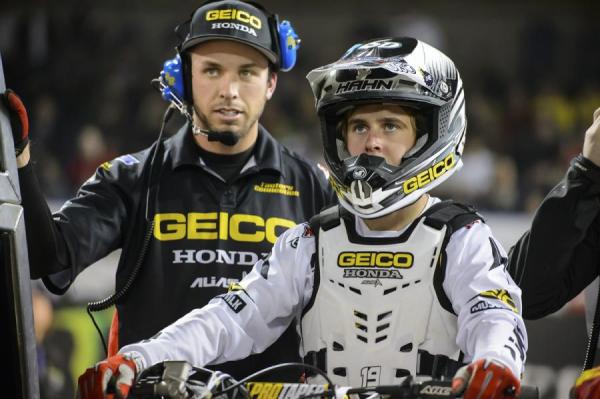 Wil Hahn looks to break Marvin Musquin's three race win streak in Houston.
Simon Cudby photo

THE NUMBER – 11 (Aaron Hansel)

When it comes to injuries decimating the field, last year was one of the worst seasons of Monster Energy Supercross. In fact, there were only three riders who managed to make it into every single main event: Davi Millsaps, Mike Alessi, and Brett Metcalfe. Even the champion Ryan Villopoto missed last two mains.
This year presents a different picture, as there are currently eleven riders who have qualified for every main event so far: Villopoto, Millsaps, Ryan Dungey, Chad Reed, Justin Barcia, James Stewart, Andrew Short, Justin Brayton, Broc Tickle, Matt Goerke, and Alessi. Logically thinking, you might expect the next paragraph to talk about how much better the racing has been as a result. After all, fewer injuries should make for more competitive and less predictable racing, right? That's not a crazy conclusion to make, but if we're holding this season up against last season, it wouldn't be spot on.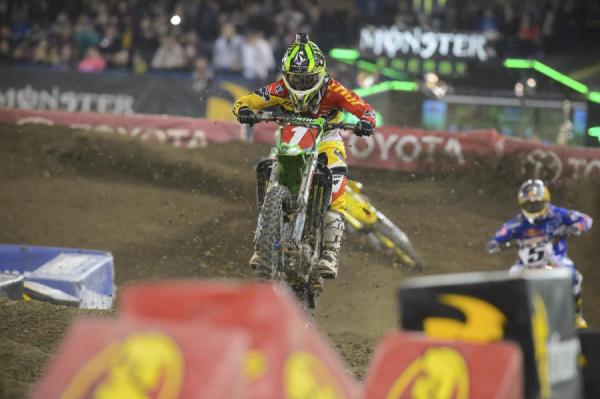 Ryan Villopoto is healthy and fast and racing towards a third-straight title.
Simon Cudby photo
Aside from the fact that one small mistake will cost you a bunch of spots instead of just one or two, or any for that matter, this season really doesn't look a whole lot different than last on the grand scale. Take Villopoto, for example. Both years he's battled adversity. This year that adversity came in the form of a terrible opener in Anaheim, a setback he's already erased. Last year he overcame his problems before they even happened by wrapping up the title before tearing his ACL in Seattle.
Then there's Davi Millsaps who, despite blowing everyone's minds with the way he's been riding this year, is currently sitting in second place, which is where he finished last year. Yet he's much improved over last year, as he's had to beat many more fast guys than he did in last year's decimated field.  

And Ryan Dungey? He's in third right now, where he finished in 2012. Want some more spooky proof? Chad Reed is suffering from a knee problem and James Stewart is going through a myriad of weird things (including a knee problem) that have kept him from vying for the title.
Water seeks its own level, and despite the different conditions and deeper talent pool we're seeing this year, it's beginning to look an awful lot like 2012. Can anyone break the mold in the final five races of the season?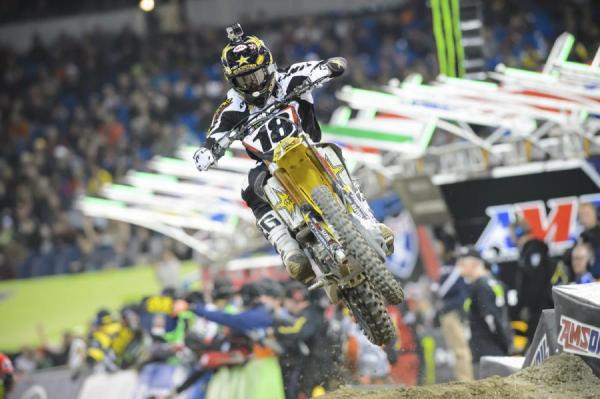 Davi is getting much better results than he did last year, yet he's still second in the points.
Simon Cudby photo
HEAD-SCRATCHING HEADLINE(s) OF THE WEEK

"Easter Bunny On Motorcycle Stopped On Southland Freeway For Failing To Wear A Helmet" www.CBSLA.com

BON CHANCE,  JIMMY D. (DC)
The CLS Kawasaki team in Europe is having a tough year in the MX2. After both Tommy Searle and Jeremy Van Horebeek turned 23 and became too old for the class, they were lined up with Swiss rider Arnaud Tonus (whom they chose over U.S. rider Michael Leib) and Italian rider Alessandro Lupino. But Tonus broke his leg at the Motocross of Nations last September, and it has yet to fully heal. Lupino finished fifth at the Thailand race, but he struggled in the sand at Valkenswaard, the Netherlands. Now the team is facing a long summer without Tonus, who is out indefinitely now. At the last minute French rider Jordan Lacan was called on to fill Tonus' seat, but he had never raced in the sand, and he failed to finish in the top twenty in either moto.
On Easter Sunday I was checking the qualifying times from the GP of the Netherlands when I got an email from my old friend Xavier Auduoard of MX Magazine in France. A longtime power-broker in Europe, Xavier was looking for the contact information for Jimmy Decotis, who has been more or less privateering it in 2013, with support from a Harley-Davidson dealership High Octane. I put Xavier in touch with Jimmy, who was thrilled to even be considered for the gig. JJ Luisetti, the owner of the team, then worked it out with team sponsors Mitch Payton of Pro Circuit and Mitch Covington of Monster Energy. Now it's a done deal and Decotis will soon be in Europe preparing for his first-ever FIM World Championship race when the GPs start up again next weekend in Trentino, Italy.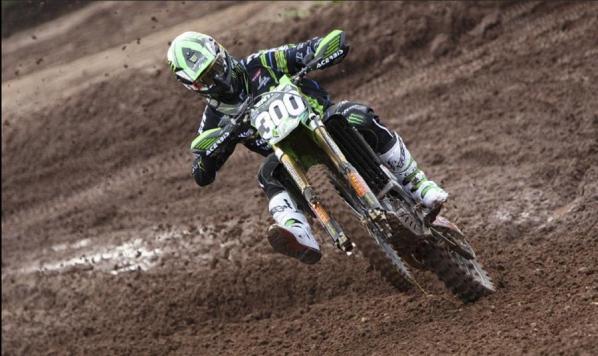 Alessandro Lupino of the CLS Kawasaki team in Europe will soon be joined by Jimmy Decotis over in Europe for the MX2 Grand Prix tour.
Photo courtesy of CLS Kawasaki
After some confusion over whether or not Decotis had actually signed with CLS Kawasaki, our own Chase Stallo got the scoop on it all directly from Jimmy D. and pulled together this Privateer Profile.

Two things I found really interesting in there: was the fact that Decotis' Harley-Davidson shop backing comes from the shops run by his old friend and former NESC fast guy Paul Veracka, as well as Veracka's dad's Honda dealership, Central Maine. (Paul would make a great subject for one of Nick McCabe's Where Are They Now? features.)
The other thing is the fact that it's now been twenty years since an American has won an FIM world title. It was Bob Moore, riding a Chesterfield Yamaha 125 in 1994. He was the last of that great group of exported Americans who did exceptionally well in Europe: Moore, Trampas Parker, Mike Healey, and the late Donny Schmit. It's not going to happen this year either, as Jimmy D. is already three races behind, and Jeffrey Herlings is absolutely killing it right now anyway.
Coincidentally, Michael Leib, who nearly won the Italian GP last year before an illness sidelined him, then was left without a ride when things went sideways with CLS Kawasaki, is now headed back to Europe after all with the Dutch Suzuki factory satellite team Beursfoon, where he will not only complete the 2013 season but has inked a deal for 2014 as well.
We wish both Jimmy and Michael good luck and safe racing as they become the only two Americans on the FIM World Championship tour at this time.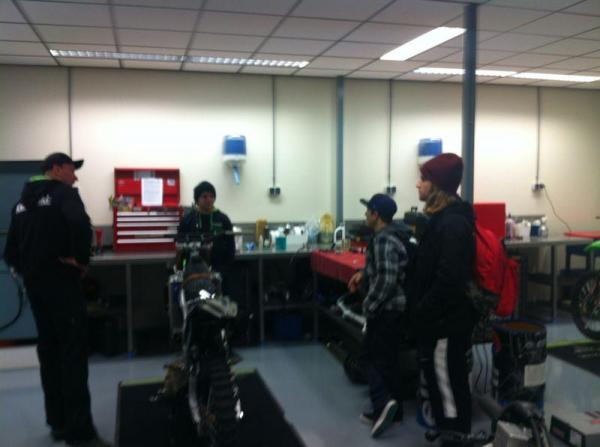 We got this camera phone spy photo of Jimmy hanging out in the CLS shop.
Better photos to come.
PRO PERSPECTIVE: RETIREMENT (PING AND JT)
In the light of our old friend Ben Townley's announcement that he was hanging up his boots after yet another injury, we asked our resident pros Jason Thomas and David Pingree to riff on the moment it becomes obvious that it's time to walk away from a professional racing career.

JT: Knowing when to "hang up your boots" is a touchy subject for racers and is definitely a different experience for everyone. Ben Townley has decided that time is now. Along with championships across the globe, he has also been riddled with injuries throughout his career. It seemed that every time he got up to race speed again, he would be sidelined by another crash. This pattern had to be tiresome for him as it was really tough to stomach as just an onlooker. At some point, thoughts of overall health and life after racing have to be considered.
For me, it wasn't a tough decision. I wasn't performing up to the level I felt I was capable of and I was more concerned with leaving races healthy than I was with the results. Racing has to be instinctual and requires minimal worry about "what if" to be successful. As I got older, that "what if" became more and more prevalent, negatively impacting my speed. Taking risks is all part of the game and is impossible to avoid at high levels of racing. I felt that I was sometimes capable of putting those worries aside but I never before had to try. Physically, I was starting to feel the toll of sixteen years of professional supercross and motocross. I can't imagine what Ben's body feels like after so many surgeries and rehabilitations. It is a cumulative effect that slowly starts to lower your overall efficiency, the normal result of years of punishment. It's the same story for everyone; no one can outrun father time.
I hope Ben can find solace in the fact that he was one of the great riders of his time. He was a World Champion, a 250 Lites Champion, and arguably the fastest rider to ever come out of his country. Being content with what one has accomplished is what every athlete hopes for when the sun goes down on their career. Ben Townley was a hero to many and should be proud of himself when he looks back on all he has done as a racer.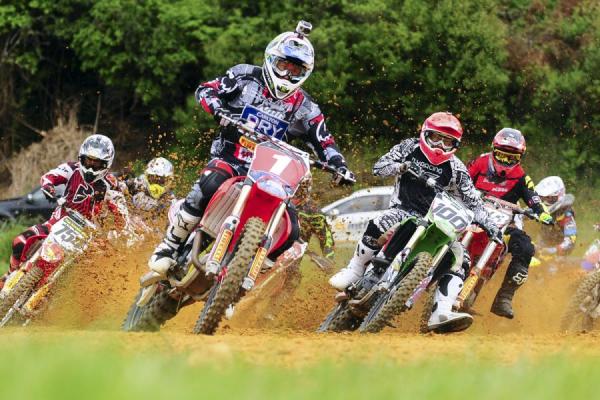 Ben Townley announced his retirement last weekend at his home track in New Zealand, Taupo.
Andy McGechan / Bikesportnz.com photo
PING: First KW and now BT … This sucks. But while everybody is bummed to see these guys go you have to respect them for knowing when to call it. Early on in my own career I didn't really think about getting hurt. I mean, I thought about it and the consequences didn't seem bother me. That's the state of mind you have to be in to race well. The older I got the more I began to ponder life after racing and the fallout from a severe injury. And by that point I had broken a femur, torn ACLs, and broken all the wrists you could shake a splint at. Coincidentally, the human brain, particularly in males, begins to fully develop in their mid-to-late twenties and that sense of invincibility from your teenage years begins to fade.
I knew it was time when I was so worried about getting hurt that I wasn't enjoying myself at the races anymore. I was backing out of the throttle early going into first turns and taking longer and longer to jump obstacles that had big penalties for missing. Those are all pretty good signs. For Ben, Kevin, and my colleague JT it might have been different circumstances, but in the end it comes down to the rest of your life. Family, kids, and your general health become the top priorities and you do the right thing for the right reason.
I think motocross careers are a lot like airplane landings: Iif you can walk away from it, it was a good one.

HOT RUMOR (DC)

Our favorite rumor this week was the one that floated by Guy B., that FMF may be jumping in with JDR/J-Star KTM to keep the team going once SX ends. JDR, which backs Malcolm Stewart and Joey Savatgy, had announced back in February that if they did not find more funding or a sponsor, their team would shut it's doors come May. If FMF is the backing they've been waiting for, that's good news for everyone involved. Let's hope this rumor proves true.

MONDAY'S MAIN (DC)
As I mentioned here last week, this past Monday offered a rare opportunity to see some live racing as the Grand Prix of The Netherlands went off at Valkenswaard on April 1 as a result of the Easter holiday. As expected, KTM's Jeffrey Herlings went 1-1 in the MX2 class, but it was not nearly as easy as anyone might have guessed. Herlings crashed out of qualifying and then was disqualified when he got himself and his #84 works bike stuck under a fence and received outside assistance. That meant that he had to go to the starting gate last in both motos. Also, the relative cold (okay, it was freezing) meant that the normally loose track was more or less hard-pack underneath the top layer of sand. That also cut the advantage that the sandmaster and local superstar Herlings has at the track. But in the end he still reached the top of the box in each moto, fighting through the pack after a couple of poor starts to grab the lead in the late going of each moto. Herlings has now won Valkenswaard every time—and every moto—that he has raced a GP there, going back to 2010.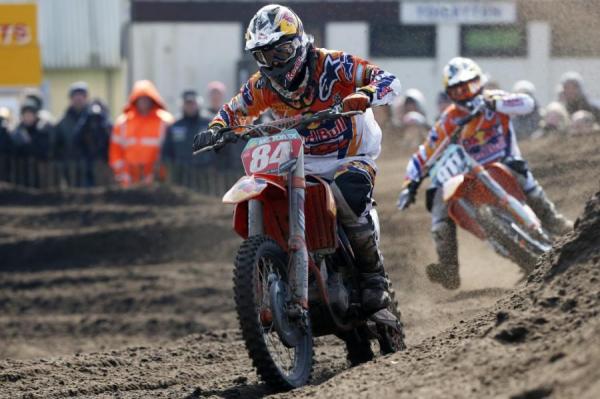 Herlings put on a show in Valkenswaard Monday.
Ray Archer / KTM photo
WELCOME BACK (DC)
After a year on the brink of disappearing under the weight of bankruptcy, Suzuki is back in business, now doing work as Suzuki Motor of America, Inc. (SMAI). They are now the sole distributor of Suzuki motorcycles, all-terrain vehicles, marine outboard engines, and automotive parts and service in the contiguous United States and Alaska, according to a press release earlier this week. In an industry that suffered severely throughout the Great Recession of the last few years, Suzuki was the OEM at the bottom of the barrel, struggling under the weight of Suzuki automobiles that just weren't selling here in the states. Now the motorcycle side has a stand-alone company in Suzuki Motor of America, and they can hopefully move forward and start rising again, just like their longtime logo.
How long has Suzuki been involved in American Motocross? Belgium motocross god Joel Robert won the 1970 Trans-AMA race in Delta, Ohio, aboard a Suzuki, giving the brand it's first win in America TWO YEARS before there was an outdoor national series!
And at the very first AMA Motocross National ever held, on the infield at Road Atlanta in Georgia, a man named James Yarbrough from Winston-Salem, NC, finished fourteenth on his own Suzuki. Check out the full results of the first-ever national right here in the Racer X Online Vault.

CYCRA CONSOLIDATION (DC)
Glen and Ken Lavins are a pair of lifelong moto enthusiasts from Ohio who started a business and built it into a top brand name in the motocross world. Cycra Racing Systems is a premium plastic brand that makes injection molding and thermoforming parts and accessories like number plates, side panels, hand guards, bike stands, and more. Now they are joining forces with automobile/powersports supplier CV Products, which owns CV4, X2, and Xceldyne, having been acquired in a deal announced this week. The Lavins boys couldn't be happier, as the move will now allow them to expand their brand even more. Check out The Business Journal's report on the acquisition right here.

Back when Racer X was just a newspaper, Cycra, which was just starting out in 1997, advertised for the first time with our little 'zine, so we are stoked for their success all around.
"Both Ken and I are very excited about joining Cycra with CV products," Glen Lavins emailed me yesterday. "We have known the people at CV for over ten years. Since starting Cycra in 1997 we have been able to grow the company at a steady pace. All these years later we have built a 60,000-square-foot injection molding facility that also builds tooling. We also started a V-twin brand called Hardstreet that builds painted hard case saddle bags.
In order to grow Cycra even further we needed to speed our new product offerings to the customers to meet there demands. CV Products has their diverse manufacturing infrastructure for advanced metal work, coatings and auto racing components, so they made it a perfect fit.
Cycra will be under the umbrella of CV Products along with Xceldyne, AMC, CV4 and more. The factory will remain in Columbus, Ohio, and all current employees, including Ken and myself, will continue in our current positions.
"It's pretty cool to think where this love of motocross/off-road has taken Ken and I," added Glen. "Being core to the sport has been key to our success and being part of CV Products are taking it even further."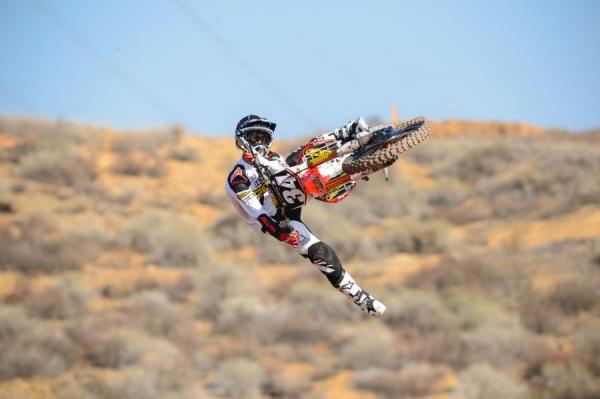 Justin Bogle is set to make his return at Hangtown.
Simon Cudby photo
HIGHLIGHTS OF THE WEEK (Jason Weigandt)

THE MYSTERY: We're not exactly sure what Blake Baggett is thinking right now. He says he hasn't even ridden yet, but also isn't worried about the looming Lucas Oil Pro Motocross opener at Hangtown, which is a month-and-a-half away. He also says no one will see him ride, at all, before Hangtown. This all leads to one of the goofiest Monday Convos we've seen in quite some time.
BOGLE'S RETURN DATE: On the other hand, not quite literally, Justin Bogle, like Baggett, has missed supercross with a wrist injury, and he will return to the scene for the Nationals. It will be a pivotal summer for Bogle, and Chase Stallo caught up with him for this week's Insight.

A BID FAREWELL: After race wins and titles—but way, way too many injuries—Ben Townley has decided to hang it up. David Pingree, who worked closely with Townley during his last season in the U.S., wrote about Ben as both a person and an athlete in this piece.

MUST-SEE TV (DC)
Over the winter my friend Hammer from Red Bull told me about a website he had been checking out called Vice. The site is a news program of sorts, with an eye on the hottest (as in, most violent places, like Mali and Syria) and most obscure (as in, North Korea) spots in the world right now. These are the guys who someone got Dennis Rodman into North Korea with the Harlem Globetrotters for a basketball exhibition, only to end up partying with that kooky little Kim Jong Un, thus causing a global news story. Turns out www.vice.com is the brainchild of some very intrepid reporters who did not like the way news was being gathered or distributed lately, be it "60 Minutes" on CBS or the polarized Fox News and MSNBC networks. One of the creative founders? Spike Jonze of music-video, skateboarding-video, and feature-film fame.

Anyway, the Vice news site now has its own HBO show, and it debuts tonight at 11 p.m. It's not for kids, and it may not be for you, but it's definitely something that has the attention of a lot of us here at Racer X Online. Check out the trailer for the new weekly show right here.

Thanks again for the tip on Vice, Hammer!

IN THE MAG: TO HELSINKI AND BACK

Jason Thomas, the journeyman-turned-journalist travels to the final race of his professional career, all the way to Finland. Jason reflects on his career as a racer, the places he's been able to travel, what's in store for the future, and more. Read To Helsinki and Back starting on page 182 in the May 2013 issue of Racer X Illustrated.

YOUR TAKE
"This is like 'The Onion' of motocross." Vital MX poster "Thomas Jefferson" on the myriad of April Fool's Day misinformation going up on Monday.

"Matthes on a 125 in the sand? I believe that the UN has classified this as torture, with the world court going further to declare this a "Crime against sanity". I don't think that there is a statute of limitations you can fall back on." Racer X Online poster BigUglyManiac commenting on an old school picture of Matthes in Canada in our "Rites of Spring" article.


HEY, WATCH THIS!
Houston Animated Track Map
New Zealand Nationals Taupo Highlights
Nitro Circus New Zealand Highlights
RANDOM NOTES (Staff)
Sunstar announced on Wednesday that they were going to help Swedish MX rider Frederik Noren in his return to the Lucas Oil Pro Motocross Championships this summer: "Coming from Sweden after a successful career, Noren is looking to make a name for himself on U.S. soil. In part time action last year, he was able to nail down two top 10 finishes- an 8th in Moto 2 at Washougal and a 9th in Moto 1 at Lake Elsinore so he has shown he has the speed to contend. He'll be riding an RMZ450 with Team Gus and using Sunstar Sprockets & Chains."
The sixth Annual Racer X Inter-Am Vintage MX in Boise starts Saturday. Special guests Mark Blackwell, Rick "Super Hunky" Sieman and Gunnar Lindstrom will be arriving tomorrow. We are sorry to say that our other special guest Lyle "Husky fan" Lovett had a special recording session come up that he has to attend so he sent us this photo with his apologies and a "have fun and see you next time" salute. Oh those rock stars!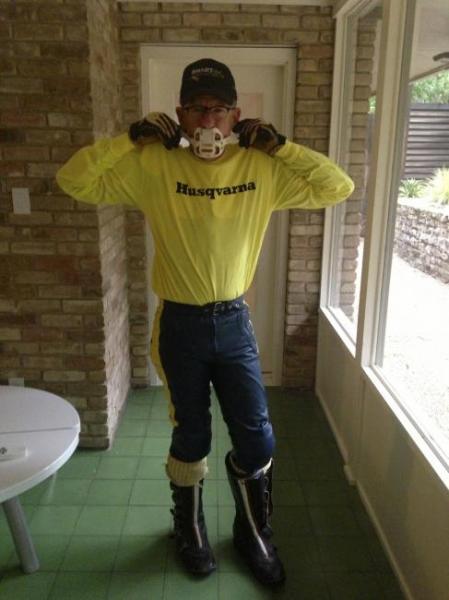 There are several things going on out in California this weekend. The first FMF California Classic is already underway at Hesperia's Competitive Edge Motocross Park, while the Troy Lee Designs/Lucas Oil Honda team's Press Day race takes place at REM Glen Helen tomorrow, followed by the Two-Stroke World Championships the next day, also at Glen Helen. It looks like it's going to be a decent weekend all over the country, so get out there and ride!
No Elephants, Just BIG Balls!  Have you missed Nitro Circus? Well its back with Season 2 of Nitro Circus Live starting Tuesday April 9, at 11 Eastern on MTV2.
Finally, a letter that popped up here yesterday:
Hello from Utah. My name is Jeff Schoetz and I am the sales manager here at Plaza Cycle in Salt Lake City. Yesterday I took a street bike ride out to Miller's to check on the new track. PRETTY IMPRESSIVE!! I am sending you some pictures of the track. Feel free to share them on your website or Facebook.
Jeff Schoetz
Sales Manager
Plaza Cycle Motorsports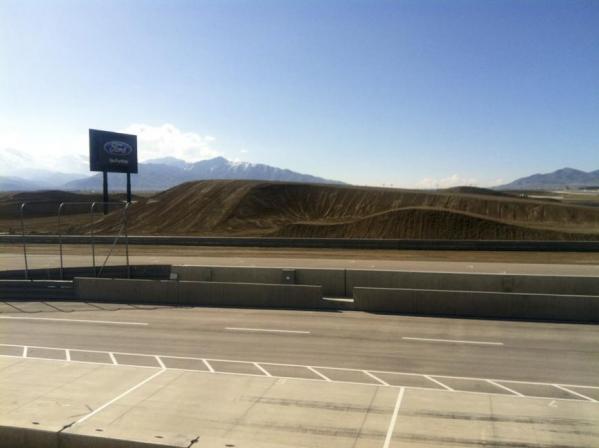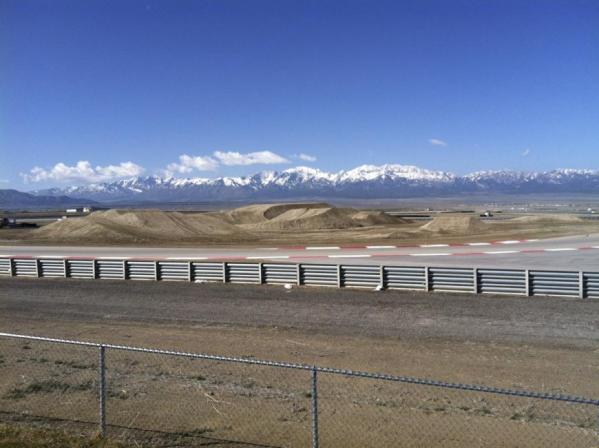 Miller Motorsports Park's new motocross track is still under construction, but it's coming along well...
Jeff Schoetz photos

Thanks for reading Racerhead. See you at the races.