Reliant Stadium
Houston

,

TX
Houston
Monster Energy AMA Supercross Championship
The last two years have been rough sledding for everyone's favorite rippa from the Mass. Shortly after getting a fill-in ride with GEICO Honda in 2011, Jimmy Decotis broke his elbow in practice in Seattle. He would return for the outdoors, still with GEICO, showing tremendous speed, but struggling with endurance following his injury. The hits continued in the off-season, as Decotis suffered multiple fractures in his feet while testing, and then later tore his ACL—effectively ending his 2012 season. The Massachusetts native showed signs of his old form early in 2013, but struggled getting back his "race intensity." Things have slowly started to turn around for Decotis, and after tying season-high seventh in Toronto, rumors began to swirl that he may land a fill-in ride with the Monster Energy/Pro Circuit Kawasaki. That ride eventually went to three-time defending Arenacross Champion Tyler Bowers, but, in the meantime, Decotis was actually working on something else! We heard early this week that a team from Europe was looking at Jimmy, and after a few days to work out a deal, he's now headed overseas. We called Jimmy this morning to get the full scoop.
Racer X: Big surprise… you're going to Europe! How did the deal come together? I know you spoke with Davey [Coombs] on Sunday; did things start to come together after that?
Jimmy Decotis: Yeah, last Sunday I was just hanging out and I was getting texts saying that CLS [Kawasaki] needs a rider and they might want you. I talked to Mitch Covington and Mitch Payton [from Monster and Pro Circuit, sponsors of the CLS team] and we figured out if this the best choice for me and CLS, and after talking about it we came up with a decision that this would be the best choice for me. It's tough right now in the States, there's not a lot of those top tier rides. I think it will be a great opportunity for me. It will be hard to get used to a different type of living and different style of tracks, but I know they have good equipment and they have a program over there that works and is proven and that's the best part about it. I'm just trying to worry about the racing for now and let the rest fall into place.
When do you start and where will you be living?
I fly out tonight at 8'clock and I'll be going to the Netherlands and I'll be staying there with the team and training—they have an apartment for me near the shop. We will try to get the bike as dialed in as we can and try and get on a good sleeping schedule and get used to the time change. It's just an opportunity that I had to take. This is my chance, this is my time, and I'm going to try and go hold it down for the USA over there.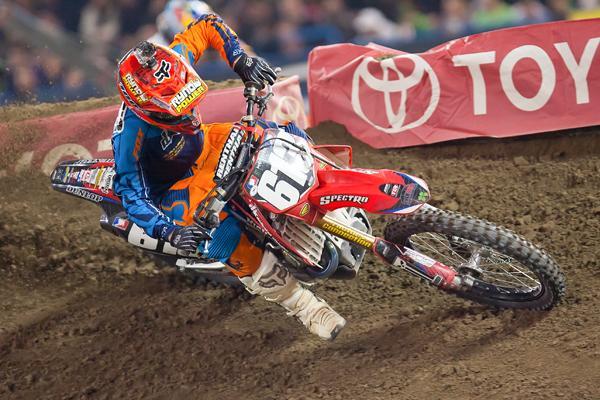 Decotis leaves for Europe tonight to join CLS Kawasaki.
Andrew Fredrickson photo
Obviously it will be a big adjustment for a kid from Massachusetts going to Europe. Are you nervous at all and do you feel like it's the right decision?
I'm definitely a little nervous about it all. But after talking with the team and everyone, they are making sure that I'm going to be supported correctly and that I'll have everything I need over there. I'm also excited as well. Not everyone has the opportunity to go to Europe for six months of their lives and experience that and get to ride a dirt bike while you do it, and maybe build a program over there and stay and race, or come back over here. It's all up in the air right now. I felt like I was building momentum in supercross, but sometimes an opportunity comes up and you have to take it. It's a bummer for my sponsors that are helping me right now, I'm definitely going to have to make it up to them, but for now I have to look at what's best for me and what's going to excel my career at the moment and I think this is it.
You're not only going to have to adjust to the new tracks, but also the time zone, a new bike, outdoors… how quickly do you think you will be able to make those adjustments?
[Laughs] I don't know yet. I know when I'm on the gate it will all go away and I will just ride, so I need to do what I've always done. Whether it's on the amateur or pro level, it's all the same. Everyone get nervous when that gate drops. I think it will take me a couple of week to build some momentum, but as long as they see that I'm improving and we work together well it will be a really good deal for me. Like you said, getting acclimated to everything over there, the weather, the time zone, the people, the bike, everything will be new to me. So it's all about taking it day by day and coming in with an open mind and getting my bike as dialed as I can.
Are you looking forward to racing with Jeffrey Herlings?
Yeah, he's going to be a tough one. I don't know about beating him [laughs]. There are a lot of guys over there, so I don't think it will be a cakewalk. All of those guys are fast. I don't think it's necessarily looking forward to racing with one guy in particular, I'm excited to race against all those guys. It's a different style of racing and different intensity level. I want to learn from those guys and see what I can do over there.
Shortly after Toronto rumors began to swirl that you were being considered for the Pro Circuit fill-in position. Can you fill us in on what happened?
At first I didn't really know anything. I was driving home after the race and someone had texted me a picture of [Steve] Matthes' tweet that he heard that I'm the guy. It definitely got me psyched up for a bit. But it's just a tweet and what Matthes said, and he is just reporting what he hears. I actually heard that I was in a position to get it. But Bowers, he's the Arenacross guy, he's already on Monster, he's already on a Kawi, so it kind of works out better for them. He's a good pick and you can't blame them for going that direction. There's no hard feelings or anything. Overall, whether it was a yes or a no if they picked me I was 50/50. If it happened it happened, if it didn't it didn't.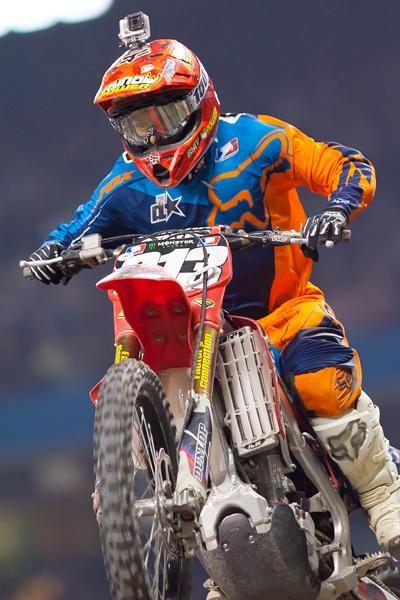 Decotis was rumored to be a fill-in rider for Pro Circuit, but the position went to Tyler Bowers.
Andrew Fredrickson photo
I'm not sure if a lot of people know, but you actually had backing from a Harley dealership this year, which is unique.
Earlier in the year I didn't know what I was doing and was trying to get my bike situated and make it easier on my dad—he's supported me over the years. My brother was actually talking with Paul Veracka who rode back in the day. He has a couple of Harley dealerships that he runs around the country and High Octane is right around my house. Obviously we didn't get Hondas directly from his dealership, but he cut the checks for us, and the bikes came from Central Maine, which is a dealership his father owns. So, technically it is all staying within the family. He got to help the motorcycle dealership and the Harley dealership, so it worked out for both of us.
You're coming back from almost a year away from racing due to injuries, but you had your best ride of the season in Toronto. Do you feel like you're starting to get back to form?
I do. For two months leading up to the first round I was practicing, but I didn't have that intensity because I haven't raced in so long. I knew I had done my work, but I didn't have that race pace intensity in my program and that is what hurt me early on. That's been what I've been working on the last couple of weeks and luckily I'm able to race this year and not be hurt, so I'm back learning again and trying to progress every weekend. That was the goal coming into this year, to progress. If I'm progressing every weekend I'll be happy. My results haven't progressed every weekend, but my riding has and that has been huge for me. I know people see that, and me and my mechanic have seen it, and that's what keeps us going and what makes us put more work in during the week.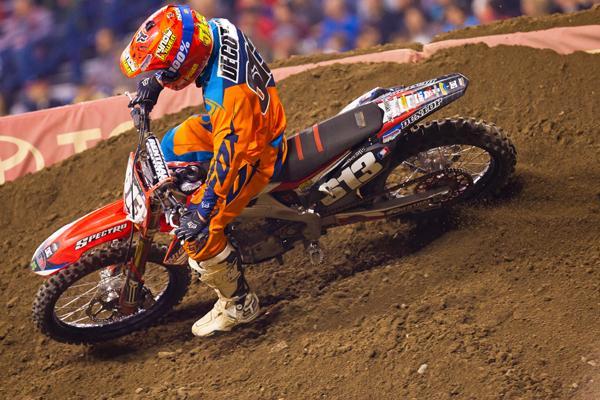 While the adjustment to Europe will be big, Decotis is looking forward to it.
Andrew Fredrickson photo
A lot of riders coming off injury talk about getting back to "race intensity." How big of a factor is that when coming back?
It's huge. When you're practicing by yourself you're just doing 15 laps. You hit your mark, hit the whoops, hit the triple, hit the whoops again and everything is smooth and consistent. But in a race you're catching guys, guys are passing you, guys are showing you a wheel… it's nerves. There are a lot of nerves when it comes to racing, and not racing for a while it's hard to calm those nerves. It's almost like you can bring your practice days to race days when you figure that out. If you watch [Marvin] Musquin and [Wil] Hahn they are so prepared and been racing so long they know what to do, they know how to keep their heart rate calm. And if something goes wrong they just correct it and get back into their flow. And that's what I have been trying to do is watch those guys and pick up on the little things that they do to be a second a lap faster than me. Like you said, it's just about racing and learning.
Thanks, Jimmy. Who would you like to thank for helping you out this season?
I would like to thank High Octane Harley Davidson, Dedicated Athletics, Fox, Pro Circuit, Dunlop, South of the Border, STS Motorsports Graphics, TLR Performance, 100% Goggles, Spectro, DC Shoes, Factory Connection, Renthal, Ever Rev, Renegade Racing Fuels, Cycra Plastics, Hinson Clutch Components, Ryno Power Sports Supplements, KJC Fitted, my father, Works Connection, GoPro, Twin Air, ICW, CRF Stuff, and Moto Tassinari.