Reliant Stadium
Houston

,

TX
Houston
Monster Energy AMA Supercross Championship
After cruising through his final amateur season, winning numerous titles and the coveted AMA Horizon Award, GEICO Honda's Justin Bogle hit the pro scene hard and fast and nearly won the final moto of the year in Lucas Oil Pro Motocross at Pala. With that, he entered his rookie season in 2012 with heightened expectations. Expected to follow in the path of GECIO stars before him (Trey Canard, Justin Barica, Blake Wharton and Eli Tomac) that all tasted champagne their rookie years, Bogle struggled with injuries and failed to live up to the billing. An already depleted 250SX East Region was dealt another blow when Bogle bowed out with broken right scaphoid and a dislocated left wrist—suffered during off-season testing. Through all the turmoil, Bogle has found inspiration from friend, and former amateur rider, Brad Frace, who's recovered from a horrific crash in 2011 and recently released his first album "Things Change." We caught up with Bogle yesterday to see how the recovery process was going and when he expects to return.
Racer X: First off, how's the injury progressing and will we see you on the gate at Hangtown?
Justin Bogle: Obviously I had a few injuries this off-season that set me back. I had a month off for one and about three months off for the other. I'm back riding now and have been training the whole time, trying to work as hard as I can. Now that I'm back on the bike testing, I'm putting in as much time as possible so that I'm prepared and ready for Hangtown. The goal has switched to outdoors, since I don't really see it as a positive to test and come back for one or two races. My focus is on outdoors and hopefully I can come out swinging.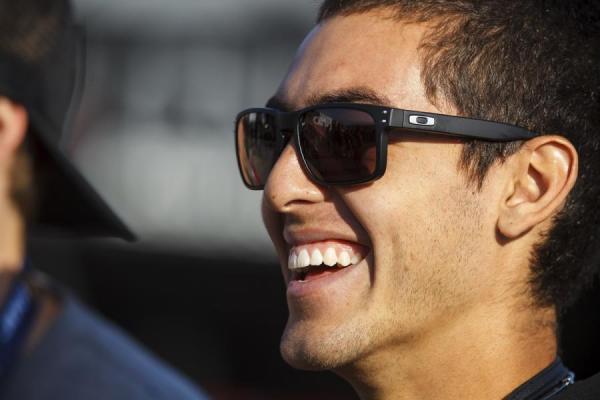 Justin Bogle expects to return for the start of Lucas Oil Pro Motocross at Hangtown.
Simon Cudby photo
Some may ask why you wouldn't want to come back for a couple of supercross races. Does it come down to having to test for supercross and then quickly switching gears and test for outdoors?
Yeah, pretty much. The reason is, I want to put all of my focus into the outdoors series and try to make a run at that, instead of taking however many weeks just to get ready for one or two races. I haven't ridden supercross, and I've only ridden four days since Vegas, so it would have taken a little bit to get used to it. And like I said, I want to take a run at the outdoors this year and make a run up front.
How long have you been back on the bike?
I would say two weeks, or maybe a little less.
You will have had nearly two months to prepare for Hangtown. Are you concerned that your fitness or intensity won't be there?
Not at all. I have been working with my trainer since the day after I got hurt to do everything I can. I have made a lot of improvements from last year. Last season I wasn't really in a good spot with a lot of things and I don't think I had that much figured out. I've been working really hard with my trainer Ryan Fedorow and my riding coach Robbie Reynard, and Doctor G who has been helping me with physical therapy to get back on the bike. I think as far as that stuff goes I'll be good. I'm putting in more work now than I ever have. Now I'm really looking forward to it paying off.
You had very high expectations as a rookie last season, but dealt with injuries. Does it come to a point where you begin to feel pressure to get back out there and live up to the billing, so to speak?
For sure, that definitely factors in. Luckily I have a great team and great people around me. The GEICO Honda team has been super supportive and understanding, and obviously I want to be out there racing, but in the right circumstance, too. Being injured a lot last year was a bummer, and like you said I had high expectations, and I expected to be up front more. When I came back outdoors from knee surgery, I think I had rode for two weeks, so I had about 20-25 minutes in me and then I would just go backwards. That's been the main focus this year… getting ready to go so that doesn't happen this year.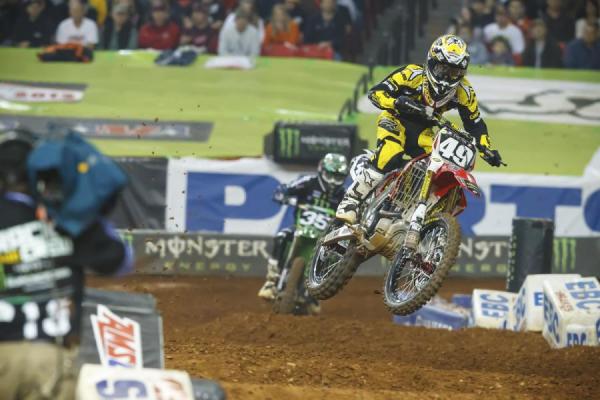 Injuries played a big part in Bogle's rookie season.
Simon Cudby photo
With some time off, have you been able to watch the 250SX East Region much, and what are your thoughts on the series?
I haven't been to any of the East Coast rounds, but I have been able to watch them all. I'm really pumped for my buddy Wil [Hahn] having the red plate right now and getting his first win and then a couple after that. If he is able to pull off the title it would be really cool for him, especially with everything he's been through. It's good to see my teammate and my friend doing well. Other than that, it is a bummer not to be out there, it always is. At the same time it adds some fuel to the fire for when I come back.
Obviously it's hard to be on the sidelines watching, but are you able to pick up on any tendencies of what riders may do in certain situations that may help you down the line?
Yeah, for sure. You always have room to learn. Watching on TV, I've been able to pick up on a couple of things here and there, although it's not exactly ideal for what I want to be doing. There is always things you can learn from stuff like that.
You're out in California at the moment, but when you're back in Oklahoma are you still training out at Robbie's?
Yeah, when I'm back home I split my time between Robbie's and Trey Canard's place. Robbie is there just about everyday giving me pointers and helping me out.
How big of an influence has Robbie been in helping you get to where you are today?
It's been huge. Robbie and Ashley, both of them there at Reynard Raceway, have helped me out with everything in my life. I can't thank them enough for everything they have done for me. I've always looked up to Trey, as well, and wanted to follow in his footsteps. So it is awesome to have two people that I've always looked up to helping me out anytime I need anything.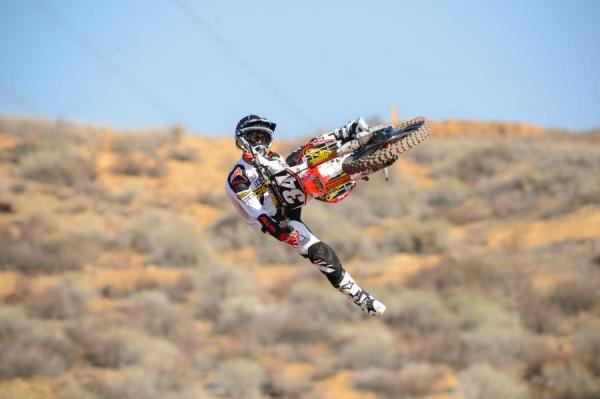 Bogle says he's been working harder than ever to come out swinging at Hangtown.
Simon Cudby photo
I know music is a big part of your life, and your amateur friend Brad Frace, who had a big crash a couple years back, just came out with a CD. How does music help you deal with stuff away from the track?
It's funny you ask about that, because Brad was actually at my house when he dropped the tape and put it on the Internet. I got to see how that works and see the feedback on that. It was really cool and inspiring for me, and like you said, we have been friends for a long time. For him to go through what he went through, and something that devastating, and to be able to focus his energy on his music is impressive. He produced it, wrote it… basically did everything on the album. I'm really pumped for him. Music definitely helps me out. I always have a pair of Skullcandy's on my head at the races to help me get in the zone and help me get focused. It's an everyday part of life for me. You can't really do anything without music.
Talk about watching Brad go through what he has gone through and how that has inspired you?
Brad has inspired me all the way around. He has always been that guy to come back from an injury when he was racing and beat you at any give time. With everything he has been through, to be able to stay positive and focus his energy on something good and not be negative all the time is great. I'm really pumped for him and I hope that people take the time to listen to his album because it's really inspiring.
Brad Frace's "Things Change" is available for purchase HERE.