Angel Stadium
Anaheim

,

CA
Anaheim III (A3)
Monster Energy AMA Supercross Championship
Another busy week out here in California, with lots of stops and visits with friends and associates. The whole month of January is pretty much like that for the motocross industry, since Anaheim is without a doubt the west end of the Capital of Supercross and Corona marking the east boundary. There was the opening of the brand new global headquarters for Fox Racing, and the farewell gathering for Kevin Windham at MSR and the Corona Sports Group. There's also a National Promoters Group meeting today here in Anaheim, as well as a meeting for the Road 2 Recovery Foundation. And of course it all culminates in the end of the Anaheim Supercross season, which takes place tomorrow night at Angel Stadium.
As you know, Rockstar Energy Racing's
Davi Millsaps
has held the red plate throughout the entire month of January, and he will carry a seven-point lead into tomorrow night's fifth round of 2013 Monster Energy Supercross—which to me is one of the biggest surprises in the history of the series. Millsaps has always had the chops to win, but never the right situation—until now, that is. What #18 has going on with Bobby Hewitt's team, Dave Gowand's management, his young family, his health, this particular bike—it's all come together for The Duke. And we're stoked for his success and his team's, and we're also proud to show you this sneak preview of the April issue of
Racer X Illustrated
, Davi's first cover in several years! Nice shot, Cudby.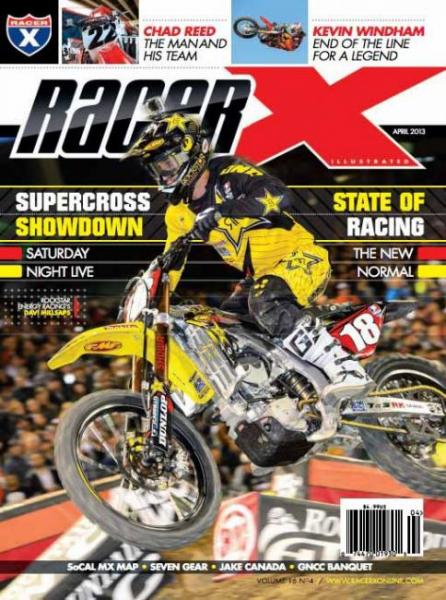 But Millsaps has got some competition in his rearview mirror as
Ryan Villopoto
, the reigning two-time champ, is on the rise. Since his disastrous opening night, he's got himself a second-place finish and two wins. He still has to get past Honda Muscle Milk's
Trey Canard
before he can work on Millsaps. And if not for getting caught up in that massive second-turn pileup with
Chad Reed
,
James Stewart
,
Justin Barcia
, and more, Canard might be even closer than the seven points he's adrift now. Villopoto just seems to have more momentum right now than anyone.
Of course anything can and will happen in supercross, which Eli Tomac and the GEICO Honda team will tell you after their debacle at Oakland. Two crashes and an early exit have Red Bull KTM's Ken Roczen in the driver's seat now, and he will wear a red plate for the first time in the U.S. chapter of his career. Kenny has championship-winning experience, so this West Region could get interesting in a hurry—especially if Cole Seely puts together a complete race.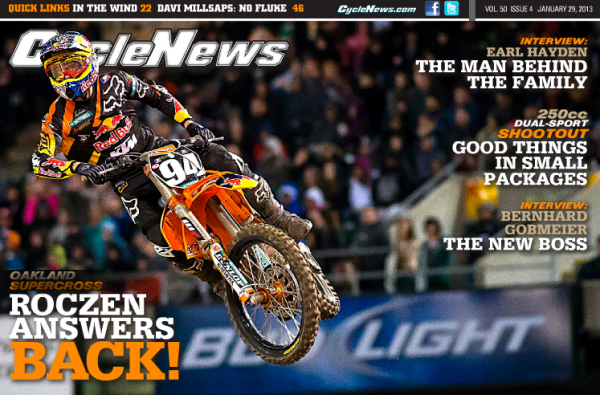 Ken Roczen made the front page of Cycle News with his Oakland win.
With all that in mind, let's get into this week's rundown, starting with...
How to Watch (Chase Stallo)
Live broadcasting of Monster Energy Supercross returns to Speed Saturday night, with coverage of 450 and 250SX beginning at 10:30 Eastern. The forecast for Saturday will feature a high of 76F during the day with partly cloudy conditions. Temperatures will drop about 20 degrees Saturday night, with a high around 55F, according to weather.com. As always, the Racer X staff will be bringing you coverage from the pits all day in Anaheim. So be sure to follow us on Twitter and Instagram (@racerxonline) and check out Racer X Online for all the latest from round 5 of Monster Energy Supercross from Anaheim.
THE NUMBER: 2 (DC)
Two weeks ago, Honda Muscle Milk's Justin Barcia won the Phoenix SX, which was only his second start in the 450SX class. In the two races since, unfortunately, he has completed just two laps and scored just two points. His two miscues—the cased triple at A2 and the second-turn scrum at Oakland—have taken him practically out of the running. Not the two weeks we expected this kid to have after the first two sensational weeks of 2013.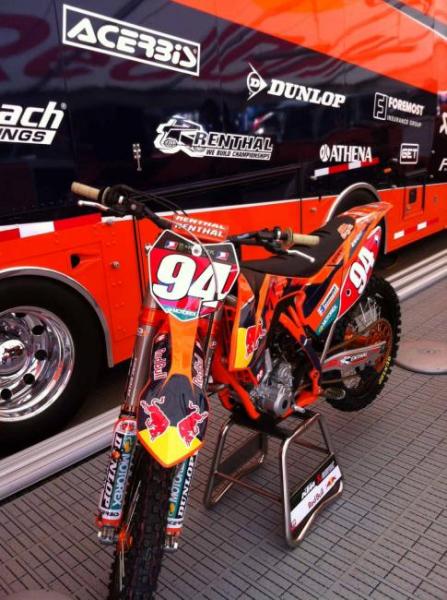 Red plate Roczen.
Jeff Canfield photo
That's a Wrap (Steve Matthes)
And that's a wrap on January, people, so with the supercross series four down and thirteen to go, we thought a look back at what we saw at the races would be appropriate. With that in mind, let's get to the numbers:
44,961 Average attendance at the four races so far
3 Different winners in four races in the 450SX class
2 Different winners over four races in the 250SX class
21 Points averaged by Davi Millsaps (the 450SX points leader) through four races
15 Top-ten finishes by Honda through four rounds in 450SX (the most out of any OEM)
18 Top-ten finishes by Honda through four rounds in 250SX (also the most out of any OEM)
1,487 Miles driven by the team semi trucks from Anaheim to Phoenix to Anaheim to Oakland and back for this weekend
24-Point swing (up 9 going in, down 15 leaving) for GEICO's Eli Tomac in one race with his crash-filled night at Oakland.
43-Point difference after four races in 2012, compared to after the first four races of 2013, for Davi Millsaps
1-Point difference from after four races from 2012 to 2013 for Rockstar Energy Racing's Jason Anderson.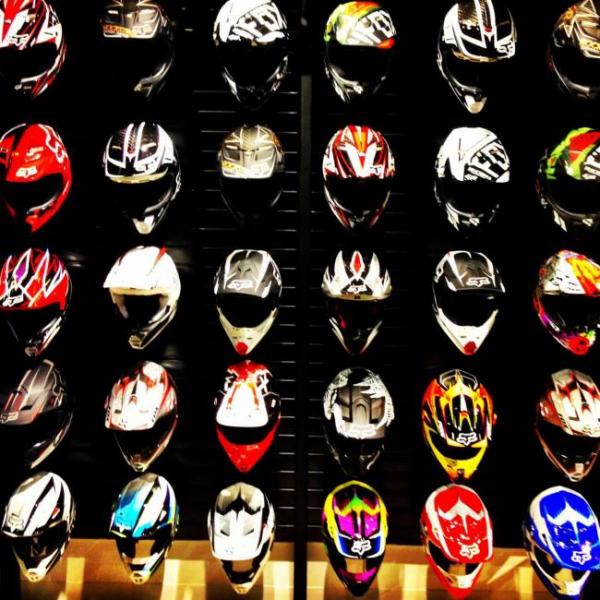 Fox Racing's new retail store in Irvine is amazing.
DC photo
85 Points: the same point total for the series leader in 2012 (Reed) and 2013 (Millsaps)
4 Riders who have been in the top ten in every race so far in the 450SX class (Millsaps, Canard, Dungey and Short)
3 Riders who have been in the top ten in every race so far in the 250SX class (Roczen, Seely and Osborne)
12th Ranking in the 250SX series for Joey Savatgy, giving him the top rookie honors so far
13 rounds to go in this so-far-epic 2013 Monster Energy Supercross series
WELCOME BACK (DC)
Tomorrow night marks the return of the much-missed KTM Junior Supercross Challenge, arguably the most popular intermission segment in Monster Energy Supercross history (sorry, Dynamite Lady and Tuff Block stackers). Feld Motor Sports and KTM have teamed up to bring back the kids, and that means we need to keep our eyes open for the next set of truly fast kids coming up through the ranks. The alumni from the old KTM Junior SX Challenge includes Mike Alessi, Ryan Dungey, Eli Tomac, Blake Baggett, and more. Keep an eye out for #3, little Colton Deegan. Yes, after making fun of mini dads for many years, Metal Mulisha commander Brian Deegan IS a mini dad! And he told us he can't wait for tomorrow night.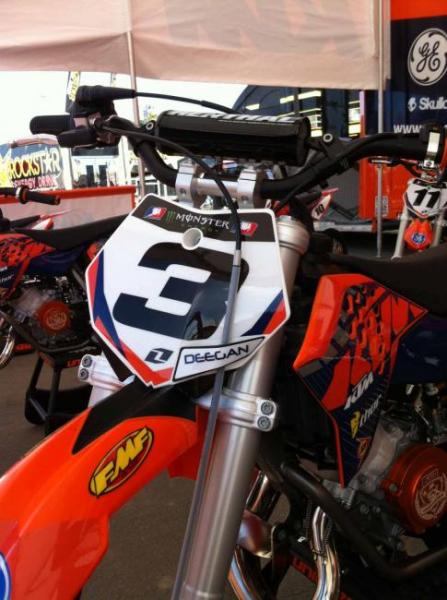 Keep an eye out for #3 Colton Deegan in the KTM Junior Supercross Challenge.
Jeff Canfield photo
Pro Perspective: Injuries
(David Pingree and Jason Thomas)
Ping: You can usually tell after a short while if you are going to be able to deal with an injury or not. I've raced with broken fingers and separated shoulders and been able to deal with it. I've torn ACLs and known after a few rides that I wasn't going to be able to ride out a whole season that way. And I've broken a femur and realized almost right away that I wouldn't be able to just walk that one off.
As the series clicks off rounds on its way to the Hard Rock in Vegas, James Stewart finds himself between a rock and hard place. His knee was blown out at A1 and he's known about it since the MRI he got that Monday. At that point he had a decision to make: James could get in and get his knee repaired and be ready to go for the outdoor nationals—he might not be 100 percent, but he would be healthy and ready to race. Or he could try to ride through the swelling and pain and instability, risking even further injury to his knee. James chose the latter. There is talk that he has to get four top-ten finishes to meet the obligations in his Red Bull contract. I have no idea if that's accurate. If he bows out after San Diego it might be a good indicator that it is.
So it doesn't seem like James has a good option right now. He'll never be ready for Hangtown if he fixes it, and he can't be enjoying himself riding timid and getting eighth on the weekends. The good news for James is that he's looking good financially. For riders who don't have his funds or who are trying to turn heads to get a better ride, the option to just drop out isn't there.
In my experience, if you have an injury that is keeping you from riding to your full potential or that is distracting you while you ride, you should get it fixed immediately. Get the problem fixed and move on. Of course there are exceptions, like if you are in a title hunt or you have only a couple races left in a series. As mental as this game is, I'm a big believer in having your body right so that your mind can be right.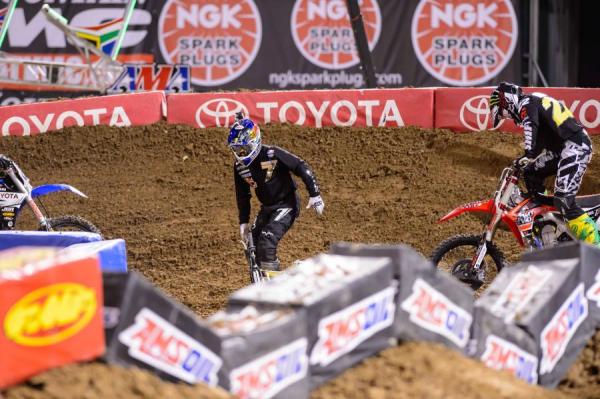 The next few weeks may play a big factor in whether or not Stewart has surgery.
Simon Cudby photo
JT: Every year injuries rear their ugly head. With a sport this dangerous, it's inevitable that some riders will ride through pain, some will elect to repair their damaged bodies, and some will not be lucky enough to have a choice. There are many factors that can play a role in these decisions. Contract requirements, injury clauses, and financial well-being probably play the biggest roles.
Almost all contracts have some sort of injury clause. Whether it's being penalized for missing just one race or more lenient, there are always stories of riders lining up to race against better judgment just to collect their paycheck. With rider pay much lower than their peak in the mid-2000s, every dollar counts. Having ridden through a few injuries, it's a constant mental battle to ride at half strength. It's no fun to deal with daily pain and bad results, but paying the bills usually trumps all.
There is a flip side to this, which is when the injury occurs. Early in the supercross season, such as now, riders have a timeline choice to make: Is it better to struggle through the season, never be 100% but have a steady income OR have surgery immediately and hope to maybe make the last couple of supercrosses and be fully healed for outdoors? This decision varies from rider to rider as everyone's financial situation is different and three months of low income may not harm some while it may be devastating to others.
A few examples of this are already occurring this season. As Ping mentioned, James Stewart has been trying to ride through a torn ACL, and rumor has it he needs to fulfill a performance clause to collect his Red Bull check. Ryan Sipes, on the other hand, had surgery this week in an effort to get back to 100 percent upon return. Ryan Dungey tried to ride through a broken collarbone last year but he made the wise choice to get it fixed and be healthy for a run at another outdoor championship. As you can see, every scenario has different variables and each rider has a different priority. Unfortunately, injuries will always be prevalent in motocross and therefore these hard decisions have to be made yearly. It's hard to know exactly what is in each rider's head but if you analyze his choices, sometimes you can piece together the battle raging within.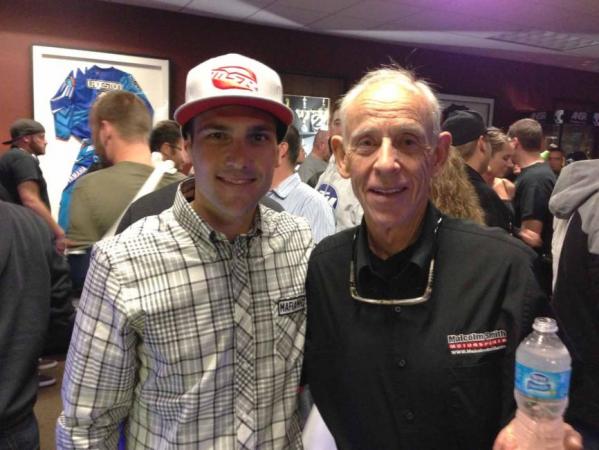 Nick Wey and THE Malcolm Smith at Corona Sports Group Open House.
DC photo
FLU STATION (DC)
Besides injuries, there's another nasty little problem going around supercross right now, and it's the flu that's rocking the whole country. Lots of industry folks were hit by it. Monster Energy Kawasaki's Jake Weimer missed last week's race as a result, as did Josh Hansen. I saw both of them last night—Weimer at Windham's send-off, Hansen at the opening of the new Fox HQ—and both looked much better. Weimer will race this weekend, but I never got the chance to follow up with Hansen, who has not raced since his team parked him following his rough-riding at the Anaheim opener.
OPEN HOUSES (DC)
Yesterday was a busy one in Southern California. First, the Corona Sports Group—which houses MSR, Answer, Pro-Taper and more—turned their annual open house into a big farewell party to Kevin Windham. K-Dub was in great spirits, and his presence brought out a lot of big-hitters who wanted to pay homage. Brian Deegan, Eli Tomac, Nicky Wey, Robbie Maddison, Jake Weimer, Zach Osborne, Justin Bogle, Alex Martin, Lance Coury, Travis Baker and more. And of course the iconic Malcolm Smith himself was there, and he presented the framed set of gear from Windham's last race to Kevin, along with "Dangerous" Dave Casella, former Canadian MX2 champ Randy "The OG RV" Valade, and Charles Castloo. Malcolm also had some advice for K-Dub: "If you're thinking about ever coming out of retirement, don't! You're done. Don't do it."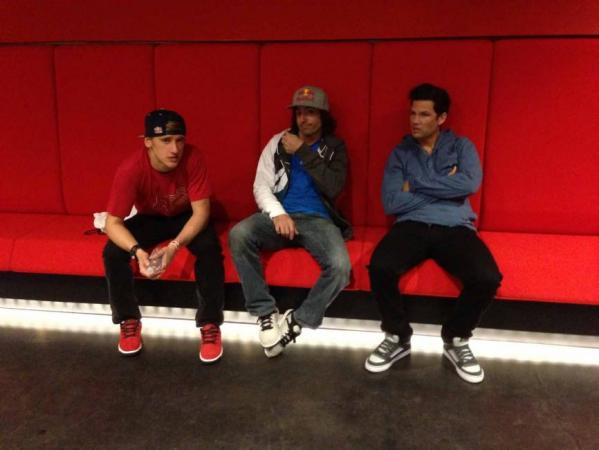 Roczen, Renner and Reed at the new Fox Racing global headquarters.
DC photo
Later that evening, it was over to Fox Racing's new global headquarters, a stunning new building that the company unveiled to their athletes, friends, associates, and the media all at the same time. Needless to say, it was a remarkable event, complete with DJs, Rockstar girls, In-N-Out Burger stands, movies, beautiful old motorcycles, an incredible new retail store, and a whole bevy of Fox Racing heroes: Ricky Carmichael, Jeff Emig, Chad Reed, Ryan Dungey, Ken Roczen, Ryan Hughes, Ronnie Renner, Myles Richmond, Jessica Patterson and more.
Both events were lots of fun, and you can check out our galleries on the main page, plus a film by Chad DeRosa on K-Dub's retirement party.
HAVE YOU SEEN THIS?
I'm not sure what it is with James Stewart and Photoshoppers, but he's become the muse of a very creative group of funny people who light on to any unique photo they find of JS7. When he crashed in practice last week and a photo of him popped up on VitalMX.com, Guy B's usual suspects went to work and came up with some downright funny stuff on James' "scissor-kick" as he popped off the bike. If you missed it...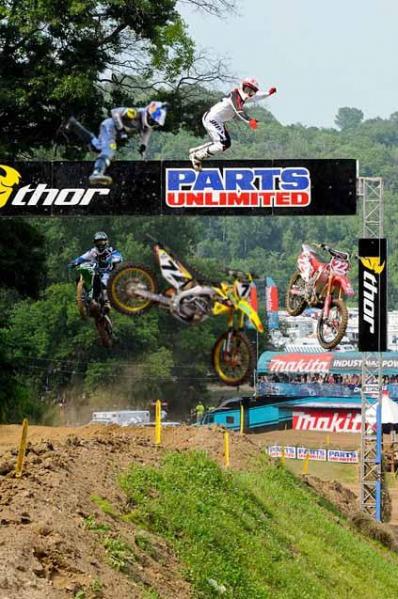 Highlights of the Week (Chase Stallo)
Bringing in outside sponsors: With two teams shutting down mid-season—L&Mc and J-Star/JDR KTM—how to bring in outside sponsorships to the sport has been a hot topic. Jason Weigandt delivers an informative, thought-provoking piece about how teams try and bring in sponsors.
Getting dirty with Rich Winkler: Rich Winkler, whose company, Dirt Wurx, is the exclusive racetrack design and construction firm for Feld Motor Sports (and, by extension, Monster Energy Supercross), talked with Chase Stallo this week about track design, the controversy in Oakland and much more in this week's One Industries Between the Motos.
The new points leader talks: After three consecutive runner-up finishes to begin the year, Red Bull KTM's Ken Roczen broke through in Oakland, capturing his first win of 2013. Coupled with GEICO Honda's Eli Tomac's DNF, Roczen is new the points leader in the 250SX West Region. Aaron Hansel caught up with the young phenom after his win in Oakland.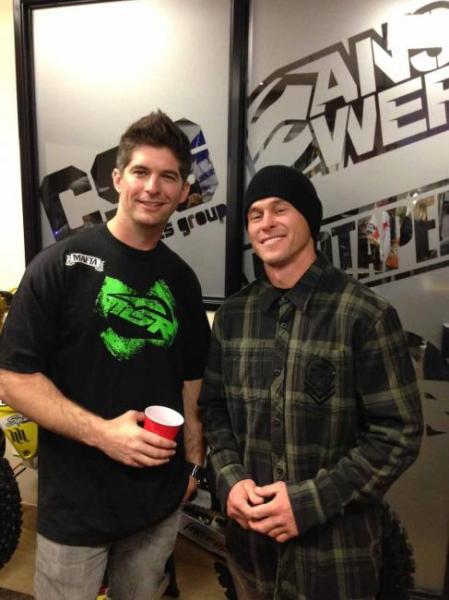 K-Dub and Deegan at the Corona Sports Group Open House.
DC photo
RV looks to join history: In 2002 Ricky Carmichael finished twentieth at the season opener in Anaheim but was able to claw his way back and win the title that season. Seven years later, James Stewart finished nineteenth in the 2009 season opener but still laid claim to the title. After back-to-back wins at Anaheim 2 and Oakland, Monster Energy Kawasaki's Ryan Villopoto has all but erased a 16th place finish at the opener. Jason Weigandt digs deeper into RV's chances of winning the title in this weeks Bench Racing Ammo.
In The Mag: Three Amigos
(Jordan Roberts)
Every month, the staff of Racer X Illustrated works long hours to bring you informative features about the latest championship dash, motocross legends, and informative interviews with the world's greatest riders. This feature doesn't have any of that, so we made sure the entertainment value was as high as the cost of Managing Editor Andrew Fredrickson's post-trip hospital visit. Flip to page 144 to see what happens when you keep three 20-something-year-olds cooped up in an office for too long, then decide to turn them loose on a foreign island without a single guideline. Needless to say, they didn't make it to Bingo night.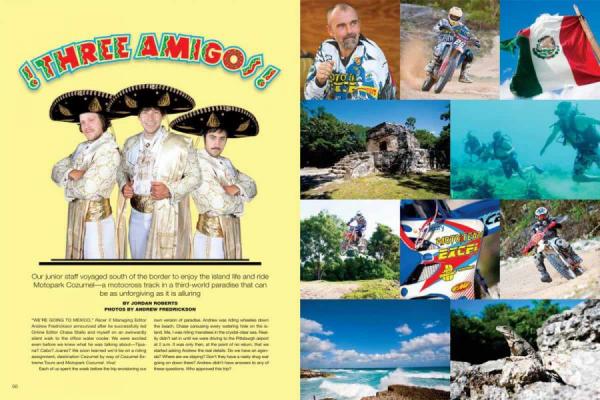 For more information on how to get your copy of Racer X Illustrated, go here. Or pick up the latest copy on newstands today!
Hey, Watch It!
The King of Mad Skills Motocross, James "Master52" Lambert, addresses his doubters.
Cooper Webb takes the MotoSport.com helmet cam for a lap at the Jesse Masterpool 956 Invitational.
Anaheim 3 Animated Track Map
Inside the Rockwell Training Facility: The Long Road to the Top Episode 1
Toyota and Supercross: In for the Long Haul
In the Gym with Brian Deegan
Random Notes (Staff)
KTM has signed Red Bull KTM Team Manager Roger DeCoster to extension. The new contract runs until the 2016 season.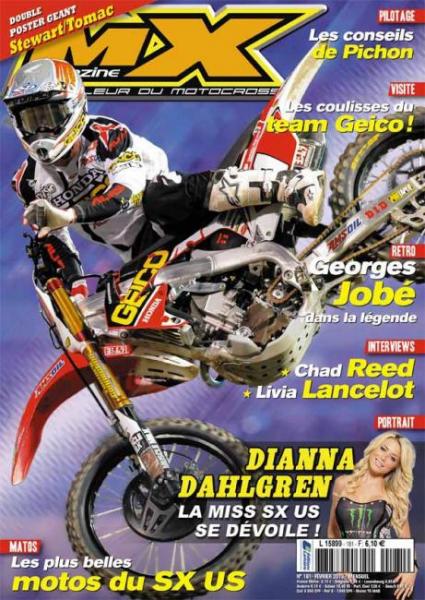 Eli Tomac on the cover of the new MX Magazine in France.
Shift MX
announced this week
that they have signed Carlton Dry Honda Racing to the Shift family for 2013. The Australian based team features 2004 MX2 World Champion and 2007 East Region Lites Champion
Ben Townley
.
Asterisk released their Cyto Cell Knee Protection System this week. Cyto Cells retail for $249 each.
Part-time American motocross rider, and the world's top snocross rider, Monster Energy/Arctic Cat's Tucker Hibbert made history last weekend at Winter X Games 13 in Aspen, Colorado. Hibbert became the first athlete to even win six consecutive gold medals in an event. Later that night, Shaun White would join Hibbert as a six-peat gold medal winner, after winning Men's Superpipe. You can watch Hibbert's historic gold medal run here.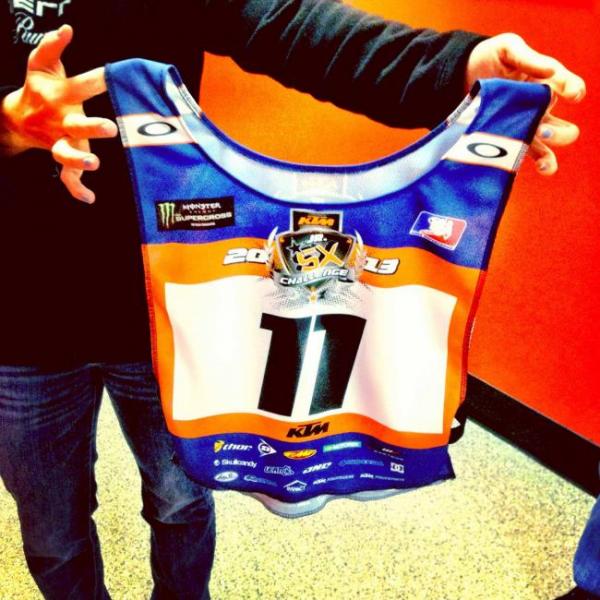 The new KTM bibs, styled after the sweet ones MX Sports does for Loretta Lynn's.
ODI Grips has signed Jeff Emig to its marketing team as a brand ambassador.
Troy Lee Designs/Lucas Oil/Honda will show it's support for Cancer Awareness and National Cancer Prevention Month (February) at this weekend's Monster Energy AMA Supercross at Angel Stadium in Anaheim, CA, by wearing TLD GP Air Mirage Yellow/Magenta Gear and custom SE3 Cyclops Helmets, as well as donning custom pink graphics on it's race bikes.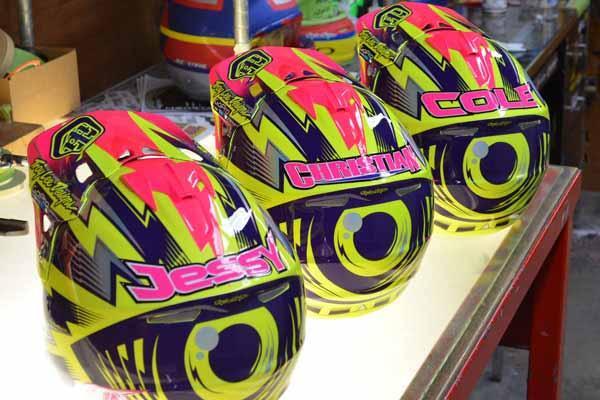 This is your last chance to go to Anaheim and nab a pair of 100% goggles with a year subscription to Racer X. The goggles come a free microfiber cleaning/storage bag and the subscription comes with an extra issue. Sign up at the Racer X booth this weekend to take advantage of this deal while you still can.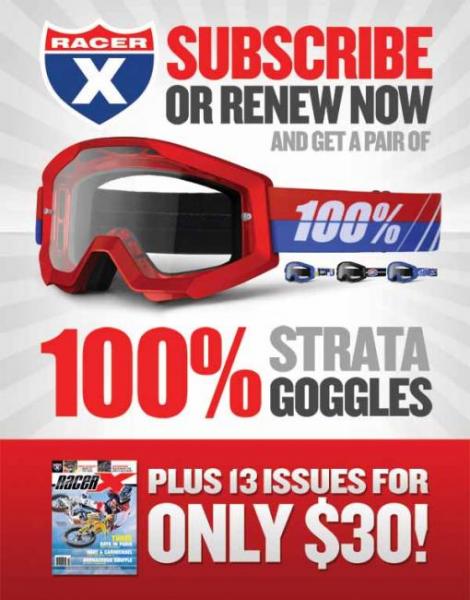 That's it from Anaheim (for the last time in 2103). Thanks for reading Racerhead, and see you at the races.